Indo- Vietnam Solidarity Committee Hold Seminar to Mark President Ho Chi Minh's Birthday
To mark the 50th anniversary of the establishment of diplomatic relations between India and Vietnam and on the eve of the 132nd birth anniversary of President Họ Chị Minh, Indo- Vietnam Solidarity Committee organized a national seminar on "Ho Chi Minh and India" on 14th May 2022 at National Library, India.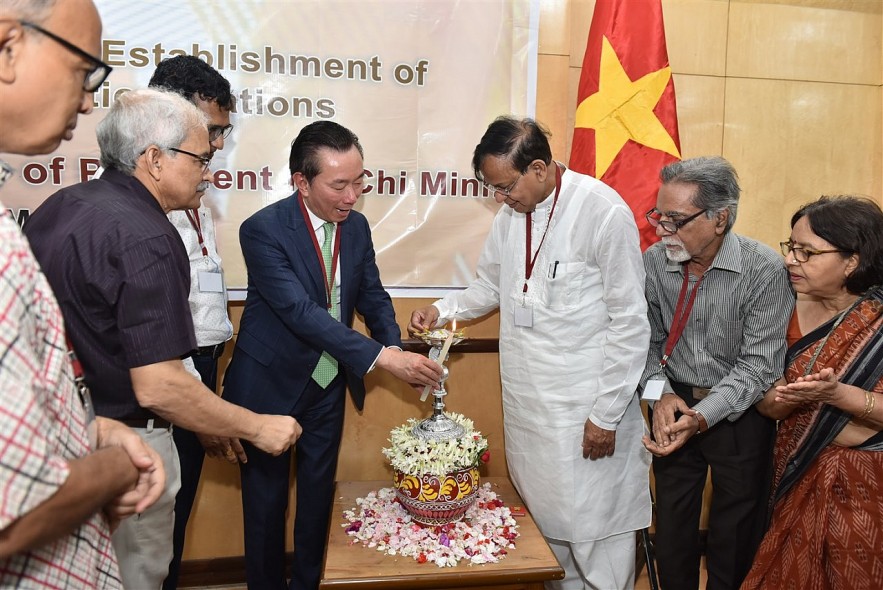 Photo: Indo- Vietnam Solidarity Committee
To open the series of events, Vietnam Ambassador Pham Sanh Chau and his team members offered floral tribute at the bust of Ho Chi Minh situated at the crossing of Jawaharlal Nehru Road and Ho Chi Minh Sarani at 9 am where children greeted them by waving Indian and Vietnamese National Flags.
The place echoed with slogans of solidarity between India and Vietnam besides the resounding of Long Live Comrade Ho Chi Minh. This was attended by the members of the Indo-Vietnam Solidarity Committee and Susmita Bhattacharjee, the Local Councillor.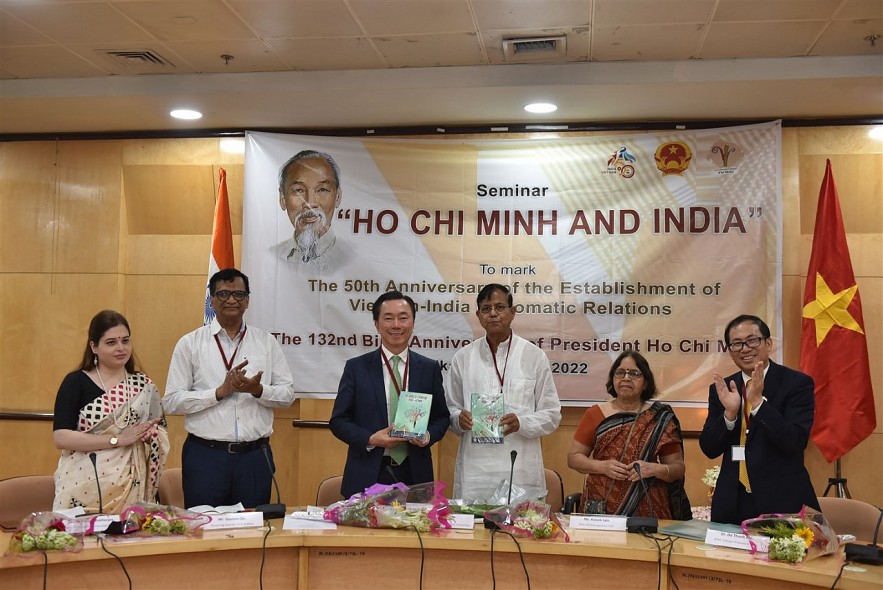 Photo: Indo- Vietnam Solidarity Committee
The renovated plaque at the entry point of Ho Chi Minh Sarani (street) was inaugurated at 9:30 am.
Vietnamese team under the leadership of Ambassador Chau visited the officials of the National Library at 10 am followed by a visit to the Vietnam Corner in the library.
At 10:30 am a documentary on Ho Chi Minh was played to give the audience a broader view of Uncle Ho's ideas and ideology.
The seminar started at 11 am and was broadcast live. It commenced with the lighting of the ceremonial lamp and the welcome address by Kusum Jain.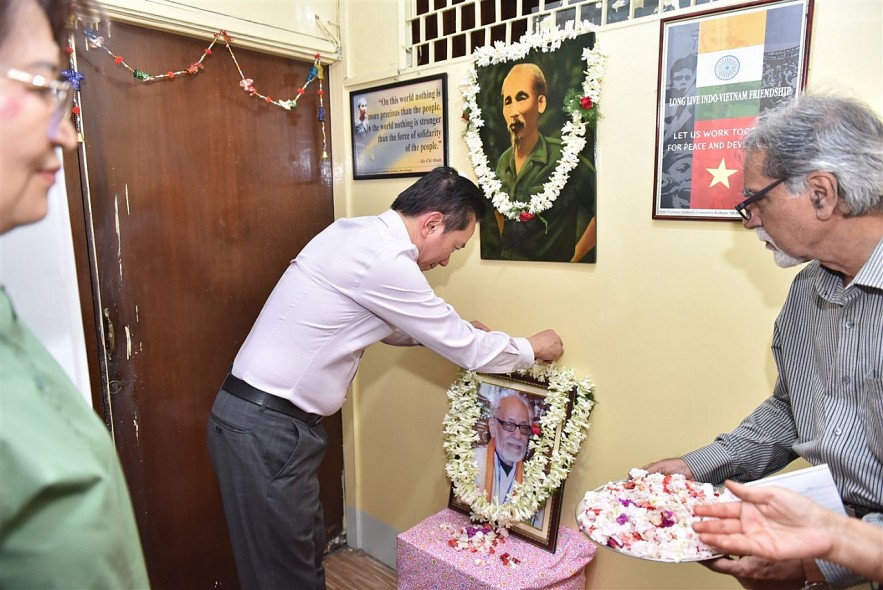 Photo: Indo- Vietnam Solidarity Committee
Addressing the seminar Ambassador Pham Sanh Chau expressed his pleasure for the National Library being the venue of the seminar as there could be no better place than that to widespread Uncle Ho's ideas and ideals. He said that Indo- Vietnam relations date back to 2600 years when Buddhism had traveled from India to Vietnam. The relations between our two countries are not based on the economy alone, our relations are people-to-people and heart to heart relations. Soft powers like Buddhism, yoga, culture, traditional medicine, and literature are the similarities that have brought us together.
Dr. Tilottoma Mukherjee, Asst. Professor, Shyamaprasad College in her keynote address gave a broad overview of the India-Vietnam relations and the excellent fraternal ties shared by Prime Minister Nehru and President Ho Chi Minh. She discussed in detail the most important recent developments between our two nations.
Prof. Tridib Chakraborti, Prof. of Emeritus, Admas University in his address mentioned Ho Chi Minh as one of the greatest revolutionary figures of the century and was a conscious environmentalist who had accepted Gandhi as his political ideal. He also mentioned the important role India had played in the national reconstruction of Vietnam.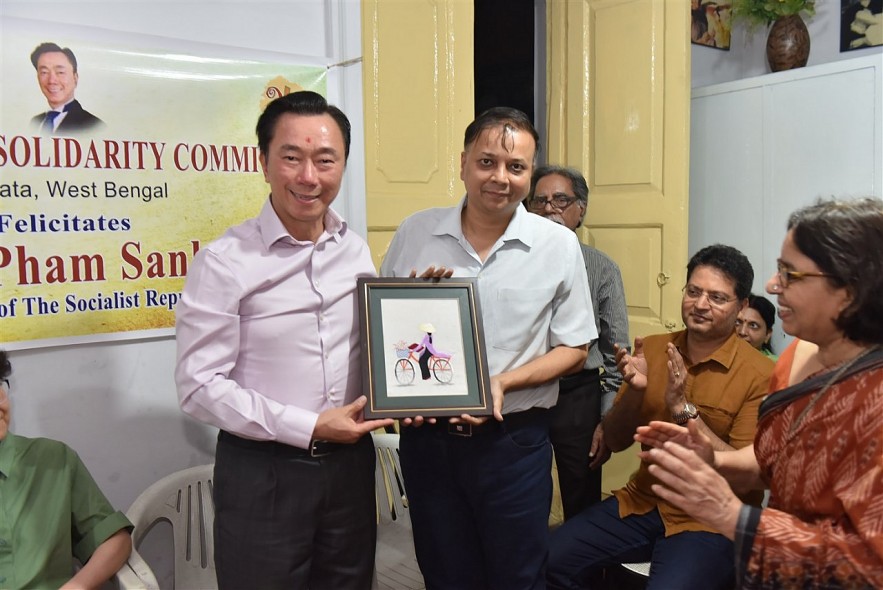 Photo: Indo- Vietnam Solidarity Committee
Gautam De, Former Regional Director, ICCR, Kolkata in his address focussed on the need for Uncle Ho's ideals in today's world. He said that Lenin was a revolutionary and Gandhi followed non-violence while Ho followed some qualities of both the leaders; so, Ho Chi Minh's ideology is very much relevant today.
Amitavo Chakraborti, a renowned poet and activist in his address mentioned Uncle Ho as a saint politician. He remembered the struggle of Ho Chi Minh to liberate his country along with its unification and appreciated his war strategies of changing the mind of the captured American soldiers through conversation.
Md. Salim, Secretary, CPI(M), West Bengal in his Presidential address said that Ho Chi Minh's importance was there, still is, and will always be there. Stressing on strengthening our bilateral relationship, he said that India and Vietnam's relationship does not need any third party's intervention as it is based purely on the basis of our two civilizations.
Dr. Pravamayee Samantaray presented a brief of the seminar followed by a formal vote of thanks by Prem Kapoor.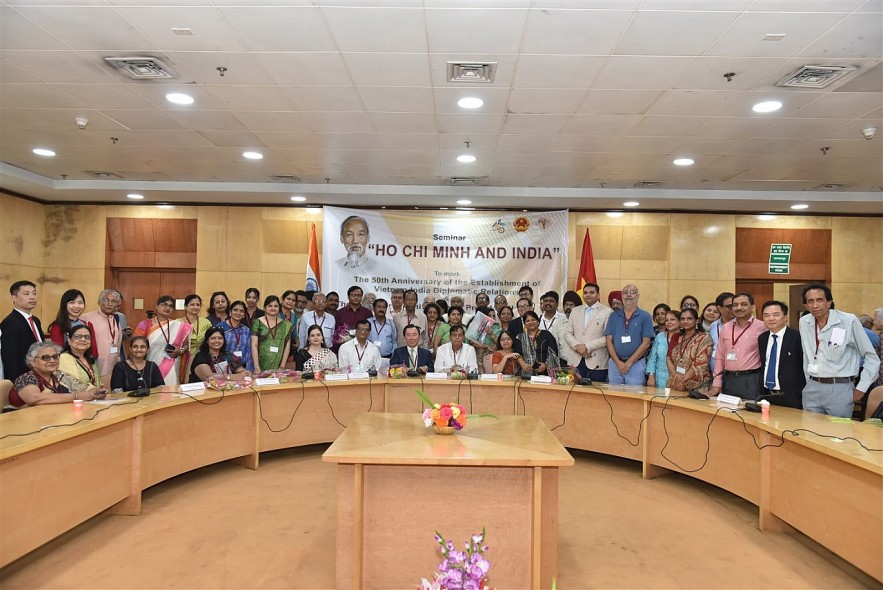 Photo: Indo- Vietnam Solidarity Committee
In the evening a felicitation was organized in the honor of Ambassador Chau at the office of the Indo-Vietnam Solidarity Committee. The members of the committee welcomed the delegation with tilak and sang folk songs and songs on Ho Chi Minh and presented dance performances in their honor. To strengthen our friendship they tied the friendship band on their hands and exchanged gifts as a token of love. Pham Sanh Chau paid tribute to Geetesh Sharma by garlanding his photo at the office of IVSC.
It was attended by Vivek Gupta, MLA; Mahesh Sharma, Counciller, KMC. They stressed the need to develop closer relations between India and Vietnam. On this occasion, Pham Sanh Chau felt happy to observe that the legacy of Indo-Vietnam Relations was not confined to the older generation and was being carried over by the younger generation which according to him was a welcoming sign. He expressed the hope that in the coming days Indo-Vietnam Relations would further grow from strength to strength.
Both the delegation and the members of the committee became so engrossed with emotions and the informality of the program that everyone sang a chorus on Ho Chi Minh at the end to show our solid solidarity.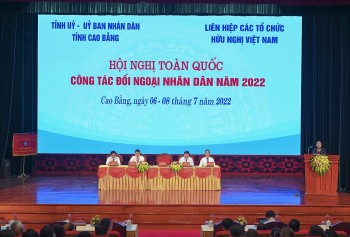 Friendship
During the event, many important issues will be discussed, and constructive suggestions and solutions will be provided to promote more effective people-to-people diplomacy operations.