Initiative Nurtures Vietnamese Culture in Malaysia
Five years since it first started, the Vietnamese education program for Vietnamese communities in Malaysia has become well-organized. With seven classes, the program has provided Vietnamese lessons for 30 students.
Every weekend, Nguyen Thi Lien's house becomes lively with children's voices. One is a five-year-old girl called Glory who sings so well you would guess she is a local Vietnamese. Even more surprisingly is that Lien's Vietnamese classes are now taught via online platforms due to the Covid-19 pandemic.
The initiative to organize a Vietnamese program for the Vietnamese communities in Malaysia was started by members of the Vietnam Women Union in Malaysia.
On Oct. 16, 2016, the program was officially launched. Despite the initial lack of class equipment, two classes with two different levels were held, each class has 10 students.
A year later, the reception room at the Vietnamese Embassy in Malaysia was used as the venue for the program at weekends. Needless to say, there was no better news for both teachers and students than that they had a brand-new classroom.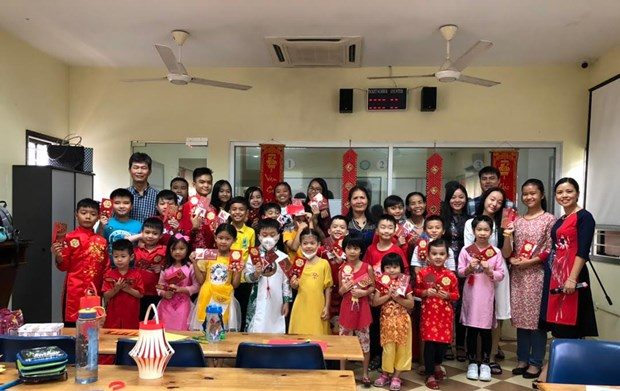 Teacher and students of the Vietnamese education program at the Vietnamese Embassy in Malaysia. Photo:
Vietnam+
In addition to designing class activities, Lien holds extra-curricular programs so that her students can revise the vocabulary they have learned. Together, they have planned many cultural performances and have been approved to perform in cultural events organized by the Vietnamese communities in Malaysia, such as the Tet festival, International Children's Day and Mid-autumn Festival.
Anton Nguyen, Glory's father, used to work in Germany, Japan and many other countries in the world. He is currently living and working in Malaysia. Concerned that Glory would not be able to speak Vietnamese because he married a Chinese woman and he himself didn't know how to teach her Vietnamese, Nguyen registered his daughter on the Vietnamese education program at the Embassy of Vietnam in Kuala Lumpur.
Glory was 3-years-old at the time. Hearing the request from the young father, Lien was initially hesitant because Glory was still too young. Lien went to Glory's house every weekend to give her private lessons.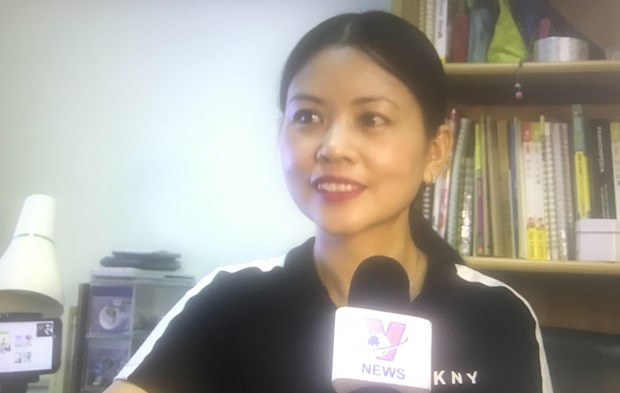 Nguyen Thi Lien, head of the Vietnamese education program. Photo: Vietnam+
Drawing from her teaching experience, Lien knew that she would have to design a different teaching plan for the young girl. Short songs revolving around family lives were chosen for this reason.
Having studied literature education, Lien fell in love with teaching Vietnamese. The opportunity to go to Malaysia came when her husband accepted his new job in Kuala Lumpur nine years ago. Lien has been living in Malaysia with her family ever since.
A student of Lien, Kent Ho, 12, said "I love studying Vietnamese and I'm proud that I can speak Vietnamese. During Ms. Lien's class, I have been learning many things such as Vietnamese history or Tran Dang Khoa poems."
Lien's classes would not have succeeded without efforts from the parents. Despite his hectic work schedule, Anton Nguyen never missed any of Glory's classes in two years. He takes her to the embassy every weekend, regardless of weather conditions or distance.
He makes use of the time she is in class to work. Sometimes he meets his partners in the hallway, and sometimes he brings his laptops and work materials along. Glory can now speak, read and write fluently in Vietnamese. She can even sing Vietnamese songs to her grandparents in Germany.
Bich Tuyen, a mother of two, said: "As a Vietnamese, I hope that my children can use Vietnamese well to talk to our relatives at home and understand the cultural values of the country where their mother grew up."
After five years, Lien's Vietnamese education program has become more well-organized. With seven classes, the program has provided Vietnamese lessons for 30 students and has been supported by the Vietnamese Embassy, Vietnam Women Union and Vietnamese communities in Malaysia.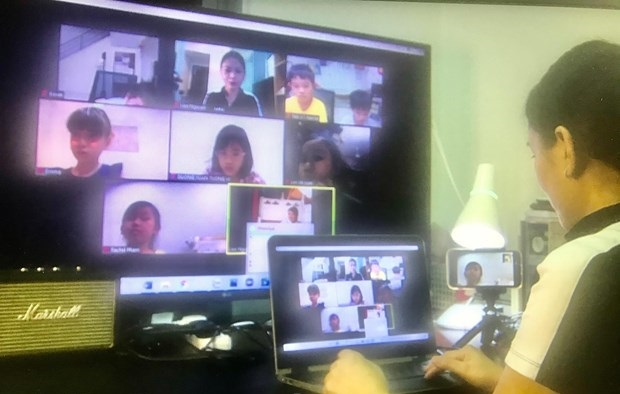 Lien teaching Vietnamese online. Photo:
Vietnam+
When Covid broke out, the program moved online and become increasingly popular.
Tran Viet Thai, Ambassador of Vietnam to Malaysia, said the number of students increased as the program began to be taught online because it allowed students from afar to join. The embassy continues to support Lien's program by providing the necessary equipment.
Thai said that the embassy fully supported the program so that the Vietnamese language and culture could be maintained by Vietnamese communities across the globe.
Overseas Vietnamese communities are an indispensable part of the Vietnamese people. Teaching the Vietnamese language and promoting the Vietnamese culture to over 5 million Vietnamese living abroad is considered an important task by the government of Vietnam.
With their tireless efforts, organizations and individuals in Vietnam and Malaysia have been providing Vietnamese lessons to Vietnamese communities living in Malaysia, strengthening the bond between the young Vietnamese generation in Malaysia with their homeland.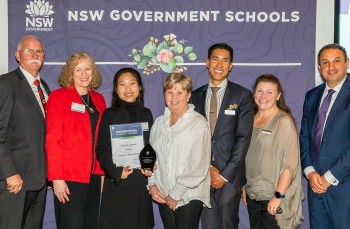 Overseas Vietnamese
The award for international students studying at New South Wales state schools (Australia) honors excellent ones from many countries, including a Vietnamese female student.