Woman breathes soul for Vietnamese cuisine in Malaysia
Falling in love with Vietnamese cuisine, after 5-year startup, Caren Poon has opened 5 Ăn Viet restaurants including 4 in Kuala Lumpur and one in Penang, a tourist attraction in Malaysia.
Caren Poon's love for Vietnamese cuisine derived from the fact that she had the chance to savor Pho bo (beef noodle soup) amidst the chilly weather in Canada. She was immediately fascinated by Pho's broth. It's extremely fragrant and attractive. She then decided to visit the "hometown" of Pho. It's Hanoi, Vietnam.
Ăn Viet restaurant at the LG 203b, the Garden Mall, Mid Valley City-Kuala Lumpur. Photo: Vietnamplus
Caren Poon traveled along the S-shaped countries and was really surprised at the fact that apart from Pho, Vietnam possesses many other scrumptious dishes.
For example, the Central region has Bun bo Hue (Hue style beef noodle soup), meanwhile, the Southern region has Banh Xeo (pancake), she said, adding that Vietnamese people can skillfully combine protein with vegetables which interests her a lot.
She then decided to learn how to cook Vietnamese dishes at the KOTO restaurant. Nevertheless, when returning to Malaysia, she still has to explore and adjust recipes so that dishes retain Vietnamese taste but still be welcomed by Malaysians.
Malaysian diners take photos of beautifully decorated Pho bo (Beef noodle soup). Photo: Vietnamplus
Lin Ye Shan, a Taiwanese and Nicholas Cheah, a Malaysian said "We really like Chả cá Hà Nội (Hanoi grilled fish). Fish, onions and dill are all placed on a small pan and served with noodles. The dipping sauce is poured on top and added with little peanuts.
Jennifer Khoo, a Malaysian patron said she was deeply into eating Pho bo thanks to its perfect broth and soft and medium-cooked beef.
T.Y Ooi ordered a portion of Bun Cha (Kebab rice noodles). "I like the fragrance of kebab and the unique taste of sweet and sour dipping sauce which can't be found anywhere in Malaysia. I come to Ăn Viet every week", she said.
Sharing the secret to the success of Ăn Viet restaurants, Caren said to maintain the Vietnamese taste, she had to import ingredients from Vietnam, from fish sauce, noodles to coffee, etc.
Caren Poon (R), the owner of Ăn Viet restaurants. Photo: Vietnamplus
After 5-year start-up, Caren has opened 5 Ăn Viet restaurants including 4 in Kuala Lumpur and one in Penang, a tourist attraction in Malaysia.
In spite of busy with work, she spends time learning Vietnamese. She can clearly speak the names of dishes as well as introduce to customers their ingredients.
Located at a large supermarket in the capital city of Kuala Lumpur, Ăn Viet restaurants are always packed with customers. Staff are friendly and always greet customers by saying "Xin Chào" (Hello).
Apart from food, Ăn Viet restaurants also serve patrons Vietnamese style drinks such as lemon iced tea or egg coffee, etc.
Talking with reporters, Caren revealed she would open more several Ăn Viet restaurants and arrive in Vietnam to learn about the country's new dishes.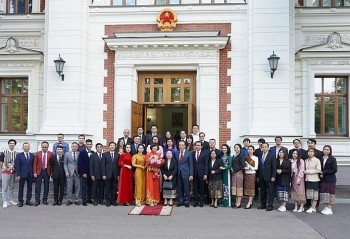 Friendship
The Vietnamese Embassy in Cuba will make efforts to consolidate and cultivate the special Vietnam-Laos relationship in the spirit of respect and support for mutual benefits.