Inspiring Women: Harnessing the Power of Being Different
The stories of these talented women who embrace the extraordinariness reveal how being a "misfit" is just so much better than being ordinary.
On the occasion of International Women's Day, Vietnam Times invites you to hear from filmmaker Ha Le Diem - Winner of Best Directing at 2021 International Documentary Film Festival Amsterdam, Rebbeca Milward - businesswoman, founder, and director of The Mango Studio and artist Minhy - Winner of Best Music Video at LA Film Awards.
While these women come from different backgrounds, they exemplify the power of eccentricity.
Celebrating misfits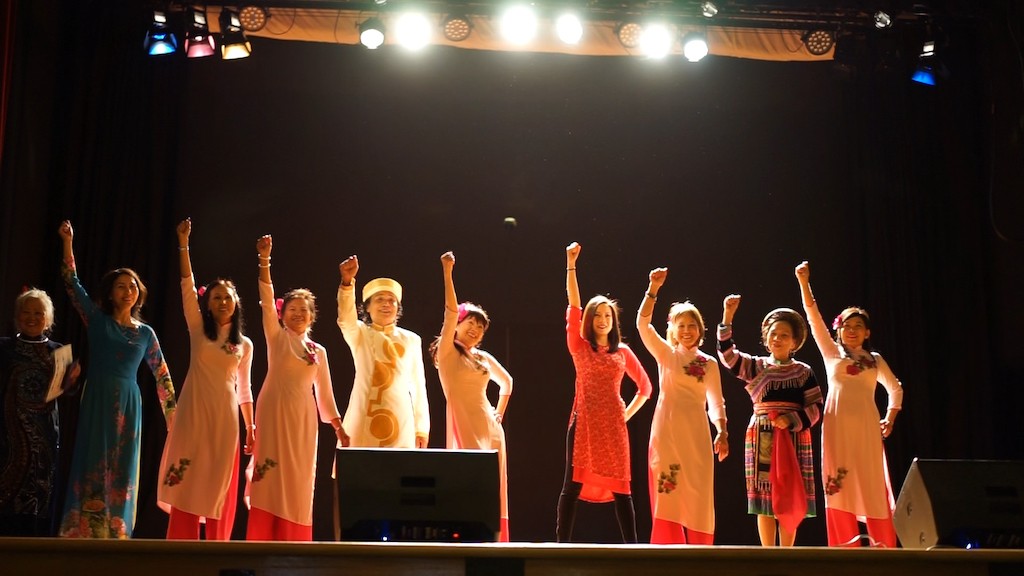 Vietnamese-born singer Minhy (red Ao dai) in her performance with Vietnamese community in Australia. Photo: Minhy
To stand out from the crowd and invest in something that is not the status quo, or is simply unexpected takes a little bit of faith, a longer term vision, and a lot of trust.
Vietnamese-born singer Minhy (Australia) wowed her family and friends when she decided to quit her stable job to follow music. She was brought up by migrant parents who had made major sacrifices to provide a better life for their children. In return, Minhy believes she can pay a tribute to her supportive parents by living a life of fulfillment, growth, and happiness, choosing love over fear and sharing those messages with the world.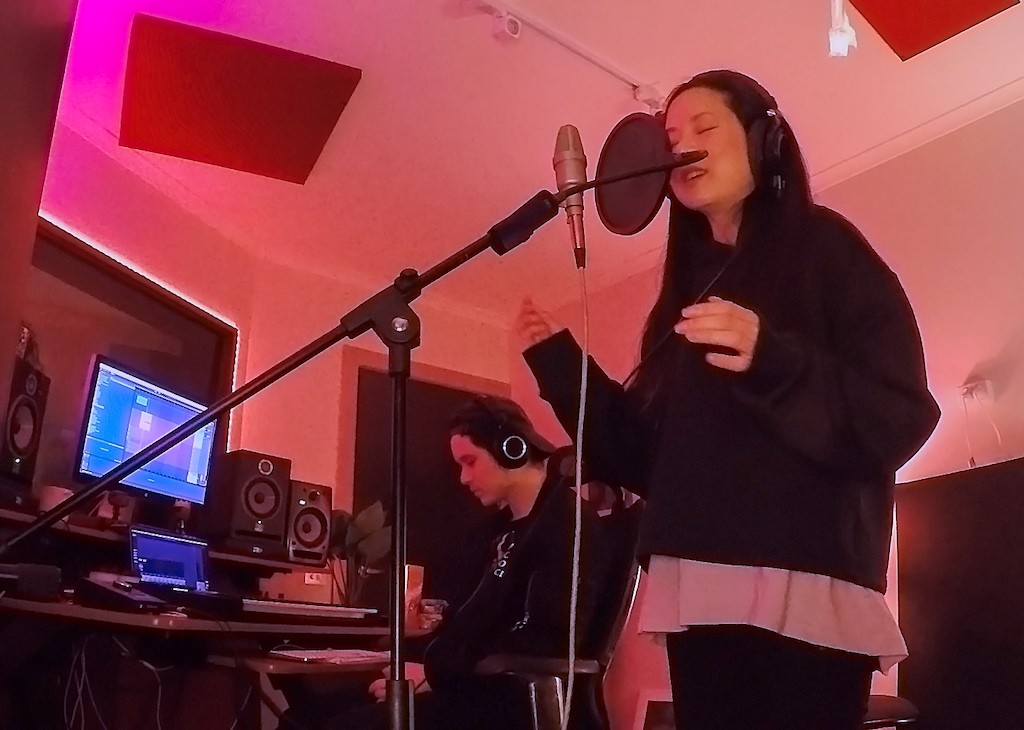 Minhy enjoys exploring all aspects of music creation. Photo: Minhy
Not many people, including her family, fully believed in Minhy's dream.
"Even though I loved music, I thought it was a crazy dream, so I kept it secret and decided to pursue design. My background is Industrial Design and after graduation I went on to work in Automotive Design. After working for 4 years, the music started calling so I decided not to live in regret. Ever since, I explored all aspects of music creation from production to sound design for games."
Slowly but surely, Minhy took her brave, first steps on a new path, following her dreams.
Thus, her special love language had brought her closer with her family, helped her connect better with the Vietnamese root and therefore added to the inclusiveness of what she is capable of as an artist.
Her debut, entitled "Dead of the night," tells the story of creators' life as a vampire, where inspiration often peaks at the late hour. To express herself creatively, being ordinary simply will not do. While she is not a vampire, the young singer is proud to be out of the ordinary.
"After honing my songwriting skills for 2 years, I decided to take the leap and release my debut single along with a self directed music video. I won Best music video at the LA Film Awards and was a finalist at Indie Short Fest."
Minhy and her music vision tell listeners an important message: our uniqueness teaches us it is not necessary to be like everyone else to provide value. In fact, it is often in leveraging your difference where you really provide value.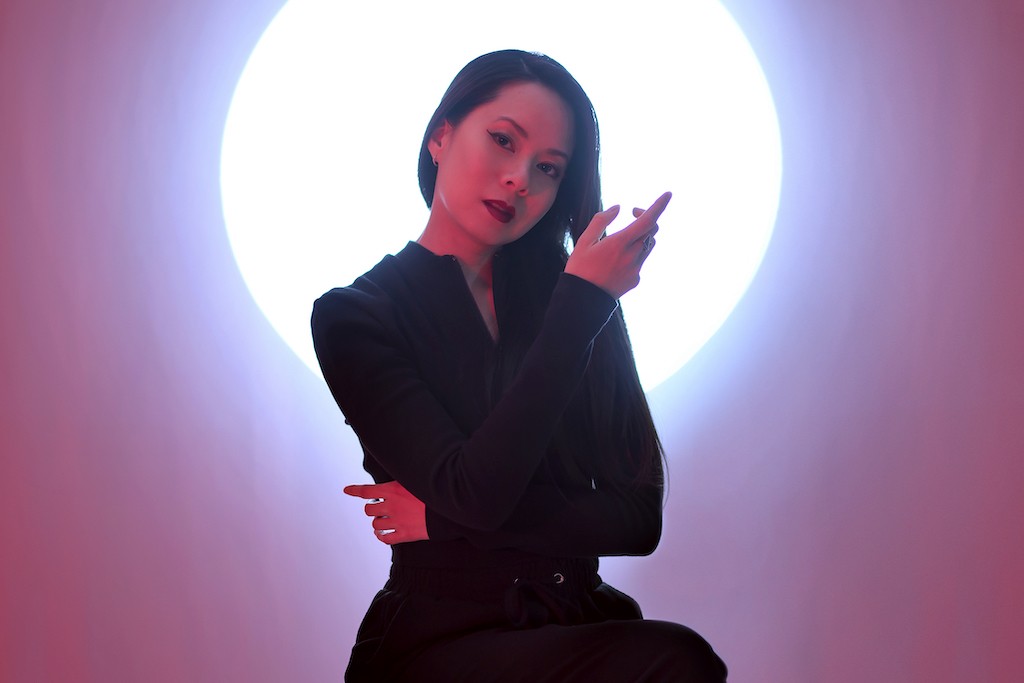 Photo: Bryan Lee
Minhy [Mini] is a visual and melodic storyteller, unraveling the intricate chapters of her own story through designs, songs and production.
Born and raised in Melbourne, Minhy is driven by her family's refugee journey after the Vietnam War. Their sacrifice and hard work to build a better future has inspired Minhy to make the most of the blessings she has been given.
Minhy's debut single "Dead Of The Night" and self directed music video won best music video at the LA Film Awards, as well as enthusiastic radio play from RRR, Syn FM and Inner FM.
Raising awareness against bias
Filmmaker Ha Le Diem recalled the mixed reactions she received when making the documentary "Children of the Mist".
Ha Le Diem (right) with Di - the main character in Diem's documentary. Photo: Ha Le Diem
As she documented the life of a teenage girl of Hmong ethic group, she learned that there are countless untold stories directly tie women and their happiness with the well-being of the entire society.
Girls and women are encouraged to be unique but only to certain extent. For a long time women joined hands to lay the foundation of breaking the bias, step by step, one small risk at a time, working for fairer treatment by their male peers.
Many males whom Ha asked all revealed that they would hate it if something similar happened to their own daughter/sister, etc but somehow willing to turn a blind eye on others. "Women's stories are related to the lives of each and every persons' lives around her. A woman's happiness can make or break a family. A child bride when in an unhappy married, she became resentful so she can curse or yell at her husband for ruining her life. Hence, the entire family became miserable."
She has created an opportunity for younger generation to reflect on customs that serve no good purpose. As a narrator, Diem's stirring words inspire her audiences to look beyond cultural norms and to ensure equality for all.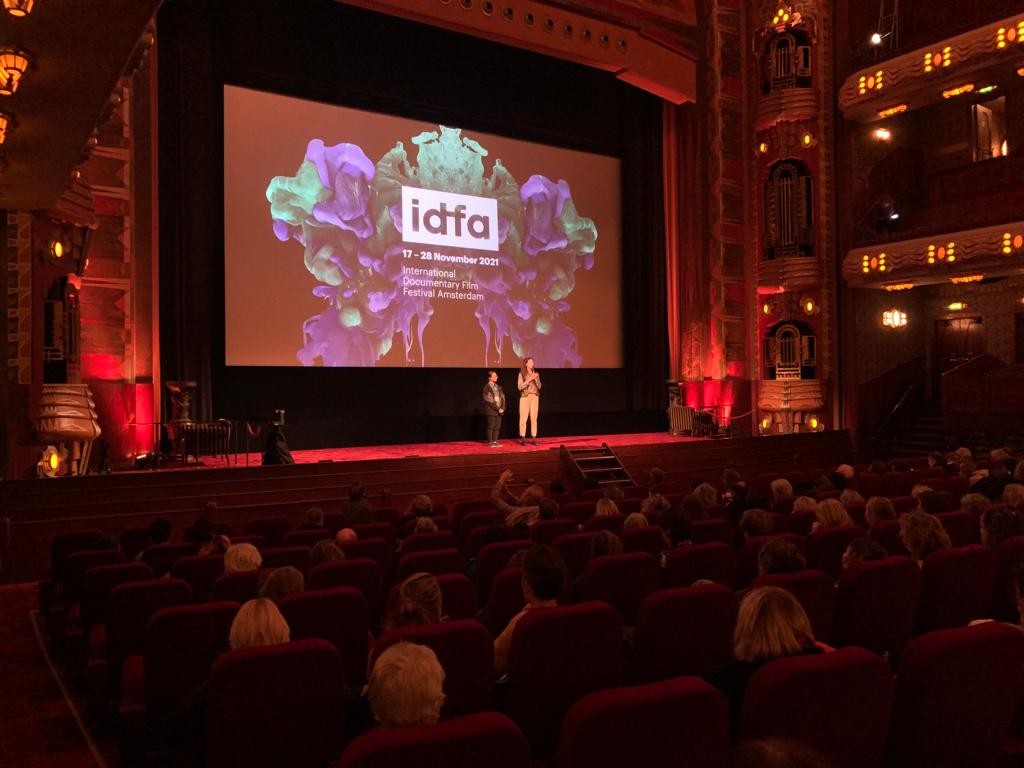 International Documentary Film Festival Amsterdam, running in Amsterdam from November 17th to 28th 2021, honored Children of the Mist (Những đứa trẻ trong sương), directed by Ha Le Diem. Photo: Ha Le Diem
The director can see the real impacts of her work on people's perception, even for the local people.
"Hearing what the local people, especially husbands, uncles and young teenage boys, had to say about their own culture really surprised me because they revealed to me that if was not for my film, they would not know of some customs towards young girls in their own ethic group. My translator, who is a Hmong teenage boy, said that it was his first time learning how bride-kidnapping can be so cruel."
In her industry, not only would most people give up after awhile, for many reasons, but their journeys would not be all that successful. Diem shared that as long as one have the long-term vision and plan of where they are going to go, the journey would be worth it. Still, she keeps an optimistic mindset, sharing that independent filmmakers often encounter challenges such as health or resource issues but if they trust the process and are willing to commit, chances and good luck will strike upon them.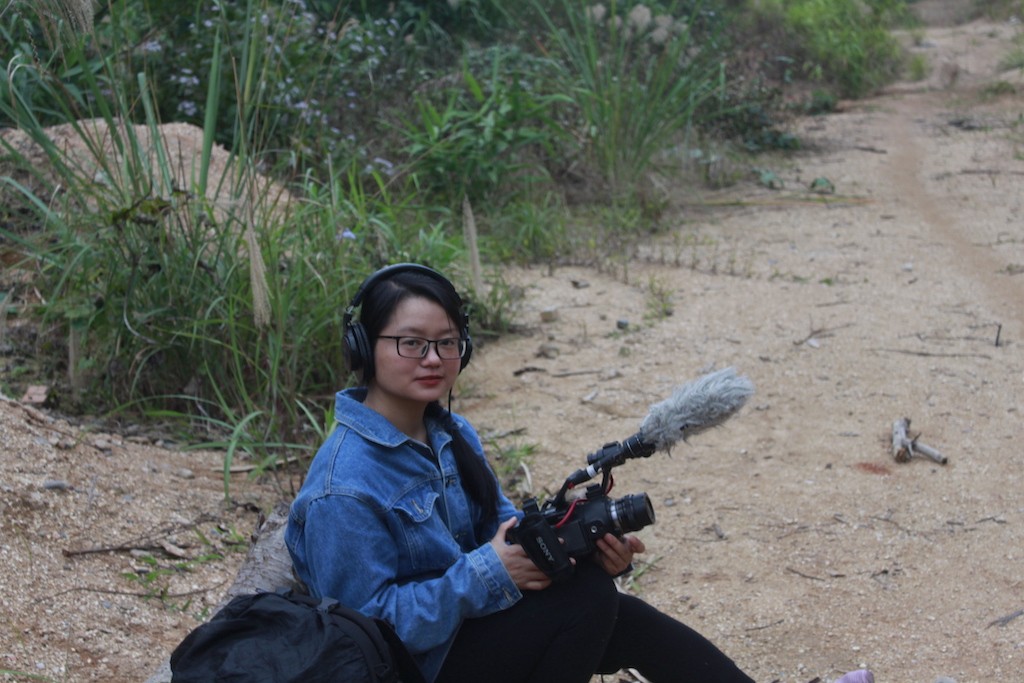 Ha Le Diem took home two awards at IDFA 2021 for her stunning Children of the Mist, including the Best Directing Award. Photo: Ha Le Diem
Vietnamese filmmaker Ha Le Diem (born in 1991, Tay ethnic group, Bac Kan province) graduated from the Faculty of Journalism, University of Social Sciences and Humanities, and was a student at the Center for Support and Development of Cinematic Talents. Vietnam (TPD). She also graduated from documentary film course of Varan Vietnam 2016. Also a person of ethnic minority group, the female director has great sympathy for the film's character when talking about the challenges faced by young girls living in the highlands.
The film follows Di, a 12-year-old girl from the mist-shrouded mountains of northern Vietnam, who belongs to the Hmong, an ethnic minority in which girls get married at a very young age.
The tremendous success of Diem Ha Le's film included two IDFA awards: Best Directing Award (€5,000) as well as Special Mention Award.
Creating a world free of bias
For the one that says, "Art is suppose to be perfect, it if not perfect, it is worthless" or, "I cannot draw or paint very well so I cannot make art," Rebbeca Milward of the Mango Studio is happy to show you several ways to awaken your artistic self.
"Art itself is the ultimate bias breaker," said Rebecca.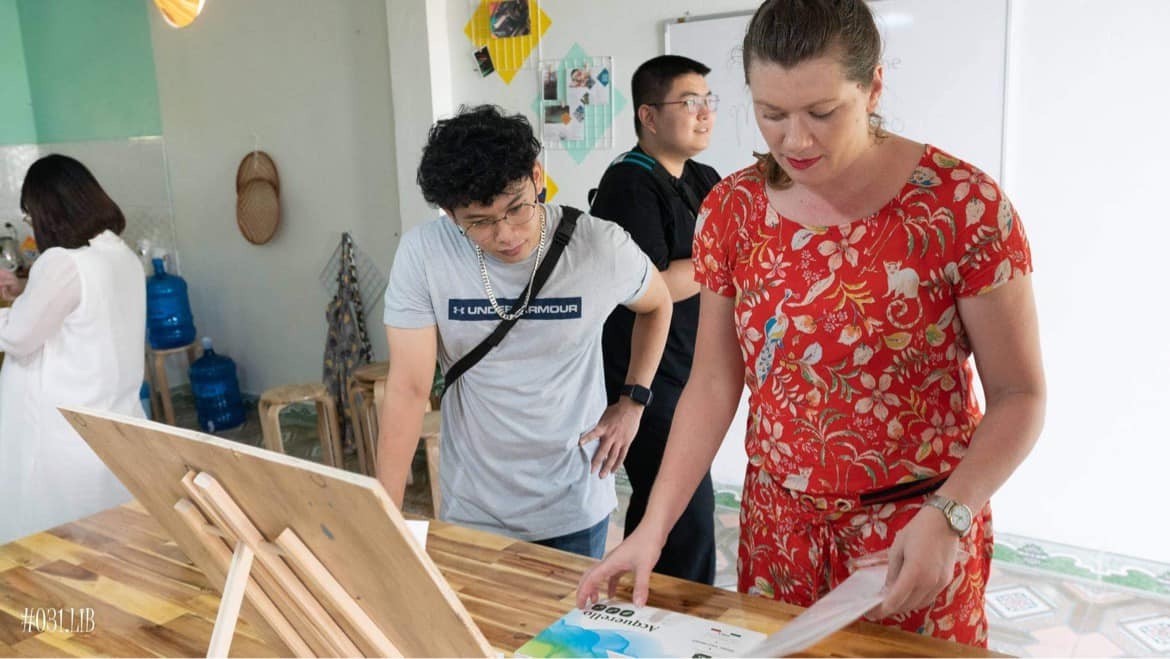 Photo: 031LIB
Rebecca is passionate about getting people to explore the endless possibilities of art-making from all walks of life.
For the past 6 months, she had been busy finding local and expat artists to collaborate with. So far, the Mango studio had successfully presented workshops on embroidery, mosaic, pour painting, wreath making, etc.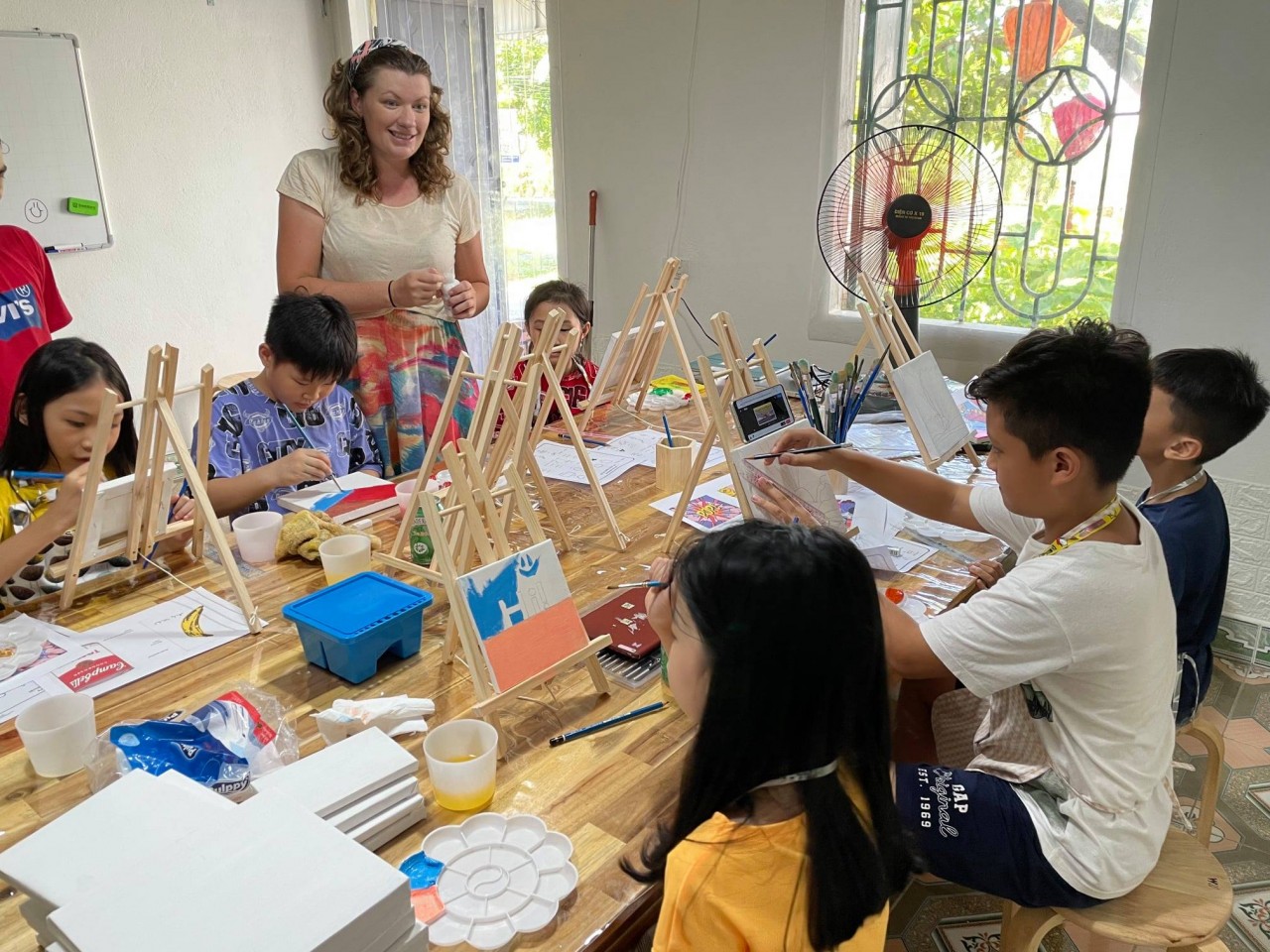 Participants at workshops are encouraged to create and have fun at the same time. Photo: The Mango Studio
Rebecca always tries to find ways to create a platform for the local community to have their creative freedom. There is no need to seek for valuation, but instead, success is a progression towards visualizing a better world.
The Canadian entrepreneur is also pressed about addressing gender-based arts, saying at Mango Studio, the space is open for everyone.
"It is important to de-genderize art and make those mediums as genderless as possible so they feel approachable and add more value to that art/craft, breaking stereotypes like crochet is a woman's hobby, etc."
The artist hopes for a better world where fearlessness to embrace what makes you different, and so far she is grateful to find Hai Phong art community to be growing and thriving beautifully.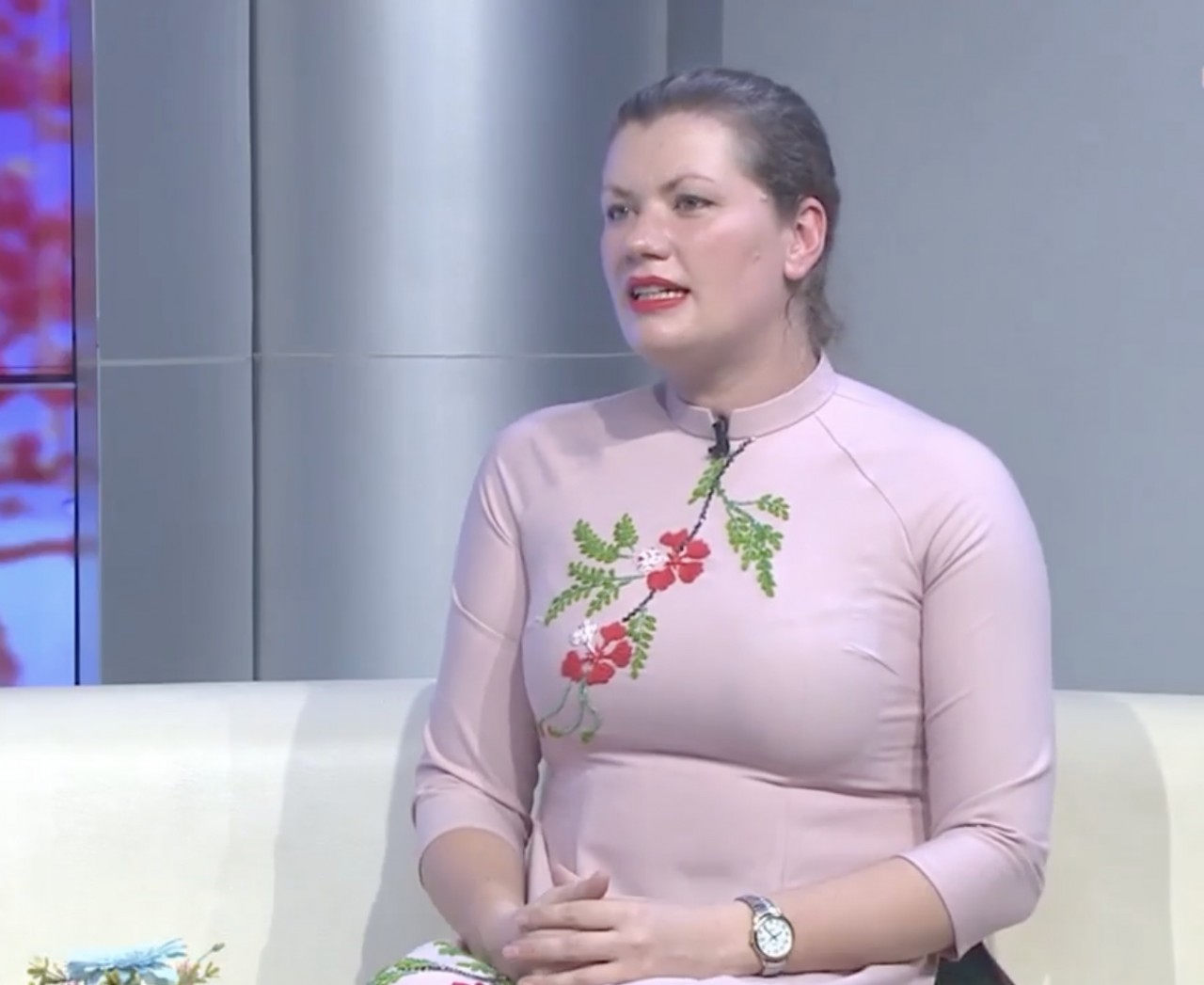 Photo: THP
Rebecca Milward (Canadian) is founder/director of The Mango Studio (Hai Phong city). With her fashion background, Rebecca first focuses on exploring the textile production of Vietnamese ethic communities and for many years she has contributed to many local art events and organized multiple workshops to connect Vietnamese and foreigners through art creation.
The Mango Studio, which she founded in 2021, is a community-based arts space in Hai Phong city offering creative workshops, courses, and art exhibitions for both children and adults.
Rebecca is the host of "52 Birds" - an on-going project where she welcome creators from everywhere in Vietnam to contribute. You can submit your own interpretation of Vietnamese bird breed in the Red list (with instruction from the host) and get a chance to be featured in the 52 Birds online collaborative project. The project goal is to raise awareness of endangered wildlife in Vietnam. By making your choice of mediums, from watercolor to clay sculpture to collage, you deliver the charming beauty of Vietnam and viewers can watch your work on the 52 Birds online art exhibit live-streaming on the Facebook page of The Mango Studio.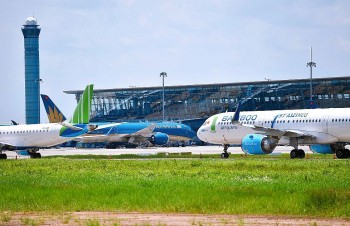 Economy
Vietnam Business & Weather Briefing (August 9): Vietnam's economic growth is expected to reach 7.5% in 2022, new securities accounts hit a near two-year low in July.