Vietnamese Cafe and Restaurant in Tanzania Supports Local Women
You can now try Vietnamese signature dishes in Tanzania thanks to Kim Anh - a brilliant female entrepreneur.
Kim Anh, a Vietnamese expat living in Zanzibar Island, made the bravest decision of her life by opening a Vietnamese restaurant aboard. Let's hear her inspiring story and find out how she put aside her own struggles to celebrate Vietnamese culture in another land.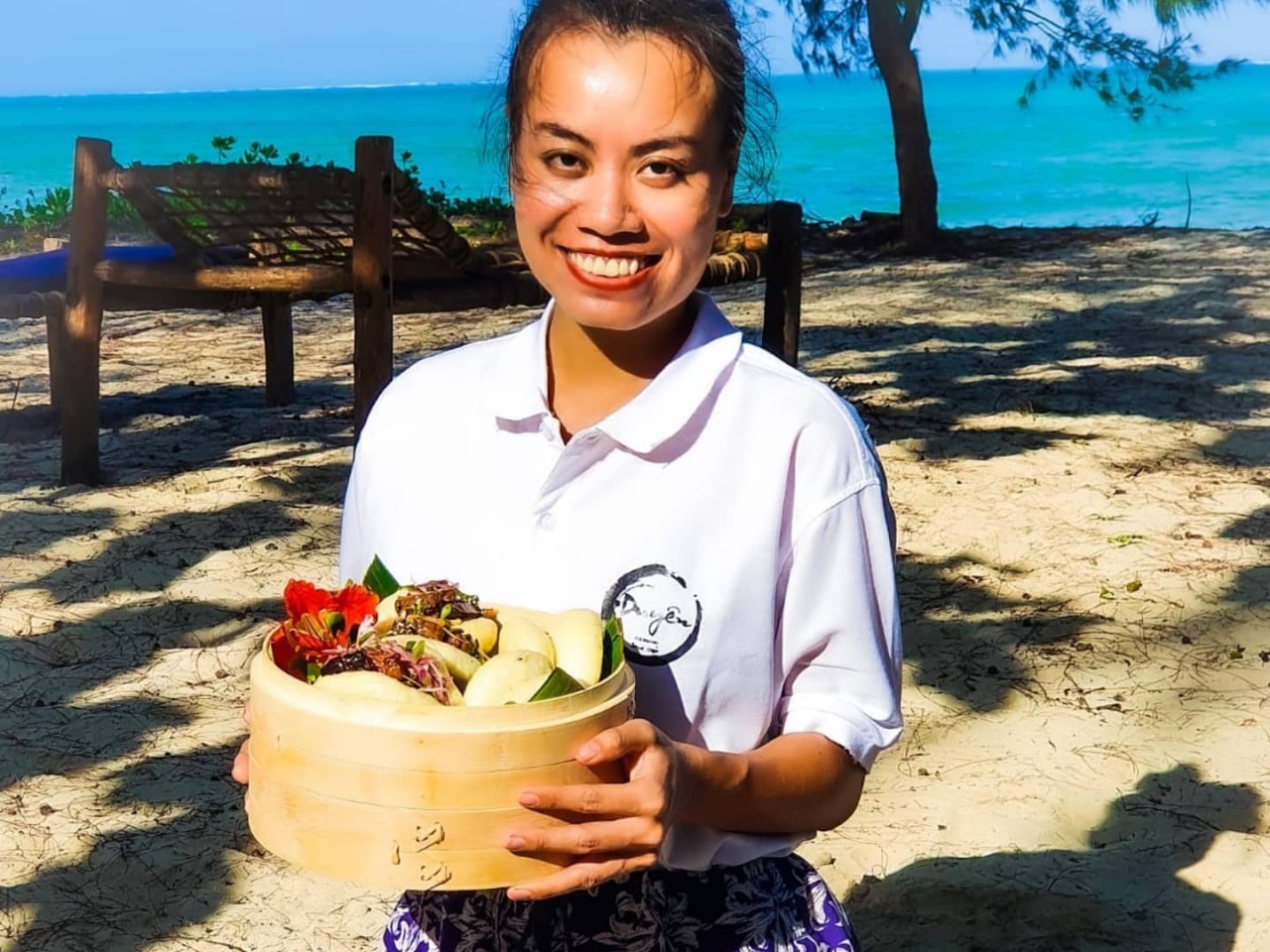 Kim Anh - Duyen Restaurant Manager. Photo: To Quoc VN
A predestined encounter
Over two recent years, visitors to Sharazad Oasis Retreat resort on Zanzibar Island (in Tanzania), which is known as "the pearl of East Africa", have had the opportunity to enjoy Vietnamese dishes at a beachside restaurant.
Kim Anh's journey of bringing Vietnamese cuisine to the island off the coast of the Indian Ocean is encapsulated in the word "destiny". In 2019, she decided to go to Zanzibar to get a job as a hotel manager.
A few months later, due to the Covid-19 pandemic, she had to temporarily stop working.
In her spare time, Kim Anh began cooking for friends to enjoy and received encouragement to start a Vietnamese cuisine business.
"I thought the idea was quite far-fetched because my fortune at that time was no kitchen and no restaurant and I did not believe that I was predestined to have a strong attachment to cooking", said Kim Anh.
However, because Kim Anh still wanted to stay in Zanzibar, she tried her hand at cooking Vietnamese dishes and selling them in the form of take-away to earn an income. At first, the guests of the Vietnamese kitchen cooked by Kim Anh were mainly foreigners who are living on the island. Many of them are working as managers and personnel at the local hotels and resorts, so they introduced her to cooking Vietnamese dishes for major parties and events on the island.
In late August 2020, when tourism activities were resumed, Kim Anh returned to work as a hotel manager. She did not waste any time proposing to supervisors and investors about her Vietnamese culinary project and her small kitchen in Zanzibar.
"I told the investor that the project has a spiritual significance for people living far away from home like me", she said. Even though things did not go according to plan, she decided to quit her job to continue cooking.
"Many people said I was crazy. Living in a foreign country amid the complicated development of the pandemic, I should have chosen to continue working to earn my living. However, I decided to quit my job to pursue something that did not make money", Kim Anh recalled.
Focusing her mind and heart on the business, Kim Anh established her own company in Zanzibar, named Hanoi Hospitality Ltd. Hanoi Hospitality serve Vietnamese dishes ever since.
One day, Kim Anh received an offer from the owner of the Sharazad Oasis Retreat hotel to together they would build a Vietnamese restaurant and she will be the manager.
That is the story of how "Duyen – Vietnamese Homecooking", the first Vietnamese and the third Asian restaurant in Zanzibar, was born.
Photo: To Quoc VN
Making it big in a foreign land
The biggest difficulty for small restaurant owners like Kim Anh was the scarce and expensive raw materials and limitations in transportation due to the impact of the pandemic.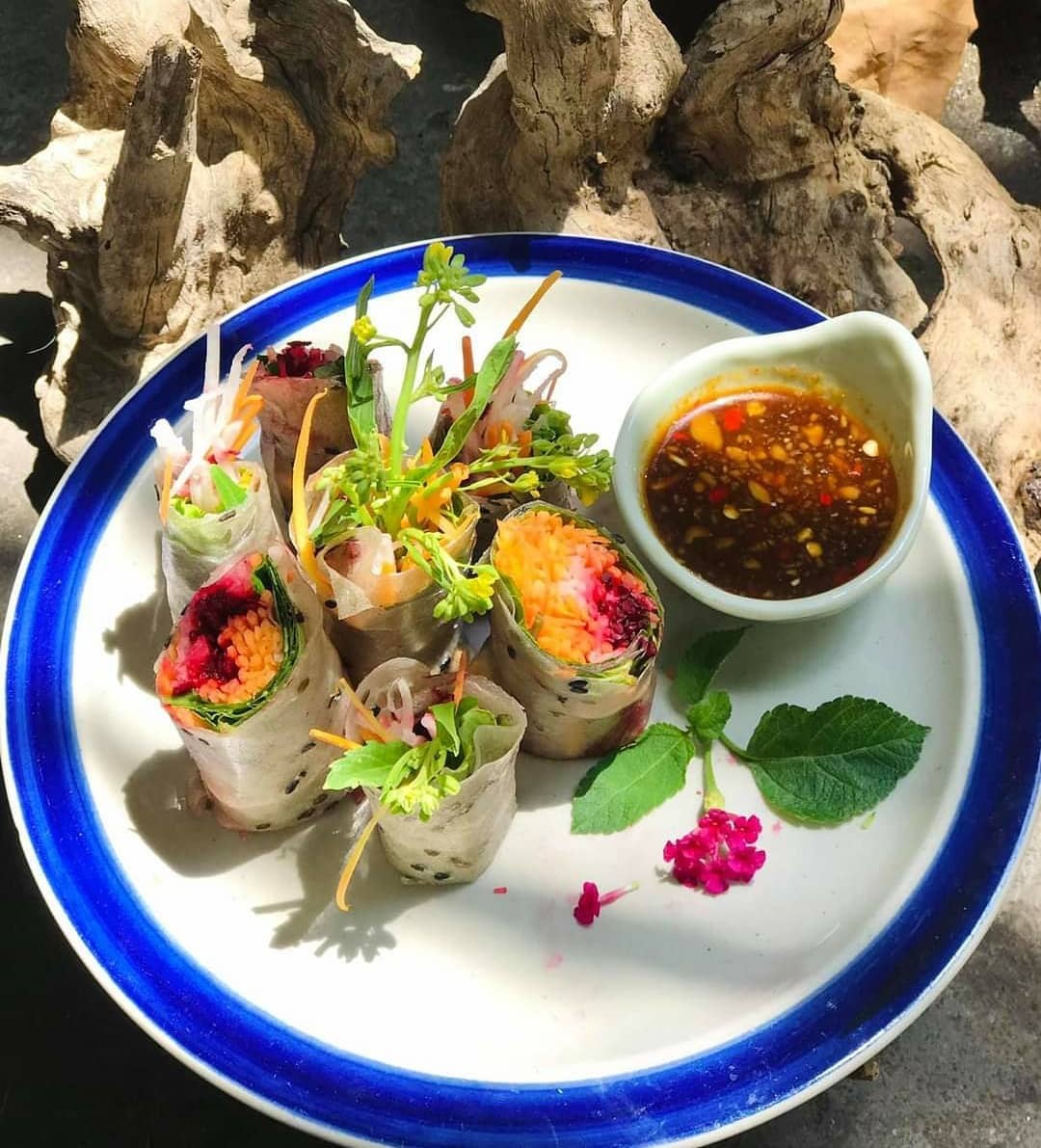 Photo: To Quoc VN
Kim Anh had to proactively find ways to overcome the situation, from planting herbs by herself to learning how to produce her own bean sprouts, tofu and flour for rice noodles.
After two years, Kim Anh's efforts have paid off. The restaurant's menu now features around 40 dishes.
Most of the guests have become familiar with the names of Vietnamese food such as pho (noodle), xoi lac (sticky rice with peanuts), banh cuon (Vietnamese steamed rice rolls), and rice with braised pork ribs.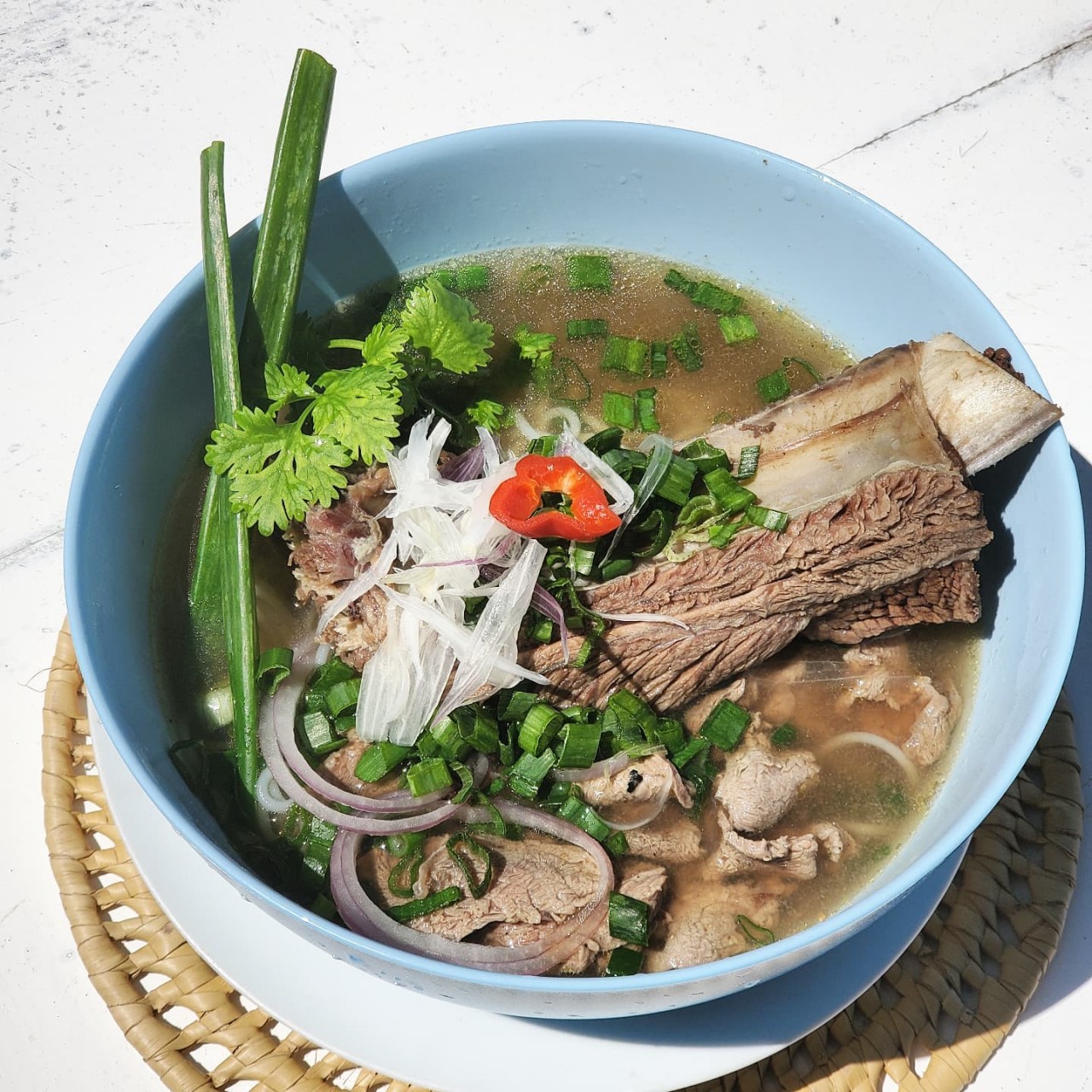 Photo: To Quoc VN
"Whenever a diner asked me about the restaurant's name, I had a chance to talk and introduce Vietnamese culture as well as express my appreciation for the good relationship with Zanzibar, which gave me the opportunity to bring Vietnamese cuisine to the land of Africa," Kim Anh shared.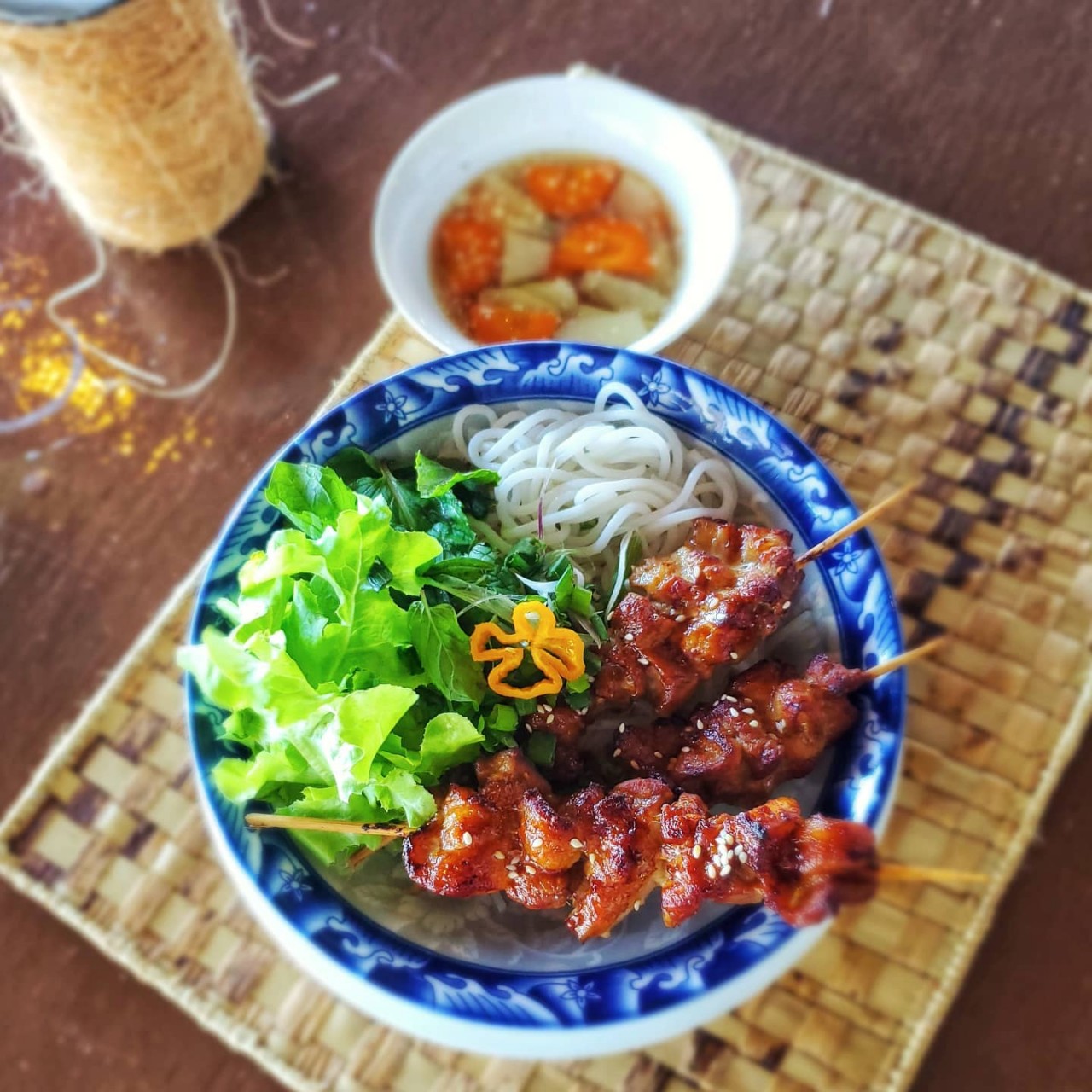 Photo: To Quoc VN
In late 2021, Kim Anh also opened a café named "Hanoi House – Coffee by Kim" in Paje, the centre of Zanzibar, contributing another space for visitors to enjoy Vietnamese drinks.
Kim Anh has always wished for her company to share benefits with the community. The first thing that came to her mind was the creation of more jobs for local people.
The restaurant "Duyen – Vietnamese Homecooking" currently has nearly a dozen local employees working as kitchen assistants and main chefs.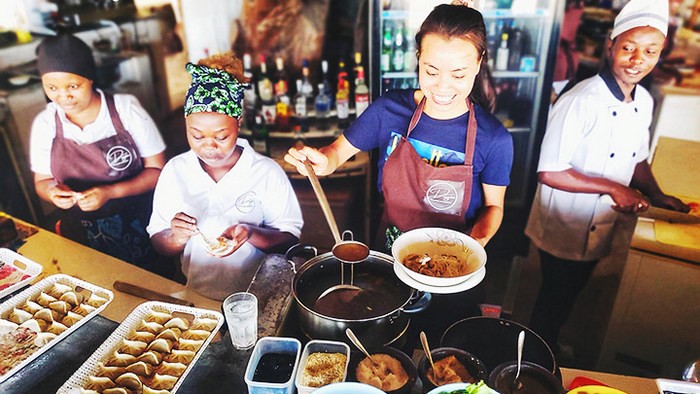 Photo: Nhan dan Online
The ambitious entrepreneur thought about creating better opportunities for local women while developing a network of Vietnamese cuisine in other tourist attractions.
Guests at the restaurant have sometimes had the opportunity to experience the Vietnamese atmosphere through activities such as watching the bright moon in the full moon day, lighting lanterns on the occasion of the mid-autumn festival, and the celebration of Tet (Lunar New Year) Festival.
"When I enjoyed my first bowl of pho cooked by an African girl, I was very proud and complimented her that she was now qualified to marry a Vietnamese man! I have never viewed other people's accomplishments as competition. I always support those who can open their own restaurant, especially a Vietnamese restaurant", said Kim Anh.