Interdisciplinary Science Center in Binh Dinh Brings International Scientists to Vietnam
"International Center for Interdisciplinary Science and Education (ICISE) is a bridge that brings international scientists to Vietnam to make inventions that contribute to humanity, at the same time introducing the image of the country, people and culture of Vietnam to the world."
The statement was made by Ambassador Nguyen Phuong Nga, President of the Viet Nam Union of Friendship Organizations (VUFO) when visiting the ICISE on July 18 in Quy Nhon, Binh Dinh. The center was founded and sponsored by professors Tran Thanh Van and Le Kim Ngoc and prestigious scientists around the world.
During the trip, Ambassador Nga was accompanied by delegates to the 2023 National Conference on People-to-people Diplomacy.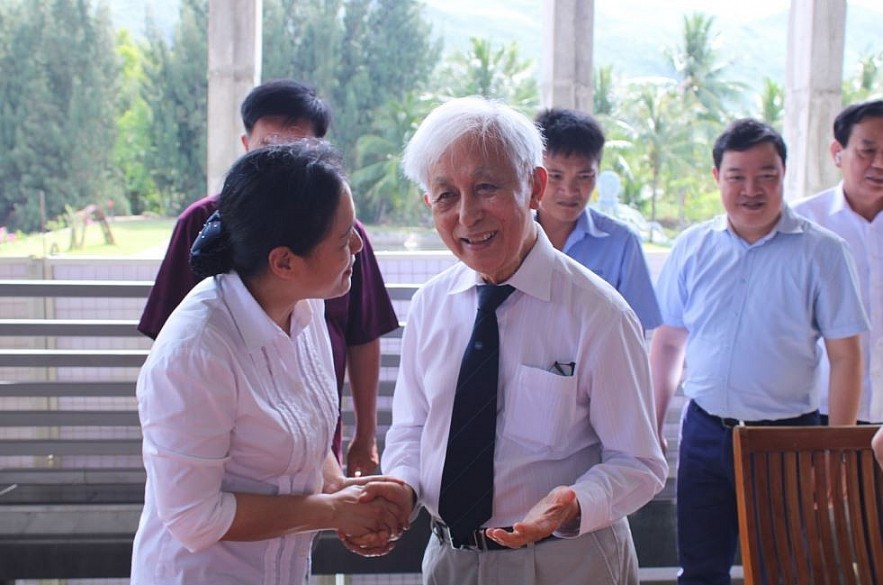 VUFO President Nguyen Phuong Nga (left) met Professor Tran Thanh Van.
The delegation had an intimate meeting with Professor Tran Thanh Van and his wife - Le Kim Ngoc and many science professors there.
Ambassador Nguyen Phuong Nga expressed her admiration for the great efforts, enthusiasm, and dedication of professors Tran Thanh Van and Le Kim Ngoc and the Meeting Vietnam Science Association. Affirming that scientists have done their mission of building peace and friendship among nations, Nguyen Phuong Nga said that through the Center's activities, the world would better understand and support Vietnam.
She said that VUFO's policy was to gather more participation of scientists to serve practical goals of national construction and development. In the coming time, the VUFO Standing Agency and the People's Aid Coordinating Committee (PACCOM, an agency under VUFO) will make more efforts to contribute to facilitating ICISE Center to effectively operate.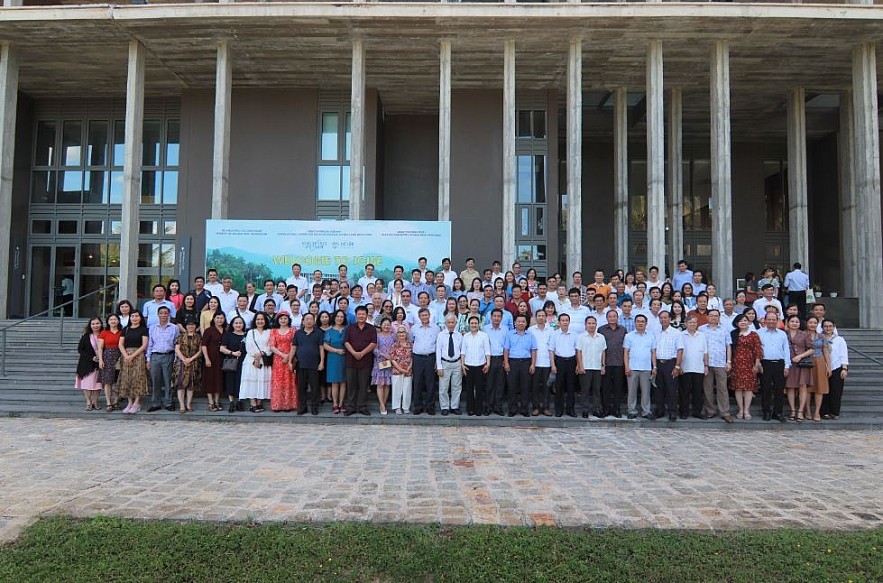 The VUFO delegation and its member organizations took a photo with scientists of the ICISE Center.
At the meeting, professors Tran Thanh Van and Le Kim Ngoc and leaders of the ICISE Center introduced the purpose, meaning, and practical activities of the Center and the Meeting Vietnam Science Association.
According to Professor Tran Thanh Van, ICISE and VUFO both strive to consolidate friendship, building close relations, cooperation, and support among countries and people worldwide, aiming for goodwill and development.
Over 10 years of operation, the ICISE Center has welcomed 8,600 scientists in 35 countries, notable 18 Nobel winners. It has organized 150 events, including 80 international seminars.