Internatinal Organizations Help Vietnam's Provinces Clear War-left Legacies
Vietnamese, UK organizations cooperated in addressing post-war bombs, mines.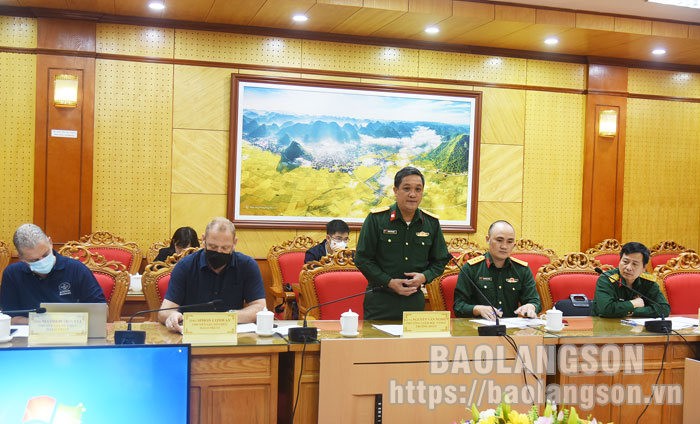 VNMAC, HALO Trust will help Lang Son province clear war-left bombs, landmines. Source: baolangson.vn
Vietnam is one of the countries suffering from heavy consequences of post-war bombs, mines and unexploded ordnances (UXO). The country has implemented measures to clear bombs, mines and explosives. International donors and non-governmental organizations have supported Vietnam in UXO clearance and assisted bomb and mine victims.
A delegation from the Vietnam National Mine Action Centre (VNMAC) and the UK's HALO Trust, the world's largest humanitarian mine clearance agency, on Oct.20 held a working session with the People's Committee of northern border Lang Son province on coordination in overcoming the consequences of bombs, landmines and UXOs in the locality.
Vice Chairman of the provincial People's Committee Luong Trong Quynh affirmed the local administration would actively coordinate and create the most favourable conditions for them to carry out surveys and identified locations where there were bombs, landmines and explosives in the province.
The returning of land which was cleared of bomb, landmines and other unexploded ordnances would facilitate local residents in organising production and improving their lives while helping the province have resources for socio-economic development as well as ensuring national defence and security, he said.
Participants at the meeting discussed the contamination of bombs, landmines and other unexploded ordinances in the province and the need to overcome the consequences of these ordinances.
VNMAC and HALO Trust are expected to complete the surveys and preparation work in 2022 and start the clearance in Lang Son province from the beginning of 2023, according to VNA.
It is estimated that the province has more than 45,650 hectares of land contaminated with bombs, landmines and unexploded ordnances, accounting for 10% of the total land area. As many as 8,593 hectares have been cleared from these explosives since 1991.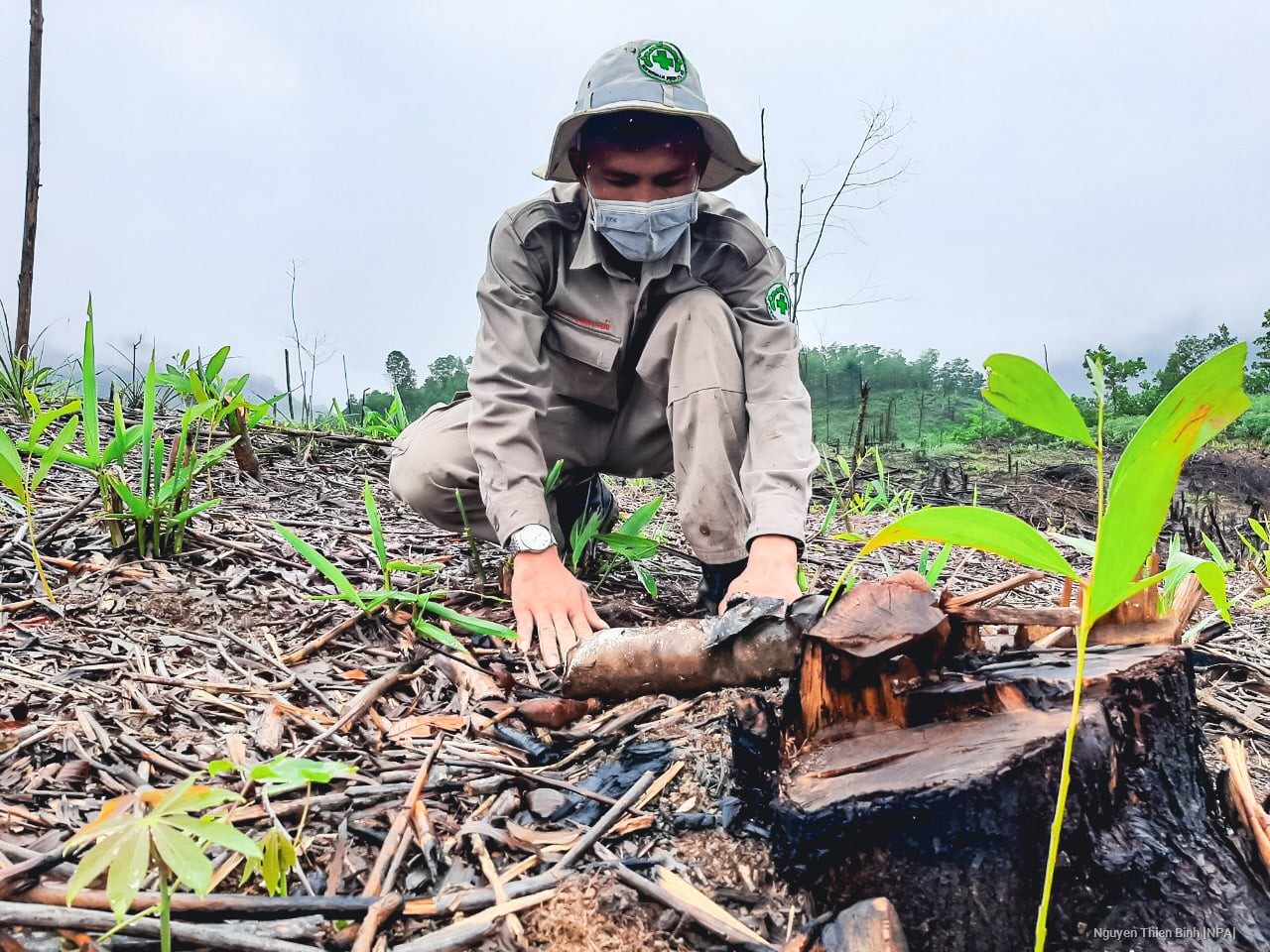 The team approaches an area in Den's farm where cluster munitions were found. Source: NPA
UXOs from the previous war and other conflicts remains one of the most rampant war legacy problems. They are responsible for numerous death, injuries, and destruction cases each year.
Earlier this week, on Oct. 18, the Norwegian People's Aid (NPA) Vietnam safely destroyed 120 cluster munitions on a farm in A Luoi district, Thua Thien Hue province.
Ho Thi Den, a Pako ethnic woman, reported to NPA Hue explosive ordnance disposal team that she had encountered many cluster munitions on her farm in Ke village of Hong Van commune. The mother of three was too scared to continue preparing for a new acacia crop after discovering such a large number of munitions. She appreciated the NPA team for their quick response, which allowed her family to continue their farming without fear.
Thua Thien - Hue is one of the provinces with highest level of landmines contamination in the country, with more than 170,400ha (accounting for 35% of the province's total area).
About 70km to the west of Hue city, A Luoi mountainous district is located on the Ho Chi Minh trail which served as an important artery for the Northern Vietnamese Army to transport weapons and personnel during the war. As a result, A Luoi was heavily bombed and shelled. Over 45 years after the war ended, explosive ordnance has caused 699 accidents in A Luoi District where 80% of the population is Pa Ko, Ta Oi, Ka Tu, and Pa Hy ethnic minorities.
Norwegian People's Aid operations in Thua Thien Hue province are funded by the Norwegian Ministry of Foreign Affairs, the US Department of State, and the US Department of Defense. Their key partners include Thua Thien – Hue Union of Friendship Organizations (HueFO) and Vietnam National Mine Action Center (VNMAC).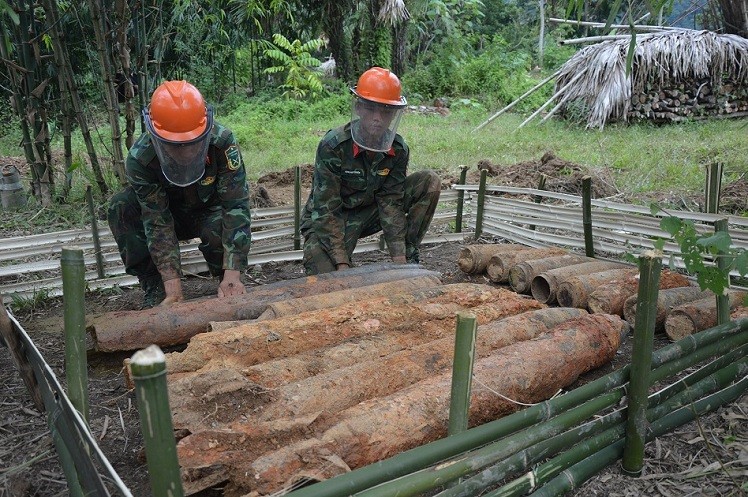 Thousands of UXO items cleared in Tien Thang hamlet, Phuong Thien commune, Ha Giang city on October 18. Source: PANO
On the same day, the Ha Giang Provincial Military Command cleared more than 7000 individual pieces of unexploded ordance leftover from the American War in Vietnam, reported PANO - the online newspaper of the Vietnam People's Army.
The UXOS were discovered in Phuong Thien commune while citizens were leveling the ground for housing construction. Among these were 12.7mm bullets, 37mm anti-aircraft artillery shells, 82mm & 100mm mortar rounds, POMZ-2 fragmentation mines, and a variety of grenades.
Colonel Tran Huy Thuc, Head of the Engineering Board of the Ha Giang Provincial Military Command, noted that there are numerous war-left UXO items in Ha Giang province. Therefore, the provincial military command has enhanced information dissemination to call on local people to report to the authorities if they find bombs, mines or shells in their living areas, contributing to promptly deactivating the UXO.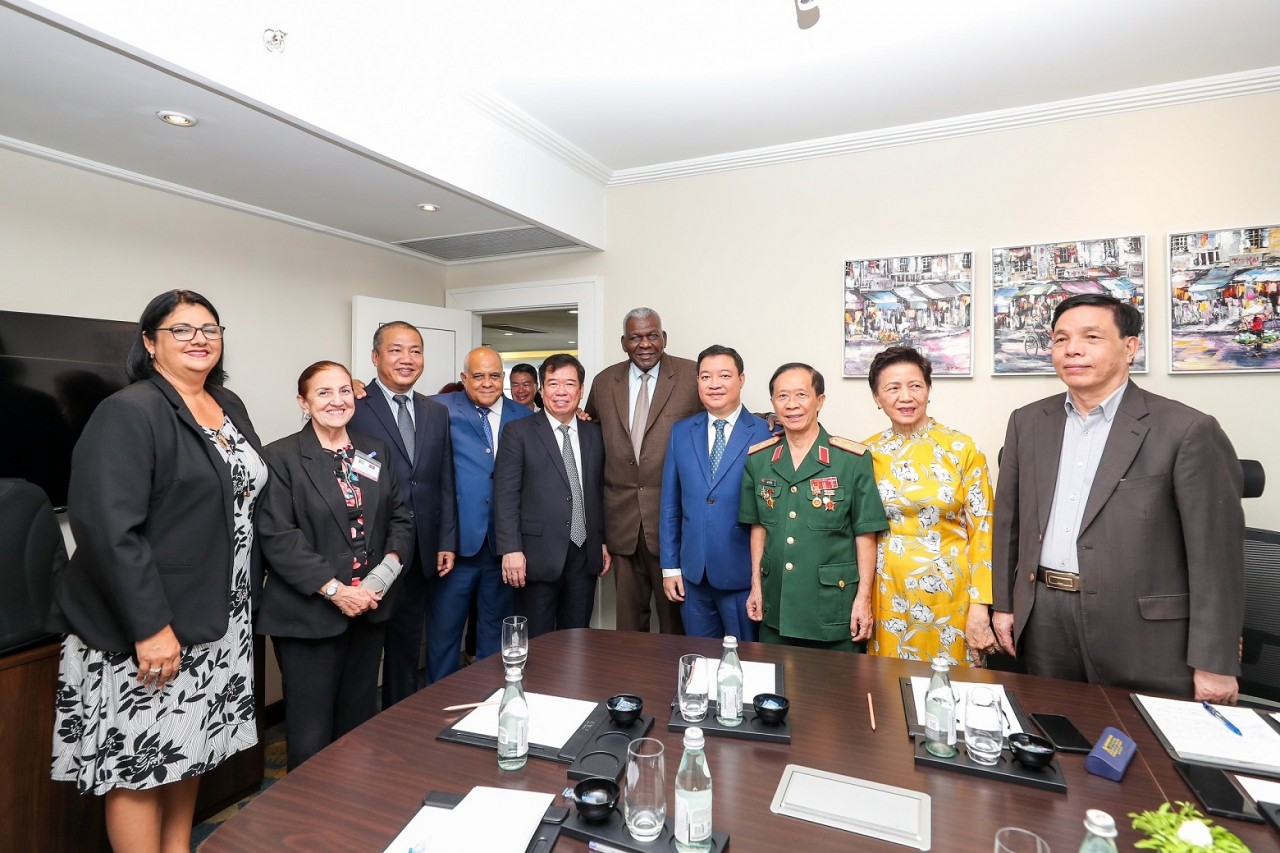 Friendship
President of the National Assembly of People's Power of Cuba Esteban Lazo Hernandez emphasized that Vietnam - Cuba is always united and faithful because they are one family.
September 27, 2023 | 15:11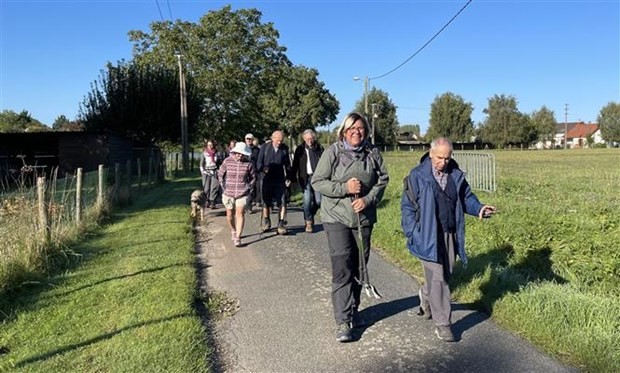 Friendship
The Children's Walk For Hope is a virtual event that will be held globally recently.
September 27, 2023 | 14:54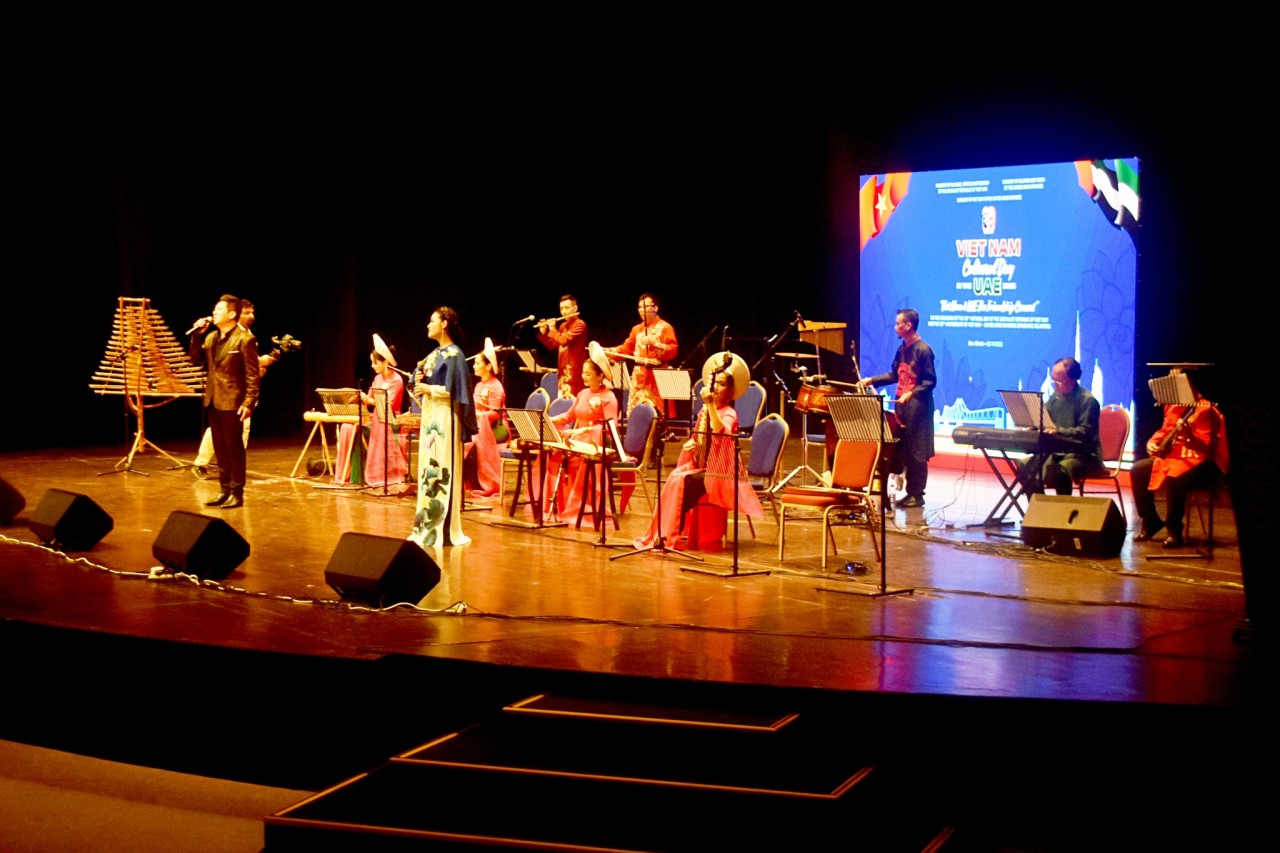 Friendship
A special art performance was held in the capital Abu Dhabi, gathering leading artists from Vietnam and the United Arab Emirates (UAE).
September 27, 2023 | 14:01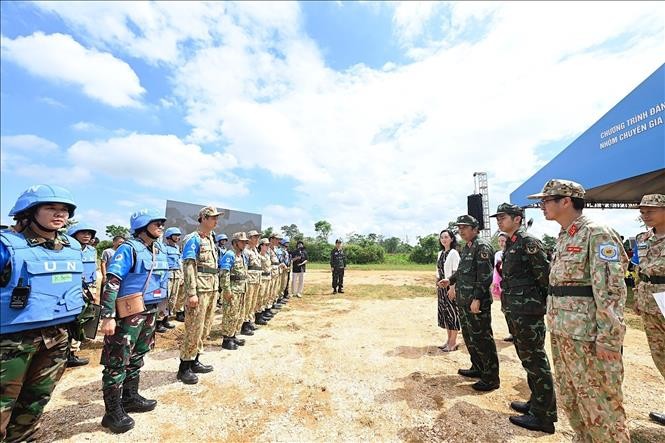 Friendship
Japan and representatives of State members of ASEAN Defence Ministers' Meeting Plus (ADMM-Plus) valued the preparations of Vietnam in hosting the Competency Evaluation Program for Prospective UN Peacekeepers (CEPPP) as well as outcomes of the program.
September 27, 2023 | 07:53