International community supports Vietnam's solutions to BienDong (East Sea) issue
China's recent illegal actions and violations of the 1982 UNCLOS have threatened order and stability in the BienDong (East Sea) causing great international concern.
Vietnam, who is directly affected by China's activities, has always maintained a clear, consistent stance of settling disputes by peaceful means.
The country is consistent in its stance of settling territorial disputes and other disputes concerning the East Sea through peaceful negotiations on the principles of equality, mutual understanding, and respect for international law and the UNCLOS 1982.
Vietnam respects international law in the East Sea
In its attempt to monopolize the East Sea, China has ignored international law and failed to honor its political commitment to Vietnam, ASEAN, and other world powers as well as the UNCLOS and the 2002 Declaration on the Code of Conduct of Parties in the East Sea (DOC).
Vietnam has contacted China through different channels and delivered diplomatic notes protesting China's violation of Vietnam's Exclusive Economic Zone and continental shelf and demanding China withdraw its ships from Vietnam's waters and respect Vietnam's sovereign rights and jurisdiction for the sake of bilateral ties and for peace and stability in the region.
The nation's stance has received support from foreign politicians and legal scholars.
At the recent 11th East Sea Conference in Hanoi, Bill Hayton, Associate Fellow of the Asia-Pacific Program of the UK's Royal Institute of International Affairs, said "Vietnam has over the last few months suffered quite a lot from what China has been doing in South China Sea.
I think Vietnam has a lot of support in principles from other countries but the question is what they're gonna do about it. Some countries will make show of or send warship for example, some European countries, but it's still quite a long way away from Europe and Europe has problems close to home."
According to experts, Vietnam's efforts and patience cannot be effective without international support, particularly support of ASEAN countries.
Stanley Weeks, a Senior Expert of the Science Application International Corporation, said "I think the important thing is countries not only in this region but globally that depend on freedom of the sea, No 1 call up and criticize and don't be afraid to speak up just because China is very powerful. And No 2 is to encourage and get together informally in terms of operation and get support from ASEAN countries."
Doctor Tomotaka Shoji of the National Institute for Defense Studies of the Japanese Defense Ministry urges Vietnam to cooperate more with other countries like Japan mentioning the practical defense cooperation between Vietnam and Japan as an example.
Respect for international law in the East Sea
Since a spokesperson for Vietnam's Foreign Ministry made clear Vietnam's stance on China's violation, many countries have expressed concern and protested against China's violation of international law in the East Sea.
They have supported Vietnam's stance of settling disputes in the East Sea by peaceful means, not using or threatening to use force, respecting international law and UNCLOS and soon finalizing a legally-binding Code of Conduct in the East Sea.
The international community agrees that the East Sea should not be associated with disputes of sovereignty and resources. It should be the meeting place of shared interests of countries inside and outside the region, where countries uphold the rule of law and promote dialogue and cooperation.
Sustainable use of marine resources and maritime law enforcement are the responsibility of countries inside and outside the region.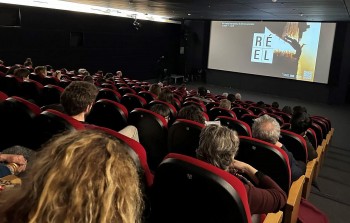 Friendship
Vietnamese documentary films are being screened in France.