International Friends Impressed With Vietnam's Belief in Mother Goddesses
Three Palaces Mother Goddesses worship has accompanied the cultural history and life of the Vietnamese people for hundreds of years. Along with the extensive introduction and promotion, the belief of Mother Goddess is loved, learned, and researched by domestic and foreign tourists and cultural experts.
Bold Vietnamese cultural identity
In 1993, at the Theater Festival of French-speaking countries in Lion (France), Vietnam's three-piece performance of Co Bo, Ong Hoang Muoi, and Co Doi Thuong Ngan made an impression on international friends, especially global theater researchers. According to many cultural experts, this unique form of performance in Vietnam is a testament to the theater's origins stemming from folk performances. Hau Dong includes everything: from music, stories about characters, description of characters as closely as possible, dancing, costumes, and even audience elements. This is probably the first time that Hau Dong ritual in Mother Goddesses belief was introduced to the world.
Nguyen Van Thu - Director of Nam Dinh Museum, a member of the Committee to develop the Dossier of Vietnamese people's Three Palaces Mother Goddesses practice for submission to UNESCO said: The belief in Mother Goddess is imbued with good identity and values of the Vietnamese cultural tradition. It reflects the behavior between people and people, people and nature. The belief of Three Palaces Mother Goddesses attaches great importance to the creative and reproductive power of the mother and honor the Mother to convey wishes for luck, tolerance, and protection in life.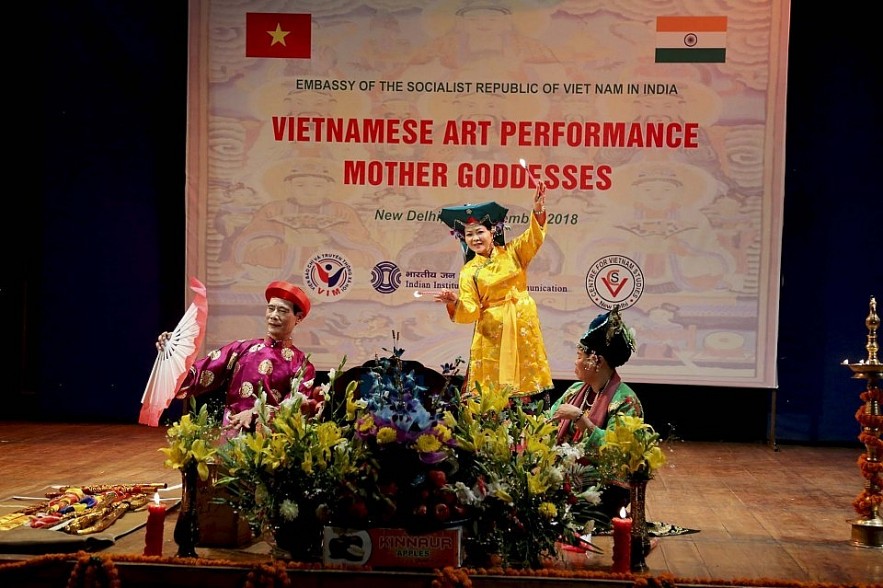 Introducing Three Palaces Mother Goddessesworship in India (Photo: Pham Dung).
Religious practices promote the value and role of women in the family and social life. Mother's love becomes a source associated with love for the motherland, country, and nature, contributing to the cohesion of humanity, stability, and social development. Through the ritual practices, people have awareness of mothers, which are the symbol of a typical Vietnamese woman with good qualities, sacredly transformed into a fairy, buddha, and saint. "La Tien, La Phat, La Ta/ Sinh sinh, hoa hoa cung la Ba day" (I'm a fairy and a saint/ Went through different lives, it's still me) - a poem at the Tomb of Thanh Mau Lieu Hanh, belonging to the Phu Day Monument Complex.
This belief contains deep moral and human values. The goddesses are historical or legendary figures who have been historicized as people with meritorious services in the cause of nation-building and defense, such as Tran Hung Dao, Pham Ngu Lao, Nguyen Xi, and Phung Khac Khoan, Le Chan... Paying gratitude to those who have contributed to the people and country is the tradition of "drinking water, remembering the source", expressing the understanding of national origin. Therefore, the belief is meaningful in character education, promoting and praising patriotism and national pride, especially for the younger generation.
Good impression in international friends
In 2016, the Vietnamese Mother Goddess worship was inscribed on the List of Intangible Cultural Heritage of Humanity by the United Nations Educational, Scientific and Cultural Organization (UNESCO), affirming the heritage's great values, and contributing to enriching the picture of the cultural diversity of Vietnam in particular and of the world in general.
After being recognized by UNESCO, more programs promoting the religion to domestic and foreign tourists have been held. From experts studying Vietnamese culture come to visitors, whether they have been to Vietnam, witness the performance of Mother Goddesses in-person or through social networks, all share the same feeling about the beauty of Mother Goddess Worship from the music, to the meaning of the performance.
Christian Manhart, UNESCO Representative to Vietnam, said: "The Vietnamese people's practice of worshiping the Mother Goddesses of the Three Palaces represents an important connection for the community to express historical memories, cultural identities, and sense of solidarity and spiritual desire. From a social perspective, with its open nature, the practice of worshiping the Mother of God promotes tolerance among ethnicities and religions. This heritage has been handed down since the sixteenth century through the practice, teaching and learning activities of practices. It is compatible with international human rights regulations and has no restrictions on practice."
Anya Starodubova, a Moscow State Linguistic University (MSLU) (Russian) said: "Looking at the dances and performances, I realize what is unique about Vietnamese culture, and it is this unique feature that makes Vietnam different from other countries. Of course, costumes and jewelry are the main points of any dance. The dancing women wearing costumes of vibrant colors, and lots of other small jewelry is interesting, and I will study more about Vietnamese culture."
Olam Chanthavilay, Second Secretary, Culture and Education Department, Embassy of the Lao PDR in Vietnam said: Each country has different cultures, but they all have the common characteristic, which is people come to pagodas, temples or Vietnamese Three Palaces Mother Goddesses beliefs to pray for peace, happiness, and serenity for their families and loved ones, and look towards the truth, goodness, and beauty.
Understanding Vietnamese culture, Olam Chanthavilay expressed his impression of the performance of Vietnamese people's Mother Goddesses practice.
"Vietnamese people's Three Palaces Mother Goddesses practice shows the tradition of patriotism, respecting the ancestors. Worshiping the Holy Mother, the symbol of the supreme mother, contributes to upholding the value and role of women in Vietnamese family life and society. Besides, festivals, Hau Dong rituals, and Van singing, imbued with folklore elements such as costumes, music, and dance are artistically expressed.
The art of dancing in the Mother Goddess religion is very impressive, artistically shown in association with the Three Palaces Mother Goddesses religion, it is also a method to preserve the history, heritage, and cultural identity of the Vietnamese people, creating a very diverse and rich picture of cultural and spiritual life with unique Vietnamese identity.
"I am deeply impressed with the music, instruments that are unique and rarely seen in other countries, the ancient songs with traditional Vietnamese musical instruments such as the moon lute, bamboo sticks, small drum... create a great and very attractive combination. A particular type of music - music dedicated to spiritual space," said Olam Chanthavilay.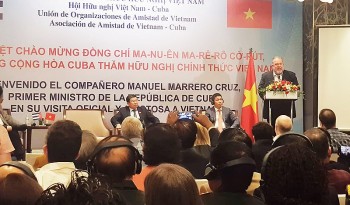 Friendship
Cuban Prime Minister Manuel Marrero Cruz met representatives from the Vietnam-Cuba Friendship Association in Hanoi on September 30, as part of his visit to Vietnam from September 28 to October 2.