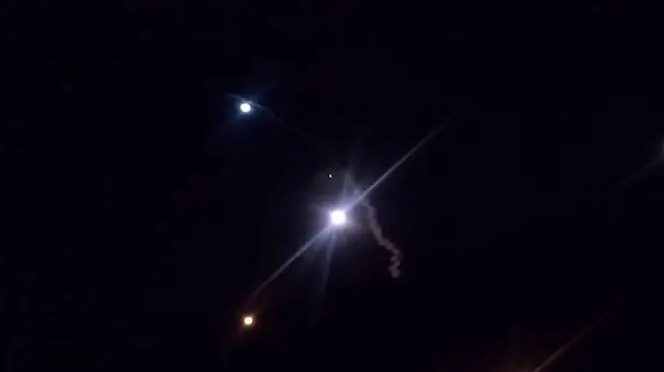 This still image from an Islamic Republic of Iran Broadcasting video shot on Jan 8, 2020, allegedly shows rockets launched from Iran againts the US military base in Ein-al Asad in Iraq. (Photo: AFP)
State TV in Iran said the missiles were in response to a US strike last week that killed Iranian general Qasem Soleimani and Iraqi top commander Abu Mahdi al-Muhandis, adding that the country had launched "tens of missiles" on the base and promised "more crushing responses" if the US carried out further strikes
Security sources told AFP that nine rockets hit the sprawling Ain al-Asad airbase in the country's west, the largest of the Iraqi military compounds where foreign troops are based. The attack came in three waves just after midnight, the sources said.
The Pentagon said it was still "working on initial battle damage assessments" after "Iran launched more than a dozen ballistic missiles against US military and coalition forces in Iraq."
"It is clear that these missiles were launched from Iran and targeted at least two Iraqi military bases hosting US military and coalition personnel at Al-Assad and Irbil," the Pentagon said, stressing that it had been ready, after days of steadily mounting tension and exchanges of threats of war.
A senior Iranian official on Tuesday said that Tehran was considering several scenarios to avenge Soleimani's death. Other senior figures have said the Islamic Republic would match the scale of the killing when it responds, but that it would choose the time and place.
The White House said Tuesday President Donald Trump was "monitoring" reports of the rocket attack .
Earlier on Tuesday, US Defence Secretary Mark Esper said the United States should anticipate retaliation from Iran over the killing in Iraq of Soleimani, commander of the elite Quds Force.
Iran's parliament on Tuesday passed a Bill designating all US forces "terrorists".
Trump told reporters that approximately US 5,200 troops in Iraq should stay despite calls by the Iraqi parliament for their expulsion.
Meanwhile, Canada announced that some of its estimated 500 troops will withdraw to Kuwait. And NATO, which suspended its training mission in Iraq after the killing, said it also was temporarily "repositioning" some personnel to locations inside and outside Iraq.
Several other countries, including Germany and Romania, announced plans to move forces. France said it had no intention of withdrawing its troops from Iraq.
Italy also said that after a phone call between Defense Minister Lorenzo Guerini and Esper that its approximately 1,000 soldiers in the country would stay./.
VNF/AFP/ CNA