Israel-Gaza conflict: Netanyahu vows to "continue strikes at full force"
On Monday, Israel pounded Gaza with airstrikes, which 42 Palestinians deaths in single attack as Israeli Prime Minister Benjamin Netanyahu vowed "to continue to strike at the targets of terrorism."
Israeli warplanes have launched what appeared to be the heaviest airstrikes yet on Gaza City, hours after the Israeli prime minister, Benjamin Netanyahu, signalled the bombardment would rage on.
The series of attacks early on Monday rocked the city from north to south for 10 minutes and was more intense, covered a broader area and lasted longer than the raids 24 hours earlier in which 42 Palestinians were killed – the deadliest single attack in the latest violence between Israel and the Hamas militant group that rules Gaza, according to The Guardian.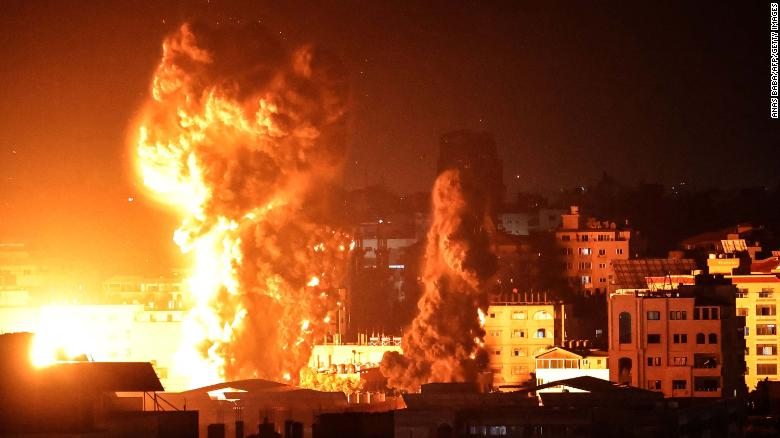 Smoke rises above buildings in Gaza City as Israeli warplanes target the Palestinian enclaves early Monday. (Photo: CNN)
Local media reports said the main coastal road west of the city, security compounds and open spaces were among the targets hit early on Monday. The power distribution company said the airstrikes damaged a line feeding electricity from the only power plant to large parts of southern Gaza City. There were no immediate reports of injuries.
The Israeli army spokesperson's office said the strikes targeted Hamas's "underground military infrastructure". As a result of the strike, "the underground facility collapsed, causing the civilian houses' foundations above them to collapse as well, leading to unintended casualties", it said.
On Sunday, air-raid sirens sounded for the seventh consecutive day across southern Israel as Hamas and other militant groups in Gaza launched more rocket attacks into the country – and reaching further – than in the entirety of the 2014 war.
The latest outbreak of violence began in East Jerusalem last month, when Palestinians clashed with police in response to Israeli police tactics during Ramadan and the threatened eviction of dozens of Palestinian families by Jewish settlers. A focus of the clashes was al-Aqsa mosque, a frequent flashpoint located on a hilltop compound revered by both Muslims and Jews.
Hamas began firing rockets toward Jerusalem on Monday, triggering the Israeli assault on Gaza.
At least 188 Palestinians have been killed in hundreds of airstrikes in Gaza, including 55 children and 33 women, with 1,230 people wounded. Ten people in Israel have been killed in some of the 3,100 rocket attacks launched from Gaza, including a five-year-old boy and a soldier.
Hamas and the Islamic Jihad militant group have acknowledged 20 fighters killed in the fighting. Israel says the real number is far higher and has released the names and photos of two dozen alleged operatives it says were "eliminated".
The assault has displaced about 34,000 Palestinians from their homes, the UN Middle East envoy, Tor Wennesland, told an emergency meeting of the UN security council, where eight foreign ministers spoke about the conflict, according to Associated Press.
Efforts by China, Norway and Tunisia to get the UN body to issue a statement, including a call for the cessation of hostilities, have been blocked by the US, which, according to diplomats, is concerned it could interfere with diplomatic efforts to stop the violence.
The Palestinian foreign minister, Riyad al-Maliki, urged the security council to take action to end Israeli attacks. Israel's UN ambassador, Gilad Erdan, urged the council to condemn Hamas's "indiscriminate and unprovoked attacks".
Sunday was the deadliest day so far
The Israeli air strikes hit a busy street in Gaza just after midnight on Sunday, causing at least three buildings to collapse and dozens of deaths.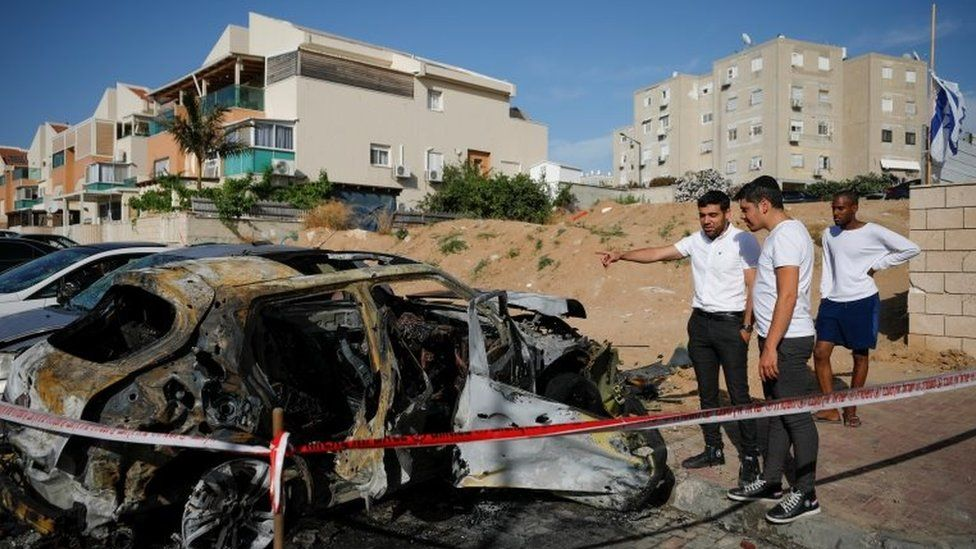 Rockets launched by Hamas have hit Ashkelon, southern Israel (Photo: Reuters)
Hamas launched barrage of rockets towards southern Israel overnight and during the afternoon, BBC reported.
Millions of Israelis scrambled to safe rooms or shelters as sirens went off. Palestinians also tried to take precautions, but in the densely packed and poorly resourced Gaza Strip, many had nowhere to go.
Riyad Eshkuntana told Reuters news agency he put his daughters to sleep in a room of his house that he thought was the furthest from the explosions. Only one of his daughters, Suzy, six, survived the night. His wife and three other children died.
"I ran to check upon the girls," said Mr Eshkuntana. "My wife jumped she hugged the girls to take them out from the room, then a second airstrike hit the room... The ceilings were destroyed and I was under the rubble."
The Israeli military later said it had been conducted a strikes on a militant tunnel system in the area. The tunnels' collapsed caused the houses above to collapse as well, leading to unintended civilian casualties, it said.
Israel's military says it has been targeting leaders and infrastructure linked to Hamas.
It said it had also struck the homes of Hamas leader Yahya Sinwar and his brother Muhammad Sinwar, whom it described as head of logistics and manpower for the movement.
It was unlikely they were at home at the time of the strikes, according to the Associated Press news agency.
Gazan rescue workers spent the day trying to rescue people from under the debris from the strikes.
In Israel, Hamas rockets hit Ashkelon, Ashdod, Netivot and other parts of central and southern Israel. There were no reports of casualties.
The Israeli military said it had seen the highest ever concentration of rocket attacks on its territory during the past week.
Call for a truce grow louder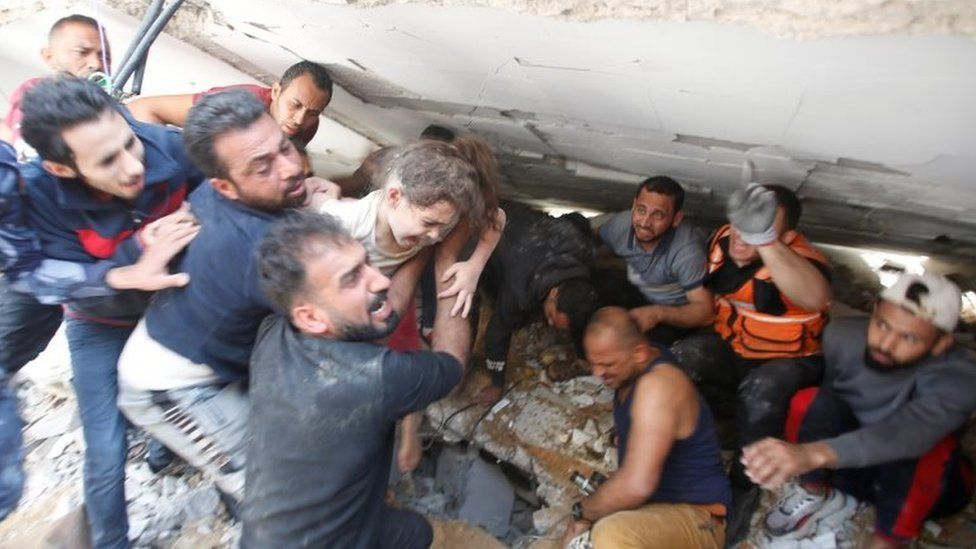 Suzy, six, was rescued from rubble in Gaza City on Sunday, but five members of her family died (Photo: Reuters)
According to the UN, the conflict has left more than 2,500 Palestinians without homes and more than 38,000 are internally displaced.
Many are sheltering in 16 schools run by the United Nations Relief and Works Agency for Palestine Refugees, said Stéphane Dujarric, spokesman for the UN Secretary-General António Guterres, in a recorded statement.
"We continue to actively engage all sides towards an immediate cessation of fire between Israelis and Palestinians," he said.
During an emergency meeting of the UN Security Council on Sunday, Guterres pleaded for peace lest an "uncontainable security and humanitarian crisis" erupt that would "further foster extremism" in Israel, the Palestinian territories and the region writ large, according to CNN.
The US has continued to block the UN Security Council from making a statement on the conflict. But President Joe Biden voiced support for a ceasefire Monday during a telephone call with Netanyahu on Monday. The US President "expressed his support for a ceasefire and discussed US engagement with Egypt and other partners towards that end," a White House description of the call read.
On Sunday, US Secretary of State Antony Blinken held five calls with the foreign ministers of Saudi Arabia, France, Qatar, Egypt, and Pakistan during a flight to Copenhagen.
Egypt and Qatar's efforts to broker a truce have stalled over two main points, a senior Hamas leader with direct knowledge of meditation efforts told CNN on Sunday.
One stumbling block is Israel's insistence that Hamas must initiate the ceasefire, at least three hours before Israel, at which point Israel would follow. Hamas flatly rejected this proposal, the Hamas leader said.
The other hurdle is Hamas' insistence that any ceasefire must include the ending of Israel's "provocations" at the Al Aqsa Mosque in Jerusalem and a resolution of the Sheikh Jarrah eviction threat, the Hamas source said.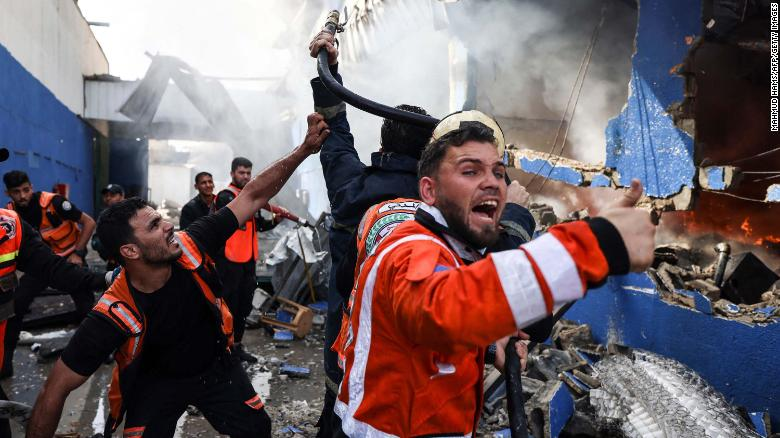 Violence erupts after clashes in Jerusalem (Photo: CNN)
Foreign media offices demolished
Israel also found itself on the defensive over the weekend after it levelled a Gaza building containing offices for international media outlets Al Jazeera and the Associated Press. The Israeli military said the building contained Hamas military intelligence assets, a claim that Hamas has denied.
A senior IDF official also defended the strike in a background briefing to reporters. Asked why Israeli forces did not carry out a more targeted strike on part of the building, rather than demolishing all it, the official argued that such "surgical hits" would put more civilians at risk.
"We absolutely deny the Israeli occupation claims that Hamas had offices in Al Jalaa Building," Fawzi Barhoum, Hamas spokesperson, said in a statement.
"We stress that these are false claims and an attempt to justify the crime of targeting a civilian facility that included media offices for international channels such as Al Jazeera and the American Associated Press, in addition to residential apartments," he added.
Israel says it has shared information with the United States justifying its airstrike on a Gaza high-rise that housed the offices of the Associated Press and other media outlets. But just which American officials have seen that evidence, and whether they find it credible, remained an open question Monday.
Blinken says he hadn't seen it. The National Security Council did not comment, instead referring to intelligence channels. And the White House said it couldn't provide any indication of whether the intelligence had even been received.
Reporters Without Borders, an NGO that works to protect journalists around the world, said in a statement it was calling on the International Criminal Court to investigate. RSF Secretary General Christophe Deloire said in a statement on the group's website that "deliberately targeting media outlets constitutes a war crime," and that the Israeli strikes were "obstructing media coverage of a conflict that directly affects the civilian population."