Violence escalated between Palestine and Israel
A crescendo of violence has been sparked between Israelis and Palestinians.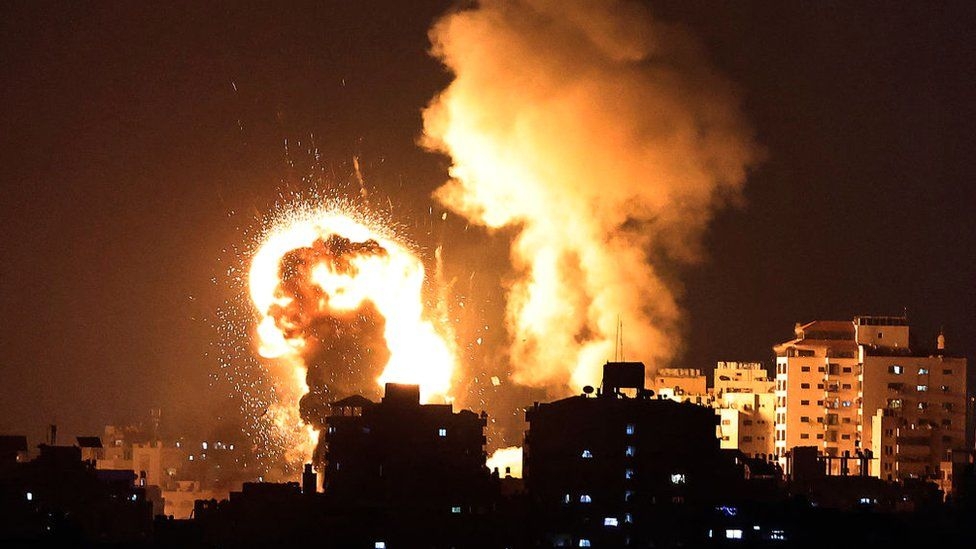 The Israeli military has conducted air strikes in the Gaza Strip. Photo: Mahmud Hams/Getty Images
Tensions between Israel and the Palestinians spiralled in recent days.
Israel's police force said thousands of Palestinians had barricaded themselves in the al-Aqsa mosque - the third holiest site in Islam (the building) overnight with stones and Molotov cocktails in anticipation of a confrontation during the Jerusalem Day Flag March, which was scheduled to start at about 16:00 (13:00 GMT).
Officers were ordered to enter the mosque compound to "repel the rioters using demonstration dispersal methods" on Monday morning after a police post was attacked and stones were thrown towards a nearby road, according to a Twitter account named Khaled Abu Toameh.
For over an hour, police fired stun grenades, rubber bullets and tear gas at Palestinians, who threw stones and other objects, BBC News reported.
According to The New York Times, shortly after 6 p.m., militants in Gaza fired rockets toward Jerusalem, and the Israeli military responded with airstrikes. It was a sudden crescendo of violence in the region after months of relative calm, leaving residents of both Israel and Gaza expecting more violence.
Hamas claimed responsibility for the rockets, saying that it had acted in response to the police raid on the mosque compound. Unrest was expected on Monday, when far-right Israelis were scheduled to make a Jerusalem Day march through the Muslim Quarter of the Old City.
Jerusalem has recently witnessed violent clashes between Israeli police and Palestinian protesters over eviction plans to give Palestinian homes in the city suburb to Jewish settlers.
In East Jerusalem, which includes the Old City, Palestinians feel an increasing threat from settlers who have sought to expand the Jewish presence there by buying properties, constructing new buildings, and through court-ordered evictions.
Meanwhile, Israel has suspended Palestinian fishing rights off Gaza over the incendiary balloon attacks which it blamed on Hamas.
A statement on Sunday issued by the coordinator of the Israeli government's activities in the Palestinian Territories, said: "It has been decided to close the fishing distance in the Gaza Strip, and the decision will take effect immediately, and will continue until further notice."
On Monday, the Israelis also announced the complete closure of the Erez border crossing. Israeli Army Radio said: "Hamas in Gaza is making an extensive effort to ignite the situation. On the other hand, we are ready on all fronts. I advise them not to give us a try."
Speaking at a recent Cabinet meeting, Israeli Prime Minister Benjamin Netanyahu said: "I tell the terrorist organizations that Israel will respond forcefully to any rocket fire from the Gaza Strip.", The Arab News said.
As stated in BBC News, US Secretary of State Antony Blinken said Hamas needed to end the rocket attacks "immediately", adding: "All sides need to de-escalate."
The past few days have seen the worst violence in Jerusalem for years, with more than 300 Palestinians wounded in confrontations with Israeli police outside the al-Aqsa mosque on Monday.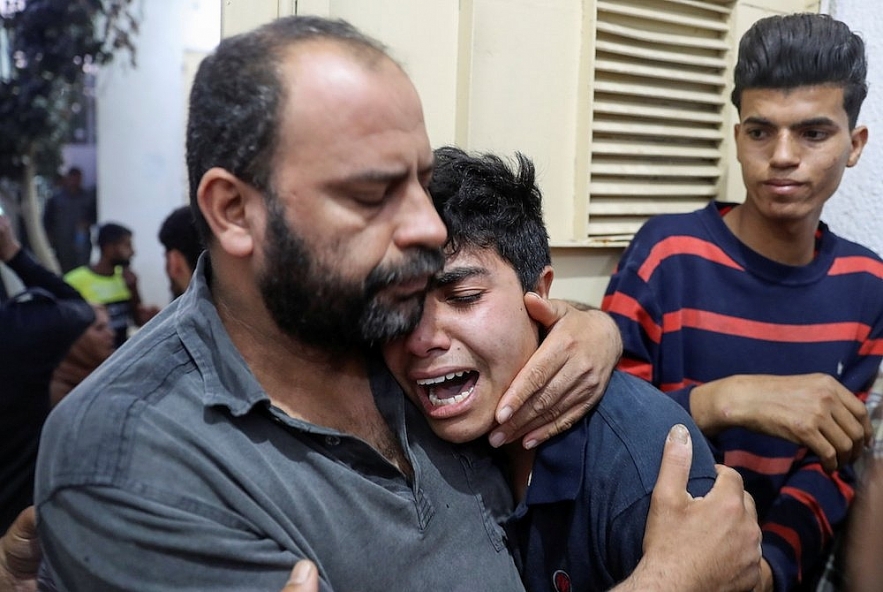 A relative of a Palestinian, who was killed amid a flare-up of Israeli-Palestinian violence, is comforted as he reacts at a hospital in the northern Gaza Strip on Monday. Photo: Reuters
According to The Foreign Policy, Monday's confrontation came hours after U.S. National Security Advisor Jake Sullivan spoke with his Israeli counterpart, Meir Ben-Shabbat. Sullivan expressed "serious concerns" about the situation in Jerusalem and about the potential evictions in Sheikh Jarrah as well as encouraging the Israeli government to "pursue appropriate measures to ensure calm during Jerusalem Day commemorations."
Sullivan's words follow international condemnation, including from Arab countries, some of which have recently normalized ties with Israel. The United Arab Emirates "strongly condemned" both Friday's violence and evictions while Jordan has called Israeli actions in al-Aqsa as "barbaric."
Turkish President Recep Tayyip Erdogan called Israel a "terror state" for "mercilessly and unethically attacking Muslims in Jerusalem."
Israeli Prime Minister Benjamin Netanyahu—who may be on borrowed time following his failure to form a government last week—has largely ignored international criticism, saying violence has been stirred up by extremists. Netanyahu appeared to shrug off pressure to halt the Sheikh Jarrah evictions, saying "Jerusalem is our capital, and we will continue to build there."./.