World breaking news today (May 17): Israel launches new airstrikes, Hamas continues to fire rockets
World breaking news today (May 17): Israel launches new airstrikes; Hamas continues to fire rockets. Meanwhile, UN General Assembly to consider call for Myanmar arms embargo, wildfires near Los Angeles and gold price also make headlines today.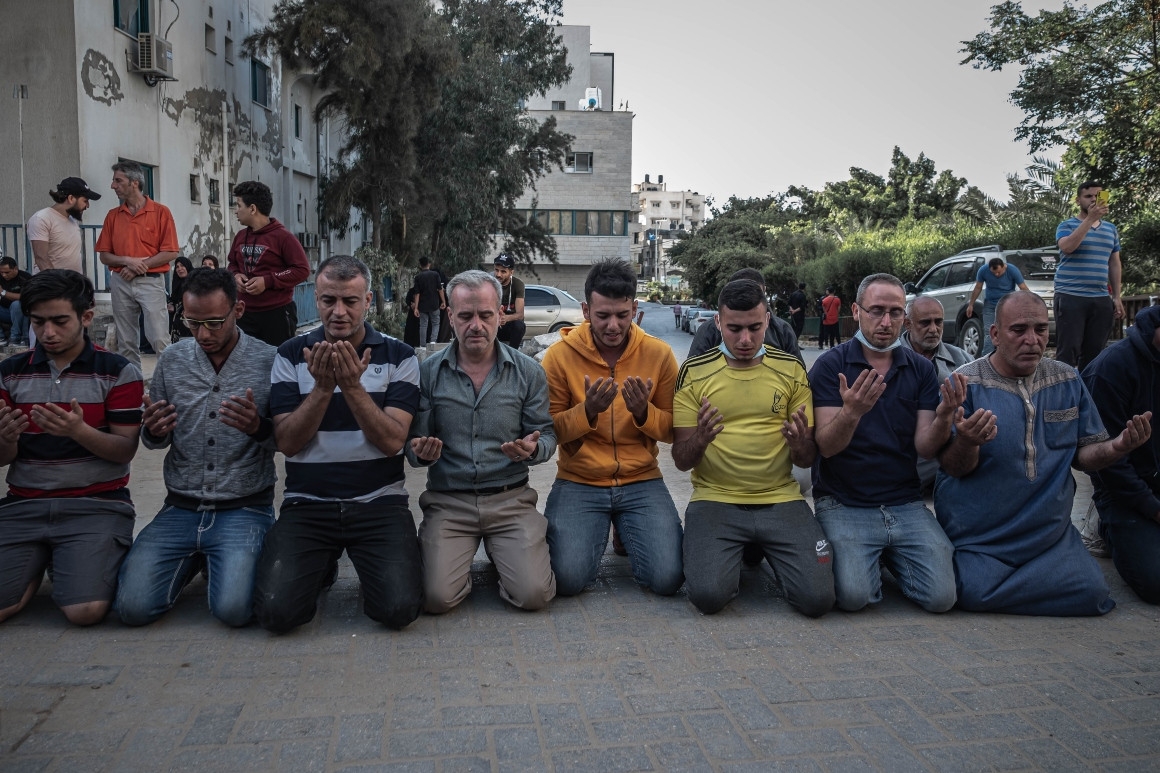 Palestinians pray for the souls of the martyrs at Al-Shifa Hospital in Gaza City in Gaza City, Gaza. (Photo: Getty Images)
Israel launches new airstrikes; Hamas continues to fire rockets
Israeli warplanes unleashed a series of heavy airstrikes at several locations of Gaza City early Monday, hours after Israeli Prime Minister Benjamin Netanyahu signaled the fourth war with Gaza's Hamas rulers would rage on.
Explosions rocked the city from north to south for 10 minutes in an attack that was heavier, on a wider area and lasted longer than a series of air raids 24 hours earlier in which 42 Palestinians were killed — the deadliest single attack in the latest round of violence between Israel and the Hamas militant group that rules Gaza. The earlier Israeli airstrikes flattened three buildings.
In a televised address, Netanyahu said Israel's attacks were continuing at "full-force" and would "take time." Israel "wants to levy a heavy price" on the Hamas militant group, he said, flanked by his defense minister and political rival, Benny Gantz, in a show of unity.
Hamas also pressed on, launching rockets from civilian areas in Gaza toward civilian areas in Israel. One slammed into a synagogue in the southern city of Ashkelon hours before evening services for the Jewish holiday of Shavuot, Israeli emergency services said. No injuries were reported.
In the Israeli air assault early Sunday, families were buried under piles of cement rubble and twisted rebar. A yellow canary lay crushed on the ground. Shards of glass and debris covered streets blocks away from the major downtown thoroughfare where the three buildings were hit over the course of five minutes around 1 a.m.
The hostilities have repeatedly escalated over the past week, marking the worst fighting in the territory that is home to 2 million Palestinians since Israel and Hamas' devastating 2014 war, according to Politico.
UN General Assembly to consider call for Myanmar arms embargo
The UN General Assembly on Tuesday is set to consider a draft non-binding resolution calling for "an immediate suspension" of the transfer of weapons to the military junta of Myanmar, a UN official said Sunday.
Unlike Security Council resolutions, General Assembly resolutions are non-binding but carry strong political significance.
The draft resolution calls for "an immediate suspension of the direct and indirect supply, sale, or transfer of all weapons, munitions, and other military-related equipment to Myanmar."
"The meeting will be in person," a UN spokesman told AFP.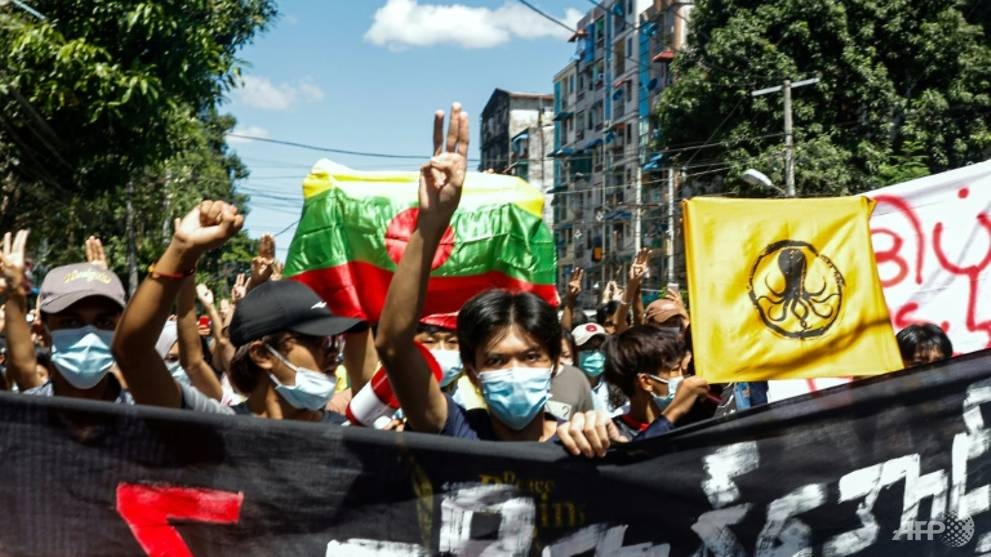 (Photo: Asian News)
The draft, which has been under negotiation for weeks, is co-sponsored by 48 countries, with South Korea the sole Asian country.
It also calls on military to "end the state of emergency" and immediately stop "all violence against peaceful demonstrators," as well as "immediately and unconditionally release President Win Myint, State Counsellor Aung San Suu Kyi" and everyone who has been "arbitrarily detained, charged or arrested" since the February 1 coup.
The draft adds a call to "swiftly implement" a five-point consensus reached with leaders from the 10-country Association of Southeast Asian Nations (ASEAN) on April 24, to "facilitate the visit" of the special UN envoy to Myanmar, and to provide "safe and unimpeded humanitarian access."
Several NGOs have long been calling for an arms embargo on Myanmar, France 24 reported.
Wildfire near Los Angeles grows to 1,325 acres
A brush fire in an exclusive Southern California community gained strength Sunday as about a thousand residents remained under mandatory evacuation orders, authorities said.
Los Angeles County authorities looked Sunday for a potential arsonist who might have set off a brush fire that forced the mandatory evacuation of about 1,000 people in the exclusive Pacific Palisades area near Topanga Canyon.
Afternoon winds and warm weather helped the Palisades Fire nearly double to 1,325 acres with zero containment by Sunday at 1 p.m. PT after cool, moist conditions had kept it around 750 acres overnight. A Sunday morning update from the LA Fire Department said the winds may push the blaze northwest – threatening homes – as it rips through dense mountain vegetation that "is very dry and has not burned in 50+ years."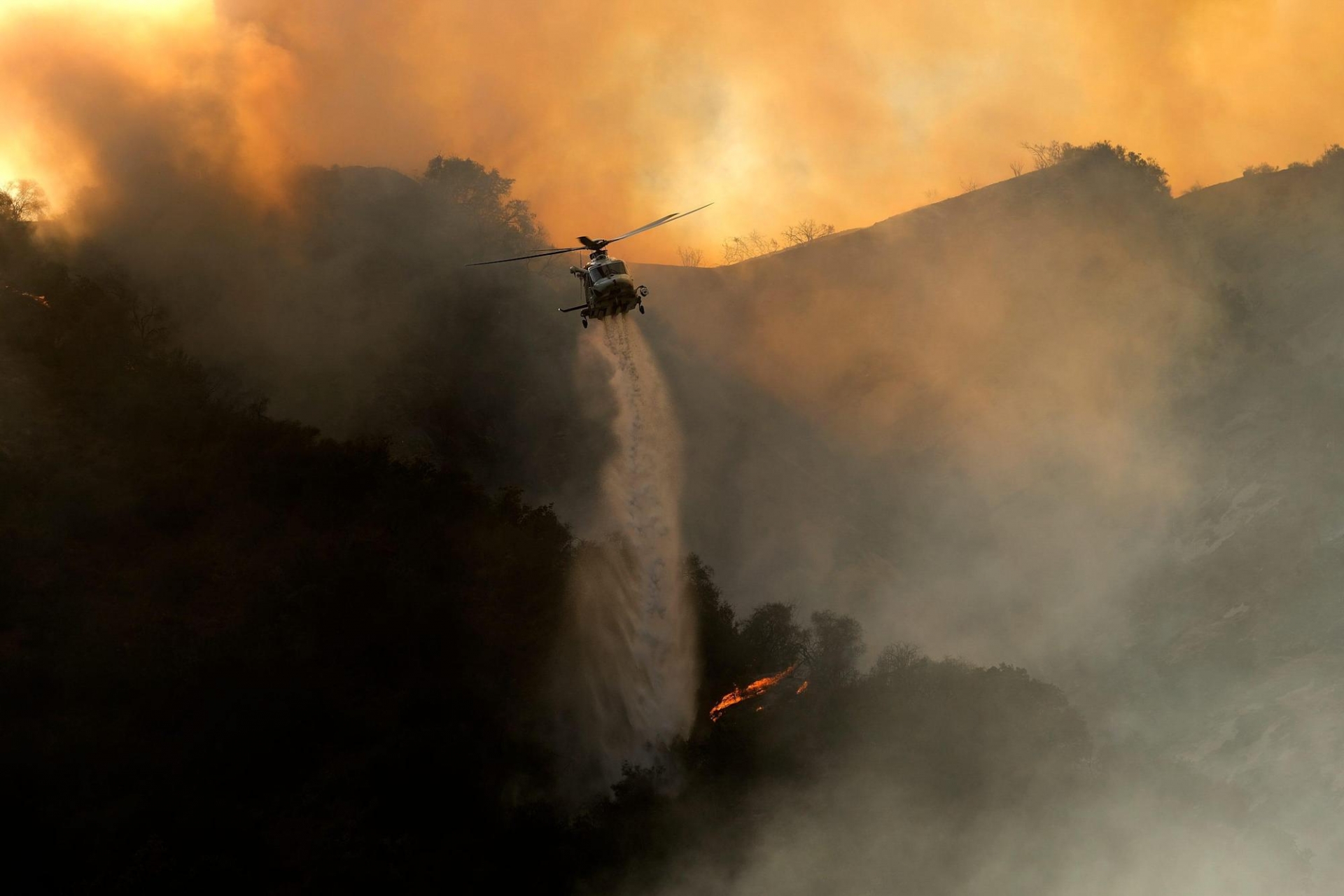 Topanga Canyon, a remote, wooded community with some ranch homes, is about 20 miles (32 kilometers) west of downtown Los Angeles, on the border with Malibu.
At least one water-dropping helicopter from Ventura County had been helping with the firefight. A strike team of Ventura County firefighters was dispatched Sunday afternoon, according to USA Today.
The cause of the fire has been deemed "suspicious" and is under investigation, the fire department said.
Bill Gates was dismissive toward Melinda Gates at work
Microsoft founder Bill Gates was dismissive toward his wife, Melinda French Gates, in work meetings and pursued other women at Microsoft and his other endeavors while the couple was together, according to a Sunday report from The New York Times.
People with knowledge of Gates and his companies and financial dealings told The New York Times that Gates had pursued women who worked for him at Microsoft and at the Bill & Melinda Gates Foundation while the couple was together, according to the report.
Bridgitt Arnold, a spokesperson for Gates, denied the accusations brought forth in the Times article, telling the outlet, "any claim that Gates spoke of his marriage or Melinda in a disparaging manner is false. The claim of mistreatment of employees is also false. The rumors and speculation surrounding Gates's divorce are becoming increasingly absurd, and it's unfortunate that people who have little to no knowledge of the situation are being characterized as 'sources.'"
On one occasion in 2006, more than a decade he and French Gates wed, he attended a presentation by a female employee of Microsoft and emailed her afterward to ask her to dinner, the Times reported.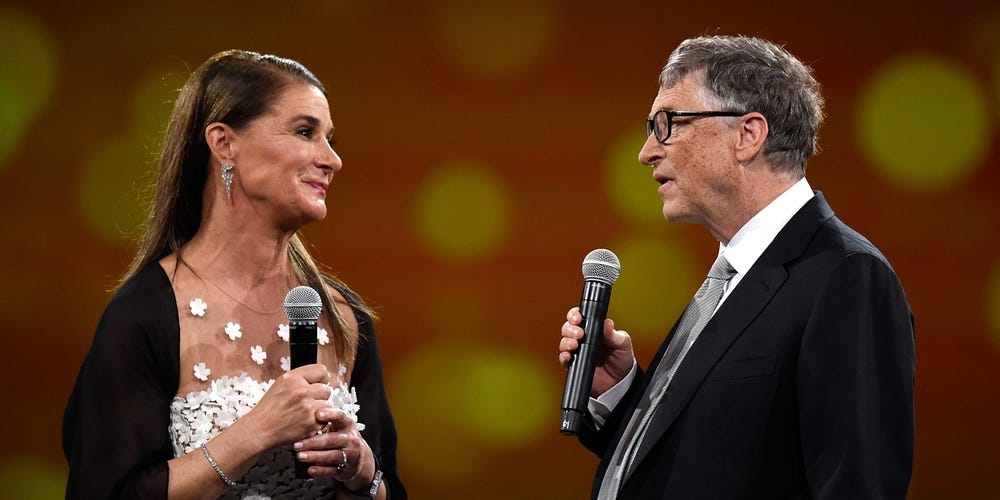 Melinda French Gates and Bill Gates (Photo: Getty Images)
Another woman, whose identity was not published by the Times, said Gates once asked her to dinner while the two were in New York on a trip for their work at the Gates Foundation, the report said.
Sources familiar with Gates' endeavors also told the outlet that Gates was at times dismissive of French Gates in workplace meetings at the Gates Foundation.
In total, six current and former employees of Gates said he and his actions created a workplace that made them "uncomfortable," according to the report.
The couple, which met while French Gates was an employee at Microsoft, announced their split May 3 after 27 years of marriage.
Gates' relationship with the late sex offender Jeffrey Epstein is said to have played a role in the couple's split, according to the Times report and previous reporting from The Daily Beast.
Gold price forecast: gold bulls fire XAU/USD major breakout awaits?
Gold prices surged more than 10.6% off the yearly low with the XAU/USD breakout within striking distance of key technical resistance. While the broader outlook remains constructive for the yellow metal, the immediate advance may be vulnerable here as price probes multi-month highs near uptrend extremes. We're on the lookout for possible inflection up here with bulls vulnerable into 1850. These are the updated targets and invalidation levels that matter on the gold weekly charts. Review my latest Weekly Strategy Webinar for an in-depth breakdown of this gold technical setup and more.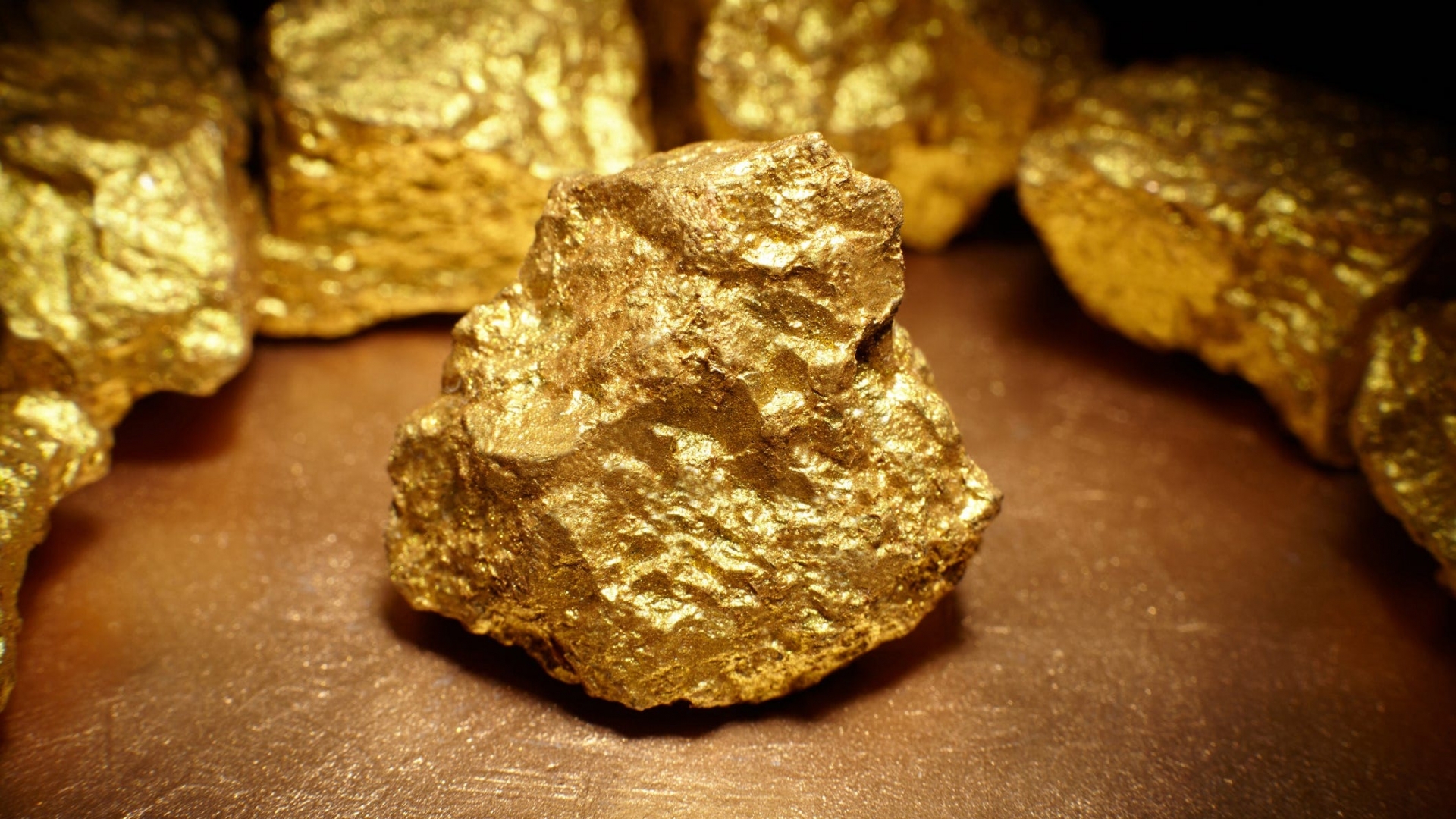 (Photo: USA Today)
In last month's Gold Weekly PriceOutlook we showed that XAU/USD was testing the 2020 August trendline while noting that, "A breach / close above this key resistance zone would likely fuel another bout of accelerated gains with such a scenario exposing the objective yearly high-week reversal close at 1849." Gold ripped higher into the May open with a breakout of the bear flag formation fueling a rally of more than 4.6% to register a high this week at 1845 before pulling back this week. So is this breakout a larger scale reversal?
The immediate focus is on this key resistance threshold with the broader recovery vulnerable near-term while below 1849. Initial weekly support rests with the 2012 high at 1795 with bullish invalidation now raised to the objective May open at 1764- a close below this level would suggest a reversal of the broader March rally. A topside breach / close above 1850 would be needed to mark resumption with such a scenario exposing subsequent objectives into the yearly open at 1898 and key resistance at the 2011 high-close / 61.8% Fibonacci retracement at 1909/23- look for a larger reaction there IF reached, Daily FX said.