Italy Offers Assistance to Vietnam with Covid-19 Treatment
Italy's national emergency service will directly visit Ho Chi Minh City to support and transfer the screening, treatment, patient care, plasma and stem cell technology in the treatment of Covid-19.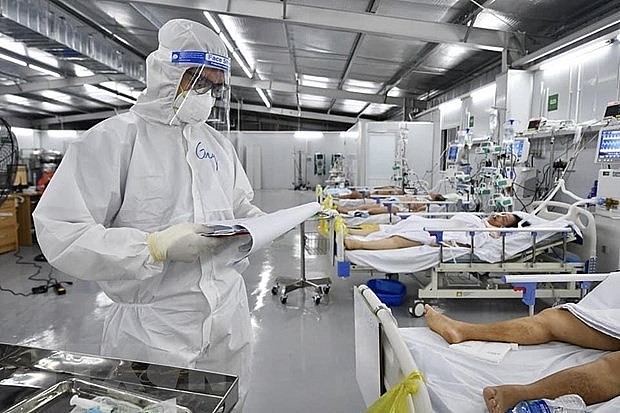 Treatment of Covid-19 patients. Photo: VNA
On September 13, the Italy's emergency service Sis 118 President Mario Balzanelli said he was willing to share his experience in treating Covid-19 and wanted to promote cooperation with Vietnam on research and training to prepare for pandemic emergencies.
During the meeting between the Sis 118 and Vietnamese Ambassador to Italy Nguyen Thi Bich Hue, Mario Balzanelli said that 118 had actively exchanged and shared a lot of experiences in pandemic prevention, contribute to relieve the emergency situation for the hospital system.
In addition, he expressed his wish to promote the early signing of a memorandum of understanding on scientific cooperation between the two countries in the medical field. Areas of cooperation focus on emergency health care, training, skills development, techniques, and preparing guidelines for pandemic emergencies.
Ambassador Nguyen Thi Bich Hue affirmed that Italy's experience is very useful to Vietnam, because Italy is also a country heavily affected by the pandemic, especially in the period when there was no vaccine for Covid-19 and no specific treatment.
The Government and people of Vietnam have been making great efforts to maintain control of the pandemic from spreading to the whole country, however, vaccines, drugs, and physical means in the treatment of Covid-19 are still lacking. Therefore, Vietnam needs the help and sharing of experiences in pandemic response from international friends in general and Italy in particular.
According to the plan on September 13, 812,000 doses of AstraZeneca vaccine that the Italian Government supports for Vietnam through the COVAX mechanism will arrive in Vietnam, which shows the special affection of Italians for Vietnam.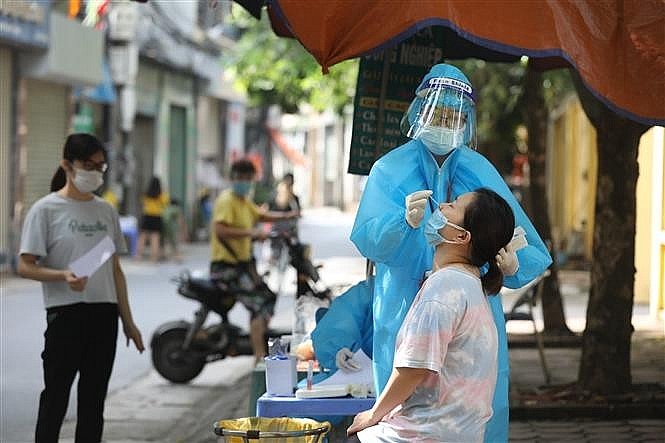 Covid-19 testing in Vietnam. Photo: VNA
Ambassador Nguyen Thi Bich Hue also expressed her hope that the doctors would continue to share experiences in pandemic response. Additionally, the ambassador wishes to mobilize regional authorities and functional agencies to support medical equipment and medicines, ventilators for Vietnam in the context of the current complicated pandemic.
With experience in the frontline against the Covid-19 pandemic at 118, Dr. Karen Kieu Nguyen believes that the current 5-tier treatment model is very suitable, but must be carried out synchronously between localities. She believes that, in particular, medication is a very important factor. It is necessary to encourage, support fast treatment, reduce heavy transfer load to avoid the risk of death.
In addition, the doctor emphasized the need for training to improve treatment capacity in hospitals, especially in provinces, industrial zones, hospitals of medical universities, in parallel with controlling the number of patients in hospitals, avoiding overload and cross-infection.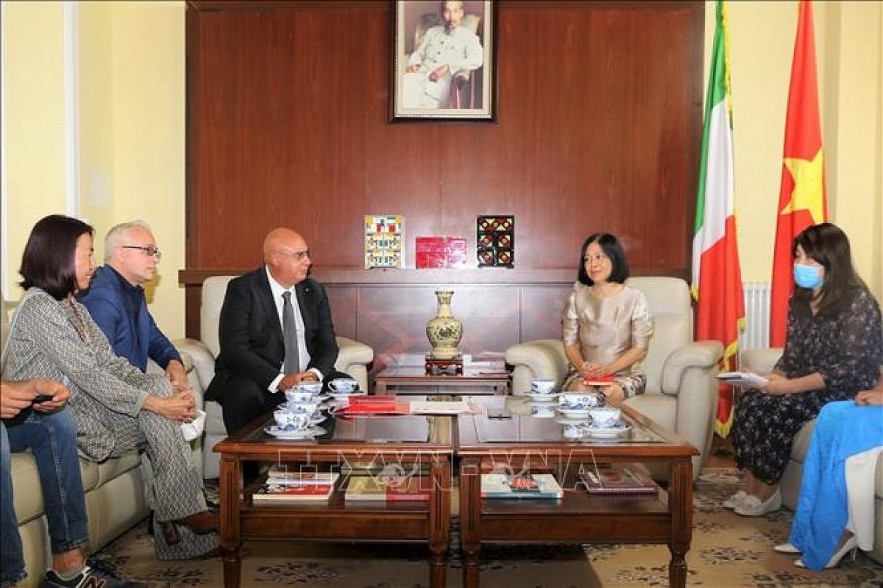 Italy's emergency service Sis 118 President Mario Balzanelli shares experience in Covid-19 treatment at a working session with Ambassador Nguyen Thi Bich Hue. Photo: VNA
In addition, in the treatment of Covid-19, Karen said that applying autologous blood plasma and stem cells to support the treatment of Covid-19 is very effective, especially without complications and reinfection. While autologous blood is safe and low-cost, it is not only effective in treatment but also aids in pandemic prevention and the body's natural immunity.
According to the plan, Doctor Karen Kieu Nguyen and a team of Italian doctors will directly go to Ho Chi Minh City to participate in consulting, supporting the process of screening, treating and caring for Covid-19 patients, transferring plasma and stem cell technology in the treatment of Covid-19.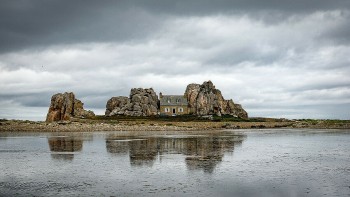 Travel
In a quiet little village of Plougrescant, France, tourists can visit this quirky and extraodrinary Castel Meur, also known as "The House Between The Rocks", which has become an attraction for many years.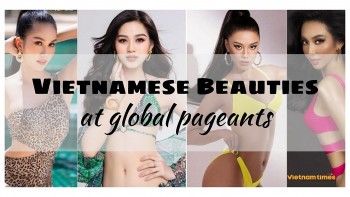 Handbook
Do Thi Ha, Pham Ngoc Phuong Anh, Nguyen Thuc Thuy Tien and Nguyen Huynh Kim Duyen set to vie for global beauty pageants.
World
In the outskirt of Poland, there is a pretty rural village that is called "The painted village" for its amazing and unique tradition of painting their homes inside and out with colorful floral patterns, making this place the most photogenic spot.