Hanoi set to ease social distancing restrictions after ramping up vaccination
Social distancing requirements in Hanoi is considered to ease after the Vietnam's capital ramps up vaccination.
Hanoi is considering easing social distancing requirements after September 15 and 21, depending on risk classifications of different areas.
The city will decide a plan to relax social distancing rules for a number of services and Covid prevention measures after the days, the Hanoi Standing Party Committee said at a meeting on Monday.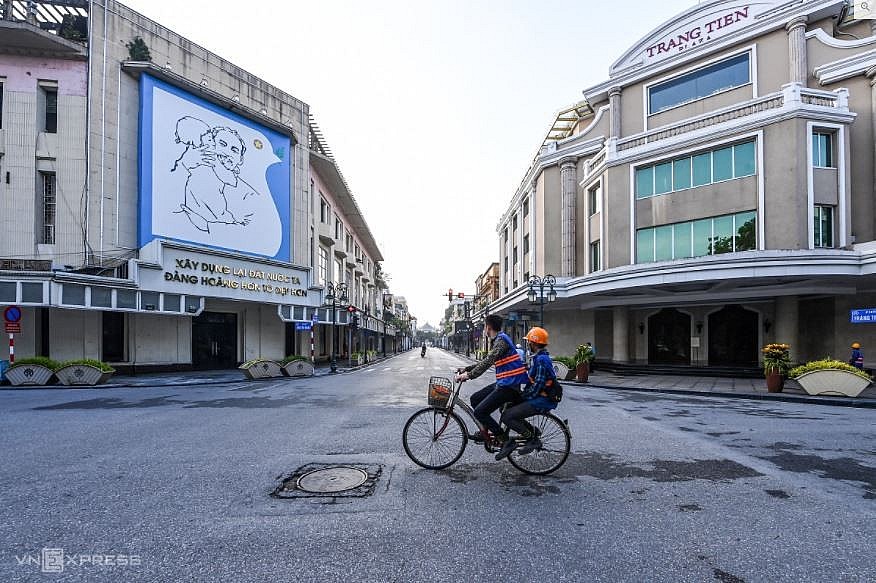 Workers from a nearby construction site pass the corner of Trang Tien - Hang Bai - Trang Thi streets. Photo: vnexpress.
As reported by vnexpress, Khong Minh Tuan, deputy director of the Hanoi Center for Disease Control (CDC), said the Covid situation in the capital is "basically under control" and the number of Covid-19 cases in the community has tended to decrease in recent days.
Tuan said after Hanoi finishes testing its entire population, if the number of cases in the community continues to decrease as it is doing now, the CDC will propose the relaxation of social distancing measures, only locking down certain areas with high numbers of cases.
"It is not possible to reduce the number of high-risk areas in the immediate future. However, the city can impose social distance measures at different levels. High risk districts and wards will still need to be under lockdown before the restrictions are gradually lifted," he said.
In its efforts to put the coronavirus situation under control by September 15, the city has been carrying out large-scale testing and administering first doses of the Covid-19 vaccine for people aged 18 and over.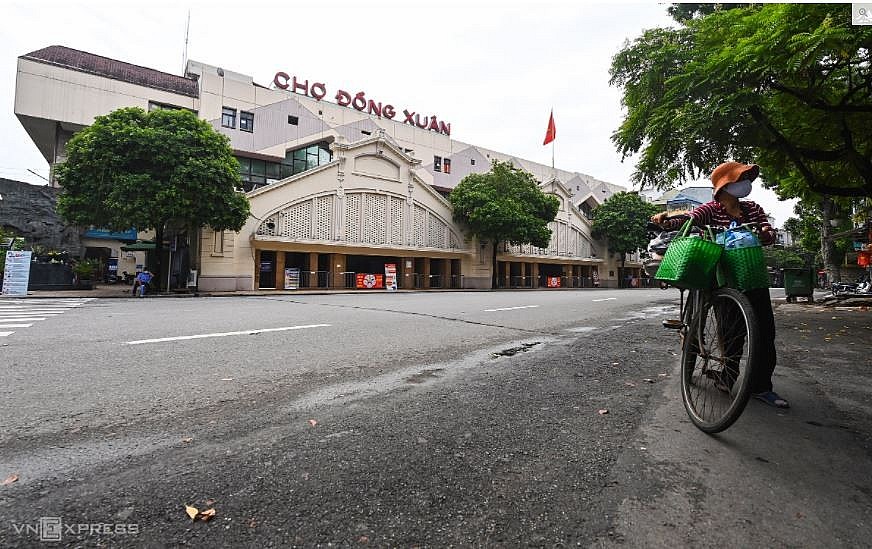 Dong Xuan Market. Photo: vnexpress.
According to the Hanoi Department of Health, as of Monday more than 4.7 million people had been vaccinated. Of these, more than 400,000 have got two shots.
Starting September 6, Hanoi has enforced strict lockdown under Directive 16 in 10 districts and partly in five others. Directive 16, considered the most stringent, requires people to stay at home and not go out unless it for food and other emergencies.
The remaining districts are operating under Directive 15. This requires suspension of social events, bans gatherings of 20 people or more in one place and of 10 people or more outside workplaces, schools and hospitals. A minimum distance of two meters between people in public places should be ensured, it orders.
The capital city has recorded 4,053 Covid-19 cases in the fourth wave starting late April, with 41 added Monday.
According to vietnamplus, the city is planning to ramp up the vaccination in the last three months of this year when it is possibly allocated with a higher amount of vaccines, the municipal Party Committee Dinh Tien Dung said, adding that the city's vaccination capacity could be heightened.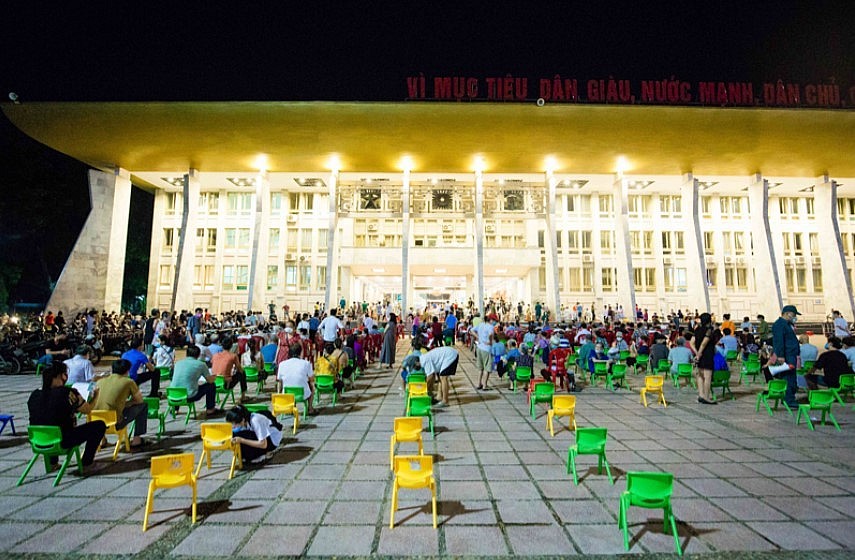 Schools and cultural palaces have been repurposed for the vaccination drive. Photo: hanoitimes.
Heath authorities and agencies in Hanoi were asked to make sufficient preparation for COVID-19 vaccination in the city so the process could be organised safely, effectively and timely, he said.
From September 6 until September 21, the city is also ramping up testing, he added.
People in locked-down areas or health quarantine areas in "very high-risk zones" (red zones) will be tested every two or three days. Those who live in "high-risk zones" (orange zones) will be tested every five to seven days.
Families living in COVID-19 free areas (green zones) will have one or two members tested regularly as a way to protect the zones from coronavirus.
"As the COVID-19 vaccination rate in Hanoi is still low, it's a must for people to strictly implement preventive measures, particularly social distancing orders in high-risk areas," Dung said.
The city had proposed the Government allow local authorities to decide the health quarantine period for people who are suspected of having SARS-CoV-2 (known as F1).
The city has asked for more vaccines to be allocated by the middle of this month so that the city can increase its vaccination rate.
The city's authority also asked for the health ministry's detailed guidelines about travel, work and participation in COVID-19 prevention and control for fully vaccinated people.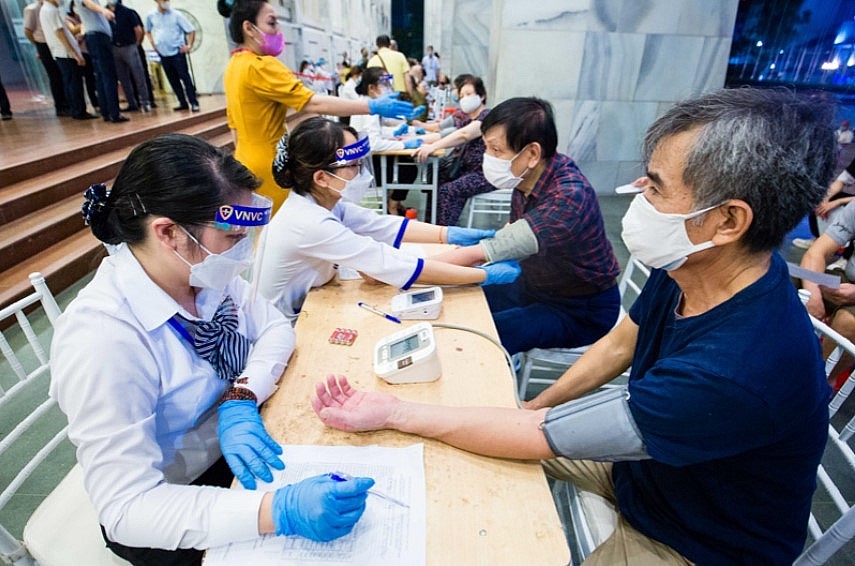 Medical staff checks people's health to ensure they are eligible to get vaccinated. Photo: hanoitimes.
As reported by vietnamnet, Dung stressed that while the vaccination rate in Hanoi is still low, the city needs to apply drastic measures to protect the lives of people and not let the outbreak get out of control.
Hanoi has made proposals to the Government and the Ministry of Health. It has asked the Government to give local authorities the right to determine the quarantine time for close contacts of positive Covid cases to ensure the safe protection of the community.
It has also asked MOH to allocate more vaccines to Hanoi, so that the city can obtain a high vaccination rate by September 15; and allocate Covid-19 treatment drugs and update therapies, especially new drugs.
The city has asked MOH to give guidance on allowing fully vaccinated people to travel and participate in production and pandemic prevention activities.
From September 6 to 21, Directive 16 will continue to be implemented in 10 inner districts: Tay Ho, Ba Dinh, Cau Giay, Hoan Kiem, Dong Da, Hai Ba Trung, Thanh Xuan, Ha Dong, Thanh Tri and Hoang Mai, and parts of five other districts on the outskirts of the capital, Nam Tu Liem, Bac Tu Liem, Hoai Duc, Thanh Oai and Thuong Tin.
Classified as red zones (Zone 1), these areas are deemed high-risk urban areas with high population density, concentrated with agencies, businesses and services establishments.
People living in red zones must follow Directive 16, which means no gatherings of more than two people in public, people only leaving home for emergencies such as buying food and medicine, and only working in factories, production facilities and businesses that involve "essential" goods and services.