Japan Earthquake: No Vietnamese casualties reported, Embassy ready to protect citizens
No Vietnamese casualties had been reported following a powerful earthquake that struck off the coast of Fukushima on February 13 night, said the Vietnamese Embassy in Japan.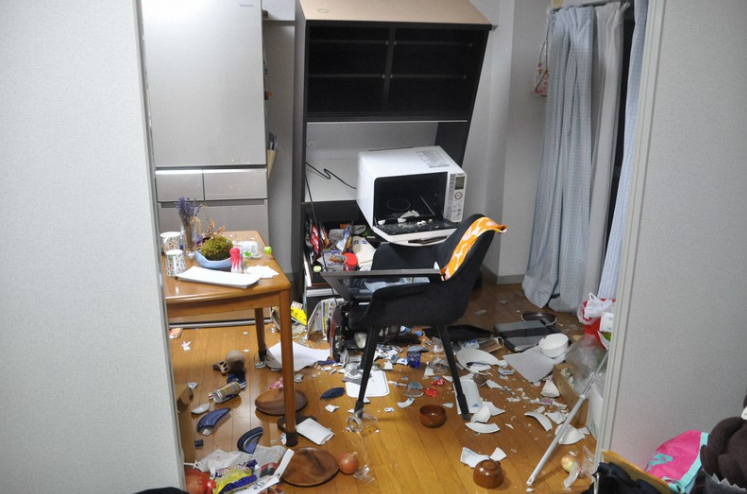 A shelf is seen tilted and plates shattered in an apartment in the city of Fukushima, at 11:23 p.m. on Feb. 13, 2021, after a magnitude-7.1 earthquake hit northeast Japan. (Mainichi/Ryusuke Takahashi)
According to Lam Thi Thanh Phuong, Envoy at the Vietnamese Embassy in Japan, the embassy has contacted associations of Vietnamese in the quake-affected areas to get updated on the situation of the Vietnamese community there.
As of 8:00am on February 14 (Japanese time), no Vietnamese casualties had been reported.
The embassy will keep in touch with those associations and Japanese competent agencies to get more information and take citizen protection measures when necessary, she said.
The earthquake of magnitude 7.3 overnight, which was also felt in Tokyo, injured more than 150 people, cut power and water, and disrupted bullet train services, with some residents looking weary as they tidied up the mess in their homes and shops.
While a tsunami did not occur, Saturday's quake provided a chilling reminder of that disaster in Fukushima, just weeks before its 10th anniversary.
Water in a spent nuclear fuel pool spilled over at the Fukushima Daiichi power plant, which suffered meltdowns after the March 11, 2011, disaster, but there was no leak, according to operator Tokyo Electric Power Company Holdings Inc.
Other nuclear utilities reported there were no irregularities, reported Kyodo.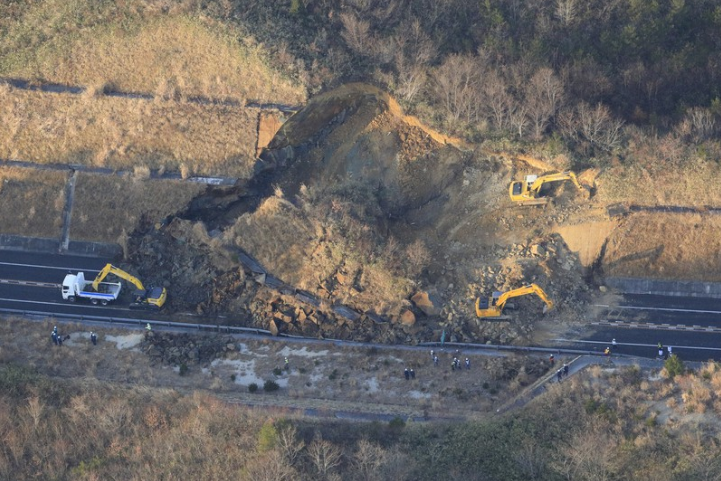 A landslide covers a part of the Joban Expressway in Soma, Fukushima Prefecture, on the morning of Feb. 14, 2021, following a strong earthquake that hit northeast Japan the previous night. Source: Mainichi
The Japan Meteorological Agency also said it believes the quake to be an aftershock of the megaquake a decade ago.
According to the agency, the quake's seismic intensity -- upper 6 on the Japanese scale of 7 -- was the strongest to occur off the country's northeastern coast since April 7, 2011.
On March 11 that year, the magnitude-9.0 quake hit the region, registering the highest 7 on the scale and triggering tsunami. It subsequently caused core meltdowns at the Fukushima Daiichi nuclear power plant.
A quake with intensity of upper-6 and 7 is defined by the agency as making it "impossible (for humans) to remain standing or move without crawling" and people may even be "thrown through the air."
The difference between upper-6 and 7 is their impact on furniture, walls and windows. In the former, "most unreinforced concrete-block walls collapse," but even "reinforced concrete-block walls may collapse" in the latter, the agency says.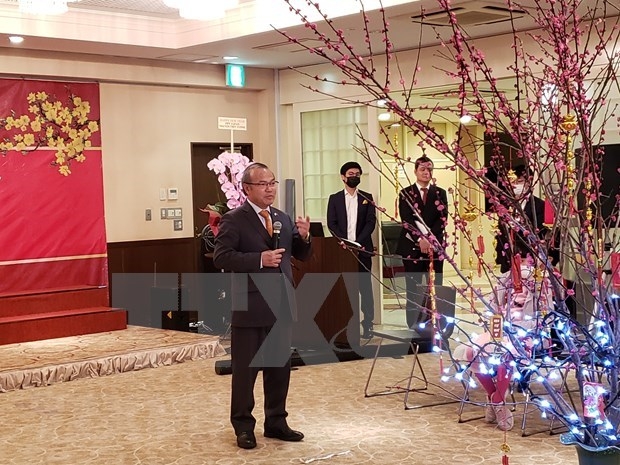 Vietnamese Ambassador to Japan Vu Hong Nam speaks at the gathering to celebrate Tet on February 11. Photo: VNA
A few days ago, the Embassy of Vietnam in Japan on February 11 hosted a gathering to welcome the Year of Buffalo with many Vietnamese representative agencies in the host country in attendance, reported VNA.
Speaking at the event, Vietnamese Ambassador to Japan Vu Hong Nam recalled several landmark milestones in the bilateral relations last year, particularly highlighting that Vietnam was selected as one of the two destinations new Japanese Prime Minister Suga Yoshihide had visited on his first official trip overseas.
The two countries' relations have been growing strong despite the COVID-19 pandemic, he said.
He also urged the embassy's staff and Vietnamese representative agencies in Japan to continue overcoming hardships to fulfil their tasks and missions, contributing to accelerating the strategic partnership between the two nations./.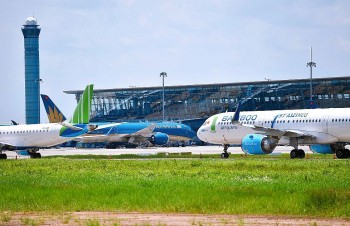 Economy
Vietnam Business & Weather Briefing (August 9): Vietnam's economic growth is expected to reach 7.5% in 2022, new securities accounts hit a near two-year low in July.