Japanese Actress Shares Experiences of Acting in Vietnamese Film
Japanese actress Nakatani Akari talked about the difficulties of being alone as a foreigner in a biopic on Trinh Cong Son (1939-2001), one of Vietnam's greatest musicians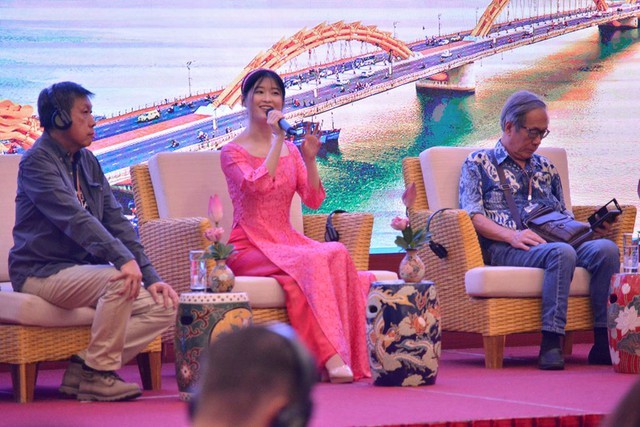 Japanese actress Nakatani Akari talked about the difficulties of being alone as a foreigner in the movie 'Em and Trinh'. Photo: Hoang Son
Appearing at a seminar, within the framework of the first Da Nang Asian Film Festival (DANAFF I), held on May 12, aimed at sharing success stories of the Japanese cinema industry and fostering cooperation with Vietnamese counterparts, Japanese actress Nakatani Akari shared her feelings when able to work with an all-Vietnamese crew in the movie 'Em and Trinh'.
The film features the life and career of Son, a talented songwriter in Vietnamese contemporary music, from his youth to middle age. 'Em and Trinh' focuses on the songwriter's love stories with some of his "muses", who inspired him to compose many famous romantic songs.
Nakatani said that after graduating from a university course in Vietnam, she decided to live in Vietnam, Thanh Nien newspaper citied.
"I am very fortunate to live with a Vietnamese family. Thanks to that opportunity, I'm familar with the daily life of Vietnamese families. After about four years living in Vietnam, I was fortunate to be casting in the movie 'Em and Trinh' to play the role of Michiko," she said.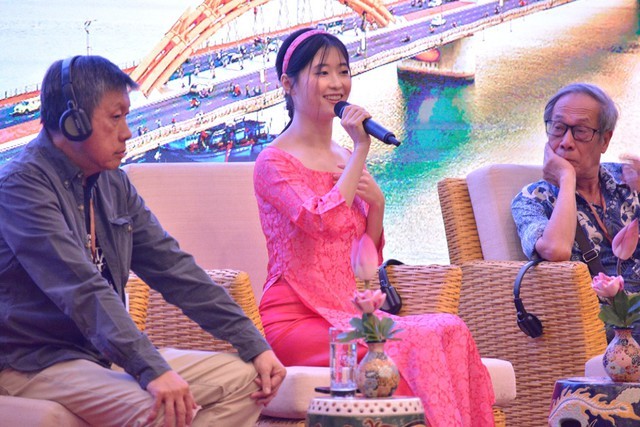 "I had no acting experience at that time and also felt quite nervous when I learned that this is a big movie project about a Vietnamese music icon," she said. Photo: Hoang Son
Nakatani said, although she has lived in Vietnam for 4 years, but with her Vietnamese language, she feels that it is still not enough to fully understand Vietnamese culture as well as acting in 'Em and Trinh.' "I spent a lot of time learning not only Vietnamese but also improving my acting skills," the actress said.
Given that the movie is her first film and she is the only foreigner in the crew, she felf nervous at first. "Although I have been studying Vietnamese and live in here for a long time, Vietnamese is extremely difficult. Therefore, working with the team, I'm on pins and needles. Lucky, from director to producer, everyone is nice to me," Nakatani said.
According to the actress, the way Vietnamese people communicate is special, especially the friendly way of talking.
"In Japan, many people say that the way of thinking of Vietnamese and Japanese somewhat resemble. Although Vietnam and Japan have differences, I think, it will be easier to working together than other countries," Nakatani said.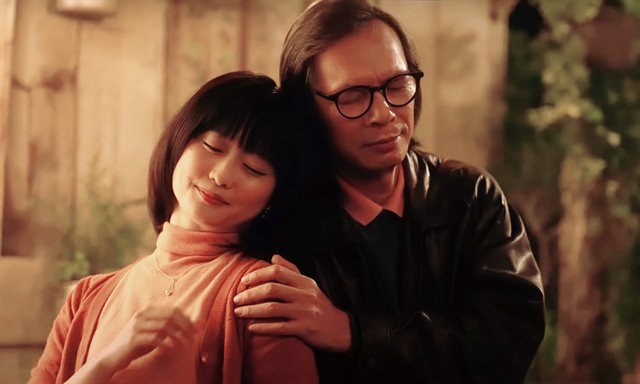 Japanese professor Michiko Yoshii (left) depicted in Em Và Trịnh. Photo Galaxy M&E
Talking more about the role of Michiko, director Phan Gia Nhat Linh said that the crew originally intended to find a Vietnamese actor to play the role, because it was too difficult to find a Japanese actor who could speak Vietnamese.
However, the film crew had to go out of their way to find a Japanese actor and discovered that there are many Japanese actors in both Japan and Vietnam who want to play the role of Michiko.
"Nevertheless, these Japanese actors are not good at Vietnamese. Fortunately, Akari was chosen because she speaks Vietnamese fluently and can act," said director Phan Gia Nhat Linh.
One of the primary plot developments of the film is the love story between Son and Michiko Yoshii. She is a university student in Paris, France, in the late 1980s when she falls in love with Vietnamese culture, language and people, notably Son's music, according to Vietnam News.
They quickly fell in love and even considered marriage. The wedding, however, was cancelled due to disagreements between the couple about wedding customs and ceremonies.
The love story of Son and Michiko was once likened to John Lennon and Yoko Ono.
Born in Hue in 1939, Son became popular in 1957. His lasting legacy includes albums of romantic love songs, such as Diem Xua (Diem, My Cherished Old Flame) and Ru Tinh (Lullaby to Love), released in the 1960s and 70s, VNA reported.
Diem Xua is well-known in Japan, where it was introduced through well-known singer Khanh Ly in Osaka in 1970. Later, the song was written in Japanese, titled Utsukushii Mukashi, and was listed among Japan's top 10 favourite love songs.
Son went on to become southern Vietnam's most famous songwriter of anti-war music collections, including Ca Khuc Da Vang (Yellow Skin Song), Kinh Viet Nam (Vietnamese Prayer) and Ta Phai Thay Mat Troi (We Must See The Sunlight).
He died in Ho Chi Minh City in 2001 after a prolonged illness.
Vietnamese Film Premiere in Cannes 2023

Vietnamese film "Inside the Yellow Cocoon Shell" by first-time feature director Pham Thien An will have its global premiere next month in the 76th Cannes ...