Japanese PM Suga to officially visit Vietnam on October 18
At the invitation of Vietnamese Prime Minister Nguyen Xuan Phuc and his spouse, Japanese Prime Minister Yoshihide Suga and his spouse are make an official visit to Vietnam on October 18-20, 2020. The plane carrying Japanese Prime Minister and his spouse landed at Noi Bai airport at 17:50 on October 18, starting an official two-day visit to Vietnam.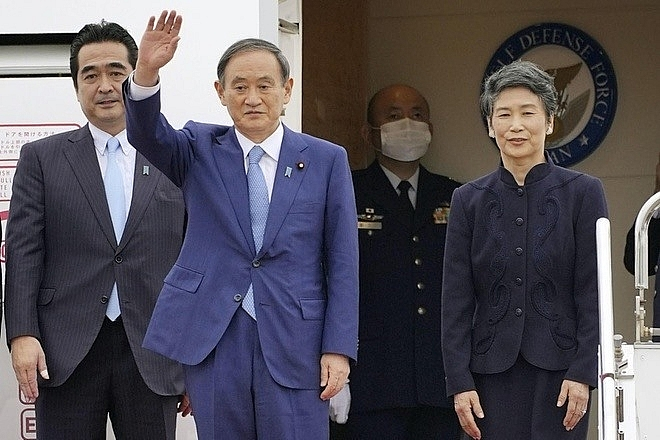 Japanese Prime Minister Yoshihide Suga and his spouse make an official visit to Vietnam
Vietnam is the first overseas destination for Japanese PM Suga after taking office in September, 2020.
The Vietnamese foreign ministry spokesperson Le Thi Thu Hang remarks that this choice "clearly demonstrates the strong and substantial development of the extensive strategic partnership between Vietnam and Japan in several aspects."
"We strongly believe that the visit will be a great success, actively contributing to fostering the Vietnam – Japan extensive strategic partnership and to restoring the post-COVID 19 socio-economic developments of the two countries," Hang added.
In Vietnam, the Japanese leader is expected to hold talks with Prime Minister Nguyen Xuan Phuc, pay courtesy calls to Party General Secretary and President Nguyen Phu Trong and National Assembly Chairwoman Nguyen Thi Kim Ngan, reported VNA.
During his visit, PM Suga could make a commitment that Tokyo will take the lead in contributing to peace and prosperity in the Indo-Pacific region, and affirm Japan's full support for the ASEAN Outlook on the Indo-Pacific (AOIP), a Japanese official from the foreign ministry was quoted by Vietnam News Agency as saying.
Japanese Prime Minister Yoshihide Suga arrived in Hanoi on Sunday to start a two-day trip to Vietnam. Photo: nikkei
While Vietnam has succeeded in containing COVID-19 infections better than any other Southeast Asian nation, its export-driven economy has not been spared the impact of the pandemic. Real gross domestic product growth will slow to 1.6% this year from more than 7% in the preceding two years, according to an International Monetary Fund forecast.
With foreign direct investment flows falling short of year-earlier levels, Phuc is expected to call on Suga to encourage Japanese companies to pump more capital into Vietnam.
Japan ranks second to South Korea as a source of Vietnam's FDI on a cumulative basis in 2019. It is also the country's fourth-largest trade partner, after China, the U.S., and South Korea. Both countries belong to the Trans-Pacific Partnership trade pact. The two nations also have deepening ties between their peoples, with more than 400,000 Vietnamese living in Japan.
Manufacturers have led Japanese investment in Vietnam so far, attracted by wages that are lower than in China. But rising income levels have opened up opportunities for service-sector companies to capture consumer demand in a country where a young population promises long-term growth potential.
Vietnam's GDP per capita has topped the $3,000 threshold at which retailers typical move to expand their presence. Among Japanese players, casualwear chain Uniqlo opened its first location here last December and is adding more. Drugstore operator Matsumotokiyoshi Holdings will make its debut in Ho Chi Minh City on Sunday.
Speaking in Tokyo on Friday, Suga said he wants his trip to Southeast Asia "to show our nation and the world that Japan will play a leading role in the region's peace and prosperity." Suga's predecessor, Shinzo Abe, also made Vietnam his first stop after becoming prime minister for a second time in 2012.
After Vietnam, Suga will travel to Indonesia, where he will meet President Joko Widodo on Tuesday, according to the nikkei.