Vietnam's Foreign Ministry confirms Japanese PM Suga Yoshihide's visit
Vietnam's Ministry of Foreign Affairs has been confirmed as Japanese Prime Minister Yoshihide Suga's first overseas destination after taking office last month.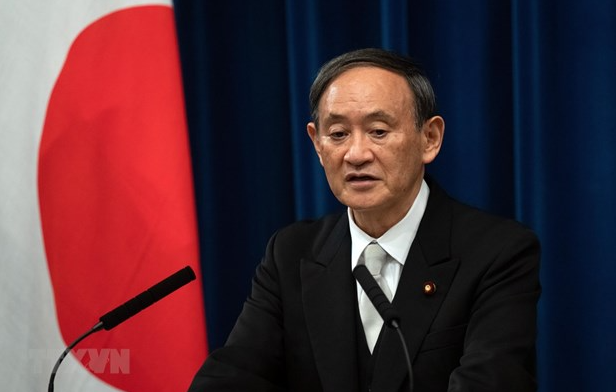 Japan's Prime Minister Suga Yoshihide. (Photo: VNA)
Japanese Prime Minister Suga Yoshihide will pay an official visit to Vietnam in the very near future at the invitation of his Vietnamese counterpart Nguyen Xuan Phuc, Foreign Ministry spokesperson Le Thi Thu Hang affirmed on October 15.
She made the announcement at a regular press conference of the Foreign Ministry in Hanoi, Vietnam Plus cited.
This would be PM Suga's first overseas trip just a month after he took office. He follows his predecessor in selecting Vietnam for his first foreign destination after taking office, she noted.
In 2013, then Japanese PM Shinzo Abe also chose Vietnam as his first destination after taking office. Suga's similar choice is a clear sign that showcases the strong and substantial development of several aspects of the extensive strategic partnership between Vietnam and Japan, she said.
Japan's Prime Minister Yoshihide Suga is formally inaugurated in a ceremony with Emperor Naruhito. (Kyodo)
Abe once told Prime Minister Nguyen Xuan Phuc that Viet Nam is a "loyal friend", thus he chose Viet Nam for his first overseas trip in 2012, according to former Vietnamese Ambassador to Japan Nguyen Quoc Cuong.
Cuong expressed his belief that the upcoming visit indicates that Prime Minister Suga attaches importance to the role and position of Viet Nam in the region and the world, especially when Viet Nam is the current ASEAN Chair and a non-permanent member of the United Nations Security Council, according to VGP.
Suga's visit will take place in the context of the fruitfully developing Vietnam-Japan extensive strategic partnership, she said, adding that Japan has remained Vietnam's leading economic partner, largest ODA provider, second-largest investor, and fourth-largest trade partner.
It aims to further enhance the bilateral relationship, seek ways to step up cooperation in sectors such as trade, investment, human resources, education and training, and culture, and provide a forum for discussing regional and international issues of shared concern.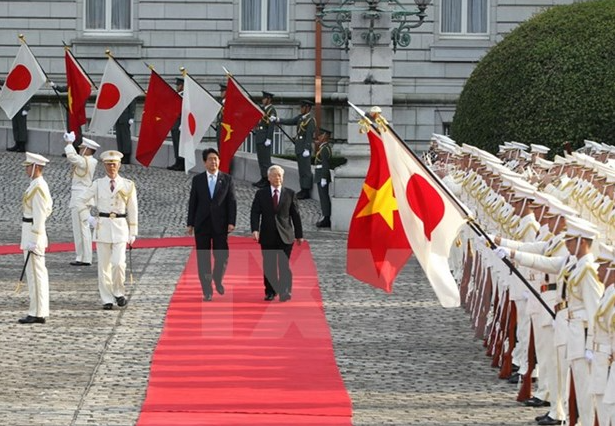 The official visit to Japan by Party General Secretary Nguyen Phu Trong in 2015. (Photo: VNA)
PM Suga is scheduled to hold talks with PM Phuc, meet with other Vietnamese leaders, and engage in other activities, according to the spokesperson. The two sides will also coordinate and effectively implement partnerships in peace-keeping, and strengthen collaboration in national defence within multilateral frameworks.
According to VN Express, Hang said Japan continues to be Vietnam's most important economic partner, including in providing official development aid (ODA). Japan is also Vietnam's second largest investor and fourth largest commercial partner, she added.
"We believe the visit will be successful and contribute positively to the enhancement of the extensive strategic partnership between the two countries, as well as to socio-economic recovery and development post Covid-19," Hang said.
Vietnam and Japan established diplomatic ties in 1973, upgrading bilateral ties to strategic partnership in 2009, and to extensive strategic partnership in 2014.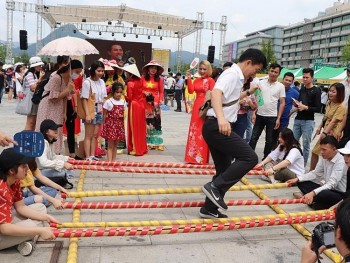 Focus
Vietnam Days Abroad is an annual national promotion program hosted by the Ministry of Foreign Affairs since 2010.