Expats In Vietnam: How To Register For Covid-19 Vaccination?
Vietnam's Ministry of Health has confirmed that anyone over the age of 18 can register for their vaccination online.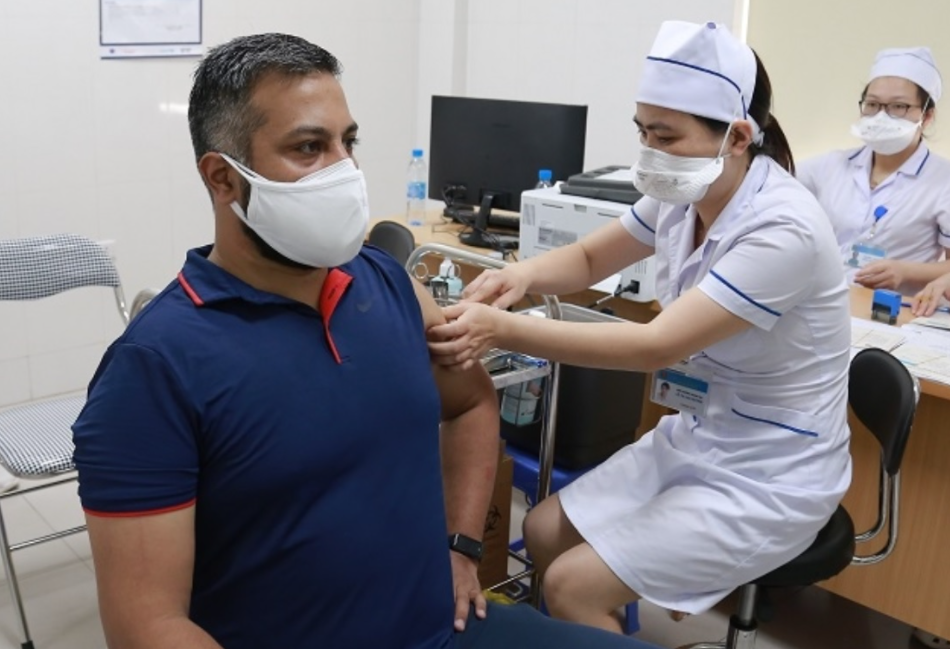 A foreign reporter got vaccination on June 29. (Photo: VNA)
Earlier this month, Military-run telecommunications company, Viettel has launched a service for online vaccination registration. The website and the app are expected to be updated with an English version in the next few weeks, according to VNA. Foreigners will be able to access these systems to make registration once the English version is completed.
How to register for vaccination?
Option One: Via the Covid-19 vaccination portal: https://tiemchungcovid19.gov.vn/portal/register-person
Option Two: Via the E-health app for phones using Android and iOS that can be downloaded here: https://hssk.kcb.vn/#/sskdt.
To use the app, users must register with a phone number. After verifying their information, users will receive instructions for registering for their vaccination.
The website and the E-health app are expected to be updated with an English version in the next few weeks. Foreigners will be able to access these systems to make registration once the English version is completed.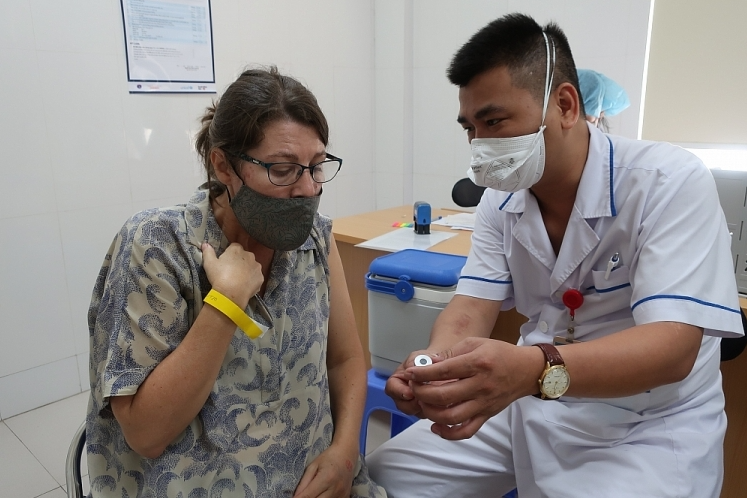 Vietnam Union of Friendship Organizations (VUFO) coordinated with the Ministry of Health to vaccinate NGO foreign staff in Vietnam.
How does the registration work?
Data collected will be transferred to vaccination venues. The venues will screen registrants, confirm their information, and make a list of people to prioritize. Once registered, users will be notified as vaccines become available. They will be given an appointment for screening and will be informed about their vaccination schedule.
Each user will have a black and white QR code on their e-health record app. When people have received the first vaccine jab, the QR code color will turn yellow. When the second jab has been received, the color will turn green.
The QR code will replace paper vaccine certificates that people were granted earlier and a basis to create a vaccine passport in the future. The system is currently updating the data of those who have already been vaccinated so it may take a while for those who have previously been vaccinated to receive their online certificates.
However, the system would not prioritize early registration, said Nguyen Truong Nam, Deputy Head of the Information Technology Department of the Ministry of Health. People must provide information on which priority groups they are in. Based on that information, authorities will arrange vaccination schedules for each group.
Since April 27 when the new wave started in Vietnam, 31,890 infections have been recorded in 58 of the nation's 63 cities and provinces. Vietnam has targeted vaccinating 70 percent of its 96-million population by next April, with half of those aged 18 and older inoculated within this year, according to VN Express. Over 4 million people have been vaccinated to date.
Foreign reporters and NGO employees in Vietnam have been given vaccine shots. Speaking at a press briefing of the Foreign Ministry on June 24, its spokeswoman Le Thi Thu Hang asserted that there is no discrimination between Vietnamese and foreigners during the Covid-19 vaccination campaign.
In the humanitarian spirit, the Vietnamese Government always cares for and supports foreigners living, studying, and working in Vietnam so they can live normally and safely, and receive medical care and intensive treatment when necessary, she added.
Vietnam looks to have about 70 per cent of the population inoculated to achieve herd immunity by late 2021 or early 2022.
There are sixteen priority groups:
1. Healthcare workers
2. Those involved in pandemic prevention. For example, members of steering committees, those working at quarantine areas, or experts conducting epidemiological investigations.
3. Military officers
4. Police officers
5. Diplomatic officers
6. Teachers
7. Students
8. Custom, immigration officers
9. Essential service providers in aviation, transport, tourism, electricity, and water
10. People with chronic illnesses
11. People aged over 65
12. Residents in pandemic-hit areas
13. People on low-income, including pensioners, food sellers, market traders, builders, and informal workers
14. People who are sent by State agencies to work and study abroad
15.Religious dignitaries
16. Other groups decided by the health minister or chairpersons of provincial-level People's Committees or proposed by vaccine suppliers
There are four types of localities being prioritised for vaccination:
1. Localities currently having outbreaks.
2. Localities located in key economic regions or piloting economic development projects.
3. Localities with a large number of industrial parks with high populations of factory workers and residents.
4. Localities with shared borders and international border gates.