Vietnam Contractually Secured 105 million Doses of Covid-19 Vaccine
Vietnam has signed contracts for 105 million vaccine doses of the 150 million it needs to cover 70% of its population, said the Ministry of Foreign Affairs.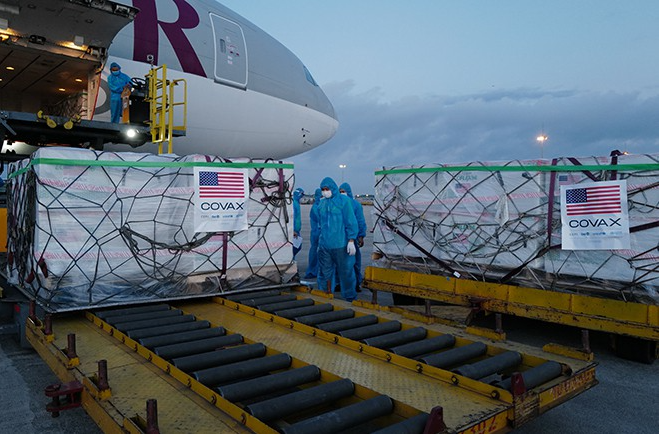 Photo: VOV World
By Monday, Vietnam had received 8 million doses and is going to get more directly from manufacturers or via partner countries and international organizations. This progress realizes Government Resolution 21 issued on February 26 regarding the purchase and use of Covid-19 vaccines, according to VOV.
Among the mentioned vaccine doses, COVAX has promised to deliver over one million doses of Pfizer-BioNTech to Vietnam between July and September, on top of 4.5 million doses already delivered, and give Vietnam priority in subsequent distributions. COVAX will also transfer mRNA vaccine production technology to Vietnam and send experts to support Vietnam's development and production of globally recognized vaccines.
The US donated 2 million doses of the Moderna vaccine via the COVAX facility, which arrived in Hanoi last weekend. US manufacturers have also signed technology transfer contracts with Vietnamese partners.
Following two million doses of AstraZeneca that have arrived in Vietnam already, Japan will send one million additional doses. Japan is prepared to work with Vietnamese partners on clinical trials and transferring vaccine production technologies.
Vietnam has received 500,000 doses of China's Sinopharm and 1,000 doses of Russia's Sputnik V.
The UK has put Vietnam on its priority list for vaccine distribution and has asked AstraZeneca to transfer technology and help Vietnam build up its vaccine production capability.
The Australian government has pledged 10 million USD to help Vietnam buy vaccines and will donate 1.5 million doses of AstraZeneca by the end of 2021.
Moreover, 40 million doses of Sputnik-V are being negotiated for purchase from the Russian Direct Investment Fund, and the Ministry of Health is trying to get another 15 million Covaxin doses from India, according to SGGP.
The Ministry of Foreign Affairs said Vietnam has actively lobbied global governments and manufacturers to sell vaccines to Vietnam and speed up the delivery.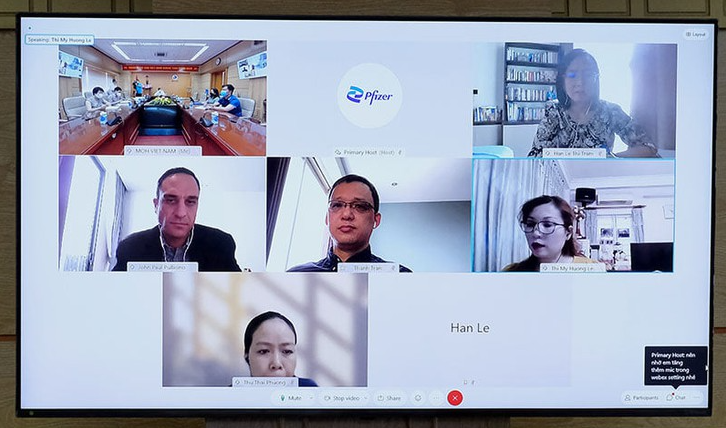 The online working session between the Ministry of Health and Pfizer. (Photo: VOV World)
Pfizer commits 20 million doses of vaccine for children in Vietnam
US multinational pharmaceutical and biotechnology corporation Pfizer is committed to ensuring the supply of 20 million doses of Covid-19 vaccineto be administered to children aged 12 -18 years old, in the next quarter, said Minister of Health Nguyen Thanh Long on July 14.
At Wednesday's online meeting with John Paul Pullicino, General Director of Pfizer Vietnam Co., Ltd, the Ministry of Health initially negotiated with Pfizer on supplying Vietnam with 20 million doses of the Covid-19 vaccine for children. Vietnam currently has about 9 million children in the 12-18 age group.
The two sides also discussed Pfizer's plan to supply the Covid-19 vaccine in 2022 and the transferring of vaccine production technology to Vietnam or setting up a COVID-19 vaccine factory in Vietnam.
In the fourth quarter of 2021, Pfizer will supply a total of 47 million doses of the Covid-19 vaccine to Vietnam, VOV World cited.
As of July 12, 2021, Vietnam has received about 8 million doses of the Covid-19 vaccine and is expected to get more from negotiations with other nations and foreign manufacturers, as well as support from global partners and international organizations.
More than 4 million doses of Covid-19 vaccines have been administered nationwide so far, with 283,884 people receiving the full two shots, VNA said.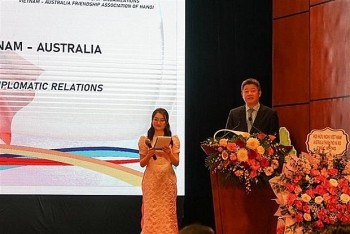 Friendship
A friendship exchange programme has been held recently in Hanoi to celebrate the 50th founding anniversary of the Vietnam-Australia diplomatic relations (February 26).