Journey to Dong Giang Tea Hill – Green Paradise in Danang
Aside from My Son Sanctuary, Cu Lao Cham etc, Danang is also famous for Dong Giang tea Hill - a green paradise that charms tourists with its mesmerizing landscapes and unique local culture.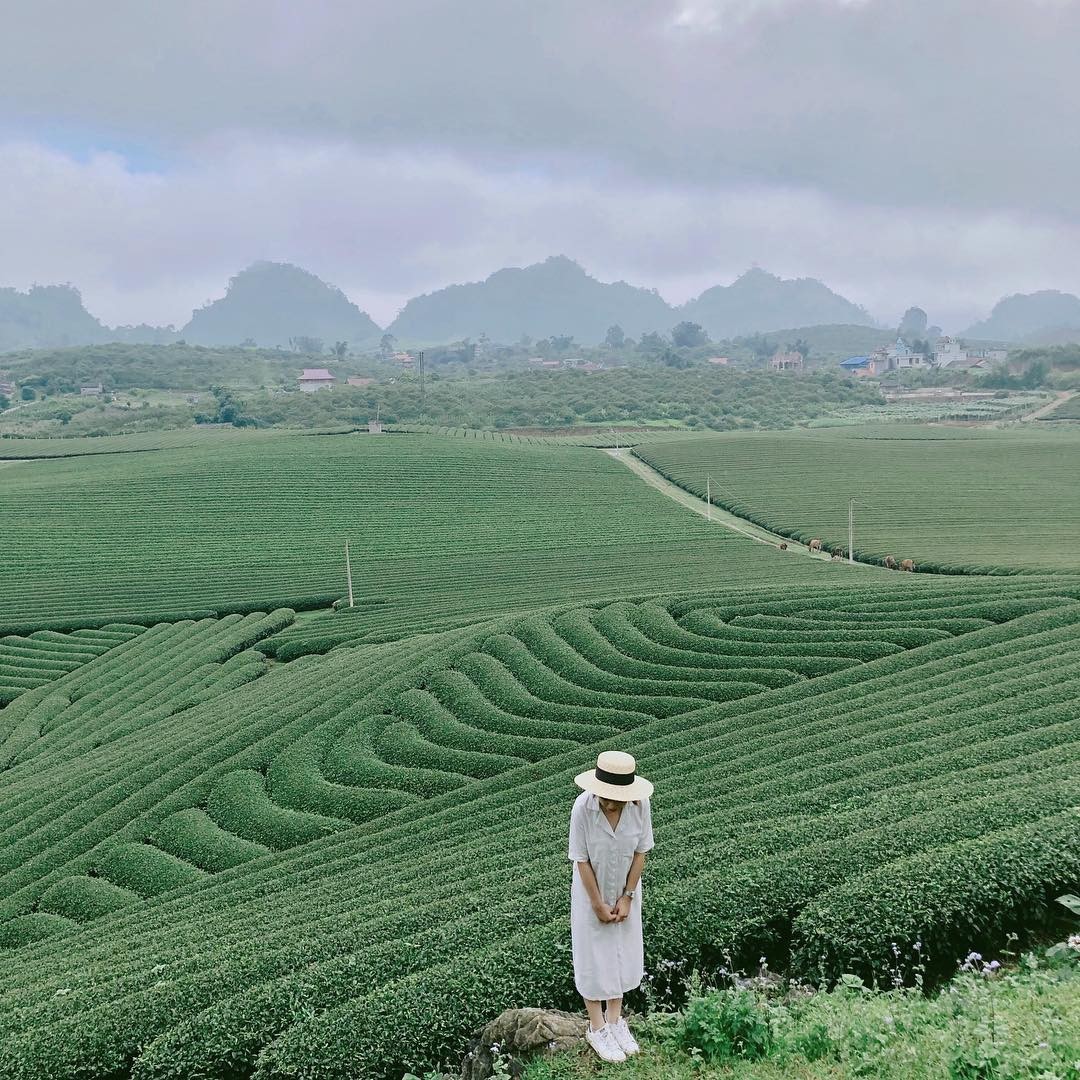 Photo: Pinterest
Dong Giang tea hill Quang Nam makes visitors ecstatic because of the green space, the dreamlike beauty is no less than the tea hills in Da Lat, Sapa, Phu Tho, Thai Nguyen.
Quang Nam is a beautiful, peaceful land in the Central region, which is very famous for the peaceful and beautiful old town of Hoi An on the Thu Bon river. But the immense Quang land did not only have the old town or the Bay Mau coconut forest. Quang Nam also has a beautiful Dong Giang tea hill just like Sapa or Da Lat.
The mesmerizing beauty of Dong Giang tea hill
Photo: Du Lich Danang
Everyone who travels Quang Nam also nods and admits that Quang is gentle and gentle with beautiful scenery everywhere. That is even more confirmed when you visit Dong Giang tea hill - a land far away from the prosperous town, possessing a fresh and relaxed beauty.
This place is blessed with a cool climate, fertile land all year round, so it is very suitable for growing industrial crops, especially tea. Here, tea growers do not take much care because the climate and soil are almost excellent for the tea tree to grow well.
When you first visit Dong Giang Quang Nam tea hill , you will be really captivated by a vast green array of long stretches of tea hills. The tender green color of the tea buds makes the soul extremely comfortable. Not to mention the peaceful, fresh atmosphere and the tranquility of the space will help you love this beautiful land more.
The tea here is planted in a row that creates straight lines and interesting curves. A large sky, everywhere is green tea, paints a poetic natural picture, like soothing souls who are tired from the pressure of life.
Photo: Danang Services
Visiting Dong Giang tea hill in Quang Nam, you can spend time indulging in the beautiful scenery here. You can hear the wind blowing vi vu, breathing fresh air in sunny early mornings.
Thanks to the cool climate, vast and beautiful landscape, more and more tourists come here to visit, take photos and organize picnics and picnics. According to the experience of young people going to Quang Nam, just one day to Dong Giang, visitors have many interesting experiences and bring back many quality check-in photos.
Dong Giang Tea Hill is not only a destination in Quang Nam suitable for you to visit and admire. This place is also an ideal place for couples to take wedding photos. No need to go all the way to Dalat or go up to Sapa to take pictures with tea hills. Just visiting Dong Giang, couples have many wedding photos for their own lives.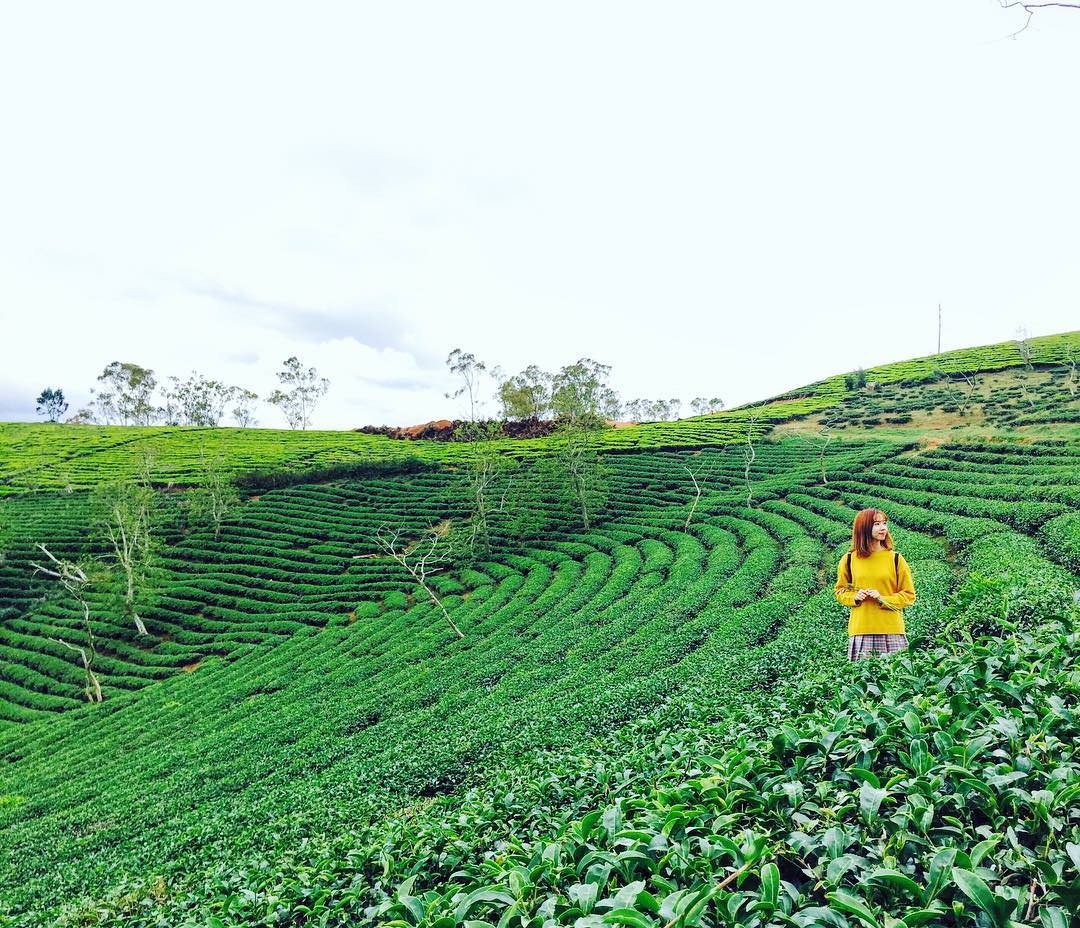 Photo: Instagram
Aside from photo sessions and picnic activities, visitors can explore Co Tu ethnic people's culture in their Vau Village at the foot of Ba Na Mountain. Locals welcome guests by artistic performances and then instruct visitors how to make brocade carpets and do knitting. Their Guoi and Moong stilt houses in unique architecture are also worth a visit.
In the peaceful village, visitors can listen to the soothing murmur of flowing streams. At sunrise and sunset, they would admire Chua and Ba Na mountains half hidden in fog.
To end the trip, try local specialties, such as grilled meat in tube, com lam (rice in bamboo tube), wild herbs and fishes caught from streams.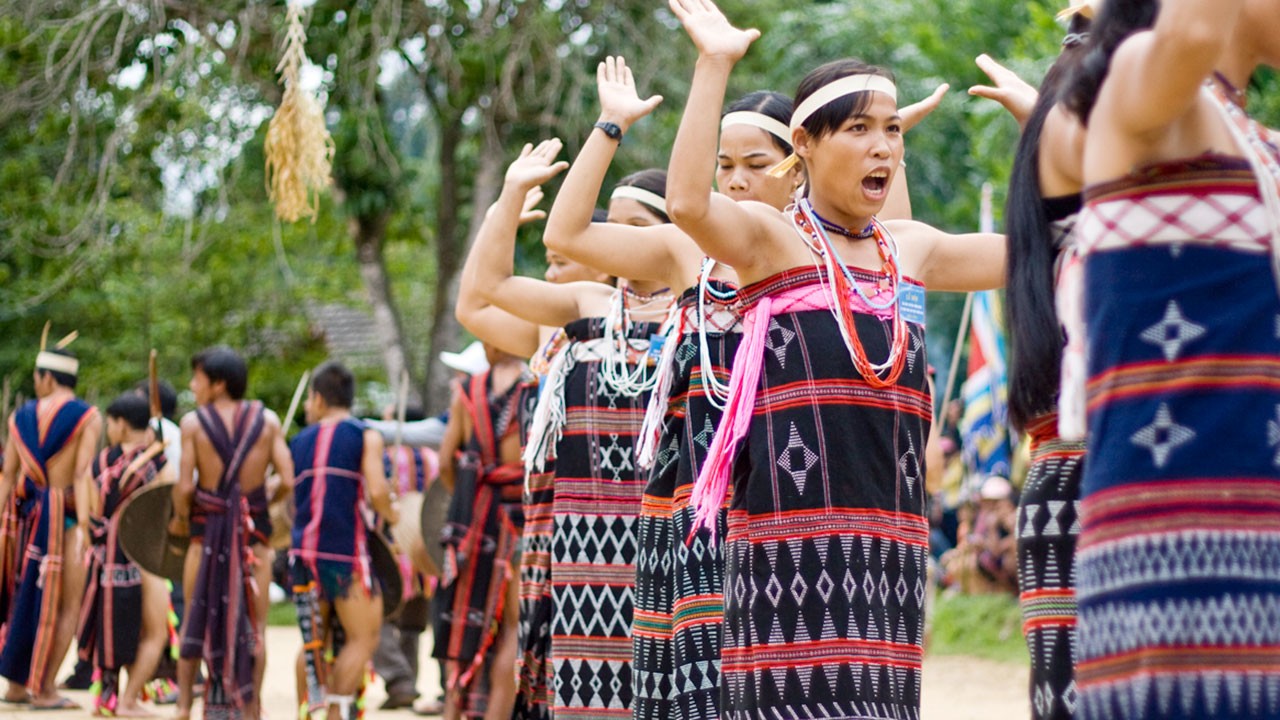 Co Tu people. Photo: Bho Hoong Bungallows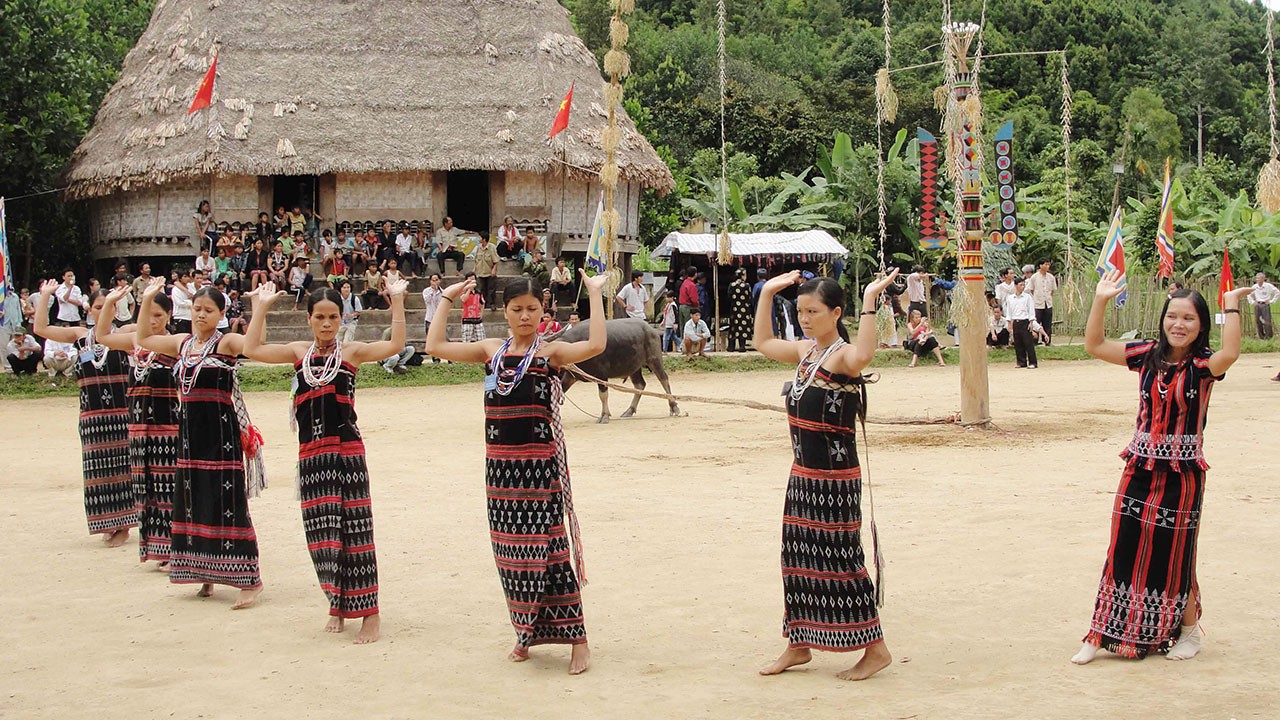 Photo: Bho Hoong Bungallows
The history of the Co Tu people remains much shrouded in mystery. Until now, there has been little research on the origins of the Co Tu people. The Cotu themselves believe that their ancestors settled in the west of Quang Binh, and Quang Tri provinces. When they found cultivated land, they moved to the south.
The Co Tu inhabit the mountainous regions of Central Vietnam West of Quang Nam and Da Nang right up to and over the Lao border. They are now counted amongst the smallest of Vietnam's ethnic minority groups with a total population of just 60,000 people. They live in small villages comprising of mostly wood and rattan huts with a central common, Goul and Moong houses and practice subsistence agriculture and hunting methods.
Brocade weaving has always been an essential part of the self-sufficient life of the Co Tu ethnic people. Co Tu women take charge of weaving, making attractive yet sturdy clothes and other items to use in the kitchen, decorations or for spiritual purpose for their family or as gifts to share.
The traditional dress of the Co Tu people is simple, practical and colorful. The men wear loincloths and leave their upper bodies bare except during ceremonies when they drape a longer body cloth in a cross across their chest. The women wear long skirts and short-sleeved tops. Both men and women's outfits are made from black fabric with bands of embroidery predominately in red, white and orange.
Co Tu weavers harmoniously manoeuvre a wood and bamboo device with their body movements. Seated with her back holding the end of vertical yarns, the artisan pushes the other end of the yarns with her legs, changing tension to allow horizontal yarns to criss-cross the other, whilst simultaneously adding decorative beads. The Co Tu are the last tribe in Southeast Asia who continue to embroider their beads by hand, having yet to accept the use of glue for this process.
Other attractions to see in Quang Nam Province
My Son Sanctuary
My Son Sanctuary is a pride of Quang Nam people. Recognized as a World Cultural Heritage Site. It's possesses more than 70 ancient towers of Cham architecture built in the 4th century. In which, 20 temple towers still preserve the original wild beauty. Such as My Son tower, Bang An tower, Khuong My tower, … You will have to admire the harmonious combination of extremely delicate patterns and details on fired brick walls, creating architectural marvels extremely unique of an ancient Champa culture.
Cu Lao Cham
In Quang Nam, there is an island "paradise" named Cu Lao Cham with a cool climate all year round. Especially there are many beautiful coral reefs and abundant seafood resources. Cu Lao Cham is also a biosphere reserve of the world. Cu Lao Cham tourism surely attract tourists who love to discover the wild natural beauty of the sea. Not only that, you will also participate in many exciting outdoor activities. Such as kayaking, snorkeling, coral diving, etc.
Tam Thanh Mural Village
Tam Thanh mural village is located in Tam Thanh commune, Quang Nam. Lost in Tam Thanh mural village. Come here, you seem to be lost in the magical shimmering land. Hundreds of old simple houses of fishermen here dressed in colorful "new shirts" created by skillful hands of Korean painters. Each picture is a true story about the life of Tam Thanh people, bringing an extremely interesting and close experience to visitors.
Thanh Ha Pottery Village
Quang Nam tourism cannot help but mention traditional villages. Thanh Ha pottery village is a place where you can see the sophisticated fine art ceramic products made from skillful hands and talented people of Thanh Ha artists. In addition, you can also make your own products to make memories or bring back to your relatives and friends.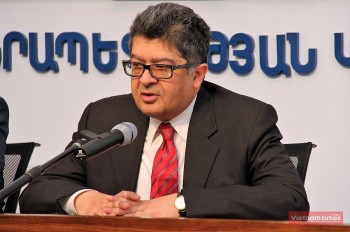 Friendship
On the occasion of the 30th anniversary of the National Day of the Republic of Armenia (September 21, 1991-September 21, 2021), in an interview with Vietnam Times, Ambassador Extraordinary and Plenipotentiary of the Republic of Armenia to Vietnam Vahram Kazhoyan said it was time for two countries to cooperate in tourism and education.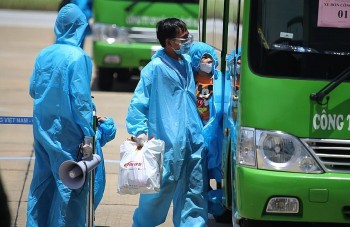 National
The country has to date logged 695,744 Covid-19 cases, ranking 47th out of 222 countries and territories worldwide in terms of infections per one million people.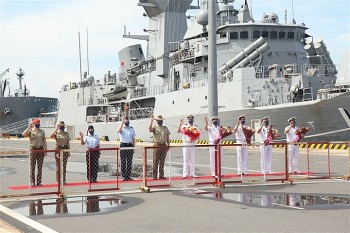 Friendship
Australian warships, amphibious assault ship HMAS Canberra, missile frigate HMAS Anzac and tanker HMAS Sirius, arrived in Vietnam as part of the Indo-Pacific Endeavour 2021.