Kindness During Covid Times: Hanoi's Friendship Association Helps Russian Mother of 2
Because of the pandemic, Alena and her husband both lost their jobs and did not have money to pay for electricity, water, or buy food. Over the past two days, their family's plight has been supported by many benefactors.
The family of 4 received the gifts from the Astrakhan branch under the Vietnam-Russia Friendship Association of Hanoi. Source: Zing
Talking with Zing, Alena Bokareva said that she is Russian who has been living in Vietnam for 17 years. She married Do Ba Vuong and gave birth to two sons aged 8 and 5.
The family of 4 currently lives in Hoan Kiem district of Hanoi.
Before Covid-19, Alena worked for a Russian restaurant with salary now reduced to only VND 5 million. Her husband is motorbike taxi driver with precarious income.
The couple could not afford to pay school fees for both children, so they had to leave their youngest child at home for nearly a year.
"Since the outbreak, my husband and I have both fallen into unemployment. The restaurant I worked for is closed, my husband does not have a permit to go out. If he registers to ship goods, he has to go to a medical examination, we still need money to take care of many procedures and papers," she said.
Last month, Alena had to borrow money from an acquaintance to pay her electricity and water bills. Her eldest son has just entered third grade, however, the pandemic forced his school to teach online, her family has to register for Wi-Fi. Due to not paying the freight on time, the access was cut off. Luckily, the neighbors let him use theirs for free so he could study.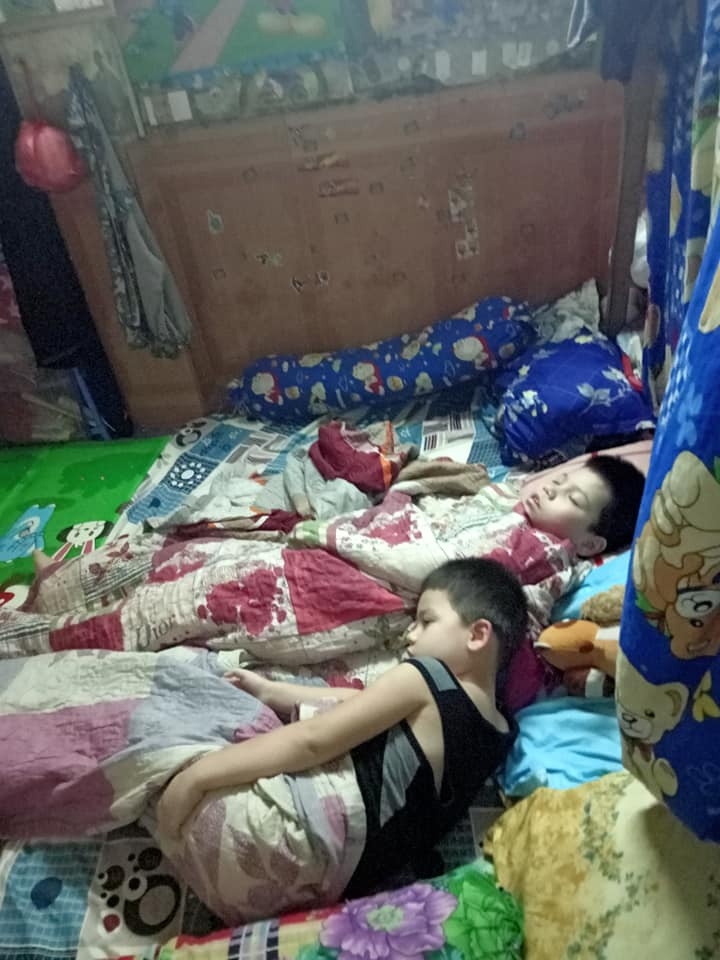 Alena Bokareva's family lives in a small house with leaky roof. Source: Zing
"My family in Russia is also facing difficulties because of the pandemic. My father died more than 18 years ago, and my mother had an accident and was unemployed for 17 years. Before all this, I always tried to send my mother some money, but now that I'm unemployed, I can't help her anymore.
Next September, when my son goes back to school, I also need to take care of tuition fees and at the end of this month, electricity and water bills. Everything is getting more expensive, but I'm afraid to think about it," she shared.
When Alena's house was not blocked, her husband's relatives brought them some rice, eggs, and instant noodles. A few days ago, they ran out of food and couldn't go out to buy it, so out of desperate, she asked for help online .
"After I posted my store about an hour, officials from the neighborhood and ward came down to give ours rice, vegetables, fish sauce, instant noodles, and cooking oil. Two days ago, a benefactor called, saying want to help us. Some people even sent meat and green vegetables. It was really touching," she said.
A representative of the Astrakhan branch under the Vietnam-Russia Friendship Association of Hanoi on Aug. 9 also visited, gave gifts and cash to Alena and her family.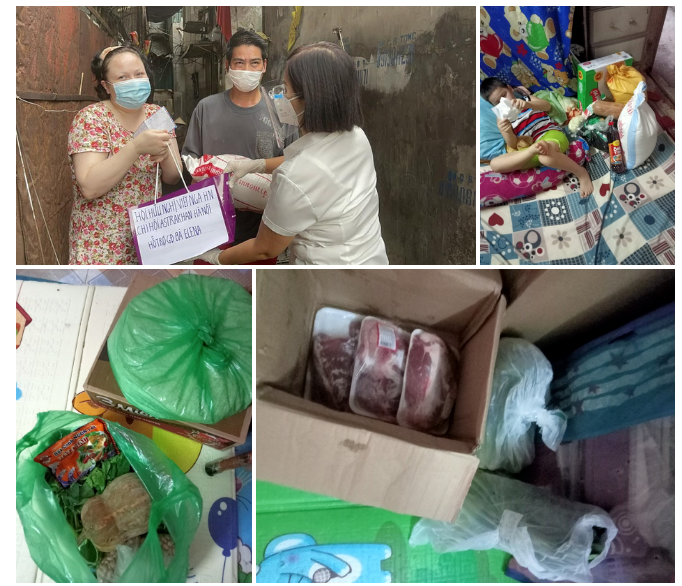 Over the past two day they supported by many benefactors. Source: Zing
"I don't have a bank account, so when many people texted me wanting to help, I had to ask my husband's cousin for help. I'm grateful for all of them, but I can't thank each one yet. A woman also texted me, saying her can arrange me a job after the period of social distancing. Now my family has food and enough money to pay for electricity and water," said Alena.
The mother of two children hopes the pandemic will end soon, so she and her husband will find stable jobs and can take care of their children properly. "I know Vietnamese and I am a hard-worker. I don't mind anything, as long as I can take care of my family."
A total 3,241 cases of Covid-19 were logged in the past 12 hours to 6pm August 10, raising the national count to 228,135, according to the Health Ministry. In which, Hanoi reported 60 cases.
In order to control the spread of the infection, people are required to show travel permits along with their identification cards, work schedules and work related documents when they go out.
The People's Committee of Hanoi has issued an urgent request to strictly control the issuance and use of travel permits during the social distancing period implemented in the capital city.