Kong Collapse: Vietnam's highest sinkhole mysteries uncovered
The Vietnamese tour agency Jungle Boss has recently discovered a new route inside the mysterious Kong Collapse, the highest sinkhole in Vietnam which lies inside the Phong Nha-Ke Bang National Park, opening a potential trekking route in Quang Binh province for adventure lovers.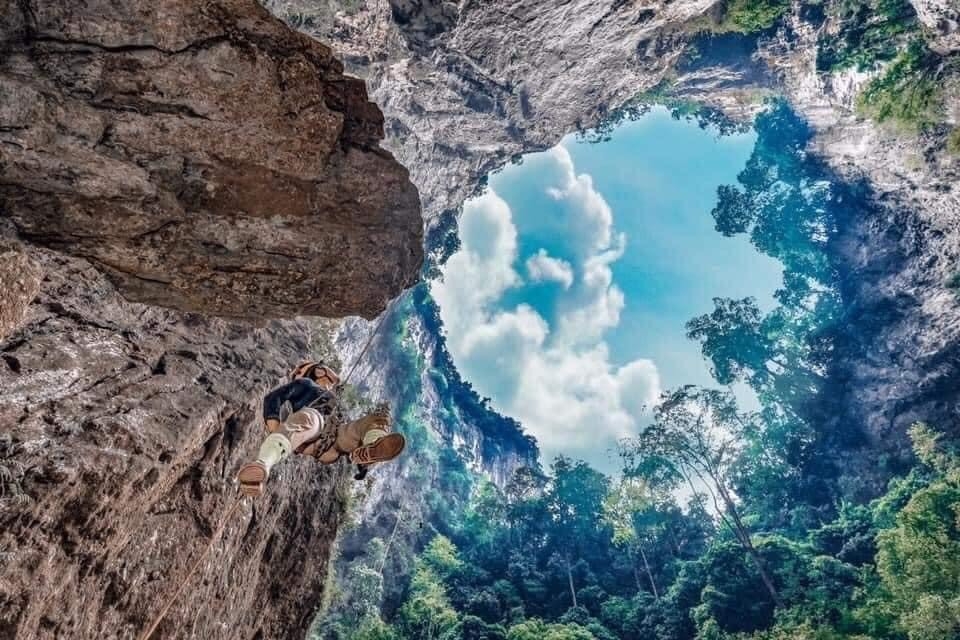 Kong Collapse is 1,476 feet high (Photo: Jungle Boss)
The Jungle Boss's exploration team has recently returned Kong Collapse to further explore the mysterious cave and discovered the entire entrance, exit route as well as the interconnection of Tiger cave, Over cave, and Pygmy cave. Thus, one can now enter Kong Collapse by swimming through Dai A cave or swinging down the cave from above.
Earlier in 1997, the British Caving Research Association (BCRA) had discovered the Tiger cave system with three large caves, known as Tiger cave, Over cave, and Pygmy cave.
BCRA's explorers also found out a large sinkhole, which is 450 meters deep (1,476 feet) after swimming for 20 minutes through the deep water from the front entrance to the existing of the Dai A Cave. However, the sinkhole still remained a mystery to the cave experts at that time, thus it was initially named Ngo Cut (Dead End). Kong Collapse was later determined the highest cave in Vietnam and one of the largest caves worldwide, Travel Mag reported.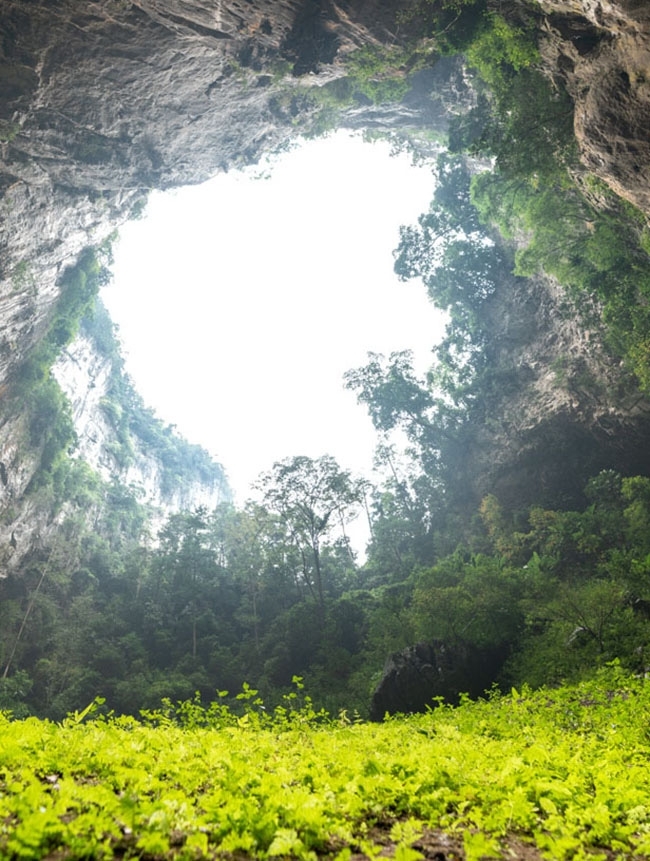 (Photo: Jungle Boss)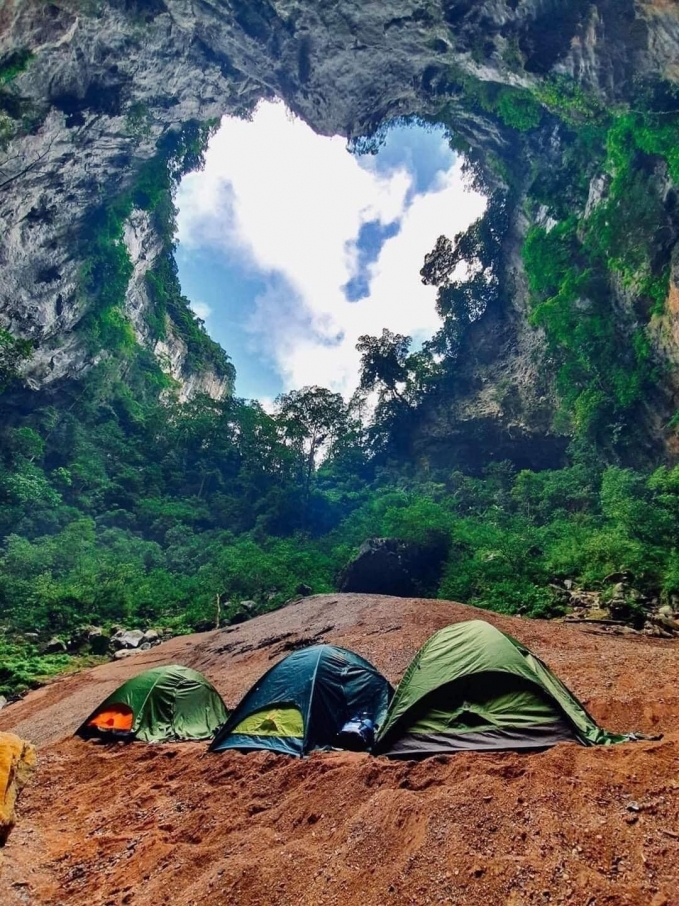 (Photo: Jungle Boss)
The new discovery is believed to open a new stunning trekking route, which starts off from Tiger cave, passing Over cave and terminates at Pygmy cave. The newly-discovered trekking route will, according to Travel Mag, challenge the braveness of every trekker.
The new discovery has spurred Internet joy among Vietnamese netizens. Many could not resist their excitement, say that they are proud of Vietnam's magnificent natural beauty, and "will soon embark on a tour to Kong Collapse". Some people, on the other hand, voice their concern over the over-exploitation of the sinkhole could hurt the natural ecosystem inside the cave.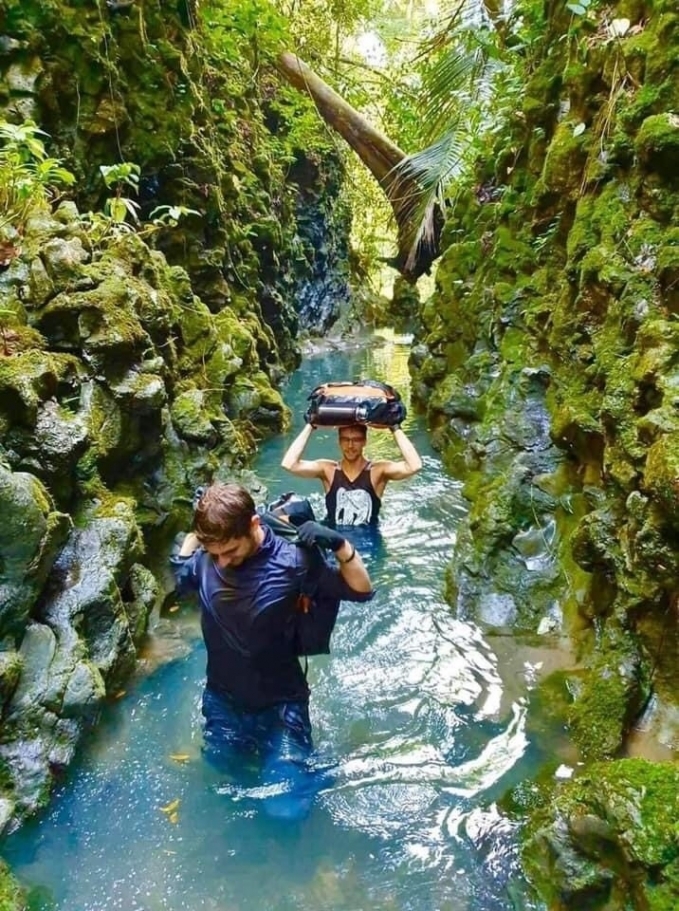 (Photo: Jungle Boss)
The sinking hole was re-named Kong Collapse because when looked from above, it shapes like the head of King Kong, the famous character in the namesake blockbuster. The pit is not only attractive by the special shape, surrounded by rocky mountains, but it also boats a primitive forest and a green underground river located right at the foot of the mountain, creating an ideal campsite for tourists who want to explore understand nature, according to Xa Luan.
Kong Collapse slum contains strange and unexpected things, contributing to enrich the list of tourism products in Quang Binh. Therefore, Quang Binh has become a major tourist center of the country, always a leading attractive destination, an indispensable address in travel notebooks on every journey of national and international visitors.