Korea – Vietnam Friendship Association asked to help Vietnamese brides integrate into host country
Prime Minister Nguyen Xuan Phuc on November 27 had a meeting with the Korea – Vietnam Friendship Association (KOVIFA) Chairman Chol Young Joo in Seoul during his trip to the RoK for an official visit and to attend the ASEAN- Republic of Korea (RoK) Commemorative Summit.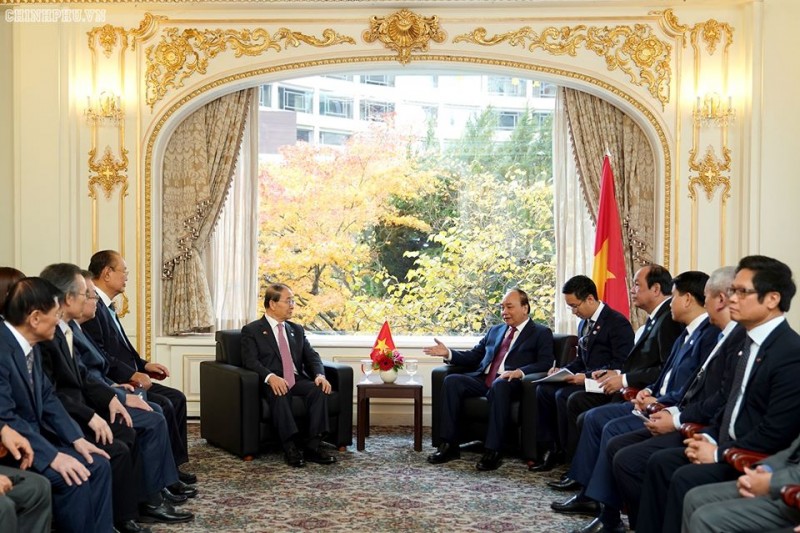 Prime Minister Nguyen Xuan Phuc (R) and with KOVIFA Chairman Chol Young Joo. Photo: VGP
PM Phuc noted that since the two countries established diplomatic ties in 1992, the bilateral relations have been thriving in multiple areas, including politics, economics, culture, education and arts.
In politics and diplomacy, the exchanges and cooperation between the two countries are expanding at both central and local levels, stressing that KOVIFA has made significant contributions to the fruitful relations between the two countries in the past years.
KOVIFA's activities play an important role to help the two peoples enhance mutual understanding, he stressed, expressing his hope that Chol and KOVIFA members will further their efforts to develop the sound friendship and all-round cooperation between Vietnam and the RoK.
The Vietnamese Government and localities always create favourable conditions, particularly in investment license procedures, for Korean investors to do successful business in Vietnam, he said.
Vietnam is stepping up bilateral cooperation on trade and investment with the RoK, by making two-way trade turnover account for half of the trade turnover between ASEAN and the RoK, and helping the RoK retain its position as the top investor in Vietnam, PM Phuc added.
He wished Korean corporations will strengthen investment in Vietnam, saying both sides should boost cooperation as they are celebrating the 30th anniversary of the diplomatic ties in 2022.
He also asked Chol and the KOVIFA to help Vietnamese brides so that they can better integrate into the host country as well as Vietnamese students studying in the RoK.
Chol, for his part, affirmed the KOVIFA has worked to elevate the bilateral ties to a new high, expressing his hope to receive further support from the Vietnamese Government so that the association can contribute more to the friendship between the two nations.
He also pledged to give more support to the Vietnamese nationals living and working in the RoK, stating that his association will join hands with other RoK relevant agencies to take more practical and effective support measures in the time ahead.
At the meeting, members of the KOVIFA are mostly former ambassadors, scholars, businessmen who are or have been working in Vietnam, thanks for the support and cooperation of the Vietnamese side.