Landslides plague coastal areas in Mekong delta
(VNF) - The daily lives of some 500 households have been disrupted and 600ha of protective forest lost due to landslides on the nearly 70km seashore of the Mekong Delta's Kien giang Province in recent years, with climate change blamed for the landslides.
(VNF) - The daily lives of some 500 households have been disrupted and 600ha of protective forest lost due to landslides on the nearly 70km seashore of the Mekong Delta's Kien giang Province in recent years, with climate change blamed for the landslides.
A house in An Minh district submerged in sea water (source: SGGP)
The district of An Minh is believed to have suffered most from the landslides, with nearly 37km of shore damaged, says the Vietnam News.
According to Vo Thi Kim Loan, a resident of An Minh District's Van Khanh Commune, her house was located in a place surrounded by mangrove forest five years ago. However, the landslides have seriously damaged the forest.
"It puts my house at risk of being affected by landslides," she said, adding that her family had to pay VND millions to reinforce the sea dyke near her house to prevent landslides each year
Ten years ago, the mangrove forest protected all aqua farms, but in recent years, landslides had reduced the area of mangrove forest in the village from more 40,000sq.m to 4,000sq.m, reported Nguyen Thanh Đien, a forest protector in Van Khanh Commune's Kim Quy B Village.
Shrimp and fish raised in aqua farms were often swept away by high tides because there was no protective forest, he said.
Vo Minh Le, secretary of the district's Party Committee shared Dien's concern, stressing that serious landslides are strongly impacting the daily lives of local residents.
"If we don't devise a workable solution for the situation, the protective forest will totally disappear in the next two years," he said.
Nguyen Van Tam director of the provincial Agriculture and Rural Development Department said the agricultural sector had worked with localities to make plans to fix the situation.
Evacuating local residents in areas facing serious landslides was a short-term solution, while in the long-term, the sea-dyke system should be re-built and the mangrove forest recovered to prevent landslides, he said.
Previously, the provincial People's Committee ordered the agricultural sector to work with the People's Committee of An Minh District to give solutions for the situation.
The provincial People's Committee also asked district authorities to create mudflats along the 4-km seashore to reduce the impacts of high waves, worth VNĐ120 billion (US$5.2 million).
Landslides had reduced the area of mangrove forest in Kim Quy B Village from more 40,000sq.m to 4,000sq.m. — VNA/VNS Photo Le Sen
The provincial committee said it sent a report to the National Steering Committee on Natural Disasters Prevention and Control to ask for financial support to deal with the situation.
Huynh Dang Khoa, deputy director of Project Management Division under the agricultural department said the province was finishing procedures to soon implement a project of Mekong Delta Integrated Climate Resilience and Sustainable Livelihoods in 2018.
The project, worth VNĐ736 billion ($32.3 million), would build infrastructure, prevent seashore erosion and support people in aqua farming in two districts of An Bien and An Minh.
What occurred in Kien Giang province is not the first landslide incident that took place in this year.
Earlier in April, fourteen houses and two house floors in My Hoi Dong Commune, Cho Moi District of Mekong Delta Province of An Giang fell into the Hau River due to a landslide, panicking local residents.
A road connecting My Hoi Dong Commune and Nhon My Commune was also damaged and isolated.
The riverbank erosion mostly occurs in rainy season, but more landslide cases have occurred in dry season in recent years. These include those that occurred in An Giang province on April 22.

Tran Thanh Toan, head of the Hau Giang provincial Irrigation Sub-department, commented that the continued landslides in dry season shows that everything does not always go according to natural law.
Six riverbank landslide cases have occurred in Hau Giang province since the beginning of the year and thousands of square meters of land have disappeared, according to Toan.

According to Nguyen Huu Thien, an independent researcher, said the landslides in Mekong Delta are getting more serious.
In coastal areas, five square kilometers of land area are lost every year, while there is no official figure about the riverbank erosion.

"When riverbank erosion takes place on a large scale, this must not be attributed to the changes of the current, navigation or houses built next to the riverbank. This shows an imbalance in the whole system," Thien said, adding that it is necessary to conduct surveys to discover the basic causes and search for solutions.

Meanwhile, some environmental experts believe that overexploitation of underground water has led to land subsidence and cracks which later enlarge to become holes, affected by tides.

Experts also believe that the massive sand exploitation on rivers is a cause.
In recent years, the riverbank erosion and coastal landslides have been taking away 500 hectares of land in the Mekong Delta every year, according to a report of the Ministry of Agriculture and Rural Development (MARD).

Landslides have occurred at 265 spots with the total length of up to 450 kilometers in the delta.

According to international studies, in the last 15 years, Tien and Hau Rivers have lost 200 million tons of sand, lowering the river bed by 1.3 meters. There are very deep holes in some places.

Scientists say sand exploitation will not only have impacts on the spot, but its impact may reach hundreds of kilometers on the entire river system. The exploitation will create deep holes and limit sand drifting from the upper course.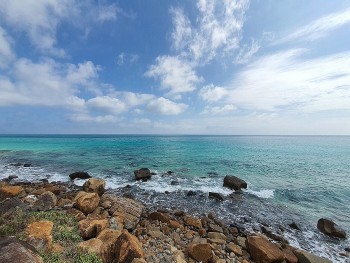 Viet's Home
Con Dao, a historical and famous island situating in the southern province of Ba Ria - Vung Tau, has been named among the top 16 best island vacations in the world, as compiled by tourism magazine Condé Nast Traveler (CNTraveler) of the United States.