Laos Ambassador: Vietnam's Covid Response Sets Example to Other Countries
Ambassador of Laos Sengphet Houngboungnuang is impressed by Vietnam's spirit of "fighting against Covid like fighting against invaders"
- What do you think about the fight against Covid in Vietnam?
Vietnam is among countries that have succeeded in controlling Covid by using highly effective measures. Even during the pandemic, Vietnam continues to observe positive economic growth, ensure social welfare, maintain defense and security and strengthen foreign relations in many aspects.
While dealing with Covid outbreaks, leaders of the Community Party and the government of Vietnam continue to hold high-level meetings and support fellow neighbors to fight against Covid.
Ambassador of Laos to Vietnam Sengphet Houngboungnuang. Photo: Vietnam News Agency
Important political events such as the 15th national assembly elections and the people's councils at all levels for the 2021 – 2026 tenure were held successfully. The people of Vietnam have shown solidarity, patriotism, mutual support, trust and collaboration in Covid prevention.
In 2020, Vietnam successfully assumed the position of ASEAN president even as Covid spread across the globe, and was highly praised by other countries.
-What is your opinion about the policies of the Government of Vietnam in helping people overcome challenges brought by the pandemic?
I am impressed by and trust the strategies of the Communist Party and government of Vietnam in preventing Covid, particularly their motto "fighting Covid like fighting invaders" and determination to pursue the double goal, which is fighting the pandemic while maintaining economic growth.
The party committees, authorities, the Father's Front and relevant officials at all levels, particularly medical workers, military, police and other officials working in Covid hotspots have done their best to carry out Covid prevention strategies and be as innovative as possible. Because of this, they can control the pandemic and minimize the risk of another outbreak. At the same time, they have contributed to retaining the rate of economic development, improving production, ensuring social welfare and looking after public health, especially of communities in Covid areas.
Vietnam has established the Covid vaccine fund and mobilized support from society. The government of Vietnam has been using its contingency fund to support people in need. In addition, they have been mobilizing staff to collect agricultural products and help farmers in Covid hotspots. Vietnam's strategies to fight against Covid are great lessons that other countries can learn from.
- How do you mobilize and support others in Covid prevention?
As the head of the Embassy of Lao People's Democratic Republic in Vietnam, I am responsible for the embassy and its staff and Lao students and people who are living and working in Vietnam. As such, I have been encouraging them to strictly adhere to the regulations and measures set by the government of Vietnam and the National Steering Committee for COVID-19 Prevention and Control.
I have also been mobilizing our staff to inoculate in accordance with the diplomatic note and approval of the Ministry of Foreign Affairs of Vietnam, which allows foreign missions and international organizations in Vietnam to get Covid vaccines.
So far, none of the embassy staff in Hanoi, consulate staff in Da Nang and Ho Chi Minh city, Lao students and Lao people living in Vietnam have had Covid.
I would like to send my best wishes to the leaders of the Communist Party and the Government of Vietnam. I hope that Vietnam will soon win the fight against Covid.
Vietnamese NA Chairman meets top Lao leader

Chairman of the Vietnamese National Assembly Vuong Dinh Hue hosted a reception for visiting General Secretary of the Lao People's Revolutionary Party (LPRP) and President ...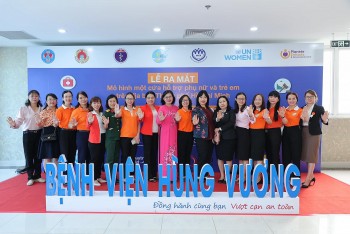 Viet's Home
What is the one-stop centre for women and children experiencing violence?