Vietnam, Laos agree to deepen cooperation in defense, security, trade
The two countries have agreed to step up transport infrastructure projects to take advantage of Lao-Viet International Port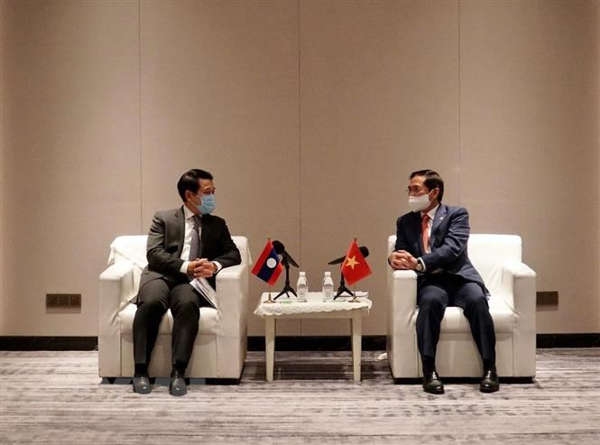 Vietnamese foreign minister Bui Thanh Son (right) holds talks with his Lao counterpart Saleumxay Kommasith on Sunday. Photo VNA
Vietnamese Minister of Foreign Affairs Bui Thanh Son held talks with his Lao counterpart Saleumxay Kommasith on Sunday during which they agreed to step up the implementation of transport infrastructure projects to take advantage of Lao-Viet International Port.
The two ministers met each other on the sidelines of the Special ASEAN-China Foreign Ministers' Meeting in Celebration of the 30th Anniversary of Dialogue Relations and the sixth Lancang-Mekong Cooperation Foreign Ministers' Meeting in Chongqing, China.
Vietnamese foreign minister Bui Thanh Son expressed his delight at the first face-to-face meeting with his counterpart after the two countries successfully organized the Party congresses and consolidated the governments in the new tenure.
He spoke highly of effective and important external affairs activities conducted by the two countries, which contribute to maintaining frequent contacts and exchanges at all levels despite the Covid-19 pandemic.
Welcoming the cooperation and mutual assistance between the two countries in the fight against Covid-19, minister Son thanked leaders of the Lao Party and State for its kind support and hoped that Vietnam's financial aid, medical supplies and experts sent to Laos would make contribution to Laos' pandemic prevention and control work.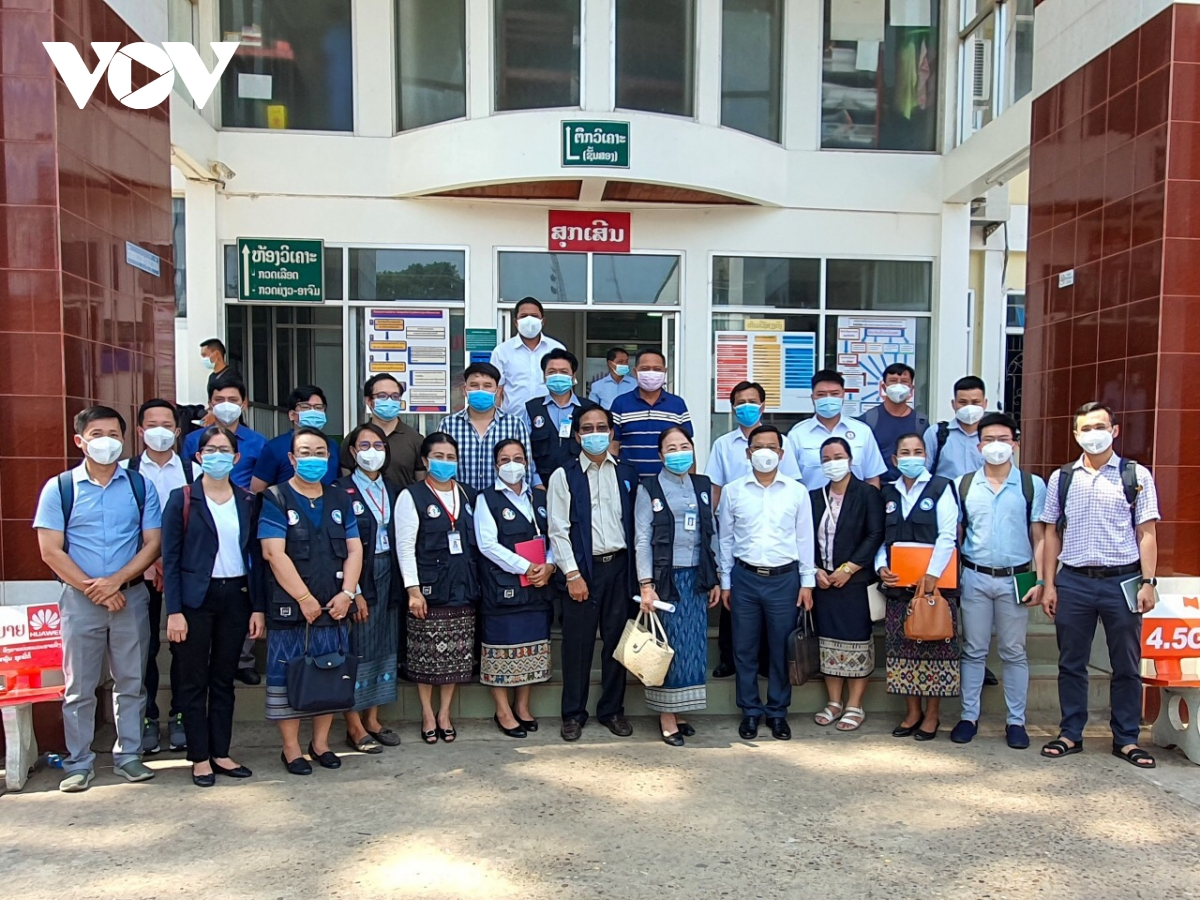 Vietnamese medical experts dispatched to work at Covid-19 hot spots in Laos. Photo VOV
Thanking Vietnam for its support of Laos during the pandemic, Lao Minister of Foreign Affairs Saleumxay Kommasith said that Laos would always to stand side by side with Vietnam in line with the spirit of the countries' great friendship, special solidarity and comprehensive cooperation.
The two leaders agreed to promote exchanges of delegations at all levels in various forms and continue to promote bilateral cooperation mechanisms, especially intergovernmental committee meetings, and deepen ties in defense, security, trade and investment.
They spent a lot of time discussing the implementation of key partnership programs, especially transport-connecting projects to take advantage of Lao-Viet International Port or also known as Vung Ang Port.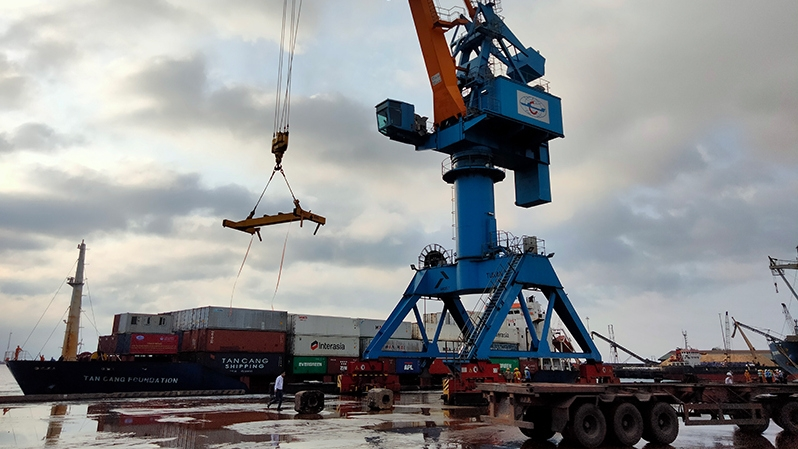 Lao-Viet Port, an international seaport serving cargo transportation to Laos, Northeastern Thailand, and the central provinces of Vietnam. Photo Nhan Dan
The two sides agreed to strengthen coordination in border management to prevent illegal entry and exit, while ensuring the maintenance of cross-border trade, as well as soon implementing the "One-stop-shop" inspection model at the Lao Bao-Densavan border gate.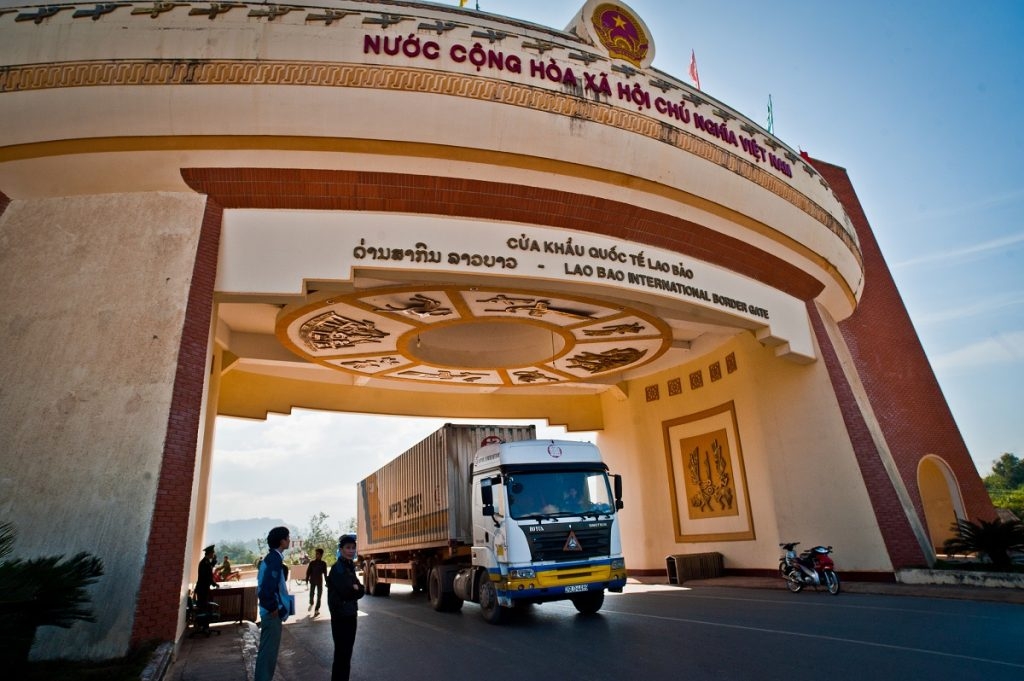 Lao Bao-Densavan border gate. Photo Foox
The two sides also vowed to strengthen coordination and mutual support at international, regional and sub-regional forums, and work with other member states to maintain solidarity and strengthen ASEAN's central role in response to the pandemic.
They said they would continue to work together to effectively implement the cooperation agreement between the two sides for 2021-2025 period, including holding key consultations at minister and deputy foreign minister levels, as well as promote regular exchanges and strategic studies between key agencies.
Emphasizing the importance of economic diplomacy, the two ministers pledged to exchange experience and effectively implement the action program on economic diplomatic cooperation for the 2020-2025 period.
They will kick off preparations for the 60th anniversary of establishing diplomatic ties and the 45th anniversary of the signing of the Vietnam-Laos Treaty of Friendship and Cooperation in 2022.