Lifesaving assistance to flood-affected populations in Quang Tri
CARE is cooperating with Quang Tri's Department of Ethnics Minority Affairs to prioritise WASH and basic needs as immediate support to 44,000 people directly affected by storms and floods over the next six months in 16 communes of Quang Tri Province.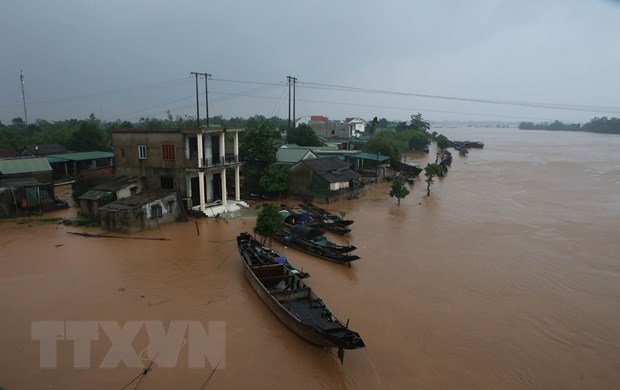 Houses submerged. Source: VNA
Starting on 6 October 2020, the central region of Vietnam has experienced prolonged heavy rainfall as a result of several distinct and severe tropical storms. Most notably, Tropical Storm LINFA struck on 11 October followed by Tropical Storm NANGKA on 14 October, Tropical Storm SAUDEL on 25 October and Cyclone MOLAVE on 28 October. As a result of these consecutive storms, widespread flooding and
landslides have been reported in eight provinces; Nghe An, Ha Tinh, Quang Binh, Quang Tri, Thua Thien Hue, Da Nang, Quang Nam and Quang Ngai. The Hieu river (Quang Tri), Bo river (Hue), Gianh river and Kien Giang river (Quang Binh) have reached historically high levels. In some locations, flood waters have exceeded the previous historical highs recorded in 1979 and 1999. Vietnam Disaster Management Authority has reported that many areas in Central Vietnam recorded accumulated rainfall of more than 1,600mm between 5 and 20 October 2020, with peaks of 2400mm in some locations over the same period.
Within these provinces, 1,300,000 people have been directly affected. Of these, 150,000 have preexisting vulnerabilities, including 36,500 children and 1,900 older people. In Quang Tri Province, 53,759 households have been destroyed and are now living in temporary shelters and/or evacuation centers. The ethnic minorities in Huong Hoa, Da Krong districts of Quang Tri province have been identified as being particularly vulnerable in this disaster.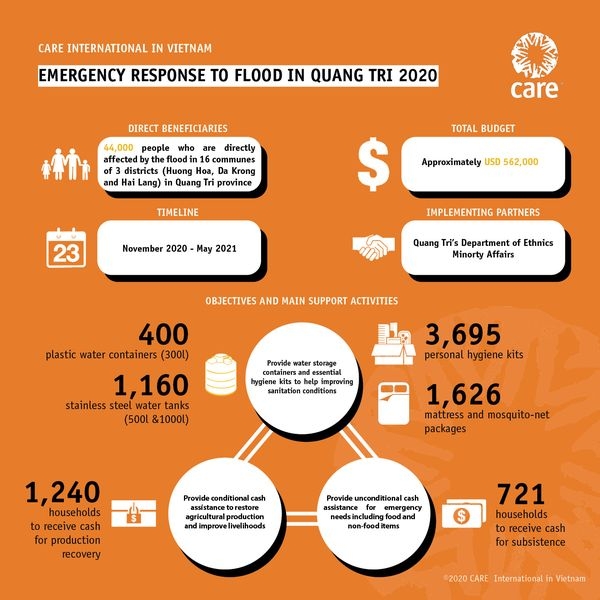 Source: CARE
In that context, CARE cooperates with Quang Tri's Department of Ethnics Minority Affairs to prioritise water, sanitation and hygiene (WASH) and basic needs as immediate support to the flood-affected people (cash and non-food items) over the next six months in 16 communes of Huong Hoa, Da Krong and Hai Lang districts of Quang Tri Province.
These activities are funded by the Dutch Relief Alliance, Australian Department of Foreign Affairs and Trade, Canadian Humanitarian Assistance Fund and CARE International.
Within the assistance worth approx. USD 562,000, the most affected households are provided with water storage containers and essential hygiene kits to help improving sanitation condition.
The poor and most vulnerable households to natural disaters receive conditional cash assistance to restore agricultural production and improve livelihoods.
Meanwhile, the most affected households with low income are supported with unconditional cash assistance for emergency needs including food and non-food items./.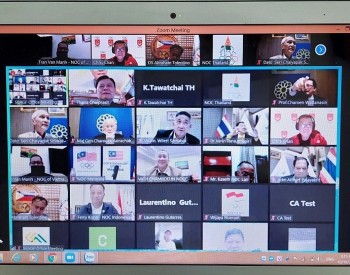 National
Vietnam News Today (October 19): Vietnam records 3,159 new local Covid cases; Vietnam ratifies ASEAN Trade in Services Agreement; SEA Games 31 likely to be held in Vietnam in May 2022; Goethe-Institut's science film festival goes virtual from October 18.
Friendship
PeaceTrees continued UXO-clearing efforts in the central province of Quang Tri in spite of severe storm warnings.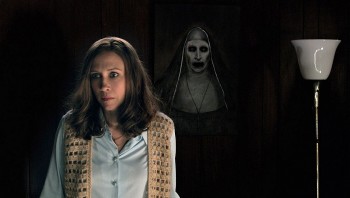 Handbook
Halloween is coming, and nothing is better than some good and spooky horror films. Here is a list of carefully selected 20 horror movies on Netflix that you can stream right now.