Linh Quang Pagoda (Dien Bien): The cultural and religious corner for people living along the border
Lying on Tong Khao hill, Thanh Nua commune, Dien Bien District, Dien Bien province, Linh Quang Pagoda is around 5 kilometers away from the city center. Towards Doc Lap canal from the city, "the most peaceful place on the borderland of Dien Bien" is spotted on the hill range.
One of the most noticeable things about this pagoda is its simplicity and the overwhelmed green space. There is a small path, which is just 1 meter in width curving around the Three Jewels area like a silk ribbon. Linh Quang Pagoda does not have many rare tree species but is home to a variety of familiar species of the Northern region such as peach trees, forest orchids, and carpets of mossy grasses showing off their elegant and wild beauty.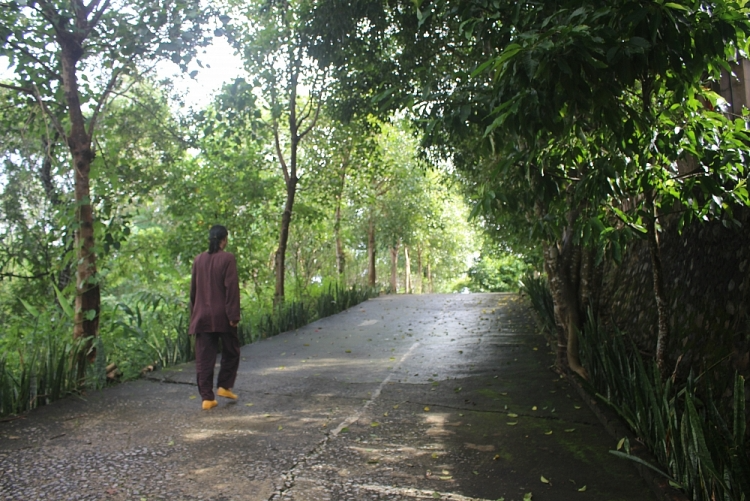 The small path for visitors to walk in the premise of Linh Quang Pagoda.
Linh Quang Pagoda charms with its peaceful space providing visitors the pleasure to immerse themselves in nature, to nurture their souls. It is also the place attracting not only Buddhist but also people who want to find the tranquility in their soul and wash away the sadness.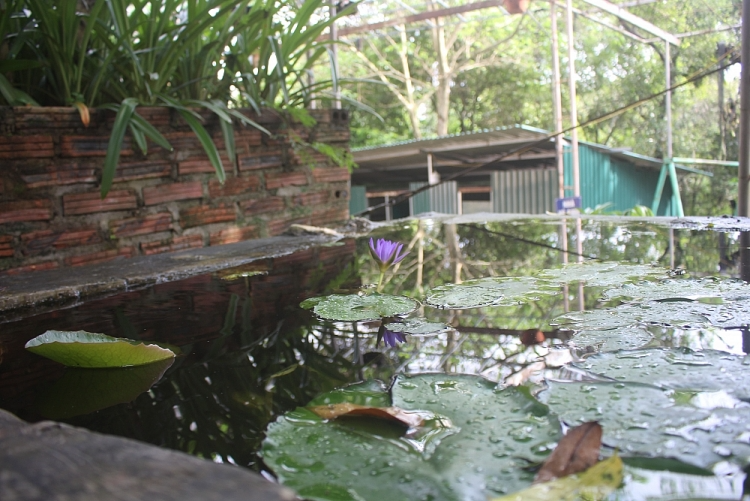 A serene corner at Linh Quang Pagoda.
In 2016, the Buddhist Sangha of Dien Bien held a ceremony for inaugurating this Buddha worshipping place, creating a cultural space to serve the religious and spiritual needs of the people in mountainous areas.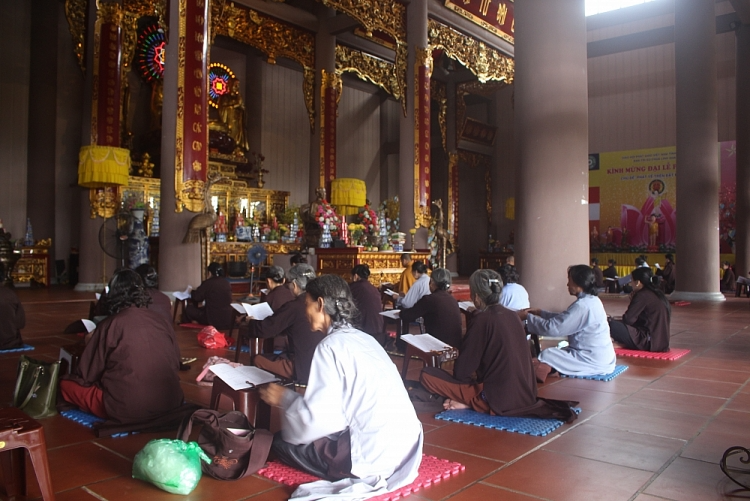 Buddhists recite the Medicine Master Sutra at Linh Quang Pagoda on September 25, 2020.
On September 25, as many as 50 Buddhists gathered at the religious space to recite the Medicine Master Sutra, which had been translated from Chinese by Vietnamese Buddist monk Huyen Trang.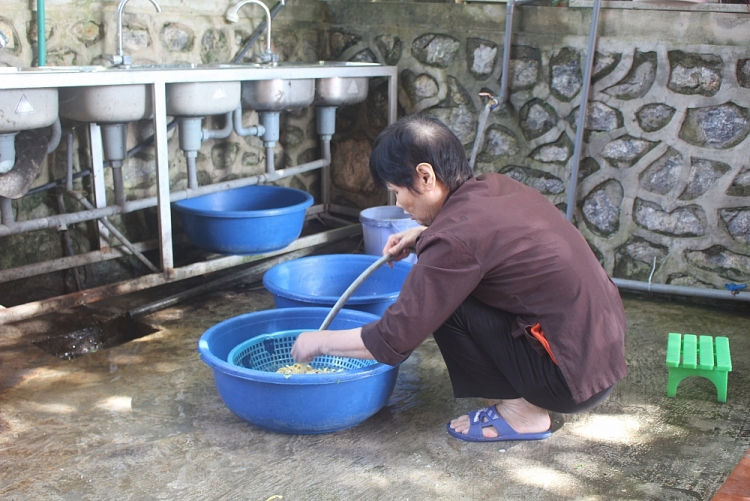 Dieu Bao did volunteer works at Linh Quang pagoda.
Dieu Bao, 73, a resident of Muong Thanh ward, Dien Bien city said: She was interested in the Dharma as it teaches followers to give up greed and misconception. "I have done volunteer works at the pagoda since the traditional Tet Holiday, every day, I wake up at 4 am to strike a bell, cook breakfast for novices, sweep the pagoda area. People feel happy here."
Living in Muong Muon, Muong Cha, some 30km away from Linh Quang pagoda, however, Duong Thi Them (Thai ethnic group) still took their daughter-in-law and her youngest son (9 years old) to the pagoda to recite the Medicine Master Sutra.
Dien Bien province has been gradually stabilizing in all aspects, especially religious issues to meet the needs of cultural activities and beliefs of the people. Through cultural and spiritual activities to guide people to live a good life, and strengthen solidarity among people.
Mid-Autumn Festival in Ta Sin Thang

Ta Sin Thang is an upland commune located to the north of Tua Chua district. The commune is enveloped by craggy mountain ranges shrouded in ...