Lonely Planet: Getting Around Vietnam Is Easy Whatever Your Budget
Recently, Lonely Planet's travel magazine published a review of a travel itinerary along Vietnam, praising that it is too convenient and easy no matter the budget that tourists intend to spend during their trip to the Southeast Asian country.
How tourists traverse the lush, green Vietnamese countryside is up to them. The famous Reunification Express train line linking Hanoi and HCMC is the obvious choice, with great views and stops all along the Vietnamese coast, but tourists can also hopscotch around by local bus or zip around by motorcycle, taking in places off the main tourist trail. Traveling by boat is a particularly evocative way to explore, tracing Vietnam's meandering rivers and buzzing out to islands offshore, according to Lonely Planet.
There's no need to fly to Vietnam. Trains and buses provide easy access from China, with smooth connections from Nanning through to Hanoi, and from Kunming to Hanoi via Lao Cai. If tourists are heading south or west, international buses run daily to Ho Chi Minh City (HCMC) from Phnom Penh, Siem Reap and Sihanoukville in Cambodia and to Hue from Savannakhet in Laos.
Convenient buses in Vietnam
Bus travel in Vietnam can be either convenient and comfortable (when traveling between major cities) or slow and cramped (when traveling in the backwaters), but it's rarely expensive. In popular traveler hangouts such as Hanoi and HCMC, tourists will see signs advertising "Open Tour" or "Open Ticket" buses – these services run between major cities and tourists can hop-on and hop-off the bus at any major city along the way. Travelers will pay more than for ordinary buses, but routes start and stop in conveniently central locations.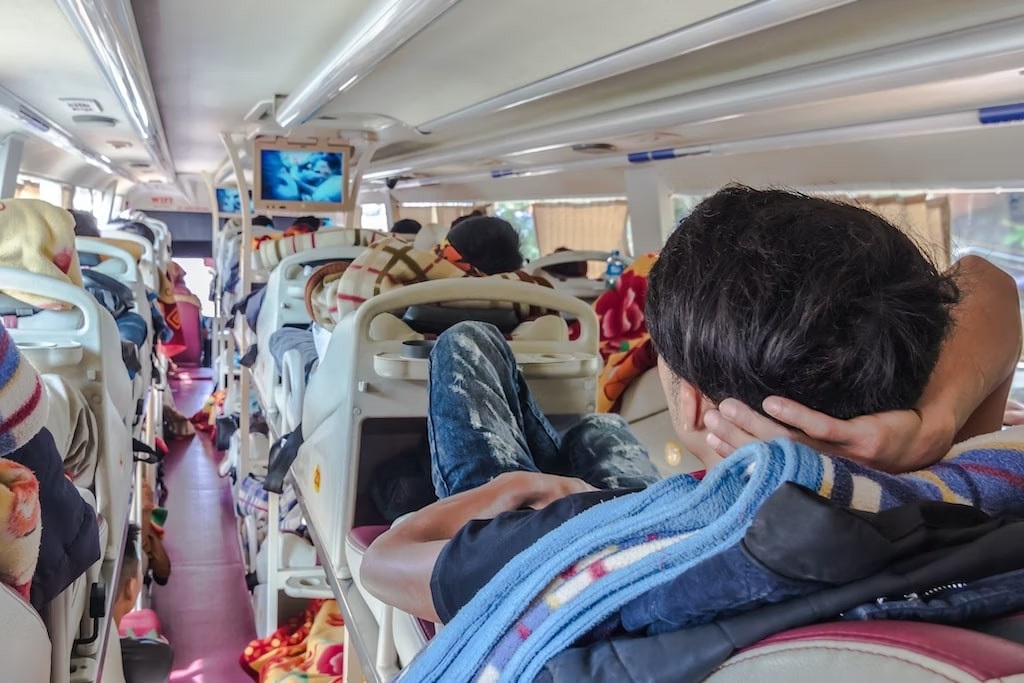 Long-distance deluxe sleeper buses come with seats that convert to beds in Vietnam. Photo: Shutterstock / Robert Podlaski
Normal bus services run from dedicated bus stations, and there may be more than one station in each town, serving different destinations, so always check which station tourists need to go to. Most have dedicated ticket offices and prices and departure times are clearly displayed; buy tickets a day in advance to be certain of securing a seat.
Moving around on motorbikes
Riding the length of Vietnam is a lifelong dream for many seasoned bikers, and a busy industry has grown up supplying motorcycles to travelers attempting the journey between Hanoi and HCMC. The ride is certainly rewarding, but with local driving conditions, it's not for novices, and some of the bikes available for rent or purchase are in poor condition; check over machines advertised in hostels and hotels thoroughly before tourists agree to buy.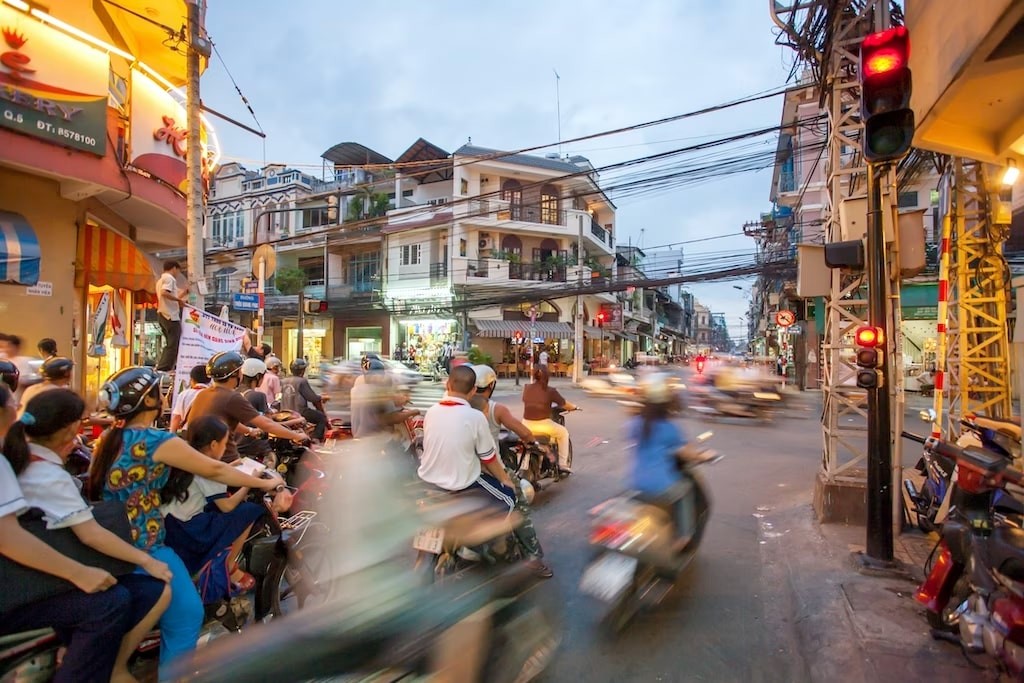 Motorcycles are a popular mode of transport in Vietnam © lichtbildfotograf / Getty Images
Exploring the mountainous northwest is an even bigger adventure, with challenging switchbacks and dramatic vistas appearing around every corner, but tourists will need a more powerful machine to tackle the steep inclines and potholes. Along the coast and in tourist hubs, it's easy to rent a low-powered scooter or motorcycle from cafes, hotels and travel agencies for local exploring, sometimes for as little as US$5 per day.
Rental agreements tend to be somewhat informal, and tourists often have to leave your passport as security. Seek out rental firms that offer insurance and provide a formal rental agreement, so people will know what's covered in the event of an accident, and always wear a motorcycle helmet – it's a legal requirement. As an alternative to hiring their own wheels, some local riders are willing to act as chauffeurs on two wheels for around US$30 per day.
Exploring Vietnam's backroads on bicycle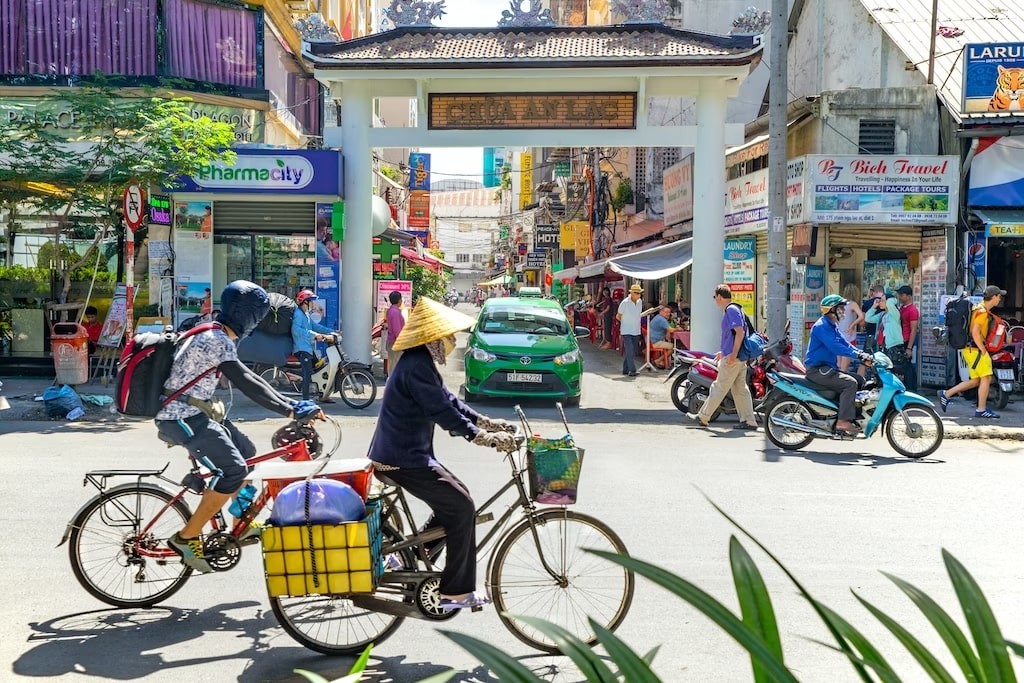 Cyclists, drivers, moped-riders and pedestrians share the road in Ho Chi Minh City. Photo: Sean Hsu / Shutterstock
Cycling can be a delightful great way to get around Vietnam, so long as tourists stick to quiet rural roads and avoid the crowded highways. Much of the country is agreeably flat, foreign cyclists are often greeted enthusiastically by locals, and bike workshops are easy to find if tourists can have a flat tire or mechanical issue.
Taking Vietnam's most famous train between HCMC and Hanoi
If tourists are looking to tick off both Hanoi and HCMC and the many sights in the center of the country, there's no better way to explore than the train. The country's main railway line weaves along the coast between these two teeming cities, stopping almost everywhere they'd want to break the journey.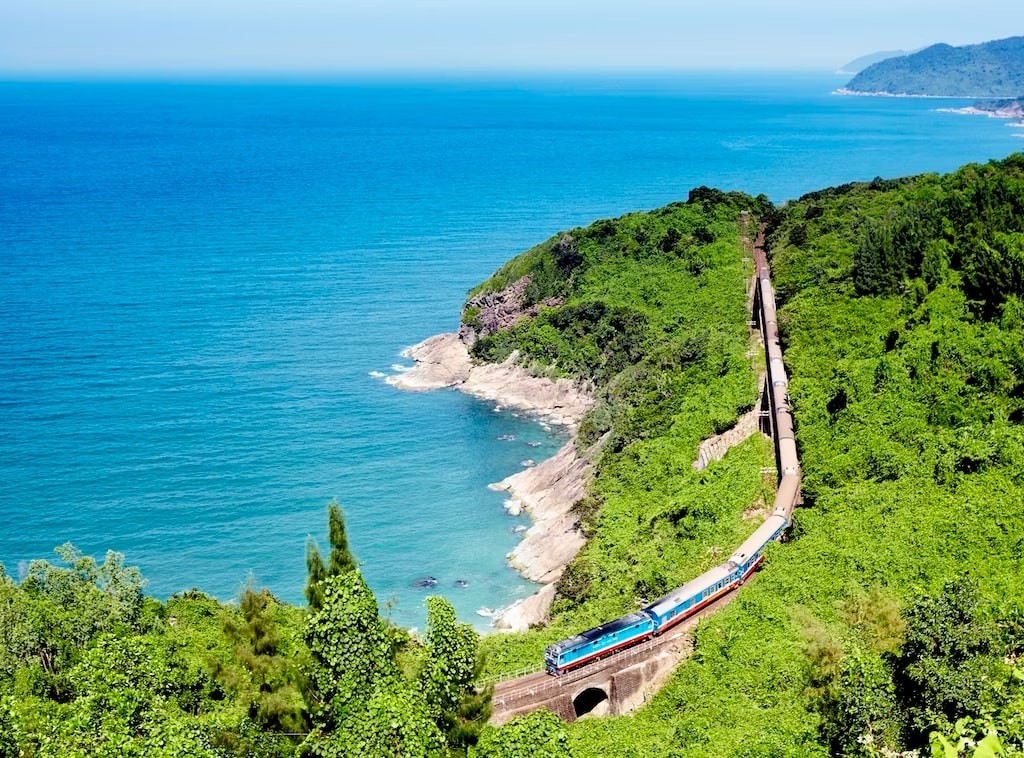 Vietnam's most famous train line runs along most of the coast. Photo: Matt Munro / Lonely Planet
Trains also run from Hanoi to Haiphong (for excursions in and around Halong Bay) and Lao Cai, about an hour's drive from Sapa, Vietnam's busiest trekking hub. If tourists are bound for China, trains connect Hanoi to Kunming, via Lao Cai, and Nanning, via the border town of Lang Son, with onward services to Beijing.