Lotus season in full swing in Saigon's town
Tam Da in Thu Duc City is arguably the best known lotus lake in Ho Chi Minh City (HCMC) and a favourite check-in site for young people.
In the lotus season, lotus pond puts on new shimmering and brilliant clothes. The lotus blossoms adorn the scenery, make it more romantic and beautiful as a fairy tale. Coming to the lotus pond where you can watch the beautiful pink lotus, inhale the fragrant lotus aroma and enjoy the idyllic moment, make your heart be filled with emotions difficult to describe will be one of the memorable experience of those who have a chance to take a Sai Gon City Tour in Tam Da lotus pond.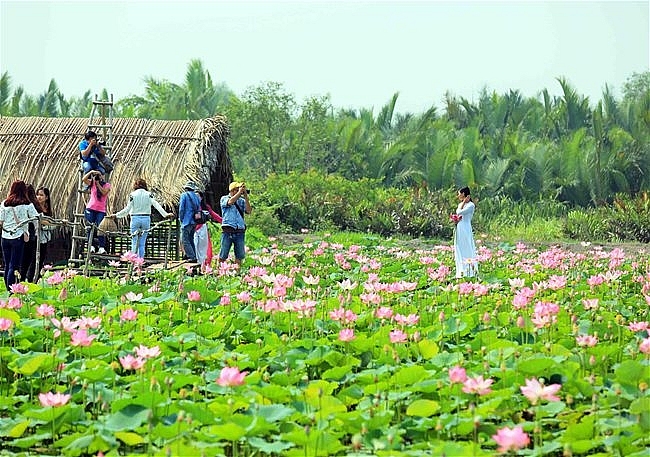 Among visitors to the Tam Da lotus lake are photographers – PHOTOS: THANH HOA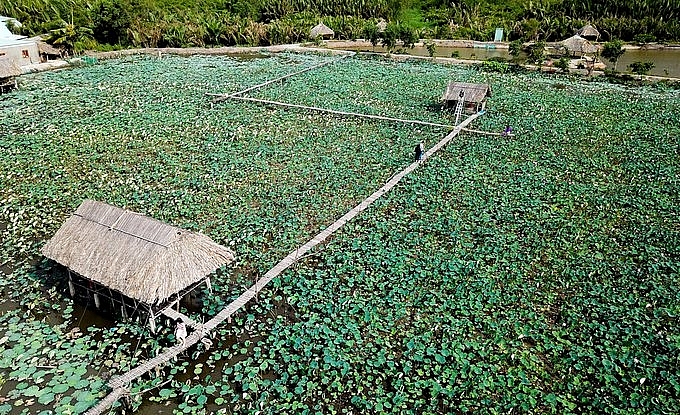 Photo: Orientskyline.
According to Focus Asia Travel, Tam Da lotus pond is more than 20 km from the center of Sai Gon, on the road of the same name, in district No.9. You can go to the lotus pond following the way toward BCR resort. From this resort, you continue going more than 800 meters, you will see the immense lotus pond. Tam Da lotus seems to be the green lung of the city. It is not only poetic, lyrical scenery but also a peaceful and idyllic place that anyone who set foot has themselves feelings hard to describe.
The lotus blooms in the idyllic and rustic setting of the lagoon, yet it retains its own elegance, purity, and sweetness. Lotus shows its beauty on the green leafy background, each flower charming like a young girl, beautiful and bright and full of fresh energy. If having a chance to go to the lotus pond in the blooming days, it seems that everyone would not like to step out and forget about the way back.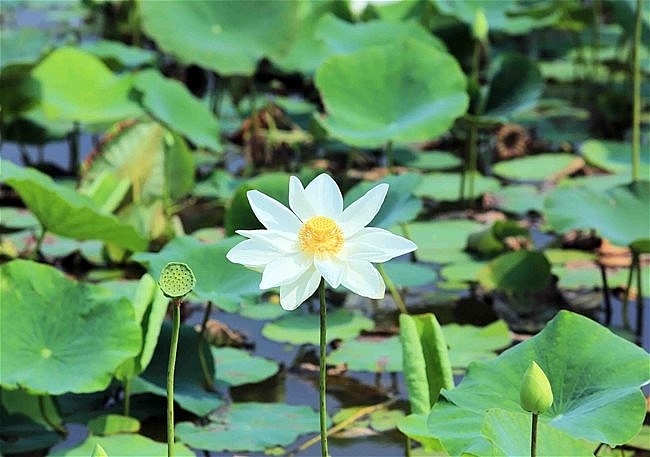 White lotus flowers. Photo: TienPhongNews.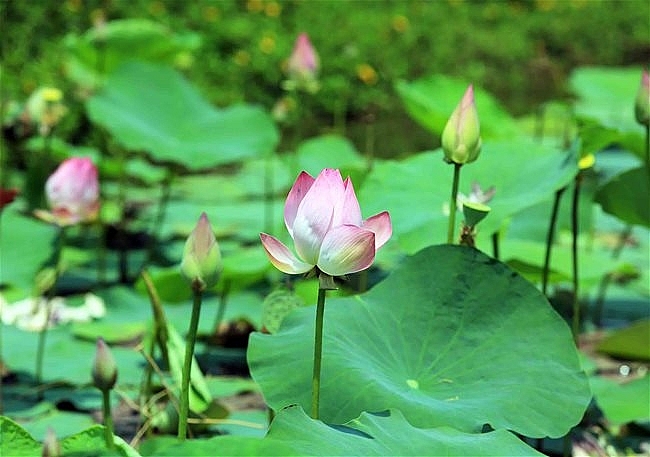 Look at this to feel what a lotus flower about to bloom is like. Photo: TienPhongNews.
The owners of the lotus pond have built several settings in the middle of the lake to attract visitors to take photos. They also offer traditional Southern attire and Vietnamese national traditional dress. The entrance fee is VND30,000 ($1.3), as reported by Vn Express.
The lotus is regarded by Vietnamese as one of the four graceful flowers and plants, along with the pine, bamboo and chrysanthemum for a reason. Seeing a lotus, people often feel as if their entire body and soul are purified by the subtle fragrance of lotus which wiggles its way into local people's life.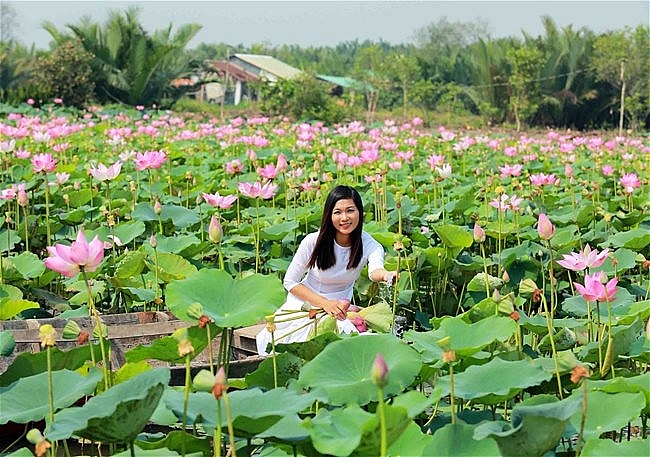 A lady in ao dai taking photos with blooming lotus flowers. Photo: TienPhong News.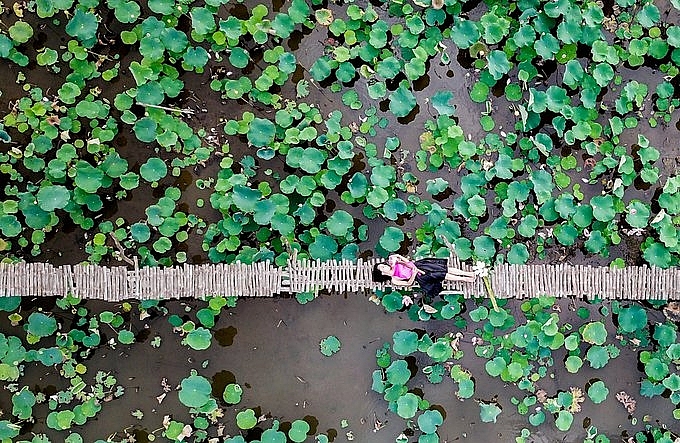 Photo: Orientskyline.
To Vietnamese people, the lotus is more than just a flower. Lotus flower, despite being nurtured in mud, still grow out pure and glowing, like morning dew from early morning or water in springtime. It is also the symbol of purity, commitment and optimism for the future. The elegance of the lotus is often cited in the Vietnamese folk songs and poems.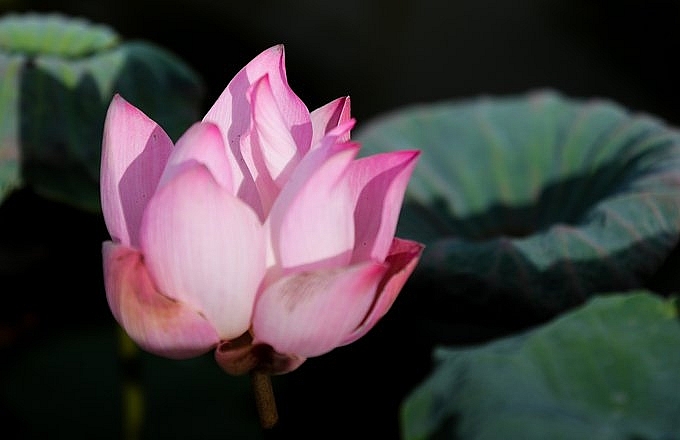 Photo: Orientskyline.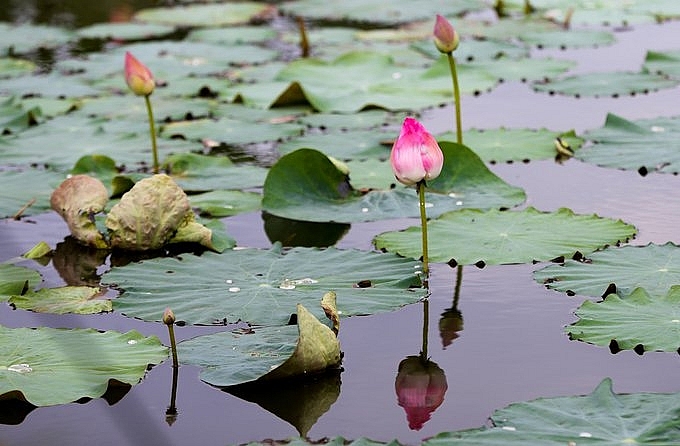 Photo: Orientskyline.
In addition to its delicate beauty, lotus plants also play various roles in Vietnamese cuisine. Young lotus stems are used as a salad ingredient. The stamens can be dried and used to impart a fragrant scent to tea leaves. The lotus seeds can be eaten raw or boiled until soft and made into a paste, or boiled with dried longans and rock sugar to make a sweet soup. The bitter tasting germs of the lotus seeds are also made into a tisane. Dishes made from lotus seed are considered a cure for some common diseases such as insomnia. Besides, lotus tea is a must-try if you are visiting Vietnam.