Luxurious Adventures: Exploring the Vietnamese Coast in 5-Star Yacht
Vietnam's luxury yachts are a gem of the nation's tourism industry, promising unforgettable views and world-class service.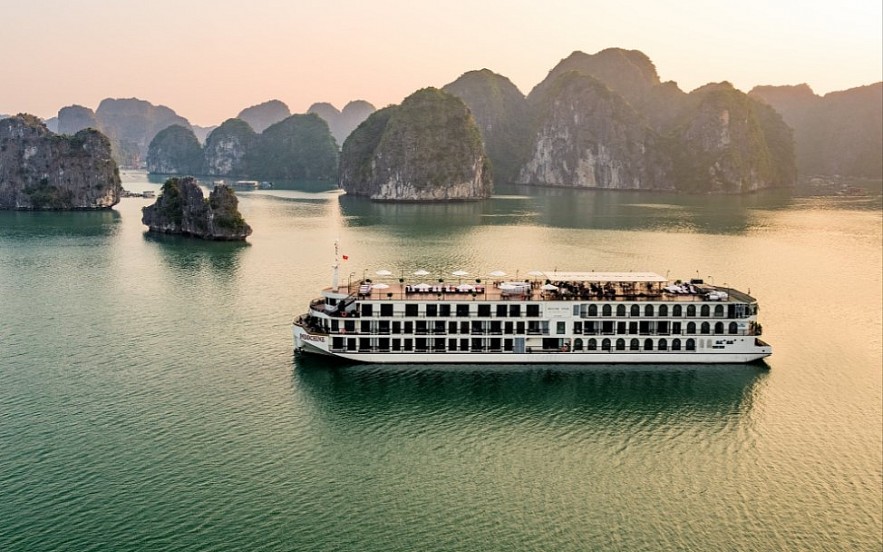 5-Star Yachts In Vietnam. Photo: Duthuyen.
Indochine is a 5-star yacht at Ha Long Bay (Quang Ninh Province) and Lan Ha Bay (Hai Phong Province). The design of the yacht is a combination of ancient Vietnamese culture and French colonialism. Staying in the yacht, visitors can admire the bay with thousands of limestone islands from the nearest distance or kayak to explore natural caves, enjoy a 5-star dinner on the sea, night squid fishing.
Welcoming visitors back in October, all staff of the yacht have received 2 shots of Covid-19 vaccine. Moreover, they are tested periodically and facilities on the boat are disinfected to prevent the pandemic.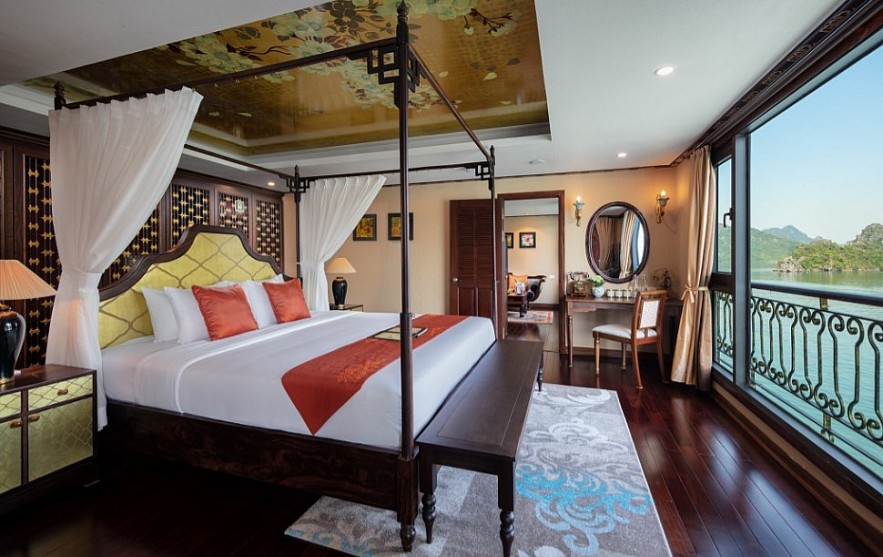 5-Star Yachts In Vietnam. Photo: Duthuyen.
There are 43 cabins in the yacht with Junior Suite, Executive Suite and President Suite. There are also 2 restaurants, lounge, jacuzzi, spa, sky bar and the highest deck. The package of 2 days 1 night stay on the cruise has 4 meals included, experiences and tickets to visit destinations in the itinerary. It costs from 2,590,000 VND/person ($113.76).
5-Star Yachts In Vietnam. Photo: Duthuyen.
Heritage Cruises Binh Chuan Cat Ba is a Vietnamese 5-star yacht, which takes visitors to admire the unspoiled wonder from Lan Ha Bay to Bai Tu Long (Quang Ninh Province). The design concept of the yacht is based on the Binh Chuan ship of Bach Thai Buoi, a businessman known as the "king of ships" in the 20th century. It aims to bring artistic and architectural experiences to visitors.
The space of the yacht is comfortable for visitors with many relaxing and beautiful corners from the rooms, restaurants, bars to the outdoor swimming pool.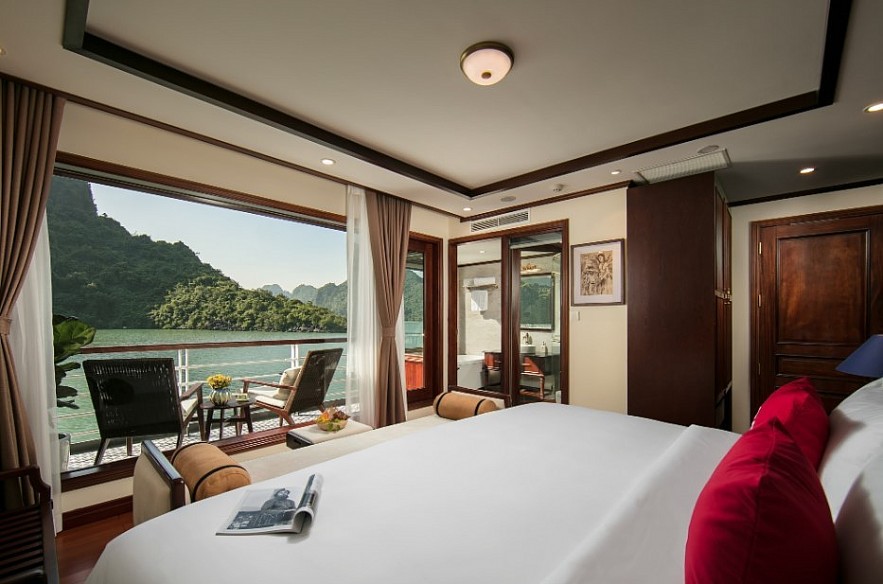 5-Star Yachts In Vietnam. Photo: Duthuyen.
With 75 meters in length and 13 meters in width, the yacht is divided into 3 floors and 20 suites. All rooms have a private balcony and are designed for guests to lie on their beds with direct panoramic views of the bay. In addition, the yacht has 2 restaurants, indoor and outdoor lounges.
Currently, it is offering a 2-year-old birthday promotion including 1,000,000 VND ($43.86)/cabin for a 2 day 1 night cruise. The original price is 3,250,000 VND ($142.55)/person.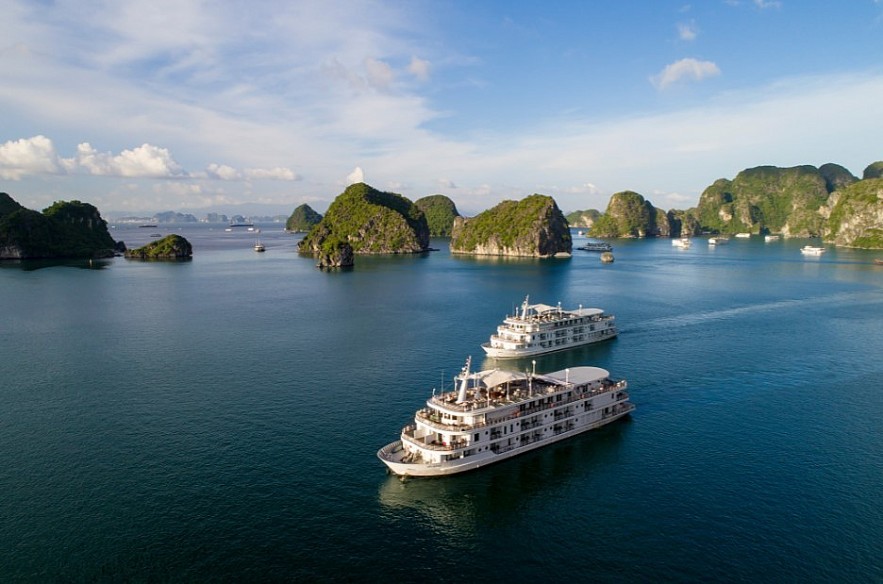 5-Star Yachts In Vietnam. Photo: Duthuyen.
Paradise Cruise is one of the most well-known cruise lines in Ha Long Bay and Lan Ha Bay, with many consecutive years winning the Certificate of Excellent Service from the TripAdvisor travel site. Currently, the company owns a series of 5-star yachts such as Grand, Elegance steel hull, traditional wooden boat Sails and recently has launched Delight restaurant yacht.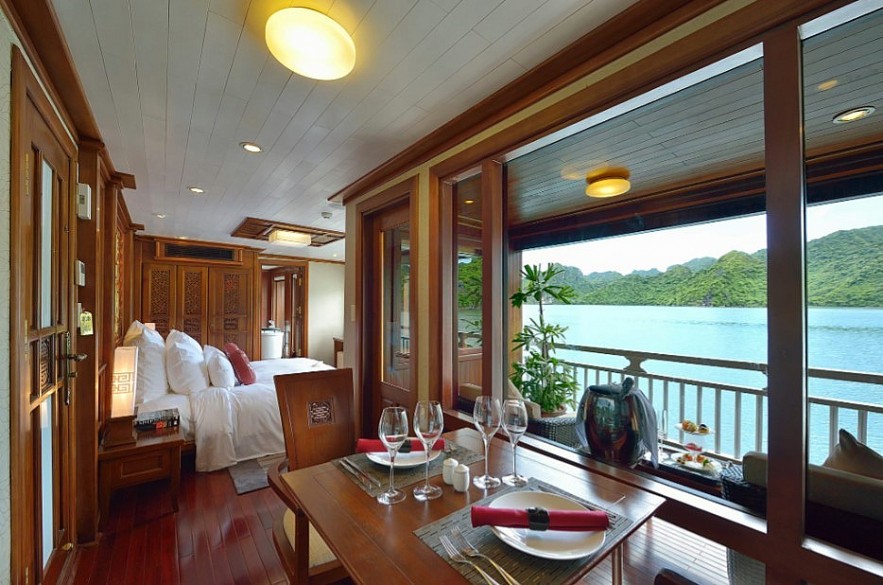 5-Star Yachts In Vietnam. Photo: Duthuyen.
This is the Premium Suite room, the most luxurious room in Paradise Peak cruise ship. Staying on the yachts, you will have different experiences such as visiting Sung Sot cave, experiencing kayaking at the pearl farm, conquering the top of Titop island or visiting Viet Hai fishing village, kayaking in Sang Toi cave, or watching the sunset on Lan Ha Bay. Expenditure on 2 day 1 night cruise is from 1,990,000 VND ($87.28)/person.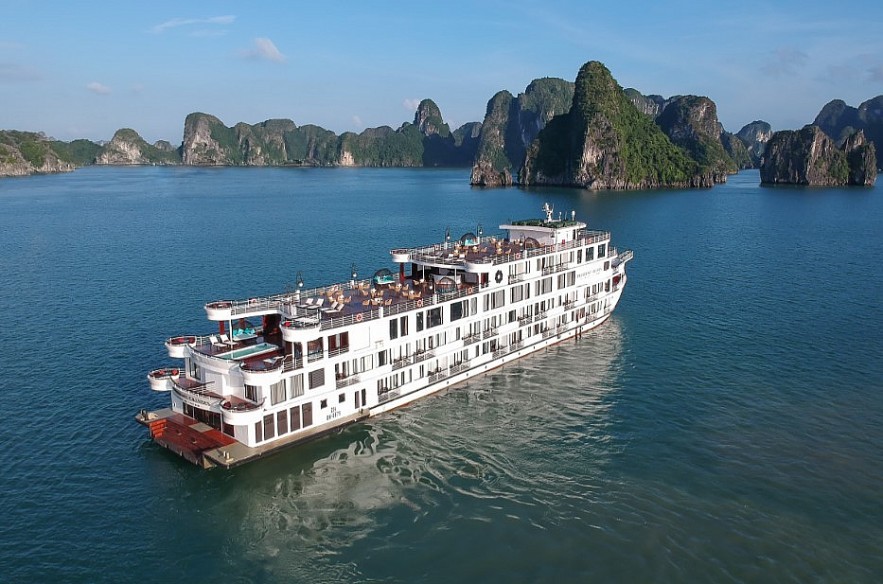 5-Star Yachts In Vietnam. Photo: Duthuyen.
Ambassador is the largest 6-star yacht in Ha Long Bay, with an area of 1,400 m2 and a height of 13 meters. The yacht is painted in all white, inspired by the ethereal lifestyle and harmonizes with the bay scenery. There are 46 night bedrooms. Each room with an area of ​​30-90 m2 has a separate sunbathing balcony. In addition, the yacht also has an attractive check-in corner, which is an outdoor swimming pool and a glass bridge at the bow of the boat.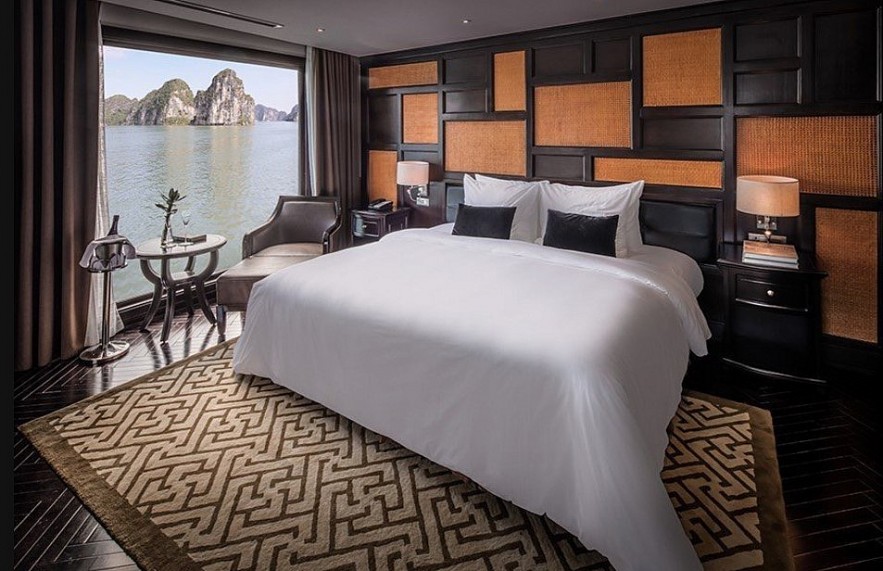 5-Star Yachts In Vietnam. Photo: Duthuyen.
The cruise includes 3 itineraries. Accordingly, visitors can choose one night or two nights in the bay, or one night at the hotel and two nights on the cruise. The cheapest cruise price is from 3,495,000 VND ($153.30)/person, including a banquet of high-class seafood towers and lobsters.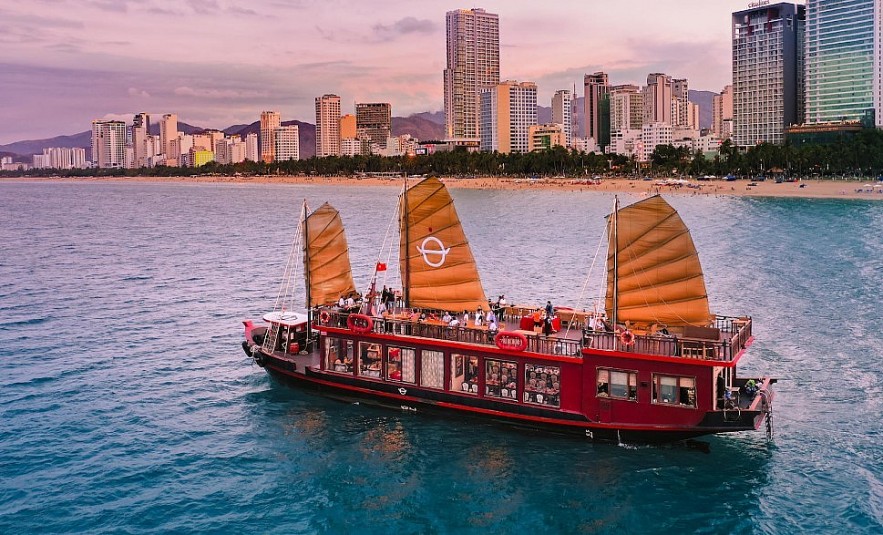 5-Star Yachts In Vietnam. Photo: Duthuyen.
Emperor Cruises Nha Trang is a 5-star yacht inspired by Bao Dai King, the last one of Vietnam, with a design that simulates the style of the 1930s. Visitors participating in the cruise can explore the culture, Vietnamese history, art and cuisine.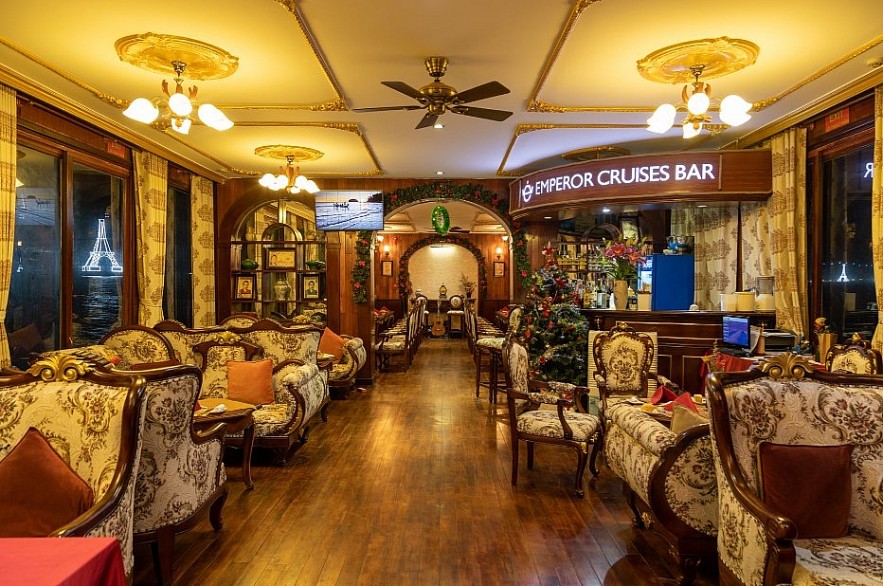 5-Star Yachts In Vietnam. Photo: Duthuyen.
It currently holds a tour to explore Nha Trang Bay (Khanh Hoa Province) and has a cocktail party to watch the sun set. Visitors can spend time watching wildlife, scuba diving, swimming, basket boating and kayaking.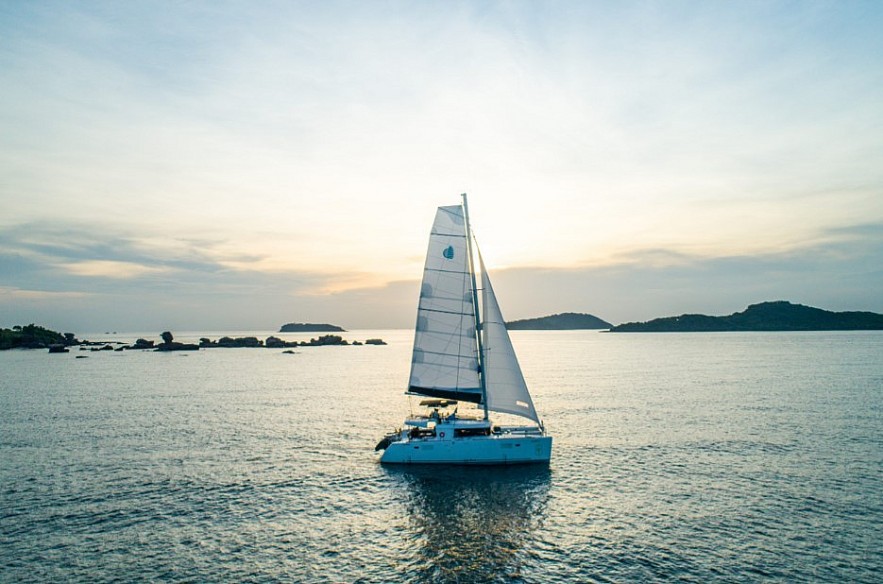 5-Star Yachts In Vietnam. Photo: Duthuyen.
Catamaran Sarita Phu Quoc is the first sailing yacht in Phu Quoc (Kien Giang Province) with a French design. From the yacht, visitors can enjoy the whole scene of Phu Quoc island. The yacht has 4 bedrooms, a living room and a kitchen. It is suitable for a trip with family or friends.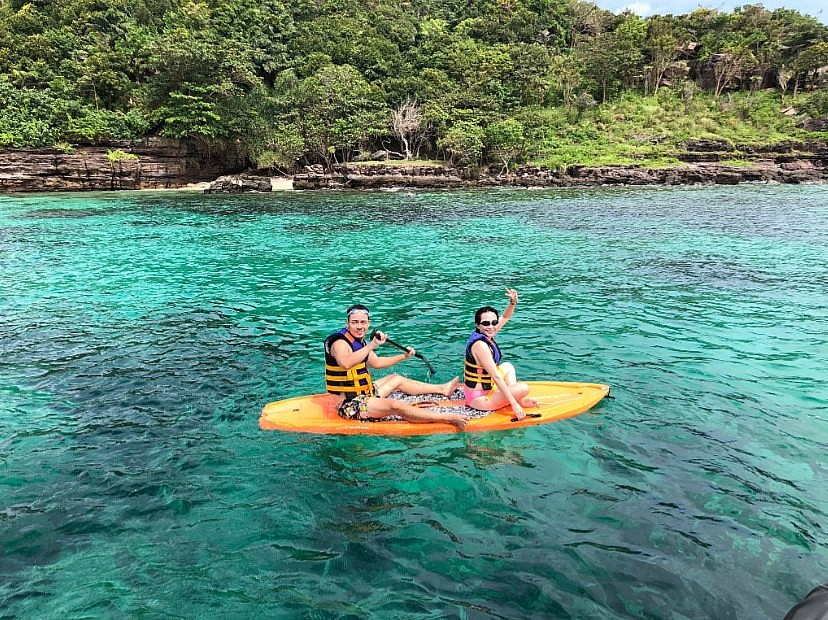 5-Star Yachts In Vietnam. Photo: Duthuyen.
The cruise takes visitors to discover the sea paradise of Nam Dao, accompanied by a seafood lunch. Visitors can also experience swimming in the clear blue sea, kayaking, diving to see corals, visiting the pristine island of Hon Dam.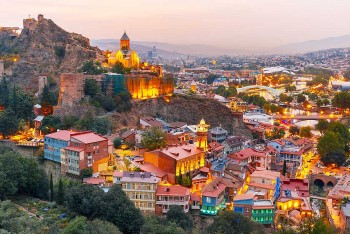 World
When we think of wine, Italy, France or Spain will come in mind, but its birthplace, according to a lot of researches, it's in Georgia, the tiny Caucasian nation that's been making wine longer than anywhere in the world.