Luxury Resorts in Northern Highland Boast Charm Amidst Minority Backyards
By incorporating local scenery and culture of ethnic minority communities in services, some luxury resorts have made an impression on guests.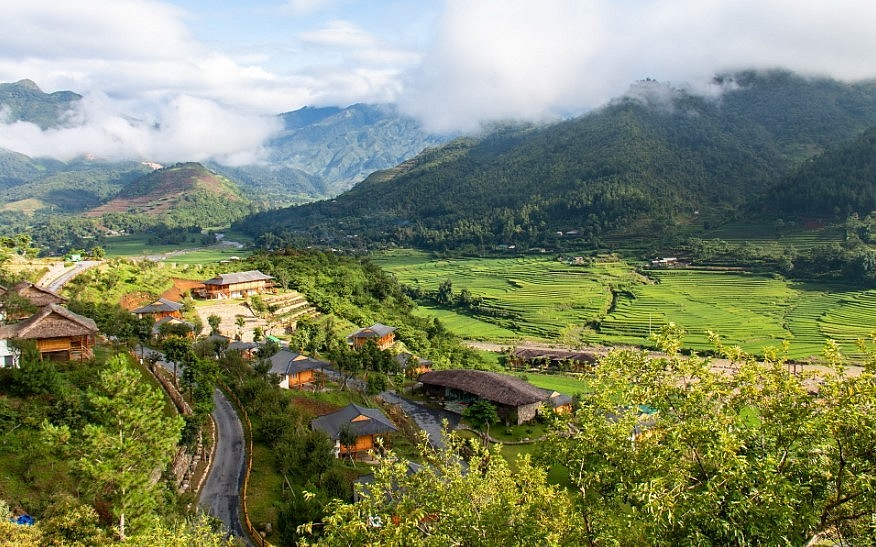 Photos courtesy of the resorts
Covering an area of seven hectares in Tu Le Commune, Yen Bai Province, as reported by vnexpress, the Le Champ Tu Le Resort Hot Spring & Spa is located amidst villages of the Thai and H'mong ethnic minority communities. Located in a beautiful landscape in the middle of the mountains, Tu Le seems like a new color with the appearance of the first class resort named Le Champ Tu Le Resort Hot Spring & Spa. It is the first such resort to come up in the northern province that's famous for its rice terraced fields and hot mineral springs.
Are you waiting for a stop to explore the colors of the Northwest? So it is Tu Le, the color of traditional festivals, the colorful skirts with passionate dances, the local beliefs, typical cuisine, and the secret charm of Thai and H'mong, Dao beauties ... This place will not only be a "stop" for visitors, but will be a complete journey to help visitors enjoy and feel the whole cultural beauty of this high land - the land of diverse colors of the Northwest, and a Le Champ Tu Le always ready to welcome visitors to visit and experience.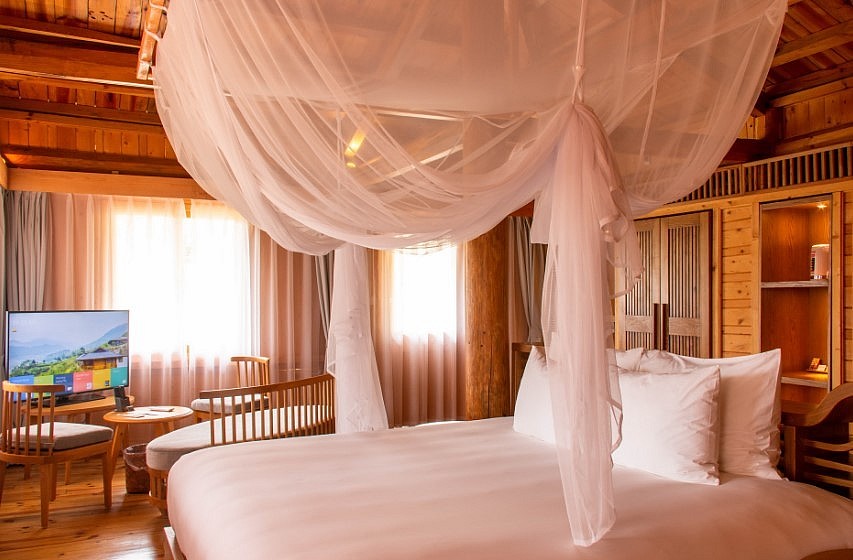 Photos courtesy of the resorts
The resort has 99 rooms and a community house done using a lot of wood and maintaining a brown tone. Each room has its own balcony, allowing guests to admire the beauty of terraced rice fields that present different colors during different seasons and are at their most striking when the crop ripens and turns yellow from September to November.
Rooms cost from VND900,000 ($39.46) a night.
The resort's location makes it easy to visit Thai and H'mong villages where people have been farming and weaving brocade for generations.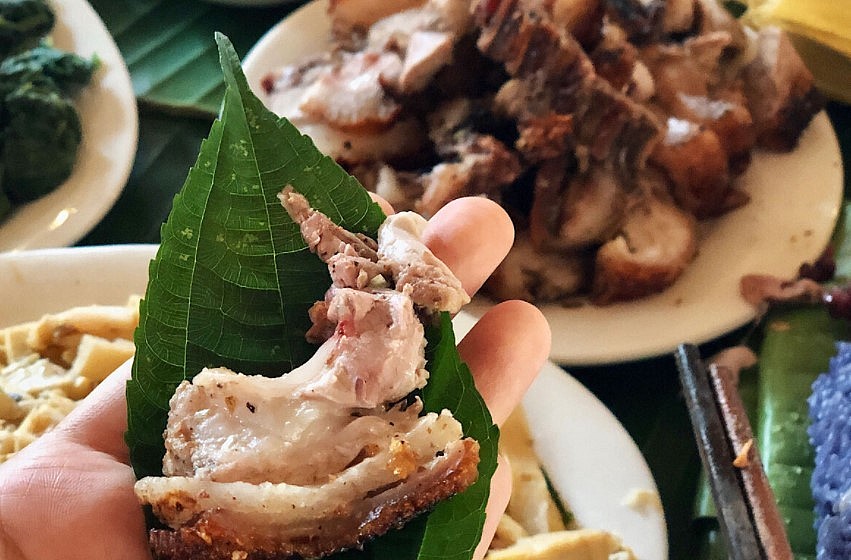 Guests can also enjoy signature dishes of Tu Le commune, including purple sticky rice, bitter bamboo shoots and roasted pork wrapped in wild leaves (pictured). Photos courtesy of the resorts
Yen Bai is very beautiful and romantic with 4 seasons around year. Situated in Northwest of Vietnam, the average temperature is about 15°C in Jan and 29°C in Jun. From April to May is the water season falls on every fields and From September to October is the golden rice season. Yen Bai is a mountainous province with the majority of ethnic minorities living. And is known that many beautiful scenery of terrace rice-fields. With over 99 elegant bungalows in the 10 hectares campus running along the ridge, Le Champ Tu Le Resort Hot Spring & Spa bring you a real warm feeling. Each Bungalow has a spacious balcony, overlooking the majestic scenery of green rice fields. And towering mountains with white clouds surround, the scenery is covered with a forest of flowers. Especially, we we have infinity pool with nice view.
Photos courtesy of the resorts
Another resort that stands amidst terraced rice fields is the Eco Palms House - Sapa Retreat in Lao Chai Village, Sa Pa Town, Lao Cai Province. The resort has bungalows designed like traditional trinh tuong houses with yin-yang tiled roofs and a mixture of clay and mud, a distinctive H'mong feature.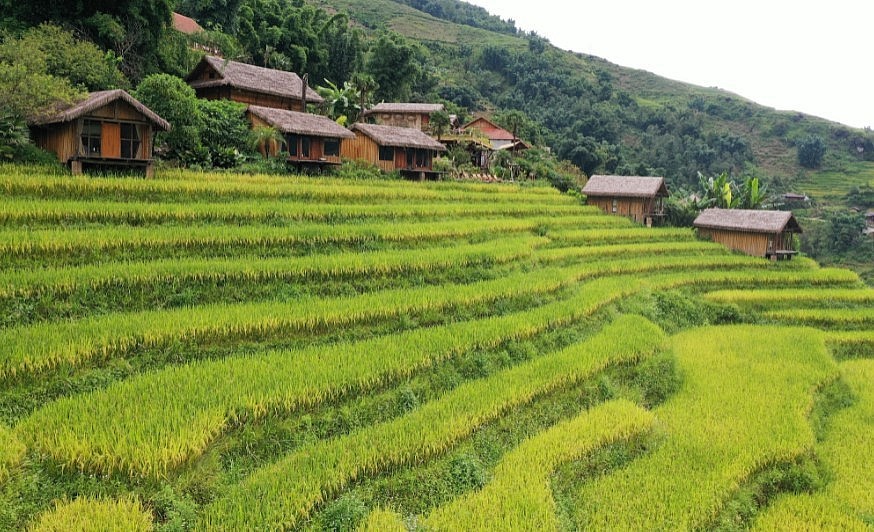 Photos courtesy of the resorts
The resort has three types of rooms including deluxe cottages with prices starting at $68 a night, traditional private bungalow with palm wood floors, bamboo ceilings, amber mud walls and palm leaf roofing that costs around $95 a night, and romantic bungalow for couples at $125 a night.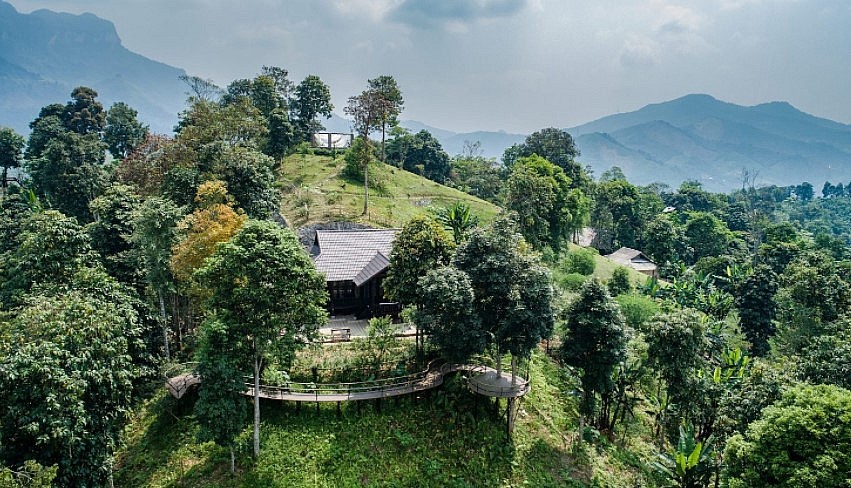 Photos courtesy of the resorts
The P'apiu Resort was built atop a mountain in Yen Dinh Commune in Bac Me District, Ha Giang Province. It took seven years to build the resort with over 80,000 trees planted. It is particularly favored by couples who wish to enjoy a peaceful, secluded atmosphere and green landscapes.
P'apiu Ha Giang Resort is considered the most wonderful peaceful place for those who are too bored with busy tourist destinations.
In the middle of the poetic Ha Giang mountains, an impressive destination is theP'apiu resort with comfortable architectural items with completely different nuances, both close and rustic but still fully equipped. The most standard service system to visitors when choosing this coordinate to stop in Ha Giang tour.
The resort's Mellow room, built with mud walls, replicates an accommodation tradition of the H'mong people in Ha Giang. The Fluffy room, meanwhile, is a completely wooden structure on the top of the mountain, offering great views of the mountains, forests and H'mong villages in the distance.
The resort is also unique in that all its staff are local ethnic minority residents.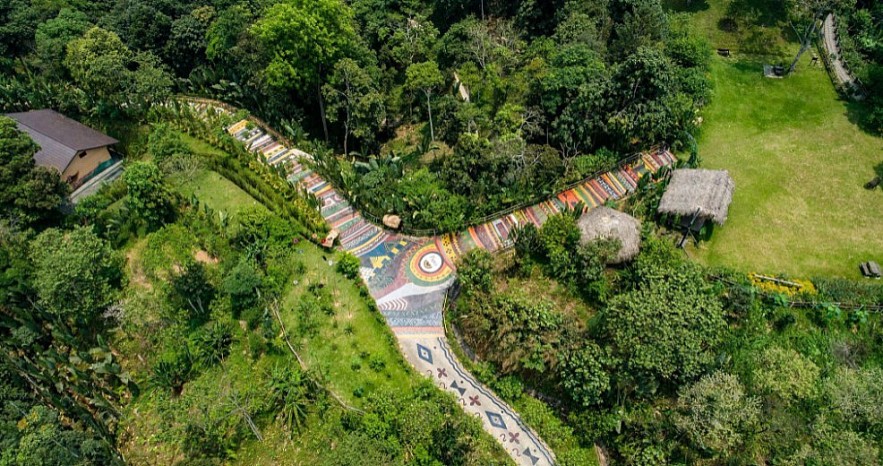 A lasting impression for visitors to the resort is a long road colorfully hand-painted by hundreds of resort staff and local people with typical brocade fabric designs. Photos courtesy of the resorts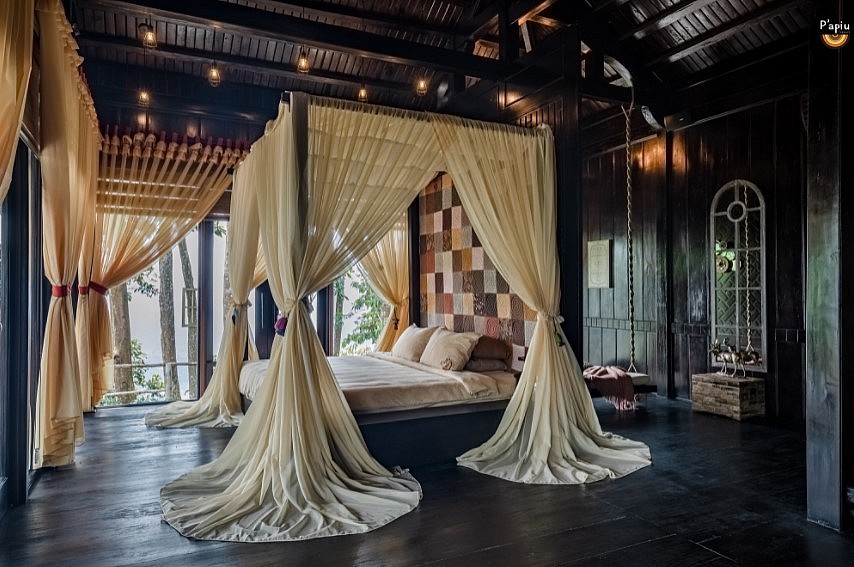 Photos courtesy of the resorts
Each room at the resort is elaborately designed and decorated. The resort offers engagement and wedding services. Prices of a villa cost from VND9.8 million a night.
Sleeping outdoors on top of the mountain and watching the moon and stars with a telescope are among several enjoyable activities to engage in when staying at this resort.
P'apiu Resort owns a restaurant area specializing in providing visitors with local dishes and diverse menus with extremely attractive nuances that will surely bring many interesting culinary experiences to visitors. In addition, the luxurious outdoor jacuzzi area and massage services are the facilities that many tourists prefer to use when coming to this Ha Giang resort. Especially at the location of the jacuzzi, visitors can not only relax but also enjoy the fresh atmosphere that the unique green space here brings. In addition, interesting activities such as experiencing zipline, using telescopes, binoculars to enjoy the scenery, watching outdoor movies, learning how to garden, walking in the forest… are all interesting activities, It's worth a try if you have the opportunity to stay at the most impressive place when traveling to Ha Giang .
Photos courtesy of the resorts
On a peninsula in Mai Chau Town, the Mai Chau Hideaway Resort in Hoa Binh Province is an idyllic, sylvan getaway from cities and even an isolated refuge from pandemic-affected urban areas.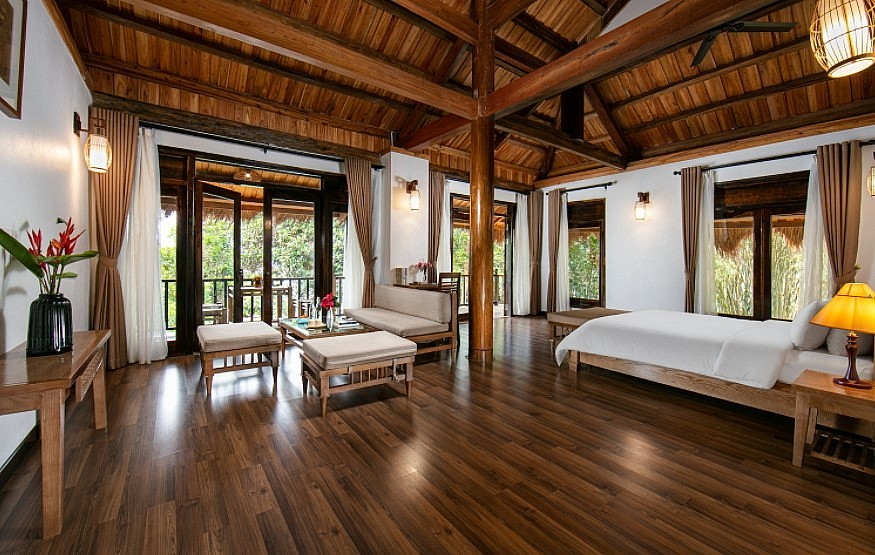 Photos courtesy of the resorts
The resort has 31 stilt-house rooms that sport a simple, rustic yet sophisticated feel with balconies offering beautiful views of the Hoa Binh Lake. Room prices range from VND1.9 to 2.2 million.
The resort has an infinity pool overlooking the lake. Visitors can also go kayaking in the lake and cycle to nearby H'mong villages as well as the Go Lao waterfall.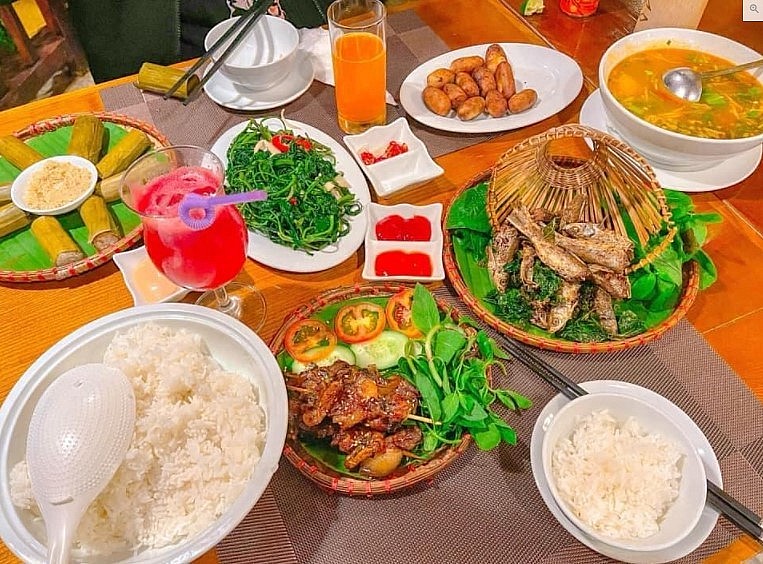 Photos courtesy of the resorts
The resort's Bamboo restaurant uses bamboo and wood as it materials. It serves typical northwest region dishes including com lam (bamboo tube-rice) and beef with mushroom sauce.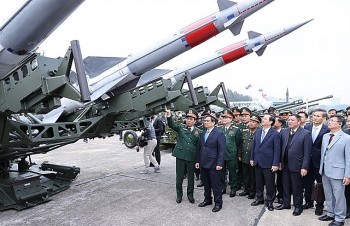 National
The inauguration ceremony of the Vietnam International Defence Expo 2022 (Vietnam Defence 2022) was held in Hanoi on December 8.