Lychee and lotus seed sweet soup, best dish to cool down on summer days, video
Lychee and lotus seed sweet soup is a delicious and fresh dish, appropriate to eat on summer days.
Both lychees and lotus seeds have entered the harvest season, so they're cheap and easy to find. According to traditional medicine, lychees are really good for health, but eating them too much can make our body hot. Therefore, lotus seeds in lychee sweet soup can balance and help eaters absorb all nutrients of the fruit.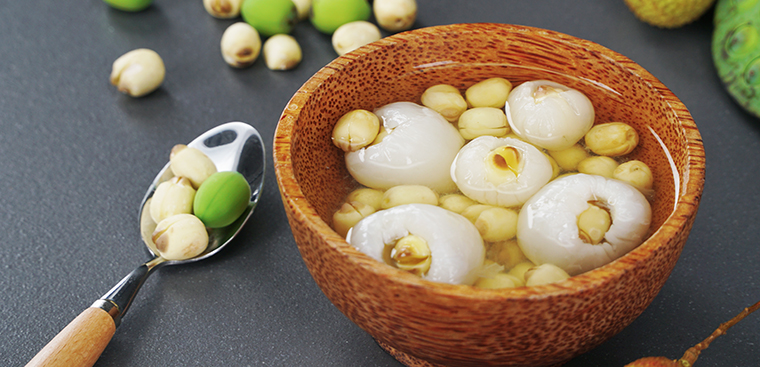 Photo: Nauvaan
Ingredients:
- 1 kg of lychees
- 150 grams of fresh lotus seeds
- Palm sugar or rock sugar.
- Mung beans: 50 grams (to the liking)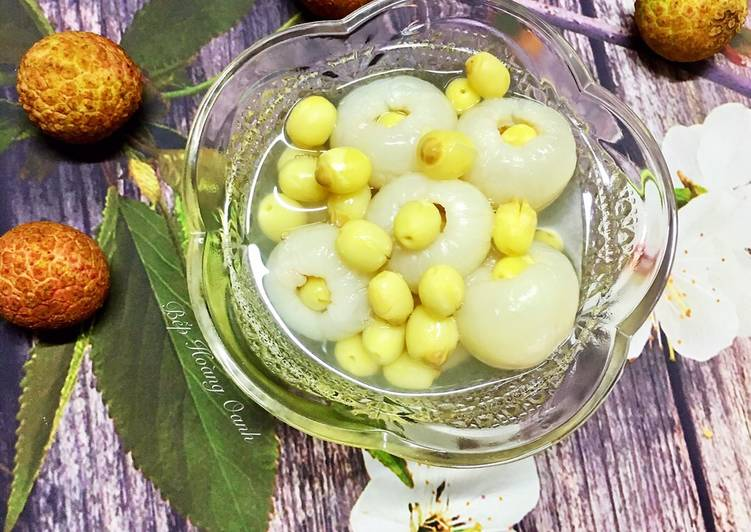 Photo: Cookpad
How to make
- Soak mung beans in water for one hour, remove their peels and let them drained.
- Boil lotus seeds (with kernels removed) until they are soft. Then, take them out to cool down.
- Put mung beans in the pot of boiling lotus seeds. Until they are soft, add sugar to taste.
- Soak lychees in salted water for 15 minutes, wash and let them drained.
- Boil a pot of water, add a teaspoon of salt. When the water is boiled, put all lychees into it for 2-3 minutes. Take them out and soak in iced water for 30 minutes. Then, peel them off for pulps.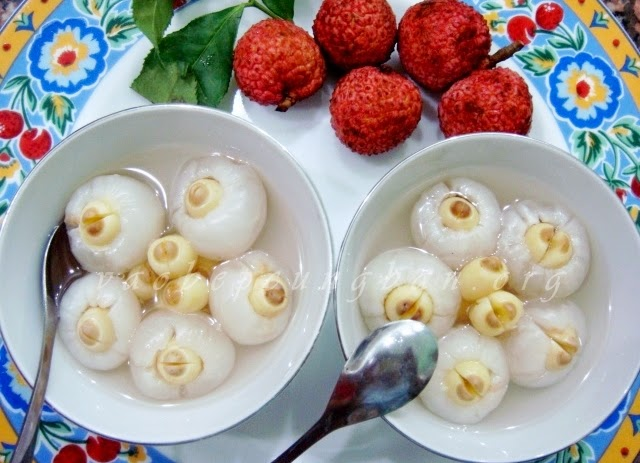 Photo: Vaobepcungban
- Insert the lotus seeds into the lychee pulps.
- Re-boil the water pot of lotus seeds and mung beans, put lotus seed - inserted lychee pulps into the pot for 2 minutes. Don't cook for a too long time because it can make lychee pulps less crisp. Take the pot out to let it cool down, store it in the refrigerator. You can add ice when eating.
- You can decorate the dish with jasmine flowers.
Tips for removing lychees' seeds from pulps. Video: To Hung Giang/ VnExpress
Tips for removing lychees' seeds from pulps: Holding lychee in your hand, gently removing the stem but not yet needing to peel off all skin, using a scissor with a small end to cut gently around, pressing the scissor deeply into the fruit and rotating it slightly. Then, firmly pulling out the seed from the pulp.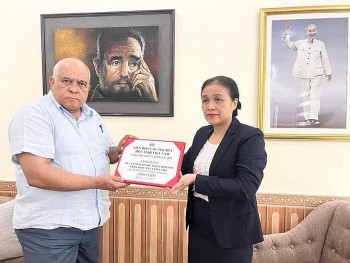 Focus
According to Cuba's News Agency Prensa Latina, on August 16, President of Vietnam Union of Friendship Organizations Nguyen Phuong Nga said that Vietnamese people will always stand by and support Cuba no matter what difficulties our friend is facing.