Scrumptious grilled bread with salt and chili in Hanoi
Boasting a uniquely delectable flavor, the Vietnamese bread grilled with salt and chili in a stall in Chua Lang street, Hanoi is sold like hotcakes. On peak days, the stall welcomes some 500 patrons.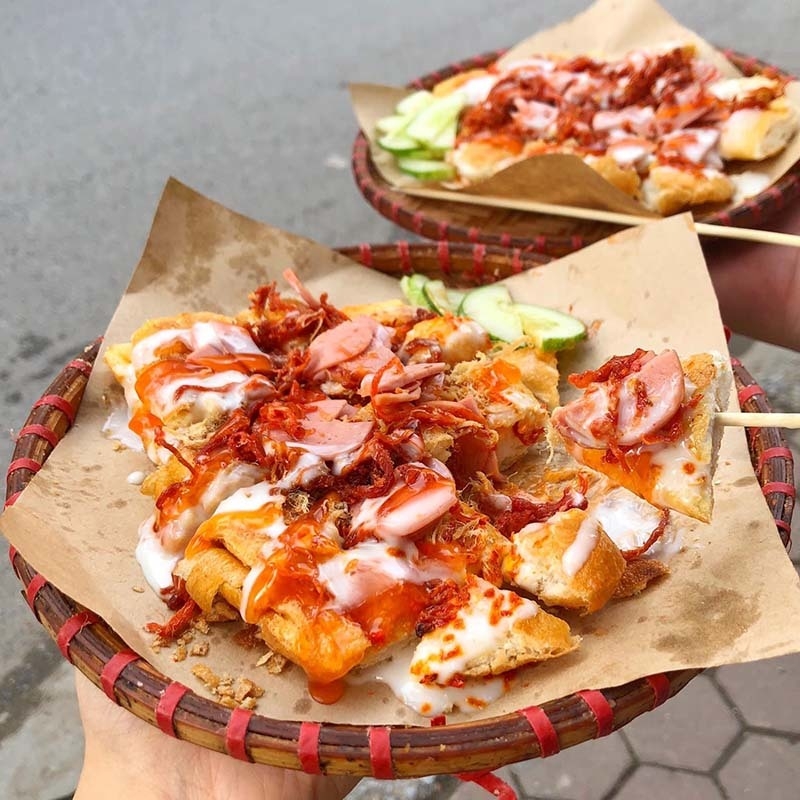 The bread is cut into small pieces upon serving (Photo: Vietnamnet)
Bui Trinh Minh, owner of the bread stall, has elevated the recipe to make the bread's flavors suitable to Hanoians' likings. Even though bread come in various forms and flavors and are ubiquitous in Hanoi, Minh's grilled bread still have their own place in the capital food lovers.
Born and raised in Ho Chi Minh City, Minh decided to start-up his business in the capital of Hanoi in 2017.
"Bread grilled with salt and chilies are kind of a staple in the south. Seeing that the food is not so much ubiquitous in Hanoi, I chose it to be my trump card", he was quoted by Vietnamnet as saying. "However, I do season the salty and spicy salt a little differently to the original one in accordance with customers' feedbacks".
The sate sauce is hailed as the star of the bread. It's spicy, salty, sweet and not too greasy, and is made to Minh's secret proportion.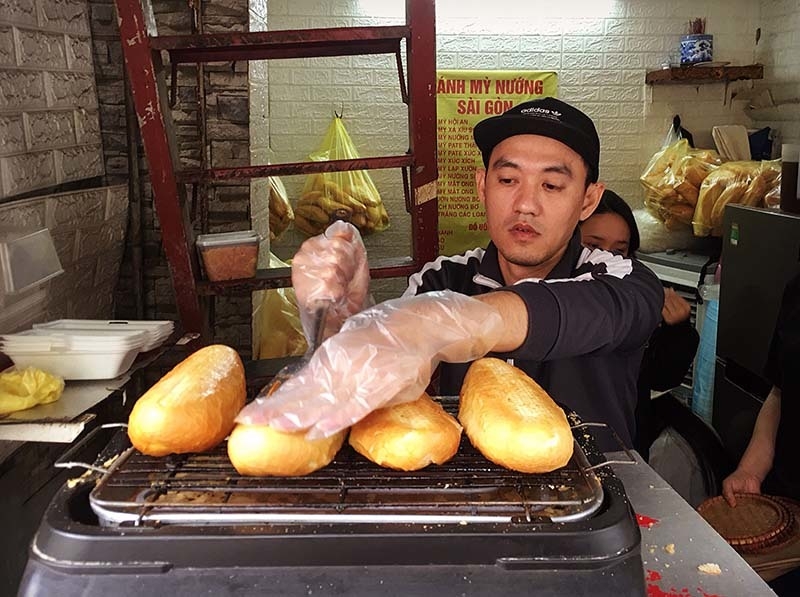 Minh's grilling the bread (Photo: Vietnamnet)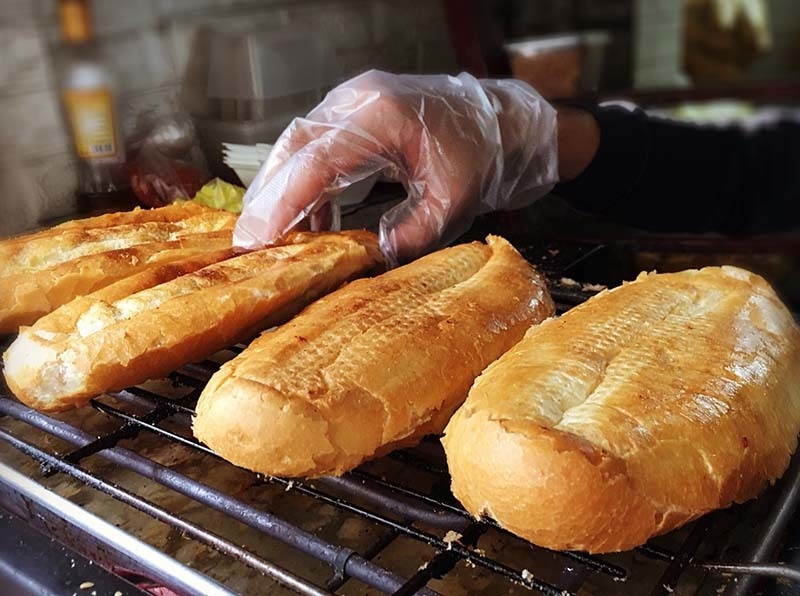 (Photo: Vietnamnet)
Sharing on how to toast a crispy, aromatic bread, Minh said he often pressed flat the bread then put it on the grill. A thin coat of butter and sate sauce is spread over the bread before it's baked over 3-4 mins. Meat floss, dried onion, sausage, beef jerky, dried shrimp, cucumber, chili sauce are placed on top of the bread and the sauce. These toppings, according to Minh, do wonders for the flavors of the dish.
The Vietnamese bread grilled with salt and chili is cut into small pieces when it's served to the customers. The distinct serving style makes the dish an even more special choice for foodies.
Minh's bread is reasonably priced at VND 15,000 – 23,000 (US $0.64 – 0.98). The stall is frequented by hundreds of bread buyers on a daily basis. There are days when customers would queue in long lines, just to wait for their turn to order.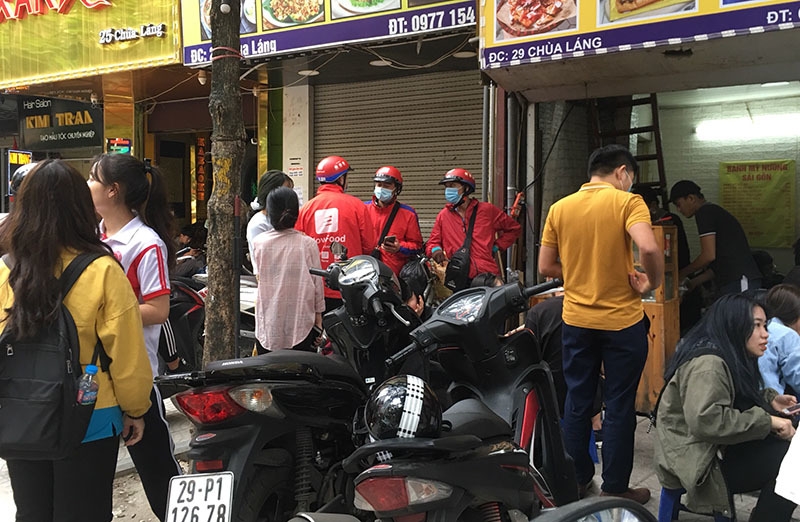 The bread is selling like hot cakes (Photo: Vietnamnet)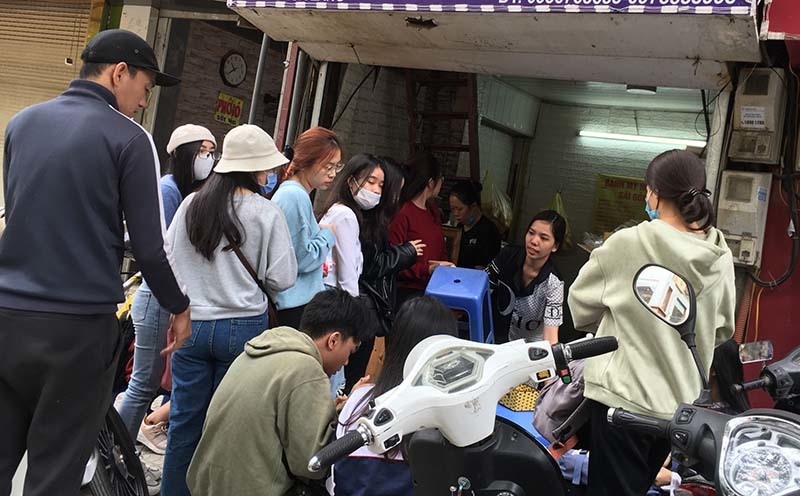 (Photo: Vietnamnet)
"We're happy that our business is running well and gets high sales volume. Yet, our daily schedule is pretty hectic. We would open the stall at 7 in the morning and only close at 9 or 10 pm, then we keep preparing needed ingredients for the next selling day", Minh said.
Minh bread stall is now a "household name" of many Hanoians, even domestic and foreign visitors love the bread. The love and passion for the culinary world have prompted the young man to make simple, familiar, yet incredible food.
Unique charcoal-like black bread in Ha Long

"Banhmimo", the one-of-a-kind bread that boasts an attractive charcoal-like color has recently garnered the attention of Vietnamese netizens as images of the black loaf with ...