Malaysia Opposes China's Claim In The South China Sea
Malaysia has made an unusual move as to object China's sovereignty claim in the Bien Dong Sea (South China Sea), despite the fact that China is its biggest trading partner.
Speaking to the National Assembly of Malaysia on August 13, Foreign Minister Hishammuddin Hussein said two weeks ago, the country's government made a submission to the United Nations on Malaysia's sovereignty over a continental shelf beyond 200 nautical miles from the country's baselines.
Mr. Hussein said this was Malaysia's response to China's submission to the United Nations on December 12, 2019.
As quoted by Bloomberg, Hishammuddin said: "Malaysia opposes China's claim that they have historic rights over those waters. The Malaysian government also considers China's claims over maritime features in the South China Sea to have no basis whatsoever under international law."
Malaysia rejects China's claim to "historic, sovereignty and jurisdiction rights" regarding the maritime zone in the Bien Dong Sea (South China Sea) surrounded by the so-called "nine-dash line".
According to Bloomberg, this is a rare reaction of Malaysia since it has long been avoiding openly criticizing China - Malaysia's largest trading partner, for its aggression in the South China Sea.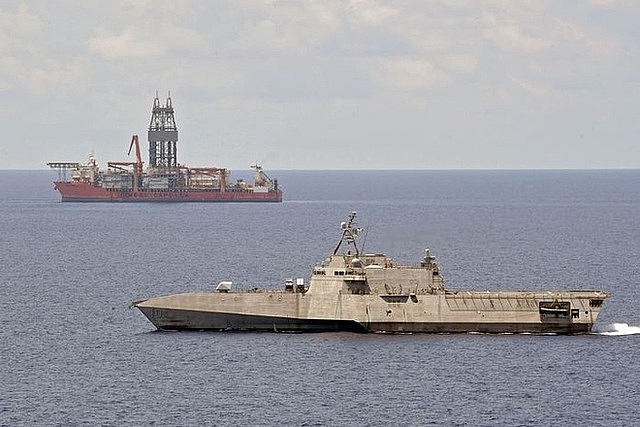 The US littoral combat ship USS Gabrielle Giffords near Malaysia's West Capella exploration drill in the South China Sea on May 12. Photo: US Navy
Before Malaysia, the Philippines, Vietnam, Indonesia, the United States and Australia also sent diplomatic submissions to the United Nations to reject China's sovereignty claims in the South China Sea. This is not merely a diplomatic submission between the two countries but was submitted to the UN Secretary-General with a request to be widely circulated to other member countries of the United Nations.
However, Foreign Minister Hussein added that Malaysia would be cautious in defending its claims to avoid escalating tensions in the South China Sea. He also said Malaysia will work towards a solution within ASEAN, as the association of Southeast Asian nations is still discussing with China to develop a code of conduct in the South China Sea, though the talks are being delayed due to the COVID-19 pandemic.
"If we follow the narratives and pressure of superpowers, there's a high potential for Asean countries to lean toward certain countries," said Mr Hishammuddin.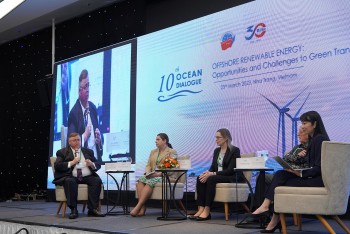 Seas and islands
Vietnam and other coastal countries in the region have both opportunities and challenges in developing offshore renewable energy, according to the 10th Ocean Dialogue held in Khanh Hoa province on Thursday.