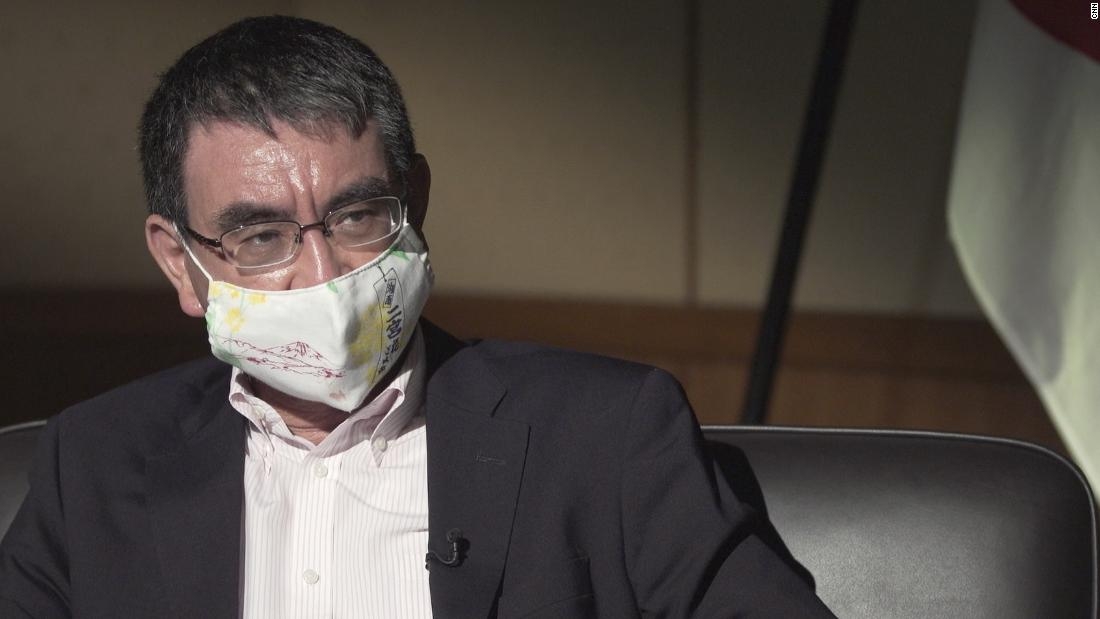 Japanese Defense Minister Taro Kono answers CNN in an exclusive interview Friday.
Beijing's efforts at transforming obscure sandbars and reefs into a string of highly fortified artificial islands stretching hundreds of miles across the South China Sea does not promote or uphold the international order, the defense minister said.
China has stationed missile batteries and deployments of fighter jets and bombers on several of the newly created islands.
"That is destabilizing," he said. "A free and open maritime order in the South China Sea is as important as any other place and what happens there ... will concern the international community."
Kono's remark is just the latest in a procession of United States and another leaders to call out China over its actions in the South China Sea, where it has been pushing its claims of sovereignty over almost all of its 1.3 million square miles.
Late last month, US Secretary of Defense Mark Esper called on American allies and partners to step up pressure on Beijing, saying the Chinese Communist Party was showing "brazen disregard of international commitments" it has made in the South China Sea.
"Make no mistake, the CCP (Chinese Communist Party) has been engaged in this sort of behavior for many years," Esper said in an online speech to the UK- based International Institute of Strategic Studies. "But today, its true intentions are on full display for all to see."
According to Esper, a united front with US allies and partners was crucial to stop China from intimidating other nations from exercising their rights in the region.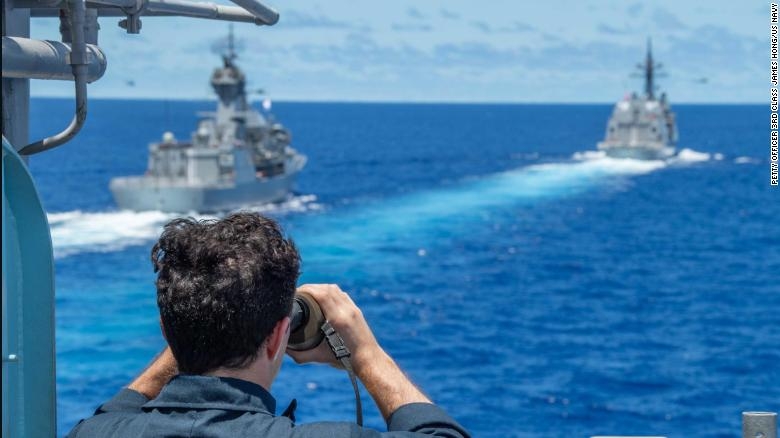 The Royal Australian Navy frigate HMAS Stuart, left, and the Japan Maritime Self-Defense Force destroyer JS Teruzuki are seen from the port bridge wing aboard the guided-missile cruiser USS Antietam during a South China Sea exercise in July.
Kono's comments also followed a speech by Australian Prime Minister Scott Morrison on August 5, when he told the 2020 Aspen Security Forum, that Tokyo and Canberra were both "taking concrete action to support our Pacific and Southeast Asian friends and family."
Morrison said the US and Australia share common values, and that the two nations have "got each other's back."
Just last week, the US and Australia held high-level talks on China and agreed on the need to uphold a rules-based global order, but Australia stressed its relationship with China was important and it had no intention of hurting it.
The Japanese Defense Minister also talked of Japan's strong mutual relationship with Washington, saying it was also vitally important with regard to the threat posed by North Korea, especially after negotiations between Washington and Pyongyang over North Korea's nuclear missile program broke down.
Finally, Kono played down the tensions in the Senkaku Islands, also claimed by China, which calls them the Diaoyu Islands.
China had sent its ships into waters around the islands for more than 100 consecutive days in a streak that ended earlier this month, raising fears of a potential skirmish between the two neighbors.
But Kono said Friday that Tokyo did not want to inflame the situation.
"I don't think there's anything that we need to do right now," he said. "We are definitely not trying to unilaterally escalate the situation. I don't think China is trying to escalate the situation right now."
Nevertheless, the country's annual defence review said China was pushing its unlawful territorial claims amid the COVID-19 pandemic.
China "is continuing to attempt to alter the status quo in the East China Sea and the South China Sea", Japan said in the defence white paper approved by Prime Minister Shinzo Abe's government on July 14.
The white paper described "relentless" intrusions in waters around a group of islets claimed by both nations in the East China Sea, known as the Senkaku in Japan and the Diaoyu in China.
In the South China Sea, it said Beijing was asserting territorial claims by establishing administrative districts around disputed islands, that forced countries distracted by the coronavirus outbreak to respond.
According to Reuters, Japan sees China as a longer-term and more serious threat than nuclear-armed North Korea. Beijing now spends four times as much as Tokyo on defence as it builds a large modern military.
Japan's defence review also claimed China appeared to be responsible for "propaganda" and "disinformation" amid "social uncertainties and confusion" caused by the coronavirus outbreak.
Such disinformation included online claims that the coronavirus was brought to China by a US military member, or that Chinese herbal remedies could treat COVID-19, a defence ministry official said at a briefing.
Recent months, China has been conducted many actions that have led to a more complicated and tense situation in the South China Sea as the international community continues to fight against the COVID-19 pandemic.
Just August 6, Foreign Ministry spokeswoman Le Thi Thu Hang has condemned Chinese activities in the Hoang Sa (Paracel) Islands, and Truong Sa (Spratly) Islands, saying that "all activities launched by foreign countries in these islands, without Vietnamese permission are null and void, whilst also being in violation of the country's sovereignty."
To be specific, China is deploying warships and warplanes to entities which have been illegally built on the Spratly Islandsis and building an advanced underwater surveillance system in the South China Sea that could be used by the country's military.
Known as the "Blue Ocean Information Network" and "Underwater Great Wall," the systems are a combination of floating radar posts and sonar systems laid on the ocean floor. Most of these installations are in Chinese territory, but a few also sit in international waters, Forbes reported August 5.
China's development of these systems is a violation of international law as some of the installations are placed on Vietnam's Truong Sa archipelago.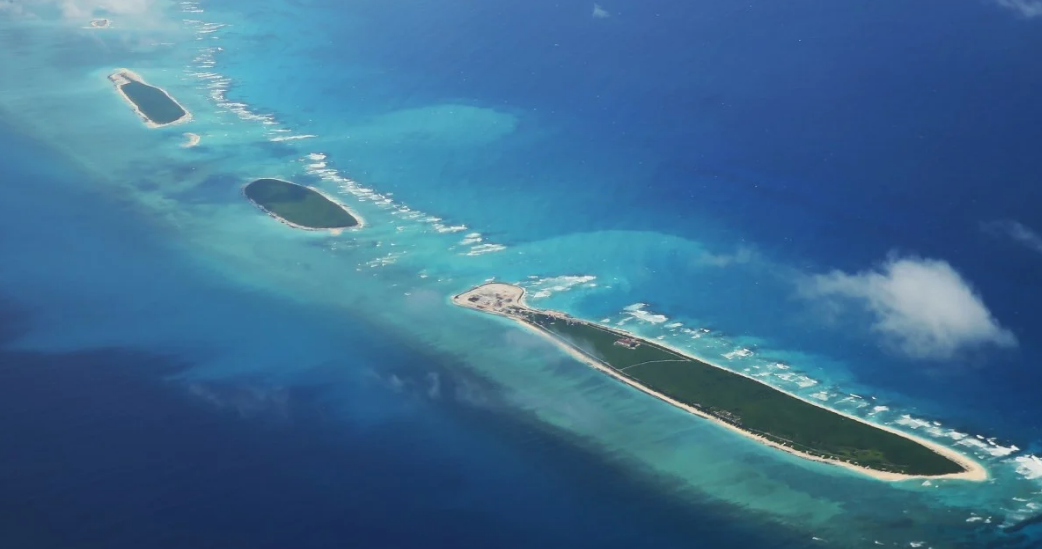 Beijing's redefined navigational area encompasses parts of the Paracel Islands in the South China Sea. Photo: AFP
The country also published an amendment of "Technical regulations for statutory surveys of sea-going ships on domestic voyages" under China's laws, which the spokeswoman said that China's inclusion of Hoang Sa archipelago of Vietnam in its rules for technical inspection of domestic vessels under the 2020 law violates Vietnam's sovereignty over the archipelago, and is not conducive to maintaining a peaceful, stable and cooperative environment in Bien Dong Sea.
More specifically, it has changed the wording of a shipping regulation to identify a stretch of water between Hainan province and Hoang Sa Islands as a "coastal" rather than "offshore" navigation area, The South China Morning Post reported on July 31.
Observers said the move was indicative of Beijing's drive to bring as much of the waterway under its control as possible.
The word change appeared in an amended version of a regulation – drawn up in 1974 – regarding technical rules for the statutory testing of seagoing vessels. It took effect from August 1.
The regulation, titled "Technical Rules for the Statutory Testing of Seagoing Vessels on Domestic Voyages" establishes the "Hainan-Xisha Navigation Area", which is bound by two points on Hainan island – China's most southerly province – and three in Hoang Sa, or so-called Xisha district of Sansha city as they are known in Mandarin.
Zhang Jie, an expert on the South China Sea at the Chinese Academy of Social Sciences, said the move might have been designed to strengthen the administration of Paracels using domestic laws./.
Hannah Nguyen