Many companies resume operations in Covid-19 hotspot
Nine enterprises in Van Trung, Dinh Tram and Quang Chau industrial parks in Viet Yen district, Vietnam's largest epidemic hotspot, were allowed to resume operations.
According to Vietnamnet, these enterprises resumed operations under the plan to restore production when the Covid-19 pandemic is being actively controlled. Among them are several enterprises producing electronic components for large corporations like Samsung and Foxconn.
Two companies, New wing and Fuhong PC, resumed operations from May 28; S-Connect BG Vina Co., Ltd reopened on May 29; Si Flex, Fuyu Precision Co., Ltd; Gigalane Co., Ltd, Jeil Tech, New Hope and New Hope Special Zone Company resumed operation on May 30.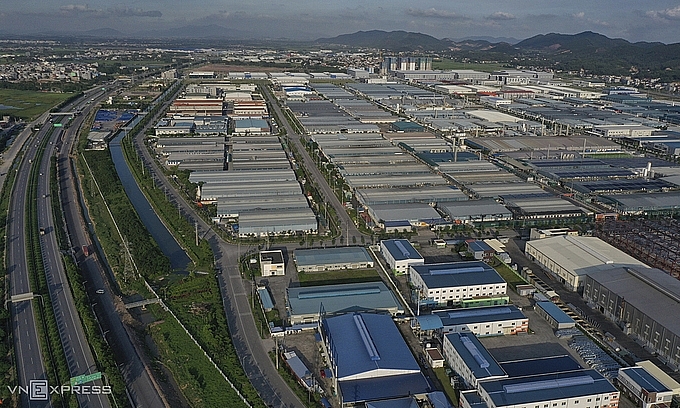 Van Trung Industrial Park in Bac Giang Province has been shut down due to Covid-19, May 2021. Photo by VnExpress/Ngoc Thanh.
Among these firms, Fuhong Precision Component (Dinh Tram Industrial Park); New Wing Interconnect Technology Company (Van Trung Industrial Park); and Fuyu Precision Limited (Quang Chau Industrial Park) are component manufacturers for Foxconn Group - Apple's component supplier.
Fuhong Precision Components located in Dinh Tram Industrial Park manufactures computers and computer peripherals. New Wing Interconnect Technology Company's main activities are outsourcing electronic components, and manufacturing computers and peripheral devices. S-Connect BG Vina, Si Flex, Gigalane Co., Ltd, Jeil Tech manufacture components for Samsung Corporation.
The other two companies, New Hope and New Hope Special Zone, produce animal feed.
The total number of employees returning to work is 4,056 workers, including 1,294 workers of Newwing, 1,295 workers of Fohong, 500 workers of Si Flex, and 343 workers of Fuyu.
Production has been restored, but the Management Board of Bac Giang Province's Industrial Parks asked these firms to strictly and fully comply with regulations of competent authorities on epidemic prevention and control, such as meeting distance requirements, having dormitories for workers, workers tested negative for covid-19 twice, with the latest test being one day before returning to the factory.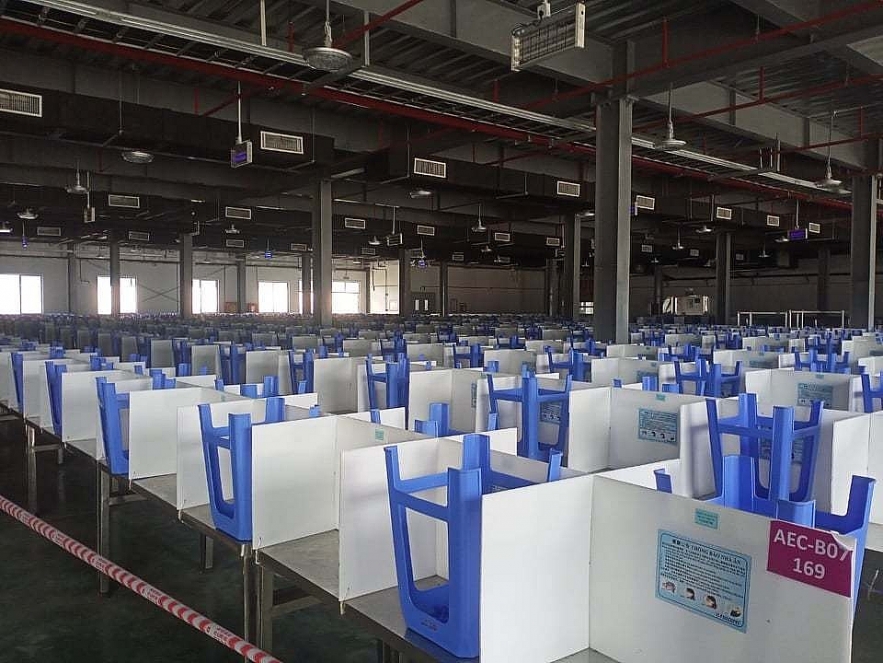 Many companies in industrial zones in Bac Giang province had to suspend operations because of the Covid-19 epidemic.
The companies divided workers into groups of 10-16 people per group, called "Worker's team against Covid-19". These groups will be transported together from their residence to the workplace and vice versa, have their own accommodation, eat meals in shifts, etc. to limit contact with others. This will enable easy zoning and tracing of Covid-19 cases.
Nguyen Xuan Ngoc, deputy head of the management board of Bac Giang industrial parks, said it would take weeks before all local industrial zones could resume operations due to strict evaluation procedures.
As reported by Vn Express, Bac Giang, home to 13 Samsung suppliers and Apple partners Foxconn and Luxshare, is the most severely hit locality in Vietnam's latest Covid-19 wave, recording 1,927 cases over the past month. It is followed by neighbor Bac Ninh with 736 cases.
Bac Giang had to shut four local industrial parks: Van Trung, Quang Chau, Dinh Tram and Song Khe-Noi Hoang starting May 18 after the province recorded a staggeringly high number of new coronavirus cases due to the parks' large scale and high number of workers. The province has around 240,000 people employed at its six industrial parks.
Halting manufacturing in industrial zones will greatly affect industrial production and export. Orders may also shift to other countries and foreign direct investment (FDI) attraction will likely slow down as experts cannot enter Viet Nam to learn about investment opportunities.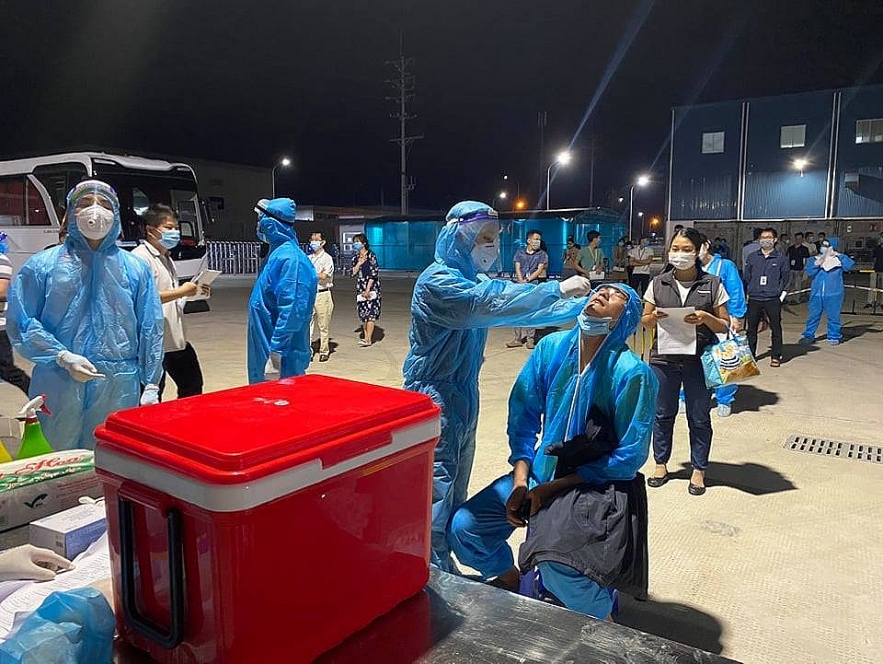 The companies divided workers into groups of 10-16 people per group, called "Worker's team against Covid-19".
According to Vietnamnews, experts have suggested the authorities take measures to minimise adverse impacts in the sources of the outbreak while still allowing production but with strict measures on disease prevention.
This is the strategy Viet Nam is implementing. Regarding pandemic control, Vietnamese doctors and health experts have a better understanding of the virus variants, citizens also have calmer views on new outbreaks and more importantly Viet Nam's capacity in tracing and large-scale testing has improved significantly. This is a good foundation for zoning the infection at small levels.
Of course, this option will also go with a risk – the lessons of being negligent and letting the guard down in many localities which have led to resurgences of the virus make it impossible to guarantee we can completely control and extinguish the disease. Besides, if infections expand to other localities than the 34 cities and provinces which has already recorded positive cases, it will put a huge burden on the healthcare sector, as well as other ministries and localities.
So far, the Government has been doing rather well with this strategy. Solutions and measures to combat the pandemic have always been updated and changed to suit the developments in pandemic-affected localities.
As of June 2, 2021, Vietnam's Ministry of Health confirmed a total of 7,625 cases of COVID-19. However, 3,043 of the affected patients have recovered and been discharged from hospitals. Vietnam has also recorded 48 deaths due to the pandemic. The latest community transmission cases have been reported from Bac Giang, Bac Ninh, and Hanoi.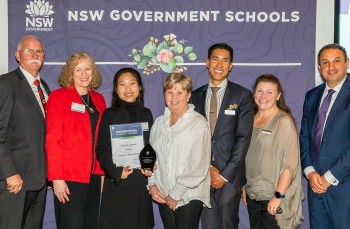 Overseas Vietnamese
The award for international students studying at New South Wales state schools (Australia) honors excellent ones from many countries, including a Vietnamese female student.