Students take 'summer break' at Covid-19 hotspot
75 students at Bac Giang Medical School have eschewed a summer holiday, to volunteer in the province's Covid-19 fight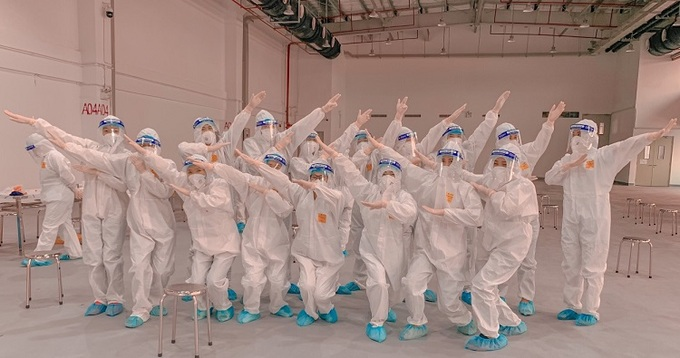 Students show their determination to fight the pandemic. Photo courtesy of Hai Nam Tran
On the morning of May 10, Tran Van Tuyen in Luc Nam District went to Bac Giang Medical School to pick up his son, Tran Hai Nam to return home for the summer, but Nam had instead volunteered to take part in the Covid-19 battle, VnExpress reported.
Tuyen reminded her son to be careful and encouraged him to complete the assigned tasks. If Nam was not participating in the Covid-19 fight, he would have helped his parents harvest lychees this summer holiday.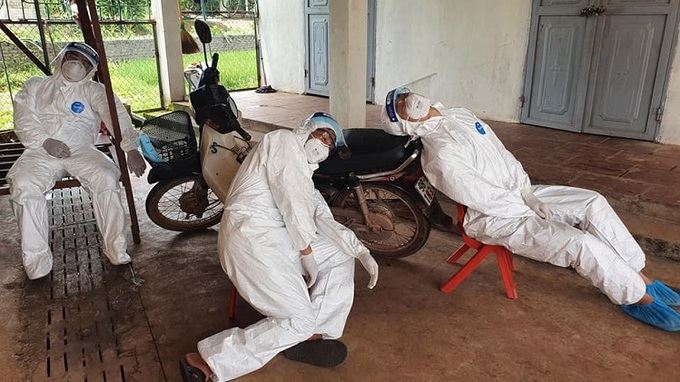 Students take advantage to sleep wherever they can. Photo courtesy of Hai Nam Tran
Not having time to see off his father, Hai Nam along with 74 students and 16 lecturers rushed to take samples and conduct epidemiological investigation.
Students were divided into small groups to follow medical workers to watch them take samples. After a single day, everyone could do it themselves.
Under the blazing Bac Giang sun, Nam and other students work unceasingly. "Some people become impatient at having to queue amid the hot weather, but we try to encourage them," Nam said.
Many students are exhausted and do not have enough time to sleep. Nevertheless, no one has any intention of giving up.
Le Thi Minh Ngoc, a second-year student, has been assigned to visit remote areas in Bac Giang to conduct an epidemiological investigation. Many residents here do not even know what F1 and F2 cases are, forcing Ngoc to explain. Others don't remember who they came into contact with.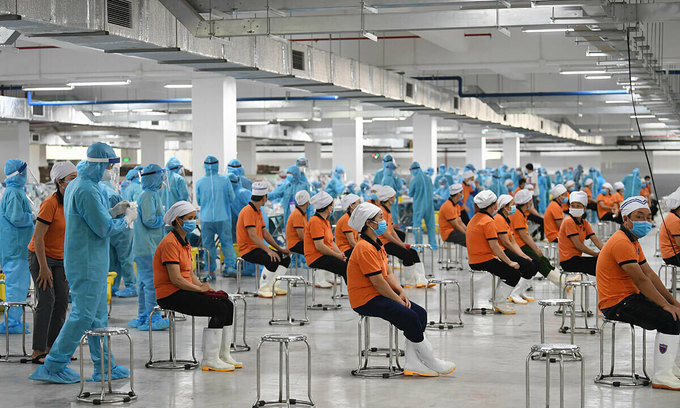 Medics take samples of workers at Quang Chau Industrial Park in Bac Giang Province for coronavirus tests. Photo by VnExpress/Hoang Phong.
Many students even get lost while performing their tasks.
Receiving a messags from his father: "Are you tired? If tired, ask teacher to give you a few days off and then continue." Nam replied: "I'm well. I will come back with you when the pandemic is under control."
Deputy Director of Lang Giang District Medical Center Dang Van Hau said "students and lecturers have made great contributions in helping Bac Giang to soon stamp out the pandemic."
A delegation of 200 voluntary doctors and medical workers from the Vietnam - Sweden Hospital in Uong Bi City, Quang Ninh Province, headed to Bac Giang Province on the morning of May 15 to assist the province with Covid testing.
On May 17, about 300 mobile policemen were also sent to Bac Giang. They have assumed responsibility for preventing and handling violations in the fight against Covid in the province.
Hanoi also sent 20 anti-pandemic medical experts to help Bac Giang in the fight against the virus.
The city also will support Bac Giang Province to take more than 10,000 samples for Covid-19 testing, and assist the pandemic region in epidemiological investigation, as well in tracing, zoning and testing biological products at Van Trung Industrial Park to ensure environmental hygiene.
Since the new wave of local transmissions began in the country three weeks ago, Bac Giang has registered 411 cases, including 326 in industrial parks.
It is currently quarantining more than 6,000 people for having been in direct contact with infected people and medically monitoring 30,000 others.
Eighty-six new cases of Covid-19, including one imported and 85 domestic infections, were documented over the last six hours to 12 p.m. on May 18, according to the Ministry of Health.
The imported case was a 67-year-old man from the Republic of Korea arriving in the south-central province of Binh Dinh on May 16. He was immediately put under quarantine in central Da Nang city upon his arrival.
The domestic cases include 63 in Bac Giang, six in Hanoi, four in Dien Bien, three in Bac Ninh, three in Hai Duong, two in Da Nang and one each in the Vietnam National Cancer Hospital's Tan Trieu facility, Hai Phong, Hung Yen and Ha Nam. All were detected in quarantine sites and locked-down areas.
No new outbreak was reported.
So far, the national tally has reached 4,464 Covid-19 cases, with the number of local infections since the fourth Covid-19 wave hit Vietnam on April 27 totaling 1,424.
The death toll remains at 37. The number of recoveries now stands at 2,668.