Deputy PM: Three Covid-19 hotspots basically put under control
Three of the biggest coronavirus epicenters in Vietnam, namely Ha Nam, Da Nang, Vinh Phuc, have been controlled.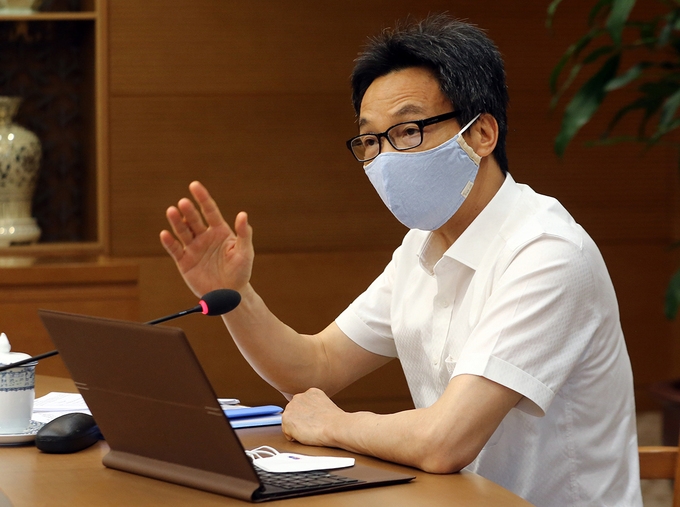 Deputy PM Vu Duc Dam at the meeting (Photo: VNE)
While the pandemic in major hotspots has been contained, localities are still expecting new infections but most likely from quarantine centers or localized areas.
Deputy Prime Minister Vu Duc Dam made the statement at the meeting of the National Steering Committee for Covid-19 Prevention and Control on May 14 afternoon. However, he stressed that "there are obviously pathogens in the community. Therefore, new outbreaks can happen anytime, anyone can contract the novel virus". He called for the entire anti-pandemic system to be at the highest alert level and ready for any unexpected happenings.
The deputy PM affirmed that having good control of workers commuting from epicenters to other localities, including Hanoi, is crucial in the containment efforts. Industrial areas, therefore, should compile list of engineers, workers coming from out of town to give prompt response once new infections are detected.
For his part, Dang Quang Tan, director of the Preventive Medicine Department under the Ministry of Health, also said that infection sources in Ha Nam, Vinh Phuc, and Yen Bai have been controlled and are unlikely to spread to the community.
Vietnam on May 15 afternoon recorded 16 more local Covid-19 cases in Hanoi and northern provinces, all contained within quarantine zones.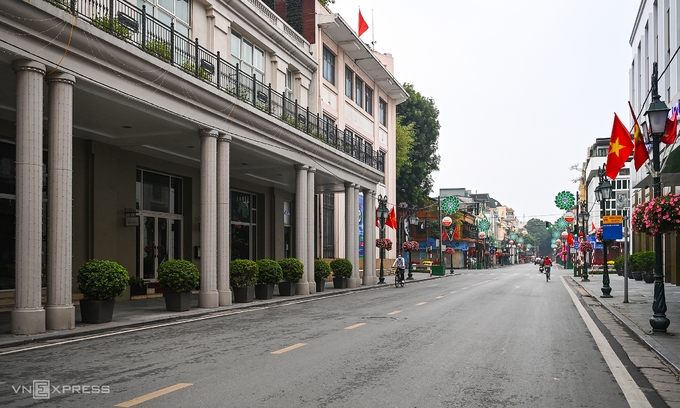 Trang Tien Street near Hanoi's Hoan Kiem (Sword) Lake is left deserted due to the Covid-19 pandemic, February 2021. (Photo: VNE)
Since the new wave broke out on April 27, Vietnam has reported 824 new local cases of Covid-19 in 26 cities and provinces.
Over 969,000 people, or about 1 percent of the country's population, have been vaccinated against Covid-19.
With 60% of Covid-19 patients display no symptoms, Vietnam is facing an added challenge in its effort to ramp up contact tracing and screening.
"There are many cases where even X-ray scans of the lungs fail to expose the patient's infection status. When they do, it's already too late," Nguyen Van Kinh, part of the Covid-19 diagnosis experts, said Thursday. "This is a major challenge for the screening efforts."
The country is scheduling to start its 3rd vaccine rollout as soon as the new AstraZeneca batch arrives this weekend.
Health Minister Nguyen Thanh Long on Friday morning called for all localities to quickly draw up vaccination plans, which will cover new prioritized groups.
"Safety will be a top priority," Long added.
Medical authorities will organize training courses on Covid-19 inoculation at all sites, focusing on screening and handing of post-vaccination reactions, according to Duong Thi Hong, deputy director of the National Institute of Hygiene and Epidemiology. She emphasized that localities must go all out to ensure safety and avoid cross-infection at vaccination sites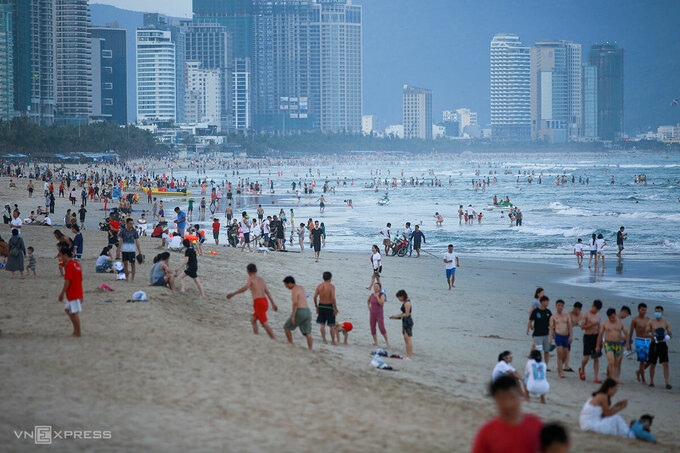 People flocked to a beach in Da Nang City on April 29, 2021. (Photo: VNE)
Vietnam is expecting nearly 1.7 million AstraZeneca doses, supplied by COVAX Facility via the UN Children's Fund, this Sunday. The move will speed up vaccine rollout and increase coverage nationwide.
The nationwide vaccination program started in the country on March 8. So far, the UK's AstraZeneca vaccine is the only coronavirus vaccine injected in Vietnam. In late February, the health ministry purchased over 117,000 doses via Vietnam Vaccine JSC. Over 800,000 doses supplied by COVAX Facility arrived in March. All the doses have been administered to prioritized individuals in 62 provinces and cities, including frontline medical personnel, Steering Committee for Covid-19 Prevention and Control members, police and military forces.
The country aims to secure 150 million doses to cover 70% of its population by next year.