Vietnam Covid-19 Updates (Nov. 20): 9,600 New Cases During the Last 24 Hours
Over 104.7 million Covid-19 vaccine doses had been administered in Vietnam as of Nov. 18, and more than 38.64 million people had been fully inoculated.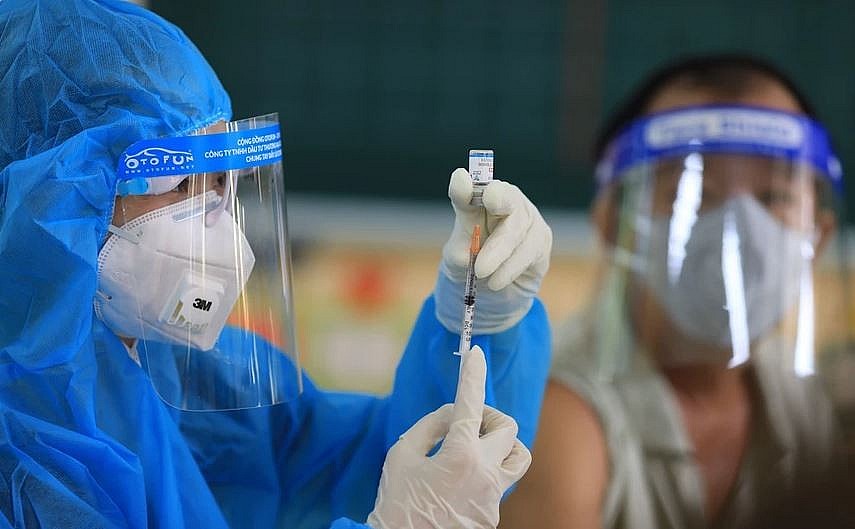 Photo: Zing News
Vietnam records over 9,600 new Covid-19 cases on November 19
A total of 9,625 new cases of Covid-19 were reported in Vietnam during 24 hours from 4 pm Nov. 18 to 4 pm Nov. 19, including eight imported cases, according to the Ministry of Health. The remaining 9,617 domestic infections were detected in 57 cities and provinces.
Ho Chi Minh City continued to record the highest daily case count with 1,339, followed by Binh Duong, 661, Tay Ninh 559, Dong Nai, 578, and Dong Thap, 509. The capital city of Hanoi logged 287 new cases.
A total of 102 Covid-19 related deaths were announced on the day, with 55 in HCM City, 12 each in Dong Nai and Tien Giang, five in Binh Duong, four in Bac Lieu, two each in Tay Ninh, Binh Thuan, Dong Thap, Kien Giang and Can Tho, and one each in Binh Dinh, Lam Dong, Binh Phuoc, and Long An.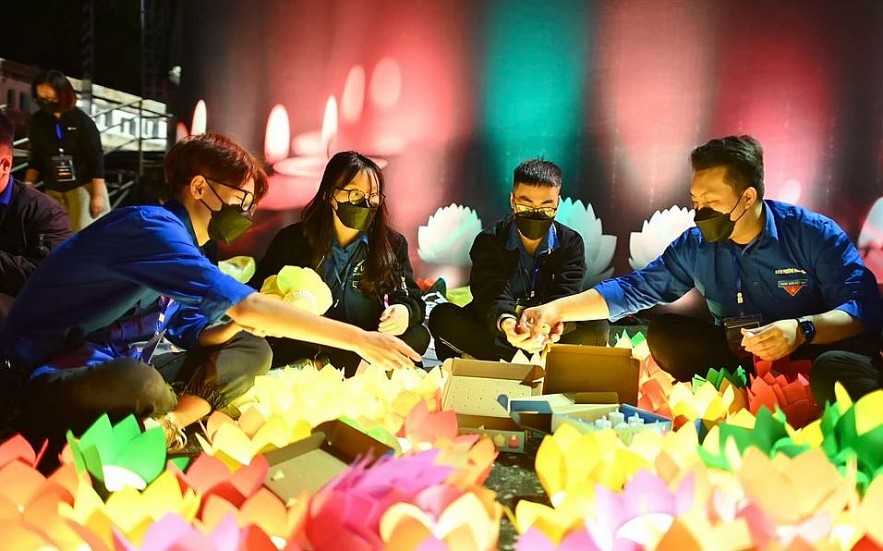 Photo: Zing News
Memorial ceremony held for Covid-19 victims
The Vietnam Fatherland Front Central Committee in conjunction with the Party Committees of Ho Chi Minh City, Hanoi and localities nationwide held a ceremony on November 19 night to commemorate those who lost their lives to Covid-19. Party General Secretary Nguyen Phu Trong also sent a wreath to the ceremony in memory of Covid-19 victims.
The event aims to express sympathy to bereaved families over their pain and loss, and remind people of their responsibility in the pandemic combat, organizers said. At 8:30 pm, the memorial ritual began. In HCM City, which was the epicenter of the fourth resurgence of Covid-19, pagodas and churches rang the bell, and candles were lit at public places to commemorate the victims.
According to the Ministry of Health, Vietnam's Covid-19 death toll exceeded 23,500 as of November 19, of which more than 17,200 were recorded in HCM City.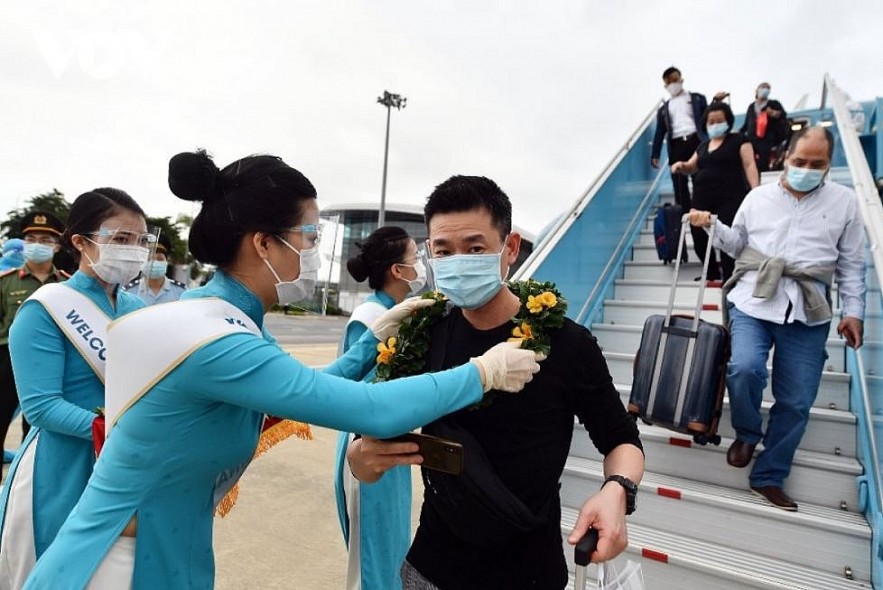 Photo: VOV
Da Nang welcomes international tourists in three phases
After a hiatus caused by the Covid-19 pandemic, the central city of Da Nang has opened its door to international tourists under a three-phase pilot road map.
In the first phase from this November, Da Nang, a large travel hub in the central region, is welcoming foreign visitors through package tours, charter flights, and international commercial flights to the designated areas and tourism service establishments in Phu Quoc city (Kien Giang province), Da Nang, and the provinces of Khanh Hoa, Quang Nam, and Quang Ninh.
In the second phase from January 2022, the city will expand the group of international tourists it is reopened to. They can also take part in tours of destinations in the five abovementioned localities. It will completely reopen to international tourists in the third phase, whose beginning will depend on the pandemic situation and outcomes of the first two phases.
Foreign visitors to the city between November 2021 and February 2022 will be mainly overseas Vietnamese and from several key markets like the Republic of Korea and Japan, according to the department.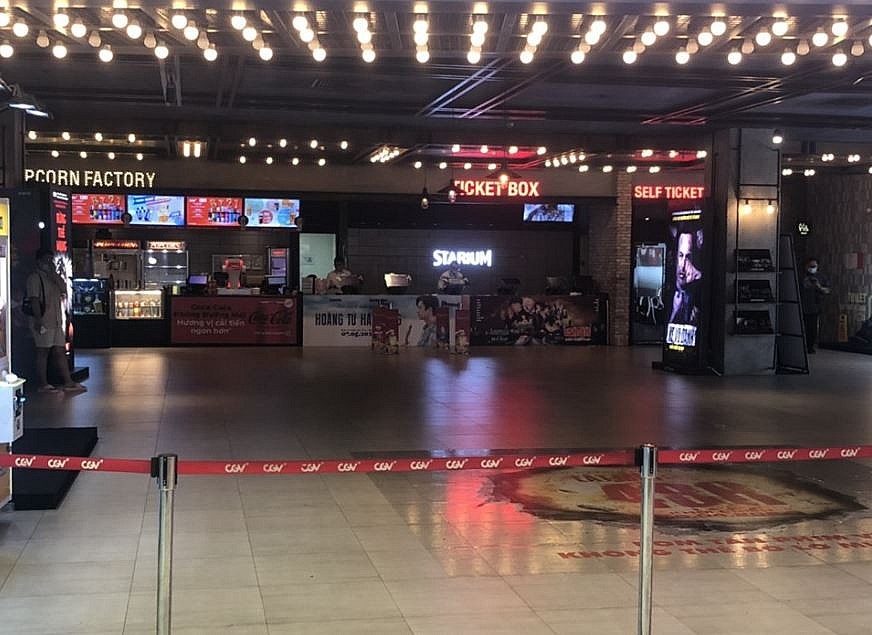 Photo: Lao Dong
Cinemas reopen in Ho Chi Minh City
Cinemas in Ho Chi Minh City reopened on Nov. 19 with a schedule of Hollywood and Vietnamese films, six months after social distancing started in late April. A number of Hollywood films, including Venom 2, Eternals, and Black Widow, are ready for screening. Vietnamese films such as Gai Gia Lam Chieu V – Nhung Cuoc Doi Vuong Gia (The Tricky Ladies V: Luxurious Lives) and Em và Trinh (You and Trinh) are also scheduled.
Chairman of the city People's Committee Phan Van Mai has signed a decision on "Safe adaptation, flexibility and effective control of the pandemic," allowing cinemas to reopen in low-risk zones (green zone), medium risk (yellow zone), and high risk (orange zone) zones. Cinemas in green zones can operate at full capacity, while cinemas in yellow and orange zones must limit their capacity to 50 percent and 25 percent, respectively.
Employees and customers need to be fully vaccinated and must comply with 5K Covid-safety requirements, and use QR codes and apps to make medical declarations.
Vietnam's total caseload now stands at 1,075,094, of which 1,070,011 were are recorded during the fourth wave of infections that began in late April. The death toll in Vietnam is now 23,578, or 2.2 percent of the total cases.
Over 104.7 million Covid-19 vaccine doses had been administered in Vietnam as of Nov. 18, and more than 38.64 million people had been fully inoculated.
Focus
Vietnam has so far detected 108 Omicron cases returning from overseas in 10 localities, including 68 cases in Ho Chi Minh City and 27 cases in Quang Nam.