Meet the Baker and Bricklayer One Year After Winning Number 1 Energy Drink Prize
T.T.H., a baker in Ninh Thuan, is expanding her bakery and developing her business after receiving VND 100 million from Number 1 Energy Drink. Also winning the prize, T.V.T in Kim Son (Ninh Binh) now has more money to pay for his children's education and his medical treatment.
The baker who received VND 100 million after more than a month of being persuaded
T.T.H., owner of the 6th millionaire prize in Tan Hiep Phat's 2022 summer promotion, comes from Thuan Nam district (Ninh Thuan).
Arriving at Tan Hiep Phat's headquarters early in the morning to receive the prize, she said with a big smile on her bright face.
"I had to sneak out to catch a taxi here to receive the money. I was afraid that my mother-in-law would yell at me because she thought I was tricked. I left my house at 4 am and got here at 7. Now holding the money in my hand, I finally believe that I won the real prize and received real money."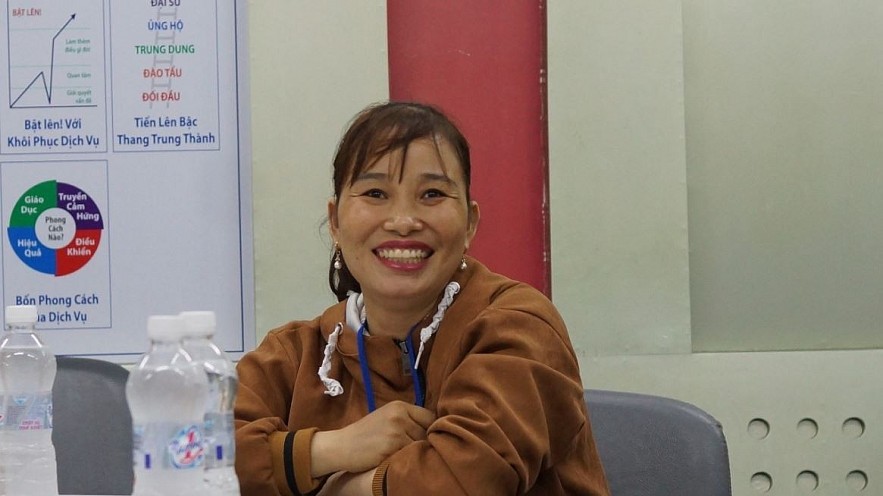 T.T.H. smiled brightly when receiving the award of VND 100 million at Tan Hiep Phat Company.
"I won the prize for drinking Zero Degree Green Tea. It's too hot in the bakery. My hometown only has a "specialty" that is strong wind and harsh sun, so my whole family drinks Zero Degree Green Tea to cool down every day. When I saw that there was a promotion, I tore off the label to join just for fun. After a while, someone kept calling me to inform me that I won VND 100 million. I didn't believe it because I was afraid of being scammed," she added.
It was a whole month-long effort of the program organizers to convince T.T.H. that she actually won the prize. "Someone had been calling me for more than a month, begging me to receive VND 100 million, which surprised me. Who on earth would call to convince me to receive money all the time? After more than a month of thinking, to make sure I did not get scammed, I said I would only receive the prize if I could go to the company to take it in cash."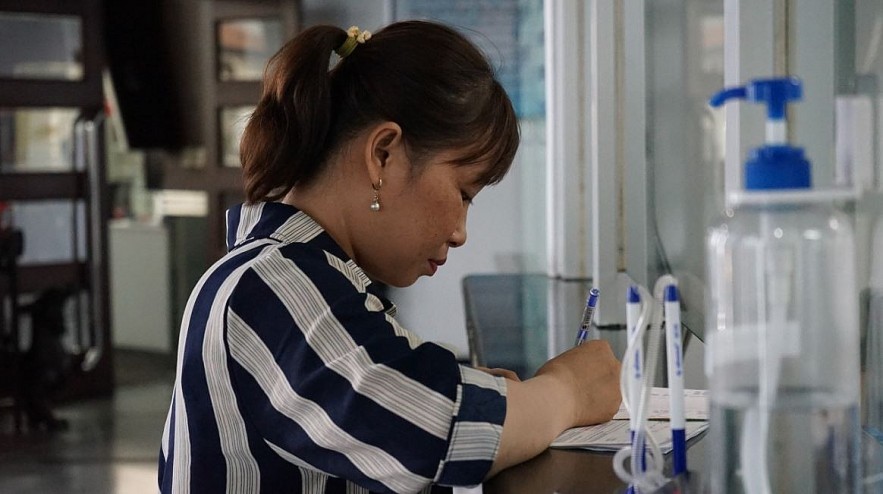 T.T.H. fills in the forms to receive a prize of VND 100 million at Tan Hiep Phat Company in the summer of 2022.
A year after receiving the prize from Tan Hiep Phat Company, T.T.H. has more capital to expand her bread kitchen and renovate her house. "Every day I provide thousands of loaves of bread to people in the area," she said about her current job.
"This year, the promotion will also be held. I wish everyone to have the same luck as me. I had a cool beverage, an opportunity to win a hundred million dong, have the capital to expand the business and change my life, all at the same time. I am thankful for the promotion, a lot," said T.T.H.
The bricklayer won VND 100 million to take care of his children's education
In the summer of 2022, T.V.T, a bricklayer in Tan Thanh commune, Kim Son, Ninh Binh became the 7th millionaire under Tan Hiep Phat's program.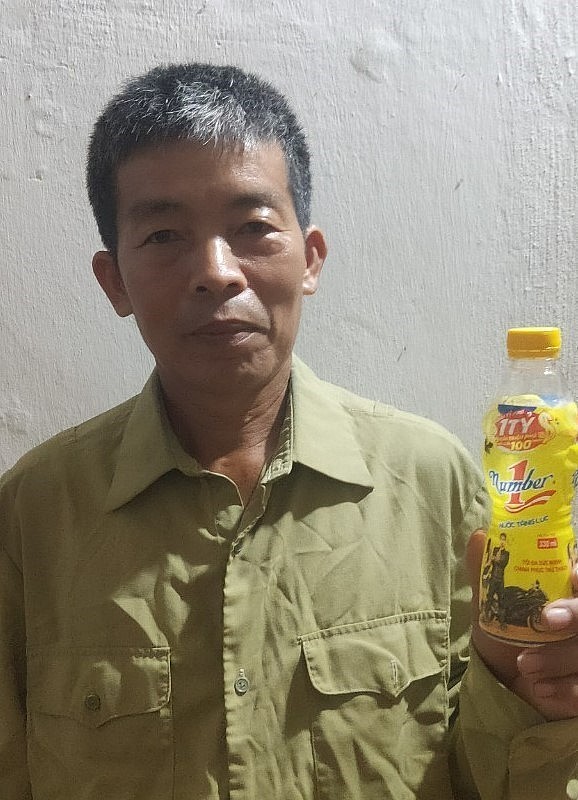 T.V.T, the 7th person to win VND 100 million from Tan Hiep Phat's 2022 summer promotion.
It took the organizers three days after the awarding livestream to contact T.V.T. He said that he usually did not receive many phone calls, so he did not notice that his phone need charging. T.V.T. and his wife are farmers. When they have free time, they assist constructors in the village to earn extra income to take care of their two children. Their first child is in the third year of university in Hanoi and the second one is in 8th grade.
"My wife and I work as bricklayers for 16-17 days per month, each earns VND 270.000 for a day. Working hard in the hot summer weather, we often quench our thirst with Number 1 Energy Drink to have more energy to work. Seeing that there was a promotion written on the bottle, I tore off the participating message on the label in the hope of winning a phone scratch card to save money on top-ups," said T.V.T.
After receiving VND 100 million for drinking Number 1 Energy Drink, he initially wanted to use part of the money to repair the house built 40 years ago. Instead, and spend all the money to pay for their children's education.
"I spend all my money to buy computers and equipment for my children to study better. I think my wife and I can stay in this run-down house for a few more years and use all the money for our children's education so that they can have a better future. I think spending it to provide my children a decent education is the best investment," said T.V.T.
When asked if he would participate in the upcoming summer promotion of Tan Hiep Phat, T.V.T smiled and said: "Yes, my family will definitely participate, if I will not win a big prize, I will at least win a phone card, save a little money. I wish everyone participating in this year's program will be lucky to win a 'millionaire', or a 'billionaire' prize to have the opportunity to change their lives for the better," he added.
Summer promotion is an annual program of Tan Hiep Phat Group. This year, the program will run from April 17, 2023, to July 15, 2023.
Consumers across the country only need to buy Dr. Thanh Herbal Tea, Zero Degree Green Tea, or Number 1 Energy Drink for refreshments, tear off the label and enter the code on the label in the following instruction: Send a message to the hotline 6020 or send the code to the products' Zalo or Facebook pages or website www.xengaytrunglien.com to receive thousands of prizes per day and 09 millionaire prizes of VND 100 million and 01 billionaire prize of VND 1 billion.
If you are already among more than 200,000 winners in 2022, then continue to test this year's luck. If not, let's drink Number 1 Energy Drink, Zero Degree Green Tea, or Dr Thanh Tea Herbal Tea to chase more than 200 thousand prizes that are waiting for you this summer.
Women Empowerment in Tan Hiep Phat

With more than 35% of its leaders being women and both successors being the founder's daughters, Tan Hiep Phat confirms its viewpoint of no gender ...