Meta Platforms Launches Climate Science Centre in Vietnam
Meta Platforms Inc. (formerly Facebook Inc.) has announced the establishment of climate science centres (CSCs) in Vietnam.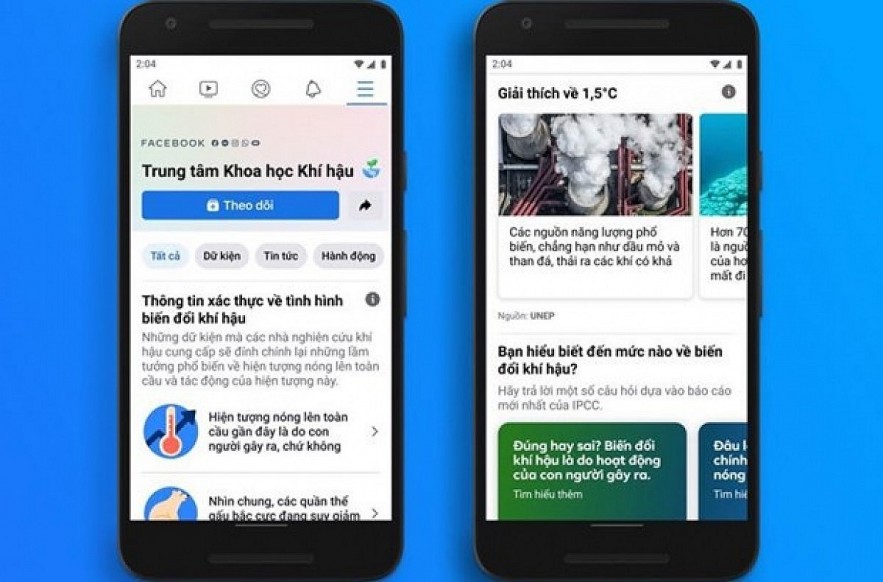 Meta Platforms sets up climate science centre in Vietnam. Photo: vneconomy.vn
Apart from Vietnam, Meta has set up CSCs in more than 30 countries in the Asia Pacific region, VOV reported.
The development of CSCs in more than 120 countries demonstrates the social network's commitment to connecting global communities with verified information resources from leading climate organisations in the world, as well as providing guidance on practical actions people can take in their daily lives to deal with climate change, Meta said.
Nick Clegg, Vice President of Global Affairs and Communications at Meta Platforms said the social network wishes to contribute to supporting people in accessing accurate and scientific information, and at the same time solve the problem of misinformation.
To solve issues related to climate change, Meta prioritizes a methodical approach on the basis of scientific awareness. In early 2021, the social network partnered with the Yale Programme on Climate Change Communications (YPCCC) to conduct a survey in 30 countries and territories to collect Facebook users' views on climate change.
Survey results in Vietnam show that more than 8 out of 10 respondents said that they want to know more information about climate change, and thought that Vietnam should use more renewable energy sources.
As many as 67% of Vietnamese respondents believed that mitigation of climate change will help improve economic growth and create more jobs. Meanwhile, about 9 out of 10 respondents share that they are "somewhat worried" or "very worried" about climate change.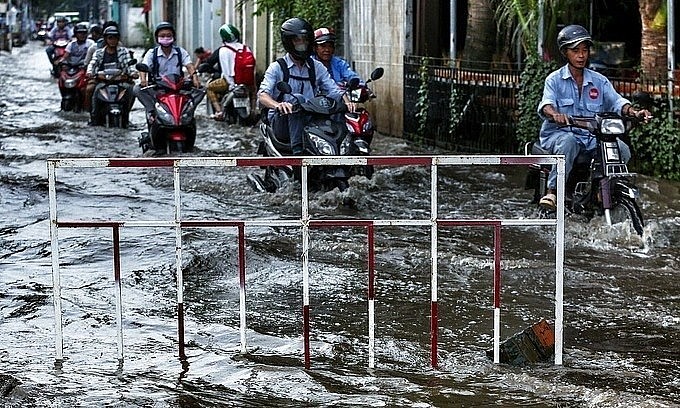 People drive through a flooded street due to high tides in District 2 of Ho Chi Minh City in October 2019. Photo: VnExpress
Vietnam ranked 13th among the world's most affected economies by extreme weather events between 2000 and 2019, according to the Global Climate Risk Index.
The report, cited by VnExpress, stated Vietnam stood at 15th in annual fatalities between 2000 and 2019, 11th in losses in purchasing power parties (PPP) and 47th in terms of both fatalities per 100,000 inhabitants and losses per GDP unit.
In 2019, Vietnam was the 38th most affected economy by climate change, according to the index. The nation was hit by eight tropical storms and four tropical depressions in 2019 that caused economic losses worth VND7 trillion ($302.6 million), Vietnam's Ministry of Agriculture and Rural Development reports.
Puerto Rico, Myanmar and Haiti were the most-affected countries during these two decades in the global climate risk index. They are followed by the Philippines, Mozambique and the Bahamas.
The countries most impacted by extreme weather events should consider the index as a warning sign that they are at risk of either frequent events or rare but extraordinary catastrophes, the report stated.
In the last twenty years, almost 480,000 people worldwide lost their lives due to more than 11,000 extreme weather events, with damages adding up to $2.56 trillion, it shows./.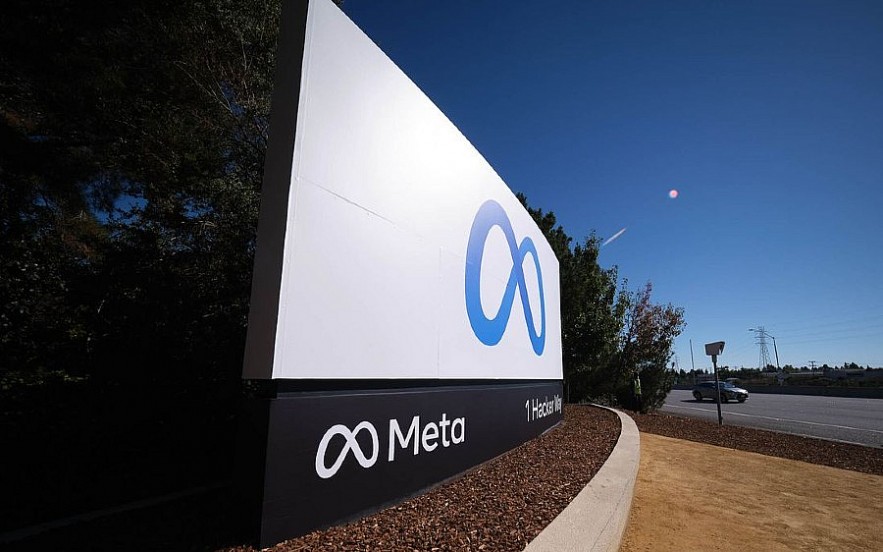 Since 2020, Mega has achieved net zero emissions for its global operations. Photo: Vietnam Insider
Since 2020, Mega has achieved net zero emissions for its global operations, and supported by 100% renewable energy. To achieve this, Mega said it reduced greenhouse gas emissions by 94% since 2017. Mega invests enough in wind and solar energy to cover all of its operations. And for the remaining emissions, Mega supports projects that remove emissions from the atmosphere.
Mega has also set ambitious goals for its suppliers to be net zero and for its operations to restore more water than it uses by 2030. Since its first wind contract in 2013, the group has contracted over seven gigawatts of new solar and wind energy, all in the same power grids where its data centers are located, which are some of the most efficient in the world. It is also implementing measures to reduce business travel emissions, and joining the Sustainable Aviation Buyers Alliance as a founding member to help accelerate the path to net zero air travel by driving investment in sustainable aviation fuel.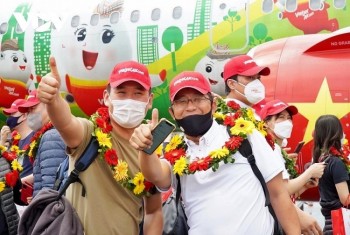 National
Vietnam News Today (Jan. 26): Vietnam reports 15,699 more domestic Covid-19 cases; Vietnam told to reopen to international tourism ahead of SEA Games 31; Germany donates four million more vaccine doses to Vietnam; Vietnam has opportunity to become global leader in renewable energy.