Mid-Autumn Festival 2021: Origin, Celebration, Notable Events And Differences
The Mid-autumn Festival, known as Tết Trung Thu, is one of the most significant holidays in the Vietnamese calendar every year.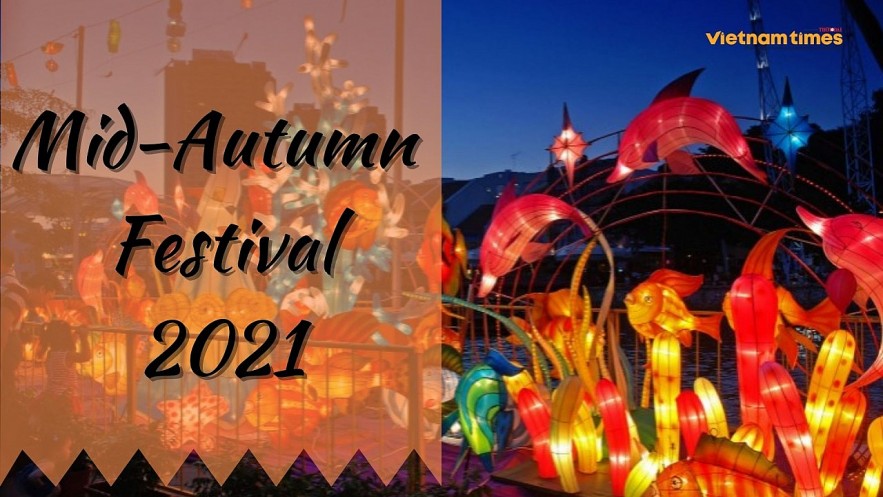 Mid-Autumn Festival 2021 in Vietnam. Photo: VNT.
The Mid-Autumn Festival known as "Tet Trung Thu" in Vietnam is one of the biggest holidays in our country and it is traditionally held on the 15th day of the 8th Lunar month. The Mid-Autumn Festival is one of the two most popular festivals in Vietnam, and has been significant to Vietnamese families for many years. Mid-Autumn Festival is a popular observance in Vietnam. It is not a public holiday, but in many parts of the country there are events activities and decorations to mark this special day on the annual calendar.
Mid-Autumn Festival 2021: Origins of Tết Trung Thu
This year, the date of the Mid-Autumn Festival occurs on September 21. The Mid-Autumn Festival is one of the two most popular festivals in Vietnam, and has been significant to Vietnamese families for many years.
While the Mid-autumn Festival originated in China and is celebrated in many Asian countries, the Vietnamese version has its own traditions and legends. As reported by vietnamtravel, our best-known tale is about a man named Cuội who hung on to a magical banyan tree as it floated up to the moon. We say that if you look closely at the full moon, you can see the shadow of a man sitting under a tree. Children parade lanterns in the streets the night of Mid-autumn Festival to help light the way to earth for Cuội from the moon.
Also, the celebration is a special season when farmers finish their work. So they can spend time with their loved ones and show their appreciation for abundant harvests and wish for another bountiful crop to come.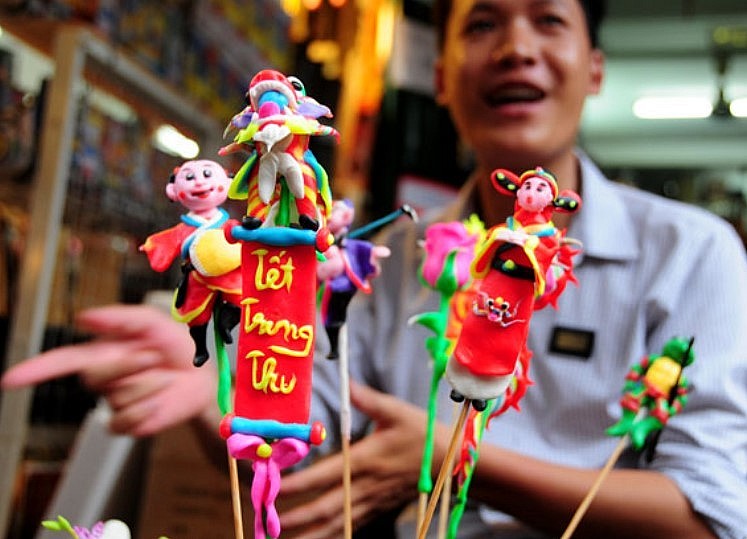 "Tò he" in Vietnam. Photo: saigonfoodtour.
According to Saigonfoodtour, it is said that originally, the Mid-Autumn Festival is a chance for parents to make up for lost time with their children after harvest season which was usually done by September, (Mid August in the Lunar calendar) and the parents were anxious to spend time with their children and do something special with them, as well as celebrate the harvest, after spending much time working hard and away from the family. It was held under the full moon, which represents fullness and prosperity of life.
Tet Trung Thu in Vietnam is very much like a combination of our Halloween and Thanksgiving in Westerner. Children parade on the streets, while singing and carrying colorful lanterns of different sizes. Some of the popular shapes include fishes, stars, butterflies and a lantern that spins when a candle is inserted, representing the earth circling the sun.
Mid-Autumn Festival 2021: How Vietnamese people celebrate
In the weeks before Tết Trung Thu, you will see and hear groups of lion dancers practicing on the streets. Mooncake stalls appear on every other corner, pop-ups with elaborately decorated boxes filled with a variety of mystery cakes and fillings. City districts team up with preparations of toys, lanterns and colourful masks in anticipation. The most popular Trung Thu lantern is a star made with red cellophane. You'll see these lanterns for sale on streets all over Vietnam in the days leading up to the festival.
Moon Cake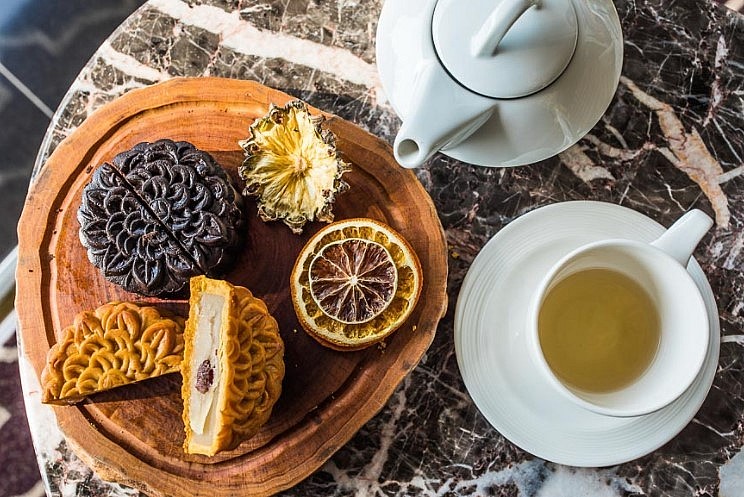 Photo: vietnam.travel.
It wouldn't be a fully truly Mid-Autumn festival without mooncakes Vietnamese people consider eating mooncake to be a way of celebrating the Full Moon Festival. The cake symbolizes the moon as well as completeness and wholeness. That's why mooncake is not only a food but also a meaningful gift to families and friends as a wish them of success and happiness.
There are hundreds of mooncake stalls in the street selling variety collections of cakes with different fillings and flavors. The two common types of mooncake are snow skin called "bánh dẻo" (soft, sticky texture) and roasted golden coast called "bánh nướng" (baked cakes with a thick wheat crust). People normally enjoy eating mooncakes with green tea or lotus tea. And every member of the family is gathering around to watch the full moon.
Lanterns
Photo: vietnamtourfun.
It's also a tradition for the Vietnamese to light lanterns during the Mid-Autumn night. A legend went that a carp spirit once killed many during Mid-Autumn night, so that no household dared go outside that night.
Later, a wise man thought of an idea. He made a carp-shaped lantern with a stick in its belly, and then advised people to walk at night with a carp lantern in hand. The carp spirit was terrified by the light from the carp-shaped lanterns, and dared not go out to kill at Mid-Autumn since then.
Now children hold various kinds of paper lanterns and play in the moonlight while eating moon cakes during the evening of Mid-Autumn Day, vietravel reported.
If you are in Hanoi, take a stroll to Hang Ma Street to immerse yourself in various and colorful decorations; lanterns, toys and the joyous atmosphere. In Hoi An, locals will turn off the light on the day of the full moon and celebrate with floating lanterns on Thu Bon Rivers, what creates a magical image for the ancient town at night.
Lion dancing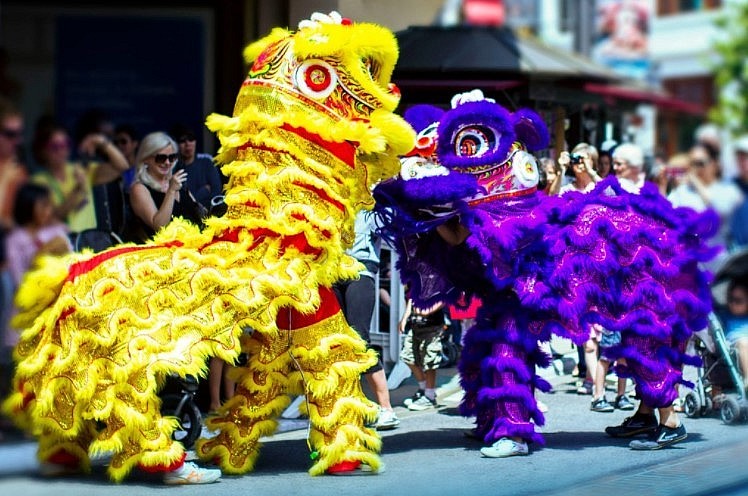 Lions dance or unicorn dances at Mid-autumn festival. Photo: saigonfoodtour.
Lion dancing or múa lân is an essential element of the Mid-autumn festivities. Groups of children gather, each carrying a red lantern. Everyone sings along to the cheerful Mid-autumn Festival songs memorized since childhood. Excitement peaks when drumbeats ring out from down the dark street. The smaller kids shrink back and the older ones run forward as a mythical lion bursts into their courtyard, its giant head and sinuous body borne by a team of acrobatic dancers.
With its gaping mouth and protruding eyes, the lion is both comical and formidable. The dancers lunge closer to the crowd, making the kids scream and laugh at their antics. Under the light of the full moon, the lion's red sequined body sparkles as it dances. For Vietnamese children, not much else beats this spectacular performance on the night of Trung Thu.
Mid-Autumn Festival 2021: Notable events and differences
A virtual exhibition hosted by Thang Long-Hanoi Heritage Conservation Centre
The Thang Long-Hanoi Heritage Conservation Centre will hold a virtual exhibition on the 2021 Mid-Autumn Festival starting September 19. According to vietnamplus, the event will be accessible at two websites hoangthanhthanglong.vn and trungbayonline.hoangthanhthanglong.vn.
It will feature images and stories related to the annual festival, which is considered an exclusive traditional occasion for children.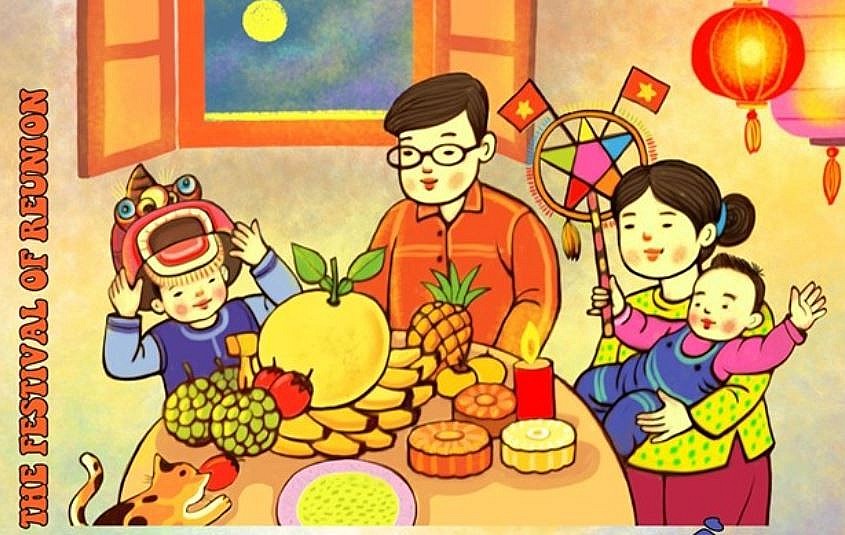 The Thang Long-Hanoi Heritage Conservation Centre has organized a virtual exhibition on the 2021 Mid-Autumn Festival starting September 19 (Photo courtesy of the organisers)
The Thang Long-Hanoi Heritage Conservation Centre has organized a virtual exhibition on the 2021 Mid-Autumn Festival starting September 19 (Photo courtesy of the organisers)
Traditional trays of offerings and activities held during the Mid-Autumn Festival of Hanoi people in the 20th century will be re-enacted through paintings and memoirs penned by French researcher Henri Oger and well-known Vietnamese writers such as Nguyen Tuan, Phan Ke Binh and Vu Bang. Folk toys restored by artisans in Hanoi's Old Quarter and traditional craft villages will be displayed.
The exhibition also comprises short videos touching on numerous topics, such as the Mid-Autumn Festival amid COVID-19, presentation of the tray of offerings of Hanoians, and the art of making traditional toys for the festival, with the participation of historian Le Van Lan and artisan Quach Thi Bac.
Two online exhibitions for children
According to vietnamnews, two online exhibitions for children are scheduled to run between September 20 and December 31, giving children a special treat particularly during the upcoming Mid-Autumn Festival.
Co-organised by the The Department of Fine Arts, Photography and Exhibition at the Ministry of Culture, Sports and Tourism; the Vietnam Exhibition Centre for Culture and Arts; and other units, the events will run on the websites http://ape.gov.vn and http://trienlamvhnt.vn.
Children play with traditional toys on Mid-Autumn Festival (Photo: VNA)
One of them is the biennial children's fine arts award exhibition targeting children aged between 5 and 15. On display will be 409 works out of more than 5,000 submissions to the event this year.The works reflect children's love for their home country and families, their daily life, and their thoughts on environmental protection and COVID-19 prevention, among other ideas.
The second exhibition, themed Mid-Autumn Festival through children's eyes, will feature documents and images showing late President Ho Chi Minh's love for children.
It will also introduce traditional Vietnamese toys for the occasion and traditional activities taking place in a number of Asian nations including Japan, the Republic of Korea, Malaysia, and Singapore. At the exhibition, there will be an innovation space for children to experience and learn about the festival, talk with a Vietnamese AI robot, and try smart toys
No glow on Hanoi's lantern street
The air of festivity that typically characterizes Hanoi's Hang Ma Street at this time, festooned with lanterns and other accoutrements for the Mid-Autumn Festival, is markedly absent.
According to vnexpress, since Hoan Kiem District is one among nine Hanoi districts deemed at high risk for Covid-19 infections, social distancing measures are still in place.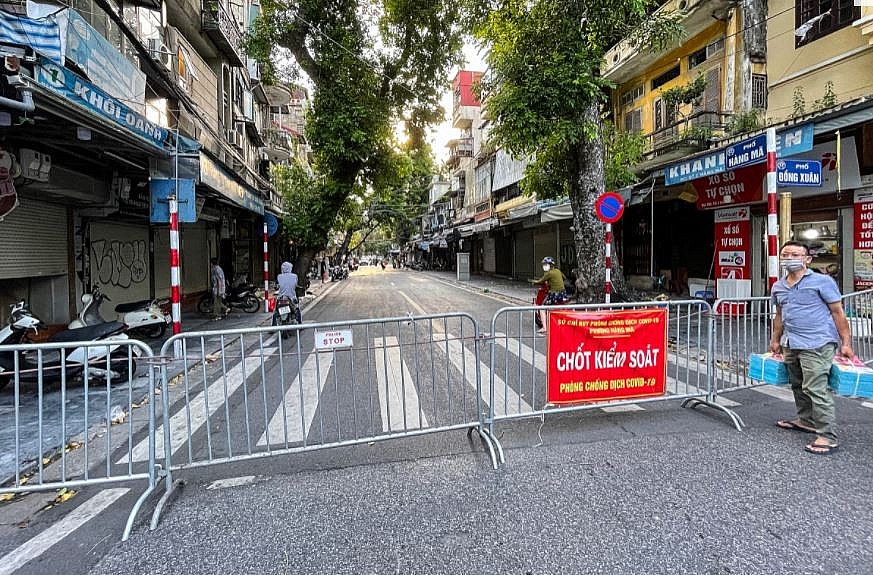 Photo: vnexpress.
On Hang Ma Street, a Covid-19 checkpoint was erected Saturday to prevent large gatherings of people shopping for the Mid-Autumn Festival, which is also known as Children's Tet in Vietnam. Along the streets, nearly all shops are closed. The capital has recorded 4,157 Covid-19 cases in the fourth wave starting April 27. Police officers visit the street and remind shopkeepers that the social distancing order is still in force.
Besides, people line up to shop for mooncakes on Hanoi's Thuy Khue Street in Ba Dinh District. Local police have cooperated with shops to sell the mooncakes in the spacious premises of the Chu Van An Primary School, ensuring that people observe social distancing rules.
People line up to shop for mooncakes on Hanoi's Thuy Khue Street in Ba Dinh District. Photo: vnexpress.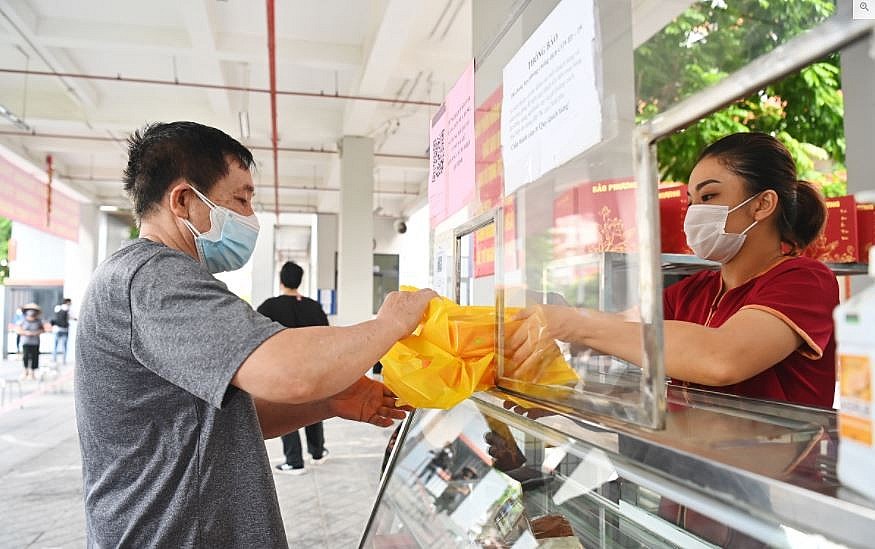 A man receives a number tag to await his turn to buy the cakes. Each person may only buy a maximum of two boxes. Photo: vnexpress.
This year's Mid-Autumn Festival falls next Tuesday. In Hanoi's 19 districts that are classified as low-risk areas, shoppers have begun to buy products in preparation for the festival.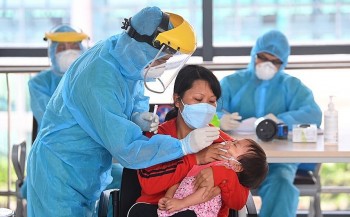 National
Nearly 72 million vaccine doses have been administered nationwide, with 20.7 million people getting their second shot.