Million Urged to Seek Shelter as Floods and Landslides Hit Japan
More than a million people have been urged to seek shelter as torrential rain triggered floods and landslides in western Japan, leaving at least one dead and two missing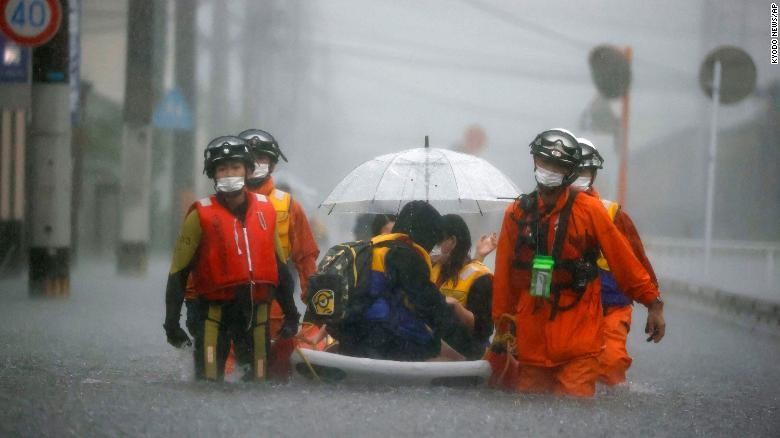 Firefighters rescue stranded residents on a boat in Kurume, Fukuoka, Japan, on August 14. Photo: CNN
According to Guardian, authorities in Hiroshima and the northern part of Kyushu issued their highest evacuation alert as the weather agency reported unprecedented levels of rain in the area on Saturday.
The strongest evacuation warning, Level 5, was issued on Saturday to more than a million people across the prefectures of Saga, Nagasaki, Fukuoka, and Hiroshima, according to public broadcaster NHK.
The next-strongest warning, Level 4, was issued to 17 other prefectures, affecting more than 4 million residents, CNN reported.
The country's meteorological authority, which issued the warnings, said in a statement that the rain front could stay over the country for about a week, according to Reuters.
Under the non-compulsory alert, about 1.4 million residents have been asked to leave their homes immediately, public broadcaster NHK reported.
Photographs from hard-hit provinces show residents wading through thigh-high water in flooded streets, carrying children and belongings. Firefighters and other emergency workers were also rescuing stranded residents, loading them onto inflatable boats.
TV footage showed rescuers towing residents through submerged streets on a lifeboat in the city of Kurume in Fukuoka, while a muddy stream began to overflow in neighbouring Saga prefecture.
Water levels are still rising in several rivers, threatening to overflow onto the surrounding roads.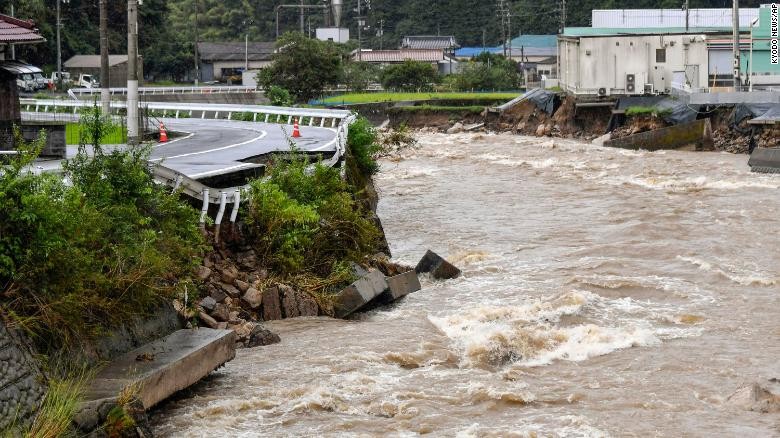 A road damaged by the swollen Suzuhari river in heavy rain in Hiroshima, Japan, on August 13. Photo: CNN
Some cities on the southern island of Kuyshu recorded more than 40 millimeters (about 1.6 inches) of water in one hour on Saturday. Up to 250 millimeters (9.8 inches) could fall on the island in the 24 hours through Sunday morning, national weather officials say.
Adachi Yushi, the head of weather monitoring at the Meteorological Agency, called the rain "unprecedented" and asked people to follow evacuation orders, according to NHK.
Prime Minister Yoshihide Suga tweeted on Friday that he had set up a disaster control center to coordinate with local and prefecture authorities.
A 59-year-old woman died and two of her family members were missing after a landslide destroyed two houses in Unzen, Nagasaki prefecture, a local official said.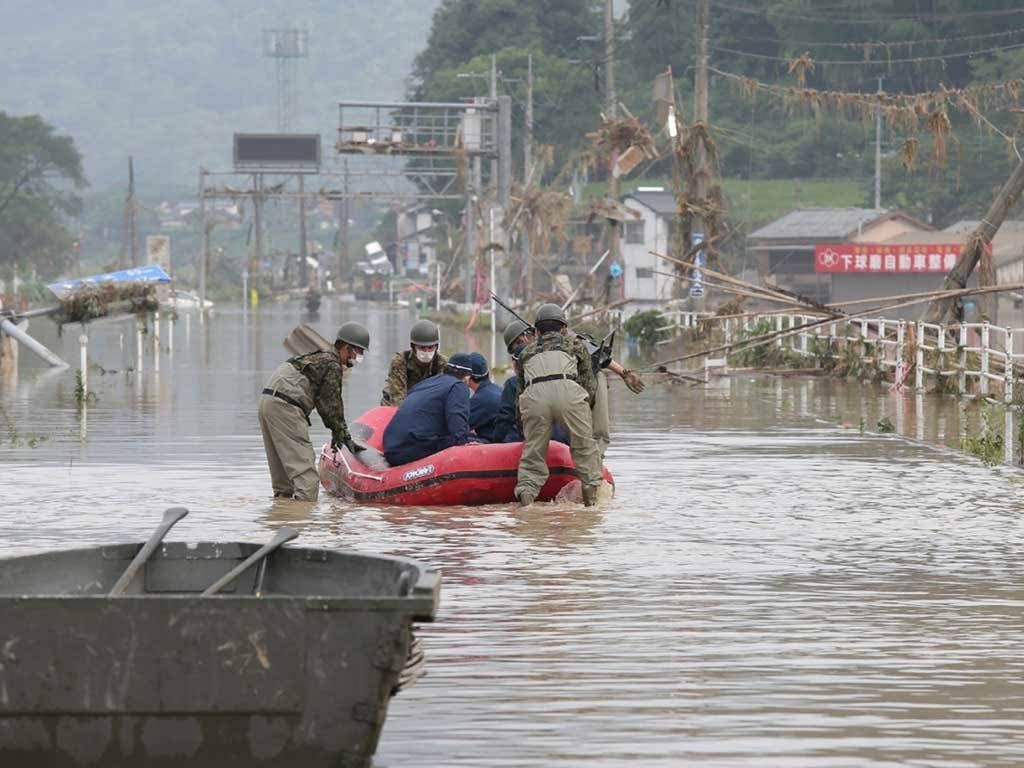 Photo: B Recorder
"More than 150 troops, police and firefighters were dispatched to the site for rescue operations," Takumi Kumasaki told AFP. "They are carefully searching for the missing residents, while watching out for further mudslides as the heavy rain continues."
Downpours are forecast for several more days over a large swathe of the country. Scientists say the climate crisis is intensifying the risk of heavy rain in Japan and elsewhere, because a warmer atmosphere holds more water.
"Unprecedented levels of heavy rain have been observed," Yushi Adachi, a meteorological agency official, told reporters in Tokyo. "It's highly likely that some kind of disaster has already occurred. The maximum alert is needed even in areas where risks of landslides and flooding are usually not so high."
Downpours last month caused a devastating landslide in the central resort town of Atami that killed 23 people, with four still missing.
In 2018, more than 200 people died as floods inundated western Japan during the country's annual rainy season.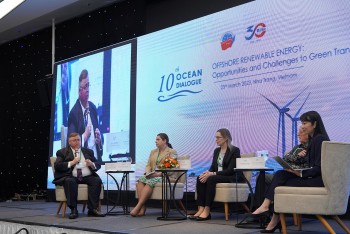 Seas and islands
Vietnam and other coastal countries in the region have both opportunities and challenges in developing offshore renewable energy, according to the 10th Ocean Dialogue held in Khanh Hoa province on Thursday.