Europe Floods: Germany Mounts Huge Rescue Effort, Dozens Killed After Record Rain
The worst flooding in decades to wreck havoc in Germany and parts of Belgium has killed at least 120 people, with rescue effort for hundred more continue, which local officials have blamed climate change.
Germany mounts huge rescue effort after floods leave dozens dead and many more missing
A large-scale rescue effort was underway in Germany Friday after the heaviest rainfall in a century caused flash floods to devastate parts of Western Europe, leaving dozens dead and many more unaccounted for.
Fast moving torrents of water inundated entire towns and villages in western and southern Germany, causing buildings to collapse and leaving residents stranded, police said Thursday. At least 55 people have died in the severe flooding but authorities said that number is expected to rise, according to CNN.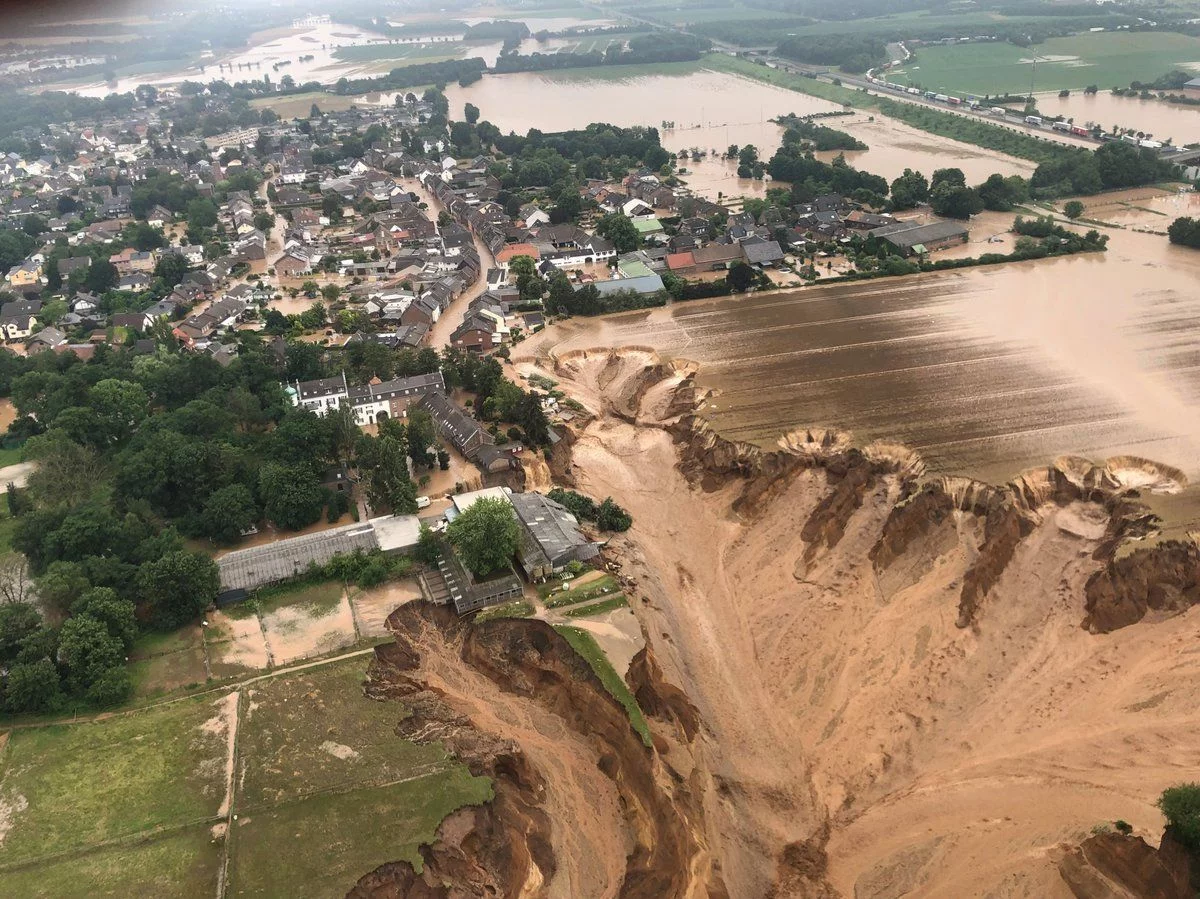 Flooding has led to the collapse of an entire field in Rhein-Erft-Kreis, a district in western Germany. Officials have said a warming climate is at least partially to blame for floods. Rhein-Erft-Kreis District/Storyful
Germany is worst hit with 49 dead, while six people died in Belgium. Luxembourg and the Netherlands are also affected.
In Germany's worst hit Rhineland-Palatinate state, 1,300 people are "assumed" missing in the district of Ahrweiler, the local government said.
"In some areas we have not seen this much rainfall in 100 years," Andreas Friedrich, a German weather service spokesman, told CNN. He added that "in some areas we've seen more than double the amount of rainfall which has caused flooding and unfortunately some building structures to collapse."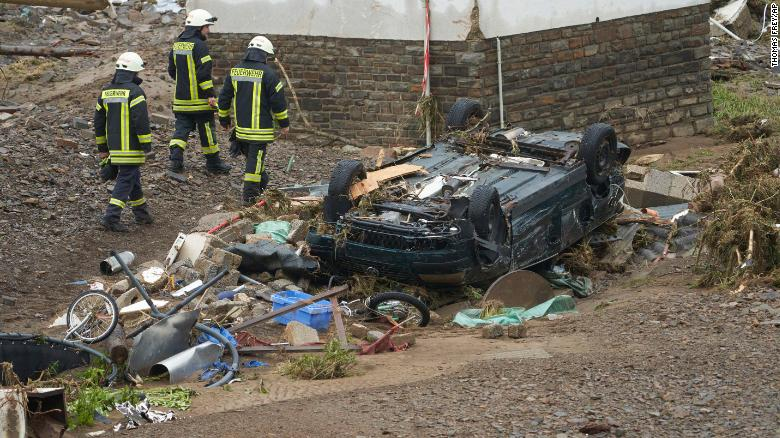 Deadly flooding in western Europe Firefighters walk past a car that was damaged by flooding in Schuld, Germany. Photo: CNN
Along with Rhineland-Palatinate, the German regions of North Rhine-Westphalia and Saarland were worst affected, Friedrich added.
Extreme rainfall totals were observed Wednesday into Thursday morning across much of western Germany and the Benelux region, with North Rhine-Westphalia and Rhineland-Palatinate seeing the highest rainfall totals, according to CNN meteorologist Brandon Miller.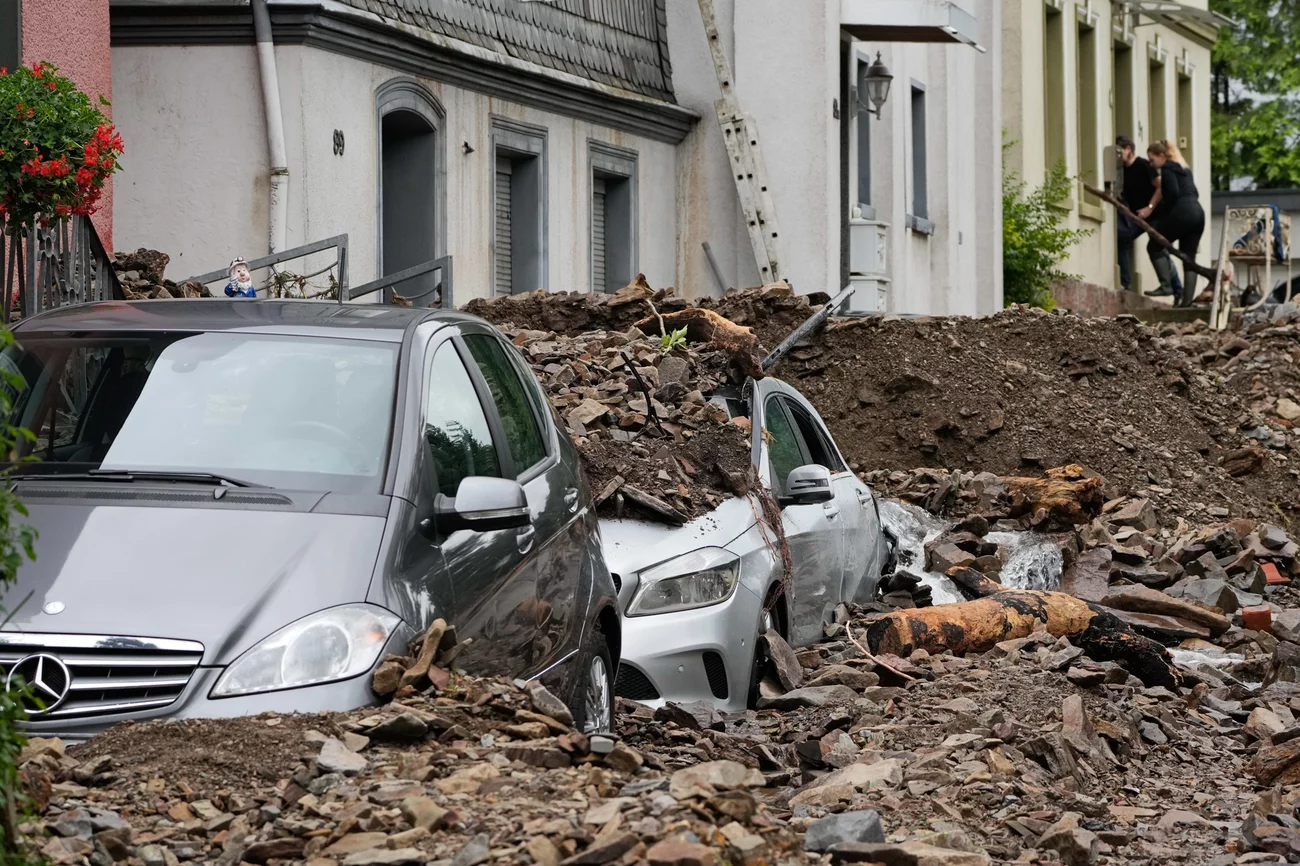 Cars are covered with debris brought on by flooding from a nearby river on Thursday in Hagen, Germany. Martin Meissner/AP
Widespread swaths of these states saw 24-hour rainfall totals between 100 and 150 millimeters (3.9-5.9 inches), which represent more than a month's worth of rainfall in this region.
Cologne recorded 154 millimeters (6 inches) of rainfall in only 24 hours ending Thursday morning, which is nearly double its monthly average for July of 87 millimeters (3.45 inches).
Locally heavier downpours resulted in extreme flash flooding. In Reifferscheid, an incredible 207 millimeters (8.1 inches) of rain fell in only nine hours, according to the European Severe Weather Database.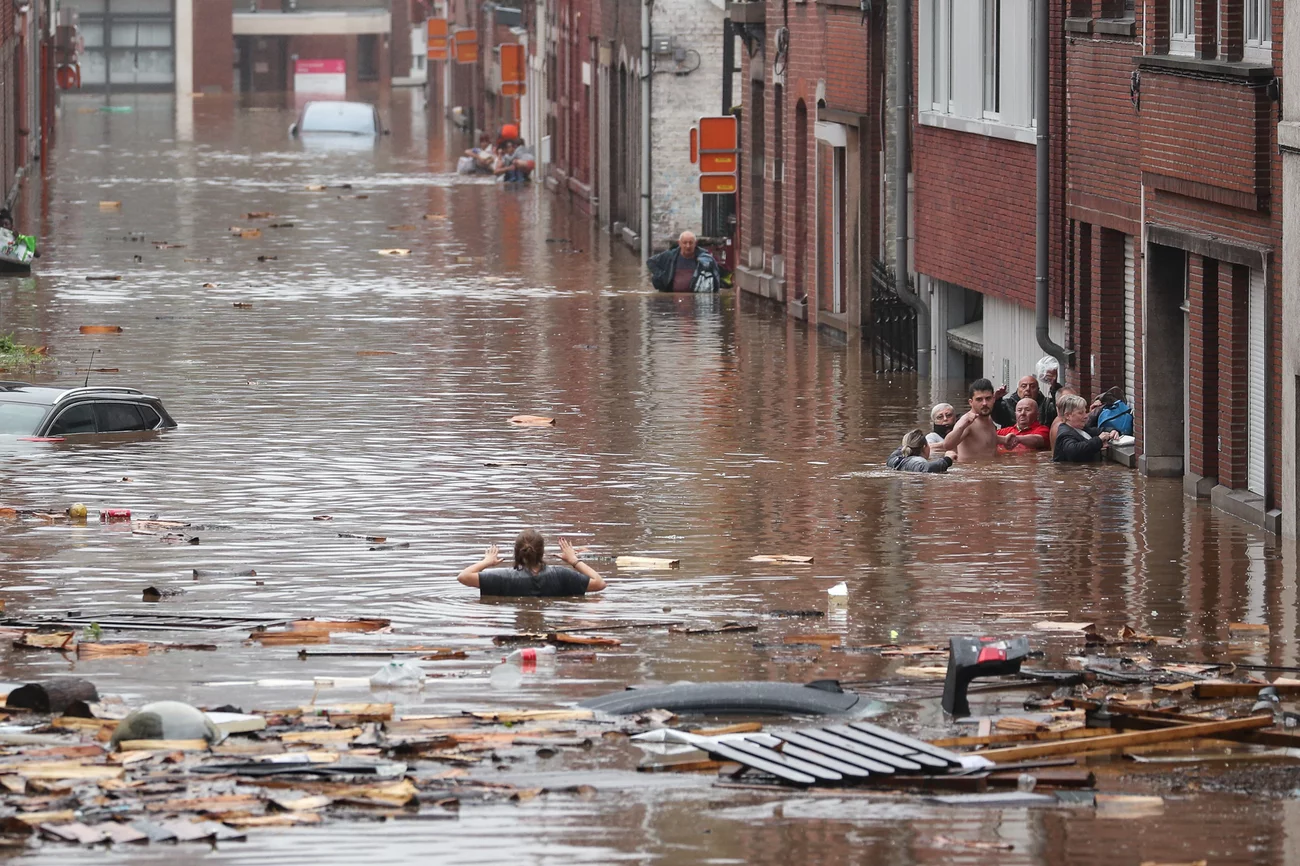 A woman tries to move in a flooded street following heavy rains Thursday in Liège, Belgium. Bruno Fahy/Belga/AFP via Getty Images
Dozens killed after record rain in Germany and Belgium
At least 70 people have died in Germany and Belgium after record rainfall caused rivers to burst their banks.
Most of the victims were in Germany, but at least 11 have died in Belgium, with more reported missing.
The German states of Rhineland-Palatinate and North Rhine-Westphalia were worst hit, but the Netherlands is also badly affected.
Deadly flooding in western Europe People use rafts to evacuate after the Meuse River broke its banks during heavy flooding in Liege, Belgium. Photo: CNN
More heavy rain is forecast across the region on Friday, while local officials have blamed climate change.
Armin Laschet, the premier of North Rhine-Westphalia, blamed the extreme weather on global warming during a visit to a hard-hit area.
"We will be faced with such events over and over, and that means we need to speed up climate protection measures... because climate change isn't confined to one state," he said.
Experts say that climate change is expected to increase the frequency of extreme weather events, but linking any single event to global warming is complicated.
German Chancellor Angela Merkel, who is in the US ahead of a meeting with President Joe Biden, called the flooding a "catastrophe" and said she was "grieving those who have lost their lives".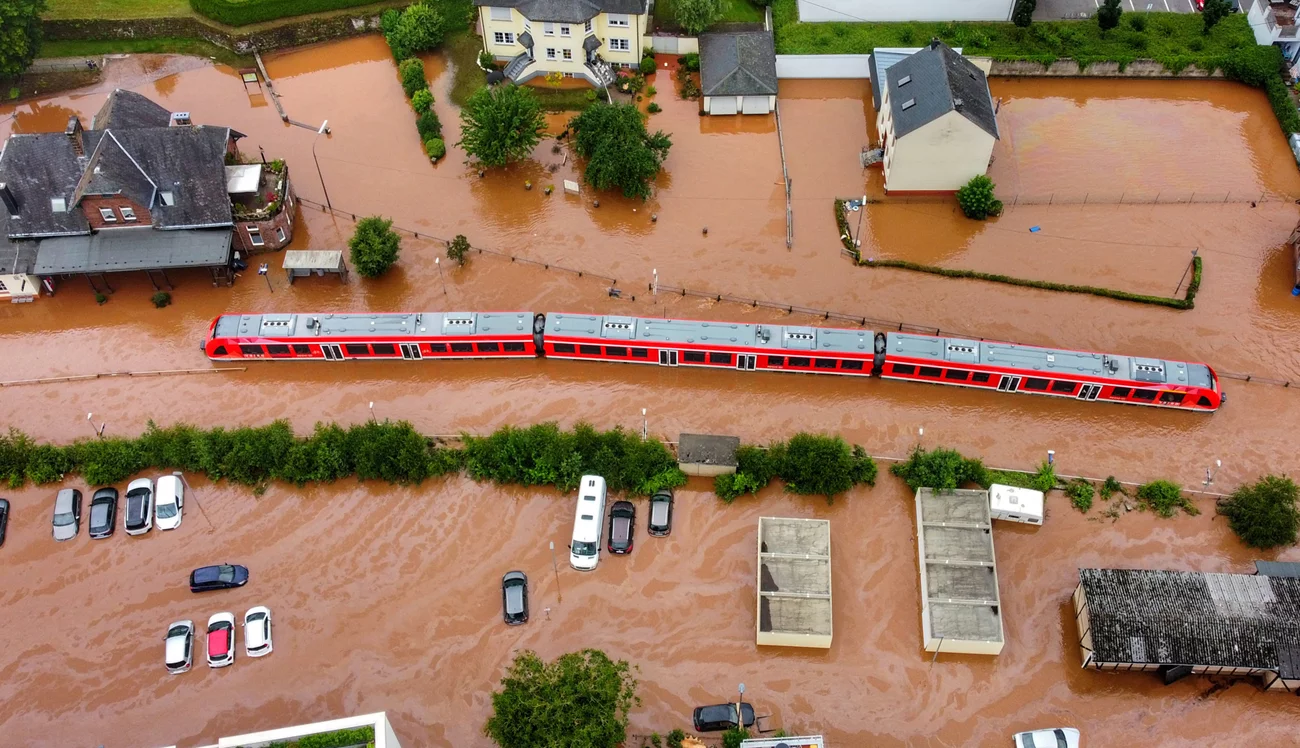 A regional train is stuck in floodwaters at a station in Kordel, Germany. Power went out, and the train came to a halt on Wednesday. Sebastian Schmitt/Picture Alliance/Getty Images
"My thoughts are with you, and you can trust that all forces of our government - federal, regional and community - collectively will do everything under the most difficult conditions to save lives, alleviate dangers and to relieve distress."
In Germany, police helicopters and hundreds of soldiers have been deployed to affected areas to help stranded residents, BBC reported.
Dozens of people waited on rooftops to be rescued.
Schools have been closed around the west of Germany, while transport links have been severely disrupted.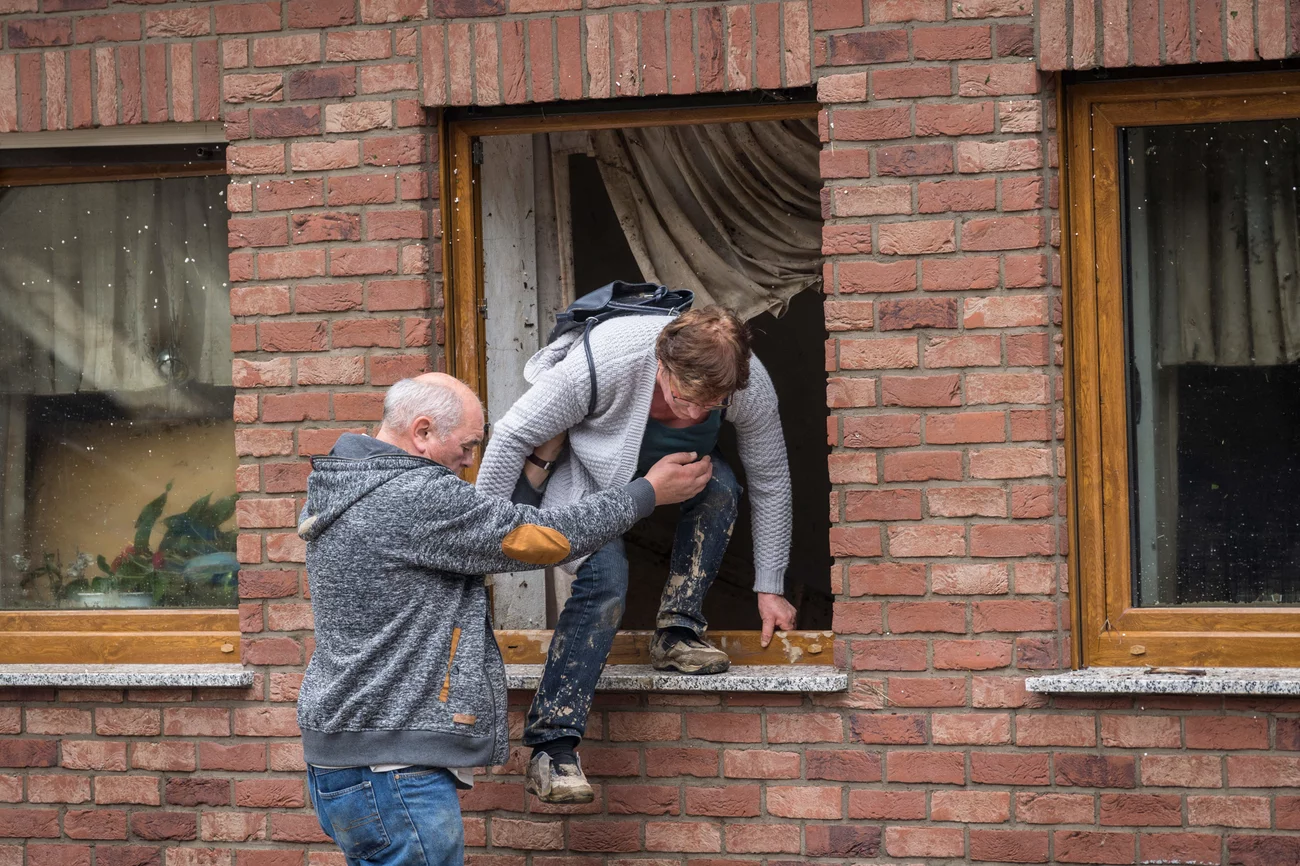 A man helps a woman climb out of a window Thursday following floods in Schuld, Germany. Bernd Lauter /AFP via Getty Images
About 25 houses are in danger of collapsing in the district of Schuld bei Adenau in the mountainous Eifel region, where a state of emergency has been declared, according to German broadcaster SWR.
It said some houses had been completely cut-off and could no longer be reached by boat.
In Belgium, dramatic footage of the floods showed cars being swept away along a street in the city of Verviers.
Residents of Liège, Belgium's third-largest urban area after Brussels and Antwerp, were ordered to evacuate on Thursday. Local officials said those unable to leave should move to the upper floors of their buildings.
The Meuse river, which flows through the city, stabilised on Friday morning, with small overflows in some areas.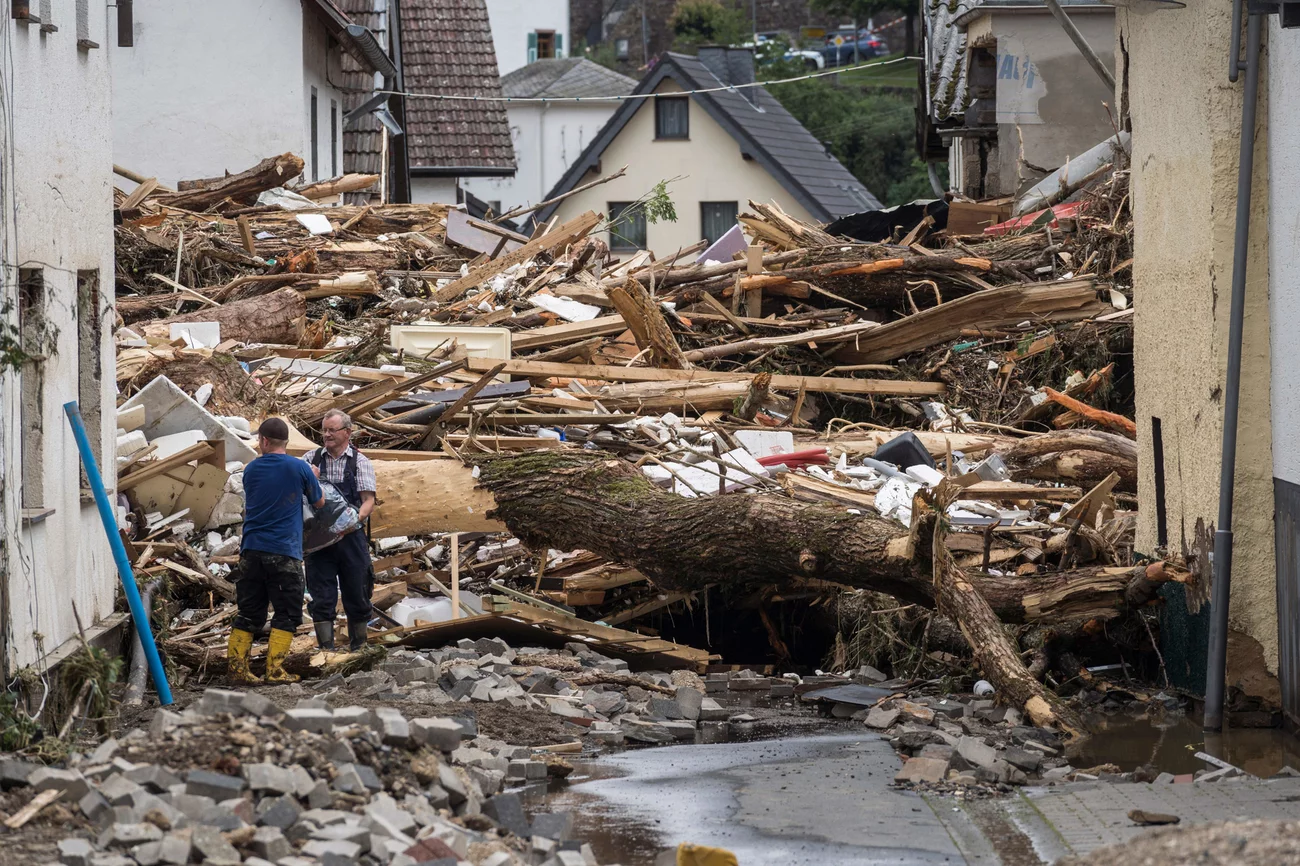 Two men try to secure goods near houses destroyed by floods Thursday in Schuld. Bernd Lauter/AFP via Getty Images
Dutch city calls for two neighborhoods to evacuate
The city of Maastricht in the Netherlands has called on residents of the Heugem and Randwyck districts to leave their homes "as soon as possible" due to rising water in the river Meuse.
"The water in the Meuse is rising rapidly. We expect it to cross the quays at Randwyck/Heugem around 3 a.m.," a news release from the city council of Maastricht said. "This means water will end up in the streets and homes."
According to the Dutch statistics office, the population of the two neighborhoods is more than 9,000.
With climate change comes warmer air holding more water vapor
The extreme rainfall was the result of a slow-moving area of low pressure, which allowed a conveyor belt of warm and moist air to fuel powerful thunderstorms and bring heavy, long-lasting rainfall, according to the German national weather service, DWD.
Intense rainfall rates are becoming more common in the warming climate, as warmer air can hold more water vapor that is available to fall as rain.
"These kind of high-energy, sudden summer torrents of rain are exactly what we expect in our rapidly heating climate," according to Hannah Cloke, a professor of hydrology at the University of Reading.
"The fact that other parts of the northern hemisphere are currently suffering record-breaking heatwaves and fires should serve as a reminder of just how much more dangerous our weather could become in an ever-warmer world," Cloke said.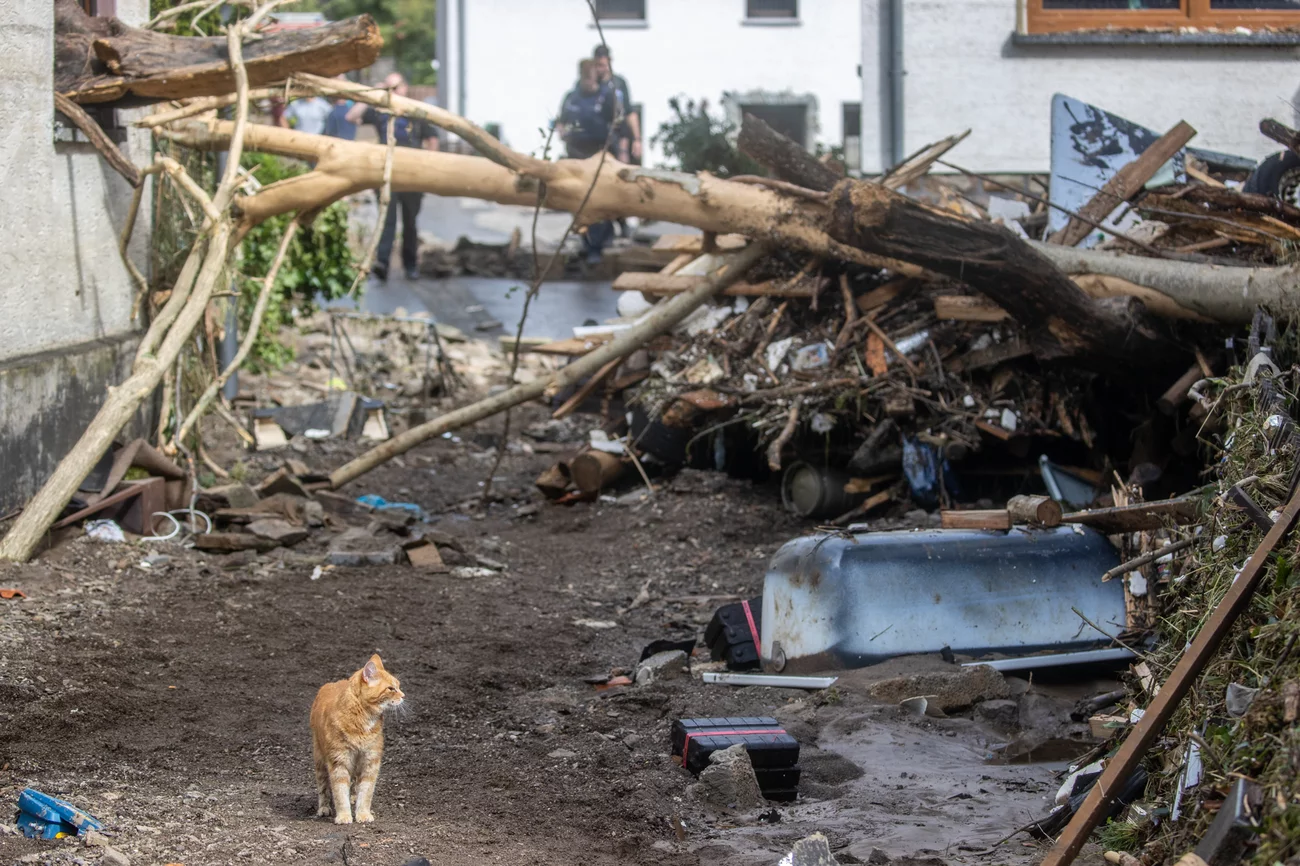 Debris lies in front of a house Thursday in Schuld in western Germany. Christoph Reichwein/Picture Alliance/Getty Images