Europe Floods Update: Flooding Prompts Mass Evacuations, At Least 170 People Dead
Germany and neighboring countries were evacuating new areas hit or threatened by the region's worst flooding in decades, and at least 170 people have now died following "historic" flooding across Germany and Belgium.
Flooding Prompts Mass Evacuations in Germany, Belgium
Germany and neighboring countries were evacuating new areas hit or threatened by the region's worst flooding in decades as the death toll across that part of Europe rose to around 170 on Saturday, with rescuers searching for hundreds still missing.
Rainfall subsided at the start of the weekend, but authorities warned the flooding could continue for several more days before the water retreated. Farmland was devastated across the region.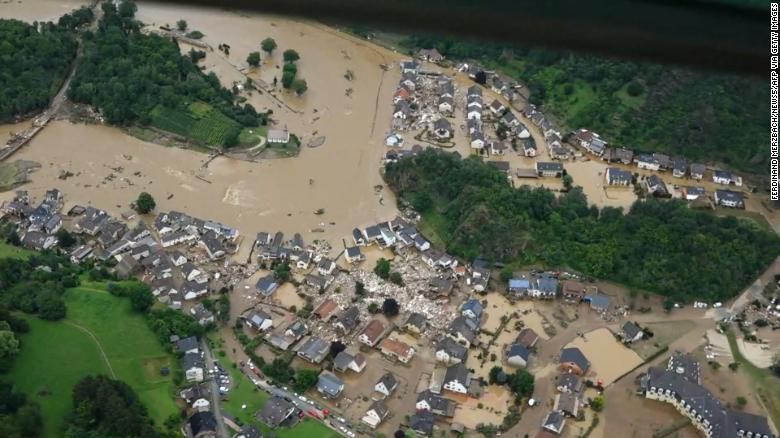 Photo: CNN
More bodies were being recovered from flooded houses, building rubble and cars crushed by the torrent—meaning the final death toll is likely to be greater, several German officials said.
An entire district in the West German city of Wassenberg was evacuated after a local dam burst due to floodwaters on Friday and Saturday night.
The nearby town of Erfstadt, near Cologne, was evacuated on Friday after a landslide from a nearby mine created a large crater that quickly reached the edge of the settlement.
Towns and villages below the Steinbach Dam were evacuated for fear that the water pressure might collapse the barrier.
In Belgium, rescue and evacuation efforts were focused on the city of Lige and its surrounding areas, while Dutch troops helped build dykes around Roermond using sandbags and military vehicles.
A man and a woman stand with a wheelbarrow as they look at the destroyed pavement of the pedestrian zone in Bad Muenstereifel, western Germany, on July 16, 2021. INA FASSBENDER/AFP VIA GETTY IMAGES
Hundreds of homes have collapsed or been severely damaged in the West German states of Rhineland-Palatinate and North Rhine-Westphalia, Belgium's Wallonia region and the Dutch province of Limburg. Parts of Luxembourg were also flooded.
Power and water supplies as well as telecommunications were cut off in many of the affected areas and parts of major roads and railways were razed by massive amounts of flood water, which some residents described to German media as World War II It was described as the worst destruction in its area since. .
Natural gas pipelines were shut down, affecting homes that depended on the gas for cooking and hot water.
Divers search for bodies as German town counts cost of unprecedented deluge
Cars and lorries were visible in the water that covered the road but after a dry, hot day the level had fallen enough for a search and clearance operation to begin.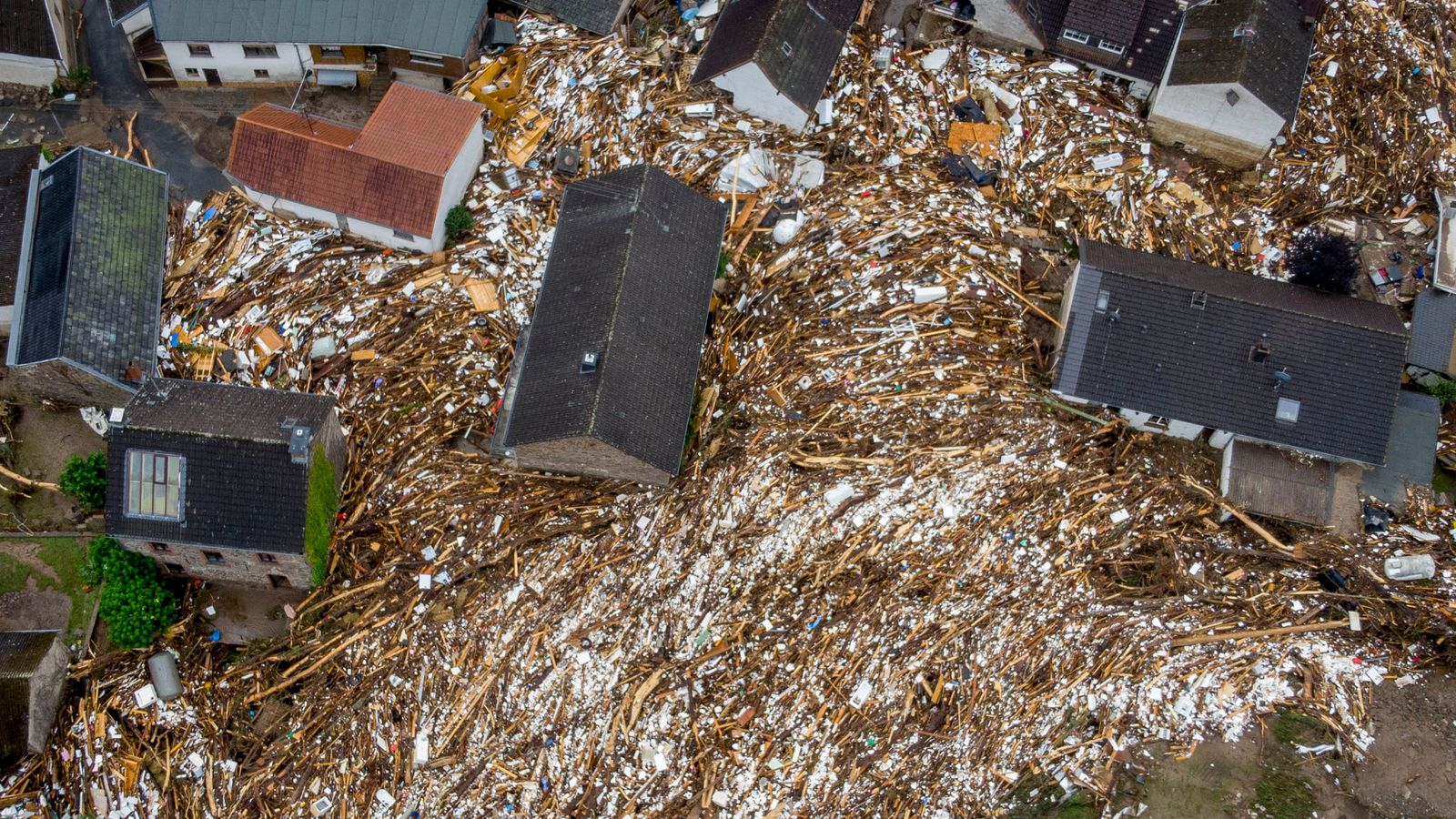 Trees and other detritus were left between houses in Schuld, Germany. Pic: Associated Press
Divers moved around the vehicles, looking inside for some of the hundreds still missing in Germany.
The fear was some people may have died in their vehicles when floodwaters hit Erftstadt.
Much of the town - where some houses collapsed during the floods - is still a no-go area for residents.
A vast sinkhole has appeared in one neighbourhood, making it too dangerous for people to return to properties they were forced to leave.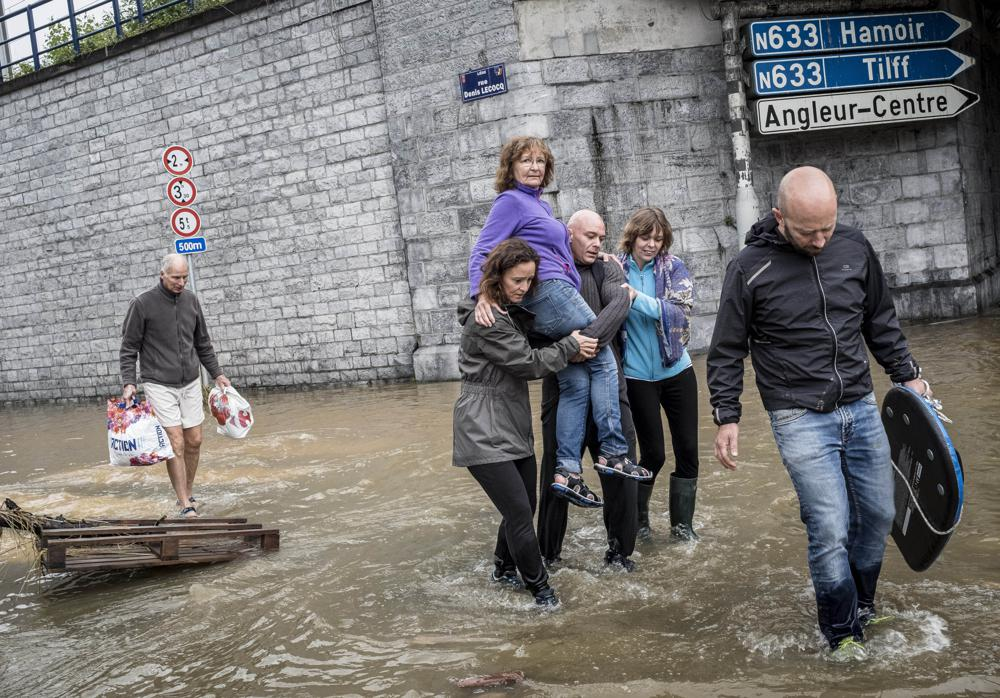 A woman is carried through a flooded street in Angleur, Province of Liege, Belgium, Friday July 16, 2021. (AP Photo/Valentin Bianchi)
Momika Preiter, who is in line with her daughter, says the floodwater came in violently. She wanted to stay upstairs but fire crews knocked on her door to say 'get out, your life is at risk'.
As they wait for their emergency money, staff from a local restaurant hand out free pizzas.
So many are still unaccounted for in western Germany and only now as the waters recede can intensive searches begin of areas that were submerged.
In one flooded German town, the ground collapsed under family homes. In another, floodwaters swept through an assisted living center, killing 12.
Rescue workers across Germany and Belgium rushed Friday to prevent more deaths from some of the Continent's worst flooding in years as the number of dead surpassed 125 and the search went on for hundreds of missing people.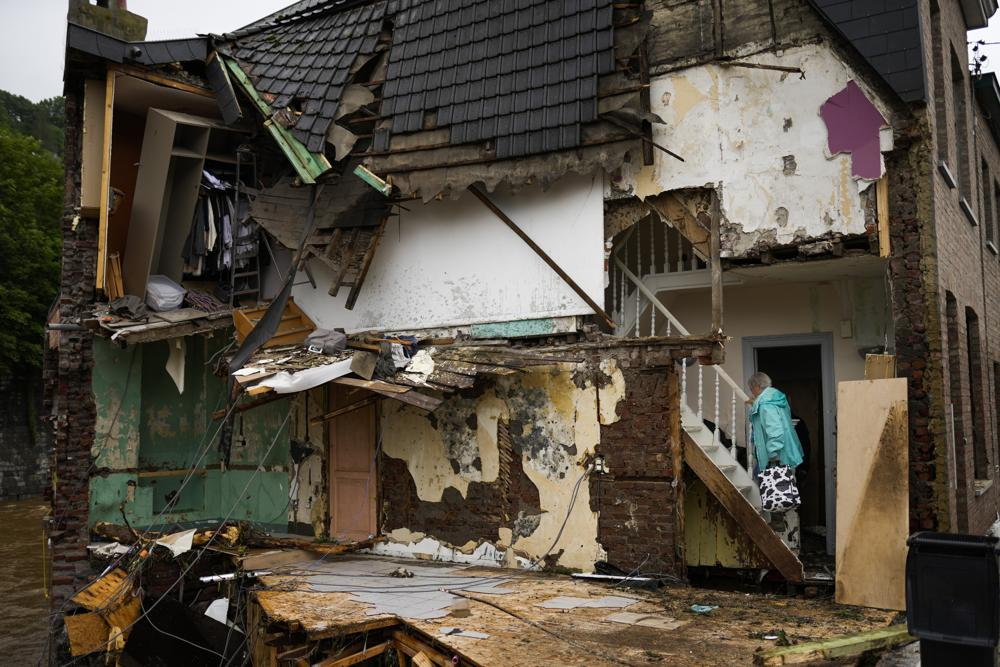 A woman walks up the stairs in her damaged house after flooding in Ensival, Vervier, Belgium, Friday July 16, 2021. Photo: AP
Fueled by days of heavy rain, the floodwaters also left thousands of Germans homeless after their dwellings were destroyed or deemed to be at risk, and elected officials began to worry about the lingering economic effects from lost homes and businesses.
Elsewhere in Europe, dikes on swollen rivers were at risk of collapsing, and crews raced to reinforce flood barriers.
Sixty-three people perished in the German state of Rhineland-Palatinate, including 12 residents of an assisted living facility for disabled people in the town of Sinzig who were surprised by a sudden rush of water from the nearby Ahr River, authorities said.
German President Frank-Walter Steinmeier said he was "stunned" by the devastation and pledged support to the families of those killed and to cities and towns facing significant damage.
"In the hour of need, our country stands together," Steinmeier said in a televised statement. "It's important that we show solidarity for those from whom the flood has taken everything."
By Friday evening, waters were receding across much of the affected regions, but officials feared that more bodies might be found in cars and trucks that were swept away.
A harrowing rescue effort unfolded in the German town of Erftstadt, southwest of Cologne, where people were trapped when the ground gave way and their homes collapsed.
Fifty people were rescued from their houses, county administrator Frank Rock told German broadcaster n-tv. Aerial photos showed what appeared to be a massive landslide at a gravel pit on the town's edge.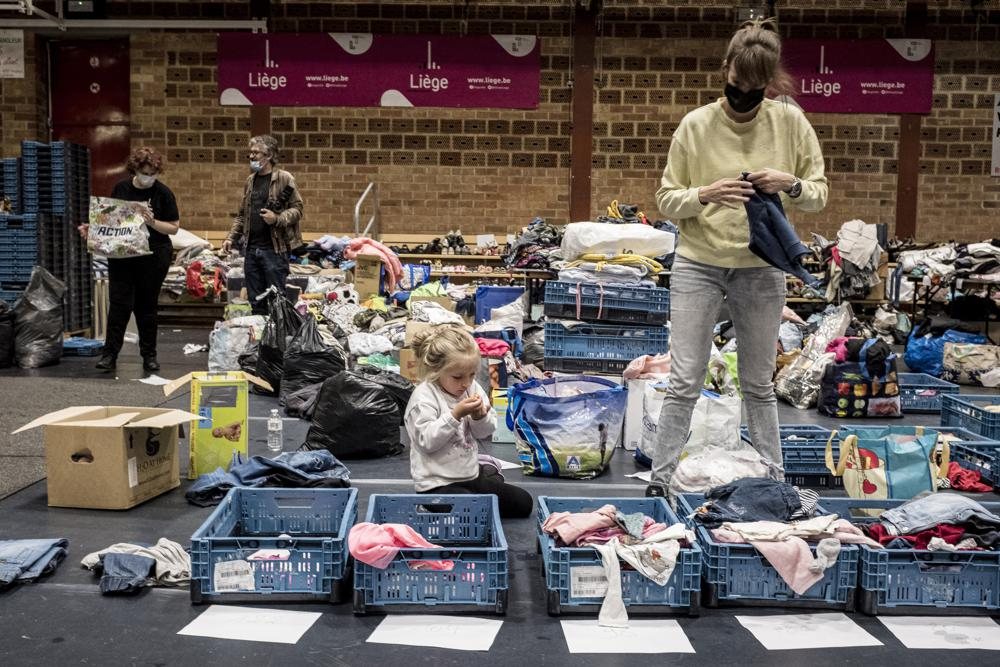 A woman sorts through clothing in a shelter for residents after flooding in Angleur, Province of Liege, Belgium, Friday July 16, 2021. Photo: AP
"One has to assume that under the circumstances some people didn't manage to escape," Rock said.
Authorities cautioned that the large number of missing could stem from duplicated reports and difficulties reaching people because of closed roads and disrupted phone service.
At least 170 killed as officials warn risk isn't receding
At least 170 people have now died following "historic" flooding across Germany and Belgium - with fears the death toll could keep rising.
The search and rescue operation is continuing as the deadly flood waters recede and debris is cleared.
Days of torrential downpours left rivers severely overflowing, leading to waters surging through streets - lifting up cars, tearing up power lines and collapsing homes and businesses.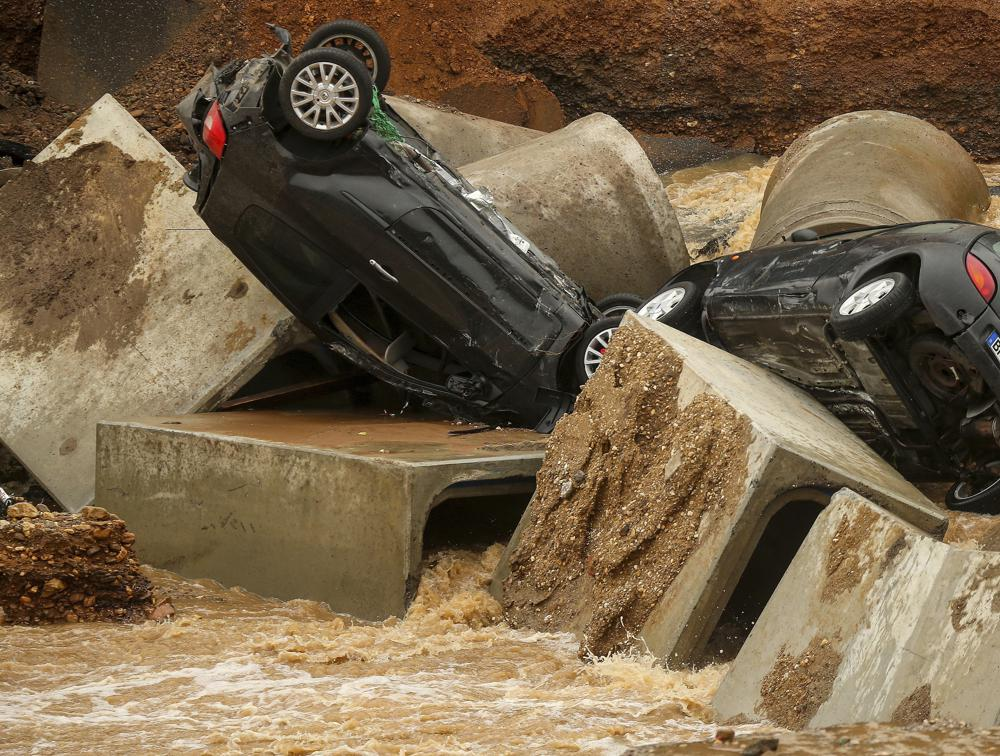 Cars lie in a washed out part of the Bessem district of Erftstadt, Germany, Friday, July 16, 2021. Photo: AP
At least 143 people have died as a result of the flooding in western Germany, with officials telling the public that the risk is not yet receding with the floodwaters.
In Belgium, where at least 27 people have died, dykes along a river are threatening to collapse.
Large parts of a dam near Cologne in the North Rhine-Westphalia region, which is Germany's most populous, have broken away and there is "enormous pressure" on the structure because of the high water level, posing "an acute risk" the dam could rupture. More people have been evacuated from the area.
Residents have been transported out of the area, many left with nothing on the back of flat bed lorries, and have been forced to queue for €200 handouts so they can buy basic amenities.
State minister of North Rhine-Westphalia, Armin Laschet, said: "Hundreds of people are willing to drop everything and help us on the ground, so I want to thank all those volunteers. Germany will do everything possible over the next couple of days to organise the funds necessary."
Meteorologists said some areas of western Europe had received two months' rain in two days ahead of the floods, with more than 150 litres per square metre falling over 24 hours in parts of western Germany.
Several senior officials have blamed climate change for the disaster.