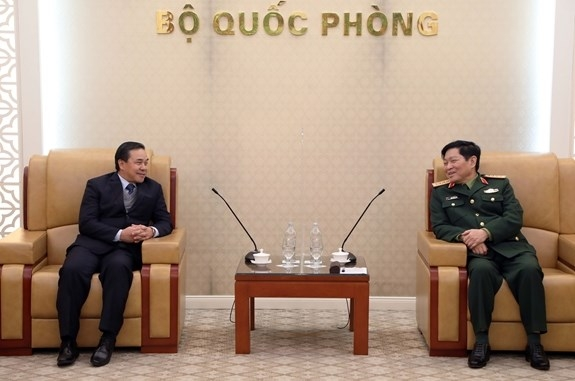 The Minister of National Defence, General Ngo Xuan Lich (R), meets Lao Ambassador Sengphet Houngboungnuang in Hanoi on January 20 (Photo: qdnd.vn)
Congratulating Houngboungnuang on his appointment as Ambassador of Laos to Vietnam, Lich, who is also a Politburo member and Vice Secretary of the Central Military Commission, expressed his belief that the diplomat will excellently fulfill his duties to contribute to the great friendship, special solidarity, and comprehensive cooperation, including in defence, between the two countries, according to the VNA.
He emphasised that the great friendship, special solidarity, and comprehensive cooperation are the priceless assets nurtured by late Presidents Ho Chi Minh, Kaysone Phomvihane, and Souphanouvong, as well as generations of the countries' leaders and people.
He thanked Laos for its active support, participation, and contributions to Vietnam's 2020 Chairmanship, including activities held by his ministry, especially the ASEAN Defence Ministers' Meeting, the ASEAN Defence Ministers' Meeting Plus, and related events.
The Vietnamese Ministry of National Defence will continue sharing experience and providing support in the COVID-19 combat and help the Lao People's Army to improve its capacity, the minister affirmed.
On January 21, Vietnam's Military Region 2 (MR2) and units of the Lao People's Army held a joint conference on January 19 at Chieng Suong Border Gate, Song Ma district, Son La province.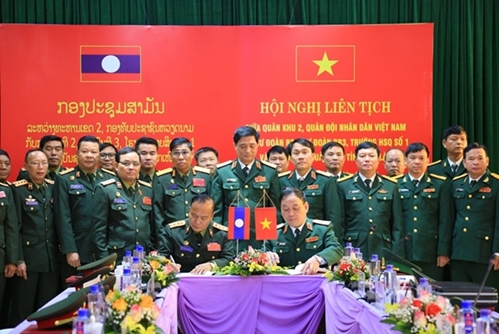 The two sides sign cooperation agreement. Photo: qdnd.vn
Last year, the two sides successfully implemented bilateral agreements signed in 2019, such as delegation exchanges, Vietnam-Laos border development, personnel training, and COVID-19 prevention and control, among others.
Senior Colonel Xaynhavong Xaynamthilat sincerely thanked the MR2's Command for its support to promptly carry out all assigned missions.
Addressing the event, General Chuong hailed the comprehensive cooperation in many fields between the two sides. He also hoped that the Lao side would create favorable conditions for MR2 to fulfill all assigned tasks, especially in building political bases in village clusters and searching for the remains of Vietnamese volunteer soldiers and military experts in Laos, said the qdnd.
On this occasion they also signed a cooperation agreement and the MR2 Command presented medical supplies to Lao people and troops for COVID-19 prevention and control in the coming time.
Congratulating Vietnam on its successful 2020 ASEAN Chairmanship, Sengphet Houngboungnuang echoed his host's views on the Vietnam - Laos relations, noting that defence links are among the pillars of their ties and receive attention from their countries and armies' leaders.
The two sides are pushing ahead with implementing the annual cooperation protocol and plan, with a focus on delegation exchange; personnel training; coordination between border management and protection forces in fighting against trans-national crimes, smuggling, and drug trafficking; along with border patrol to prevent illegal crossings to help combat COVID-19 in each country, according to him.
The ambassador vowed utmost efforts to help relations between the Lao and Vietnamese Parties, States, people, and armies develop more and more strongly.
Also on January 20, a delegation of the Defence Ministry led by Colonel Pham Manh Thang, Deputy Director of the Foreign Relations Department, visited the Lao Embassy in Hanoi to extend congratulations on the 72nd founding anniversary of the Lao People's Army (January 20, 1949 - 2021) and the success of the 11th National Congress of the Lao People's Revolutionary Party.
Vietnamese Minister Ngo Xuan Lich on September 8, 2020 held phone talks with his Lao counterpart General Chansamone Chanyalath to review bilateral defence cooperation in the recent past and discuss cooperation directions for the time to come.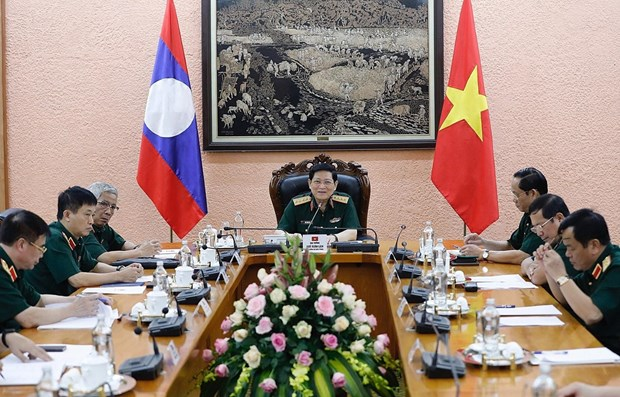 Vietnamese Minister of National Defence General Ngo Xuan Lich (C) holds phone talks with his Lao counterpart General Chansamone Chanyalath (Photo: VNA)
Lich affirmed that Vietnam was ready to continue sharing experience with and supporting Laos to effectively address impacts of the COVID-19 pandemic, as well as helped the Lao People's Army improve its capacity.
For his part, Chansamone highlighted the significance of the talks, saying that this has contributed to show the trust, activeness and timely sharing of information about the situation between the two sides in order to reach a common view on responding to COVID-19.
He thanked the Vietnamese Ministry of National Defence and units of the Vietnamese army for supporting the Lao army, especially in providing support and medical supplies to help Laos in the fight against COVID-19.
The two ministers held that defence cooperation is an important pillar in the bilateral relations, and it has contributed to maintaining defence-security stability and promoting socio-economic development in each country.
Tarah Nguyen