Molded rice cakes bring a delicious and sweet taste for traditional Tet Holiday
As Lunar New Year draws close, a small village in Quang Nam Province was providing hundred batches of traditional rice cakes popping from the mold, making for a sweet Tet in the central of Vietnam.
Molded rice cakes (or banh in in Vietnamese) is a traditional cake in Hue, made from flour, mung beans and sugar, and other ingredients. The cakes were then pressed and molded into different shapes with various character designs, and was wrapped in colourful papers. It is especially served in Tet holiday, being given out as a gift and made as offerings to ancestors. he cake is now quite popular overseas as well and is commonly found all year round in Asian Grocery shops worldwide, often in smaller rectangular shaped snack packs. Because of its values and popularity, molded rice cakes become an important part that make Tet's atmosphere, and is loved by a lot of people.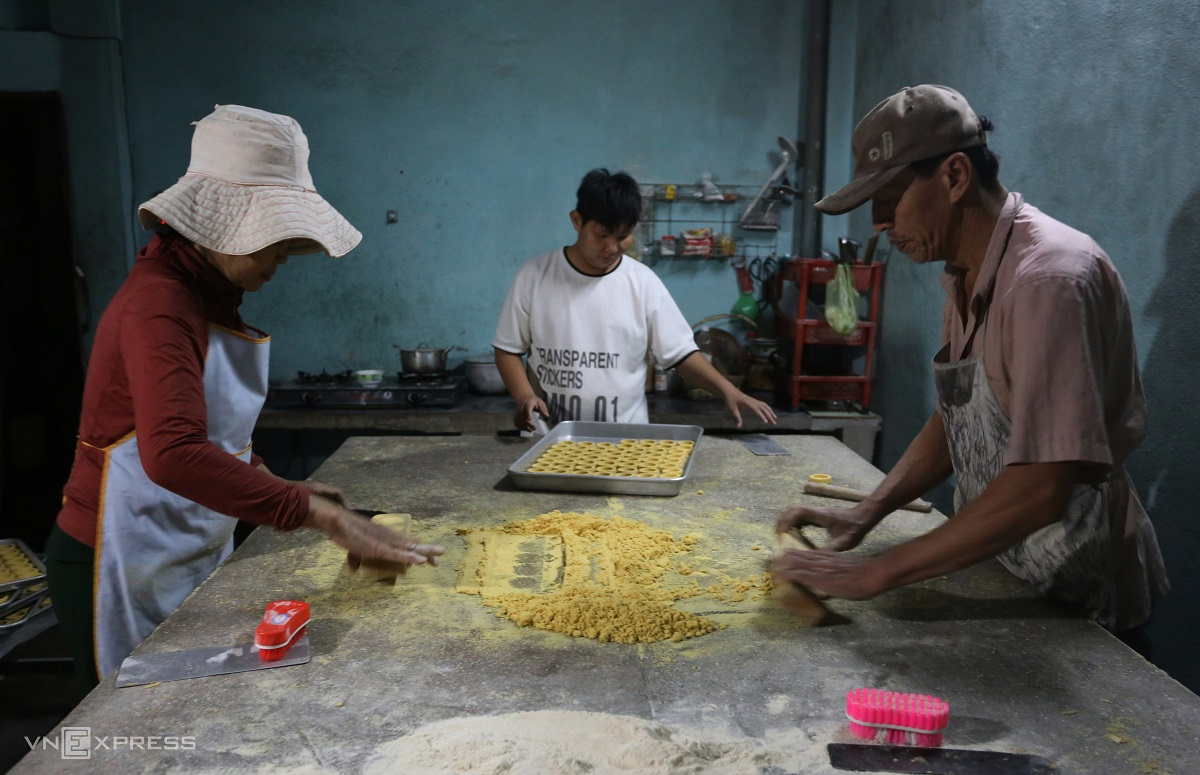 Photo: VnExpress
An Lac Village households in Duy Thanh Ward of Duy Xuyen District typically make a local specialty called banh in (molded rice cakes) during last days of the lunar year to prepare for Tet, the country's biggest holiday that peaks on Feb. 12.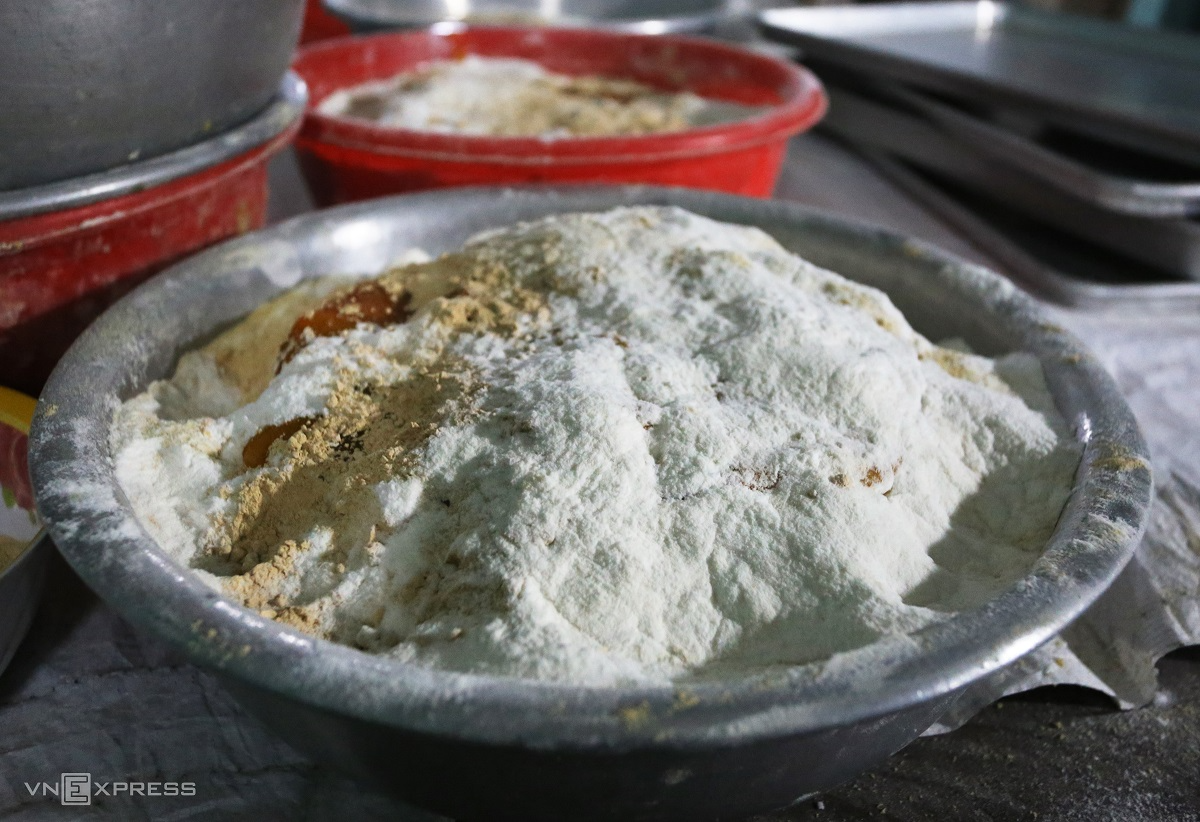 Ingredients include sugar, mung bean and glutinous rice flour, with melted sugar and mixed flour at a 50/50 percent ratio. (Photo: VnExpress)
One can catch the smell of fragrant glutinous rice and mung bean flour from cake houses dotted around the neighborhood.
The shop of Huynh Quang Truc, 63, is one of eight in the village that still produce this kind of cakes all year round, with demand particularly high at Tet when banh in is given out as gifts or serves as offerings to ancestors.
Banh in originated in Thua Thien-Hue Province under Nguyen Dynasty (1802-1945), Vietnam's last royal family, and has become a specialty of Quang Nam Province and Da Nang City during Tet. The cake tastes better with green tea.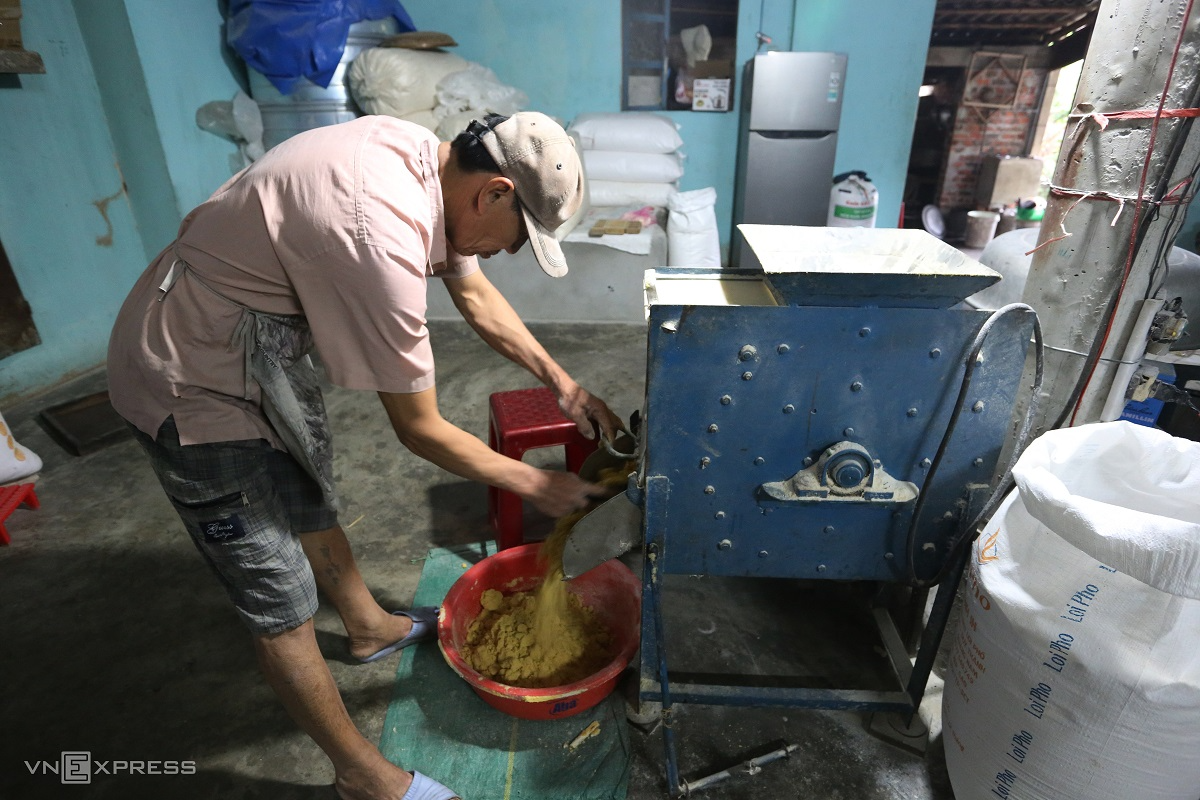 "The cake was manually produced before, with machines only introduced in the past six years. The mixture must be blended well so it could be shaped well," Truc said. (Photo: VnExpress)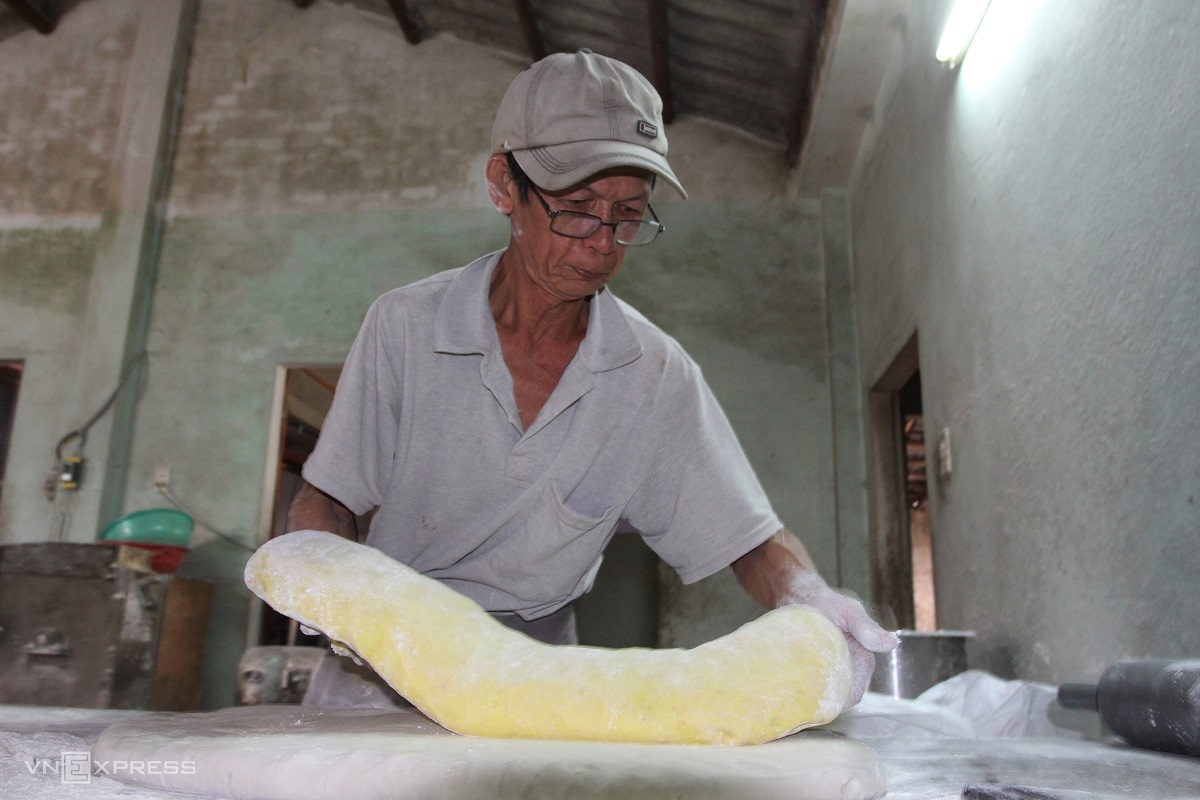 Heavy dough is expertly spread out by 58-year-old Huynh Quang Trung, who often handles between 30 to 200 kilograms each day. "Cooking sugar is the most important process. Sugar should not be too watery or dry, otherwise cakes will collapse," said Trung, a man with 30 years of experience making the traditional cake. (Photo: VnExpress)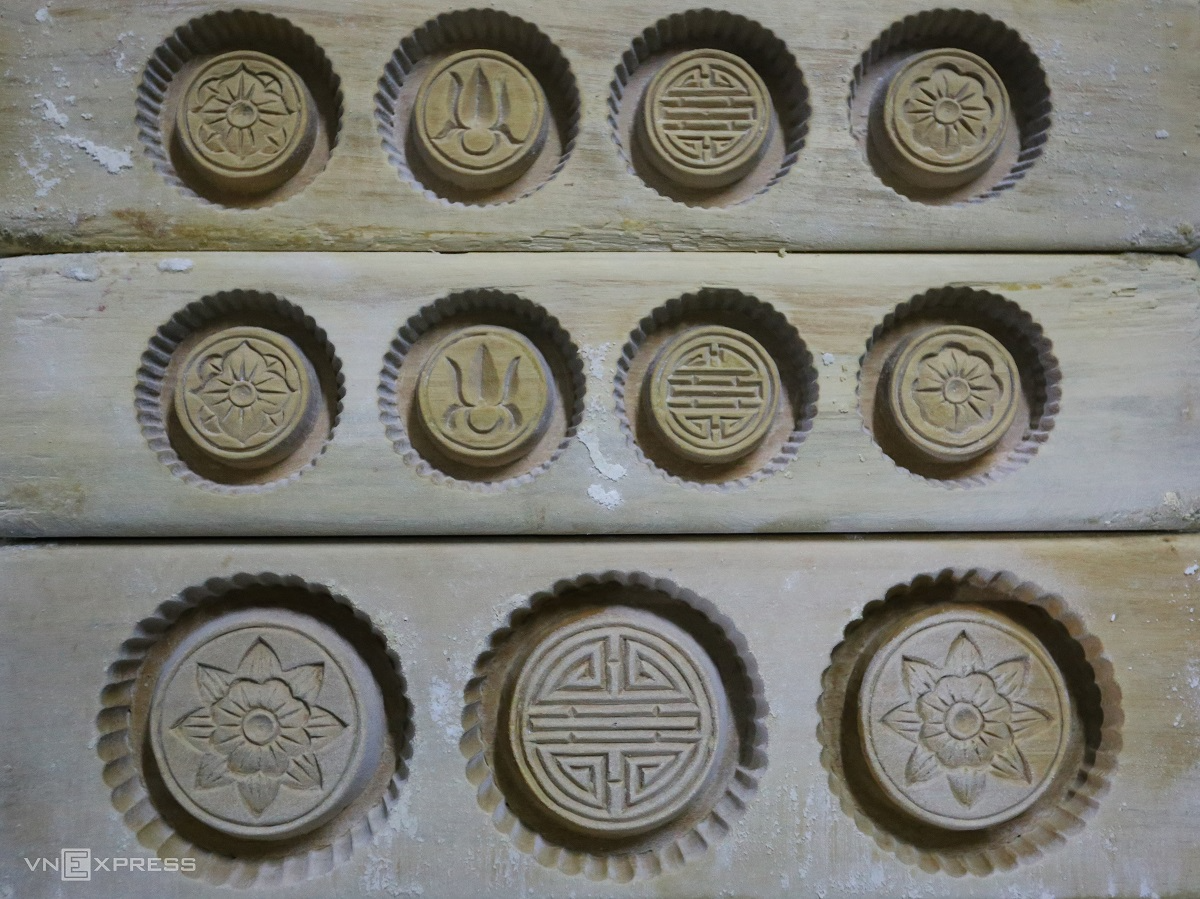 Molds with various floral and character designs are made from a type of light wood so cakes would not crack under pressure. (Photo: VnExpress)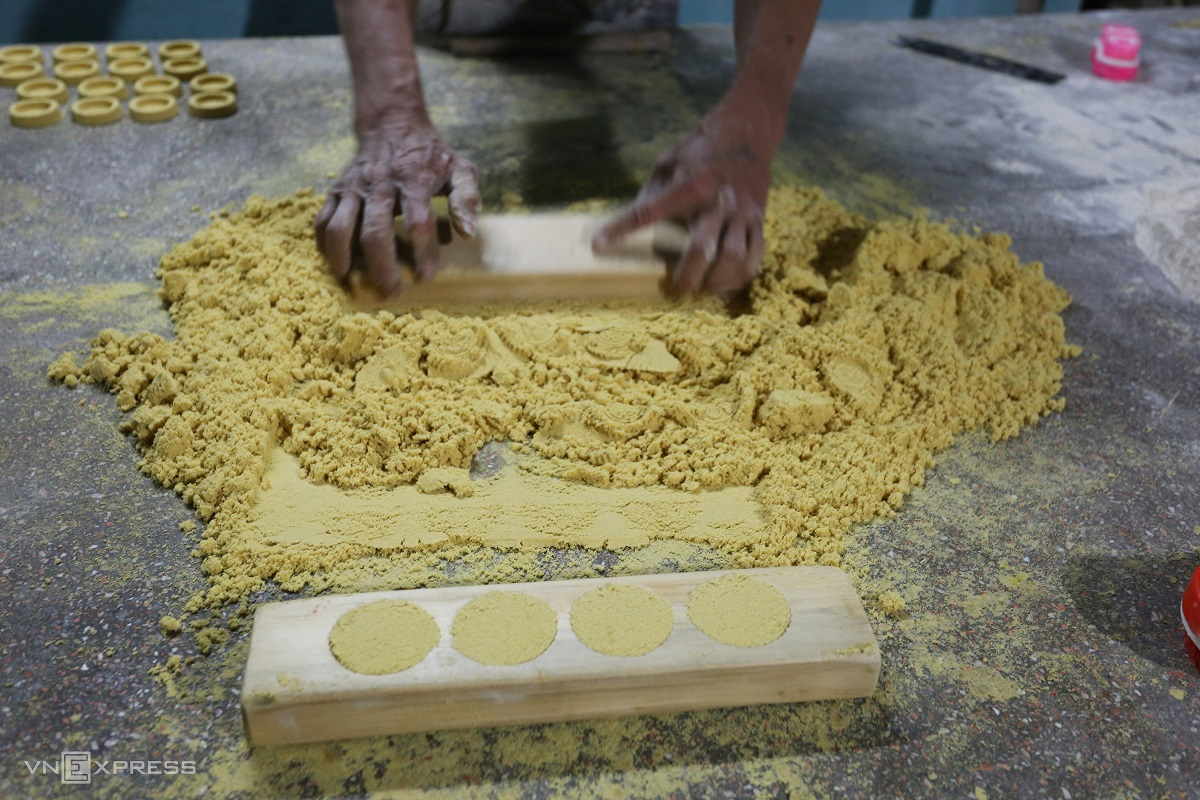 Banh in, stamped with festive mold carvings, pops out when lightly tapped with a wooden stick. (Photo: VnExpress)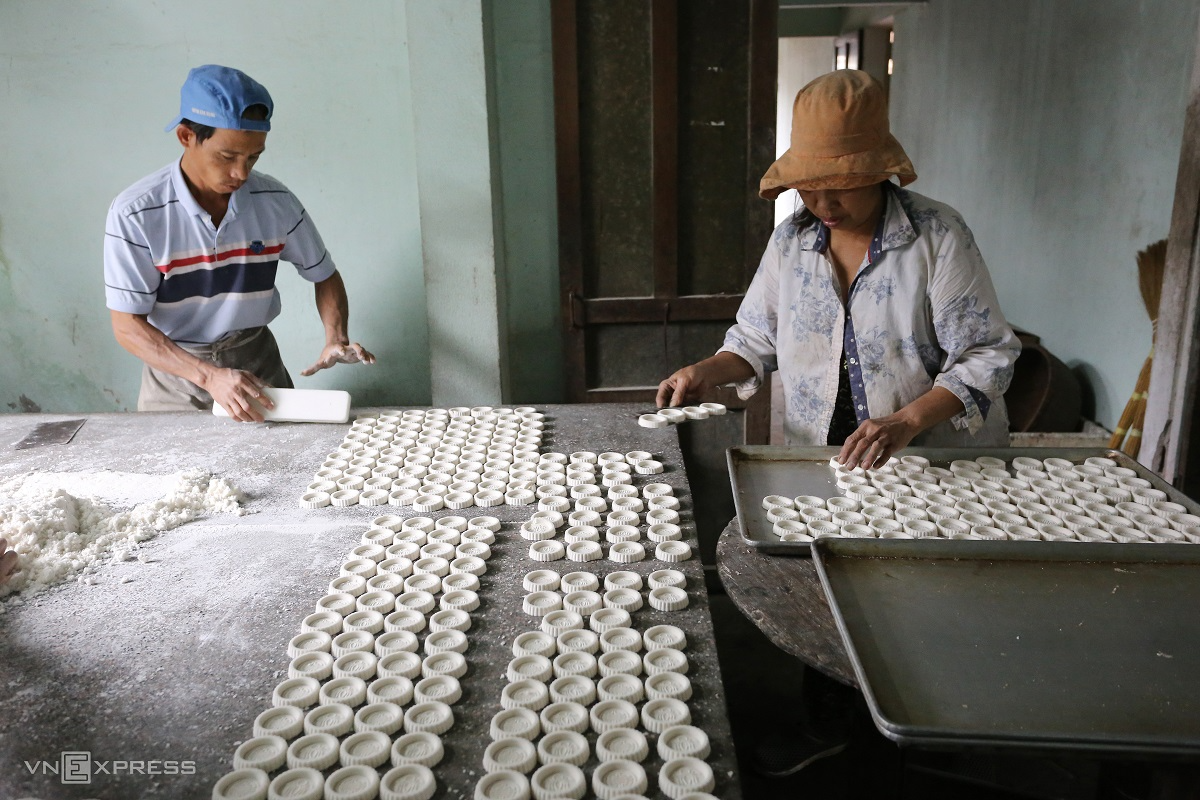 "Though the process is not complicated, workers must handle the cakes with care," Hung, a cake maker (left), said. (Photo: VnExpress)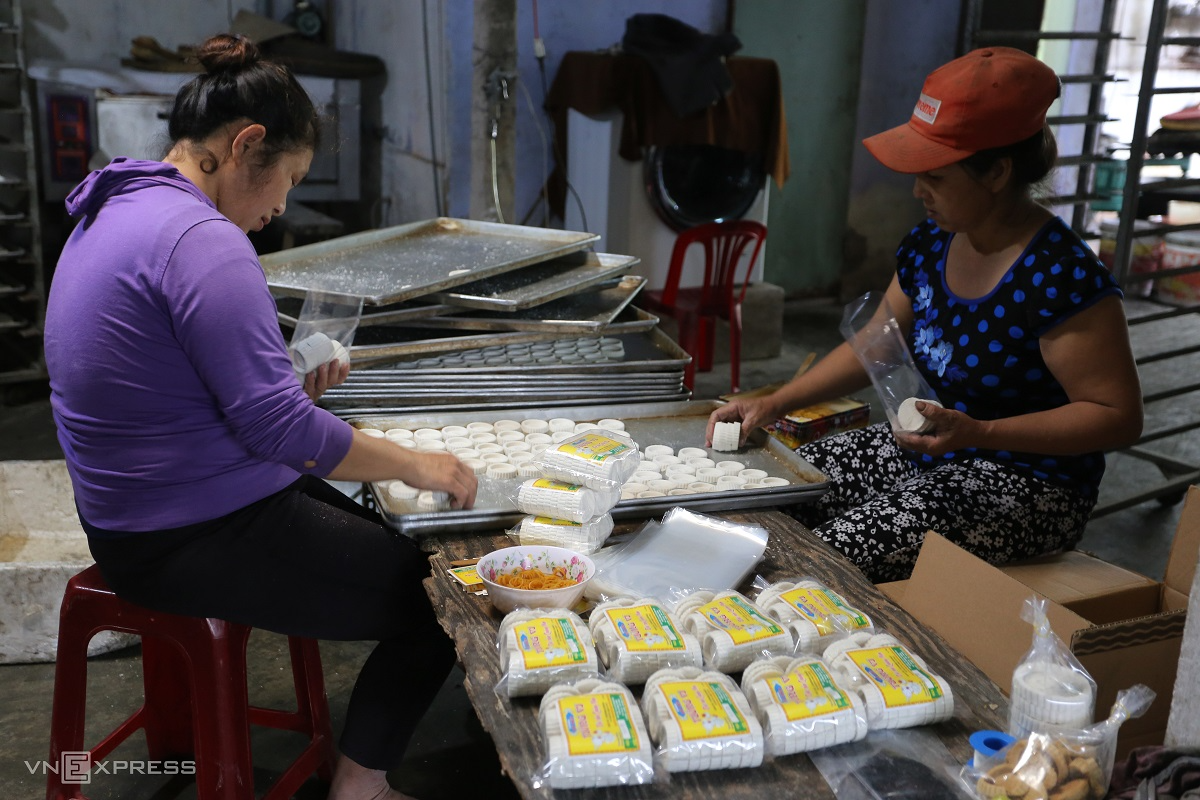 Packaging the final products. (Photo: VnExpress)
Vietnamese Traditional Foods For Tet Holiday
When the weather is colder, the whole country is covered by peach flower and ochna intergerrima; it is for Lunar New Year. Tet foods which create a distinctive feel and flavor leave a deep impression on foreigners and make Vietnamese people abroad feeling homesick just by looking at their pictures. Foods for Tet in Vietnam are varied and diverse, have its meanings. They both show the respect and honor to ancestors and the hospitality to friends and guests. Here are five popular Vietnamese traditional foods for Tet holiday for you to try in time for Tet.
Chung Cake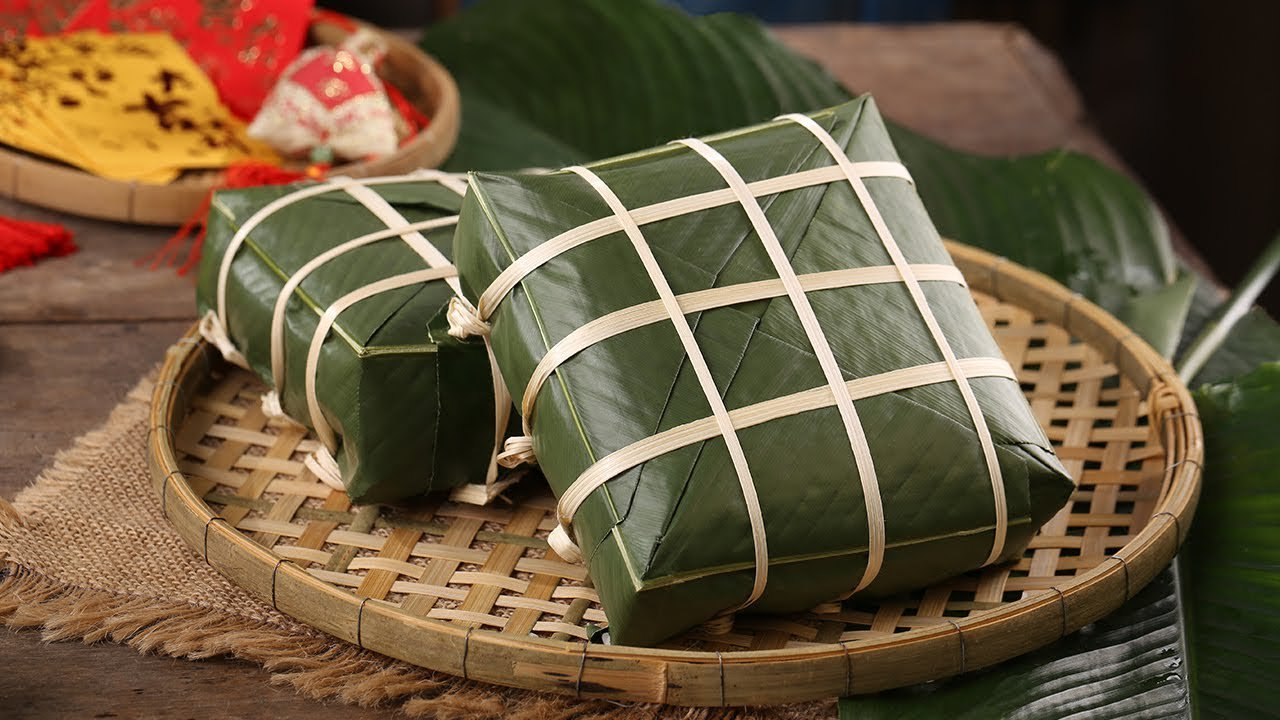 Photo: Focus Asia Travel
"Banh Chung" (Chung cake) is a traditional and irreplaceable cake of Vietnamese people in the Tet Holidays and King Hung's anniversary (10th March Lunar). For the Vietnamese, making "Banh Chung" is the ideal way to express gratitude to their ancestors and homeland. Main ingredients are glutinous rice, pork meat, and green beans wrapped in a square of bamboo leaves that will give the rice a green color after boiling. The sticky rice must be very good and was soaked in water in the previous day. Rice cake is wrapped in square shape, and the wrapping power must be neither tight nor loose. Then the cake will be boiled in about 12 hours by wood. The Green Chung cake has nutrition with an original tasty flavor and may be kept for a long time. Eating Chung cake with vegetable pickles will bring you unforgettable taste!
Gio cha (Vietnamese sausage)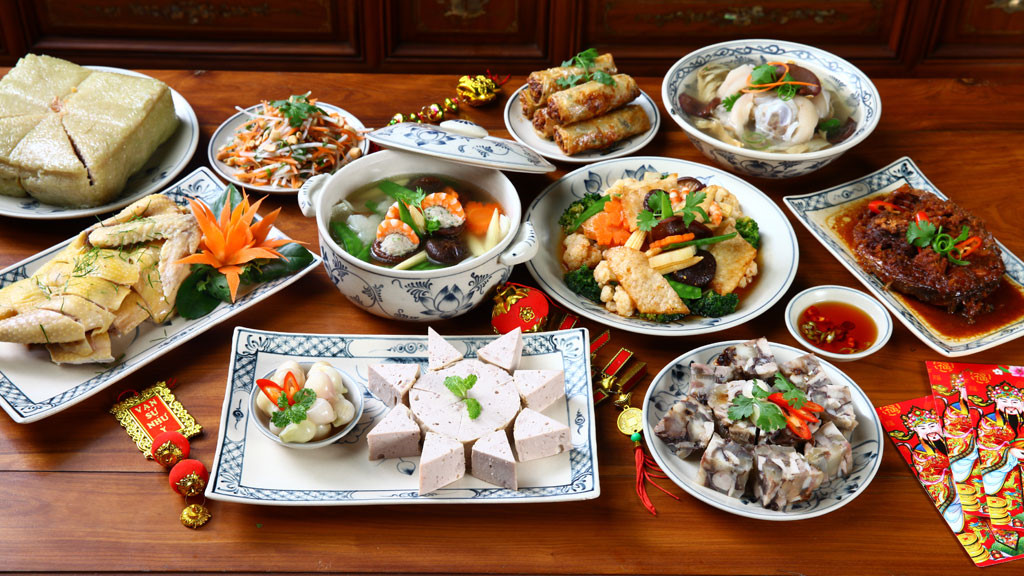 Photo: Student Exchange Vietnam
Gio cha is another common item on the traditional Tet menu and is often eaten with starchy food. Like banh chung, Vietnamese sausage is wrapped in banana leaves and needs to be unwrapped before consumption. There are three common kinds of this sausage including gio lua (sausage made of ground pork, first class fish sauce and black pepper), gio bo (made of purred beef) and gio thu (made of pork meat, ear, nose, tongue, cheek, and wood ear mushrooms).
Sticky Rice (Xoi)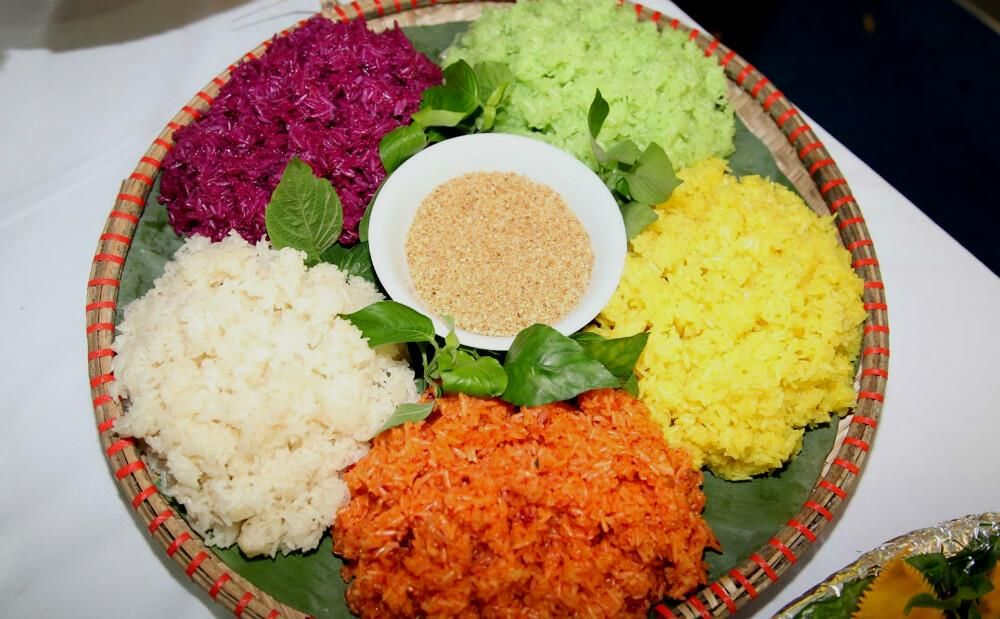 Five - colour sticky rice (Photo: Pinterest)
Xoi (Sticky rice) is also a very important part of Tet holiday in Vietnam, since the meals to worship the ancestors can not missing this dish. Moreover, along with Banh Chung, xoi is the main staple foods for Tet holiday. Xoi in Tet holidays can be seen in many forms: Xoi Lac (sticky rice with peanuts), Xoi Do Xanh (sticky rice with mung bean), Xoi Gac (sticky rice with special "gac" fruit). Among these types, xoi gac is favorite the most by people because of its special red color – symbolizes the luck and new achievement for the New Year. Xoi is usually served with Gio Cha or boiled chicken in Tet meals. Sometimes it can be served with Che (sweet soup) like a dessert.
Boiled chicken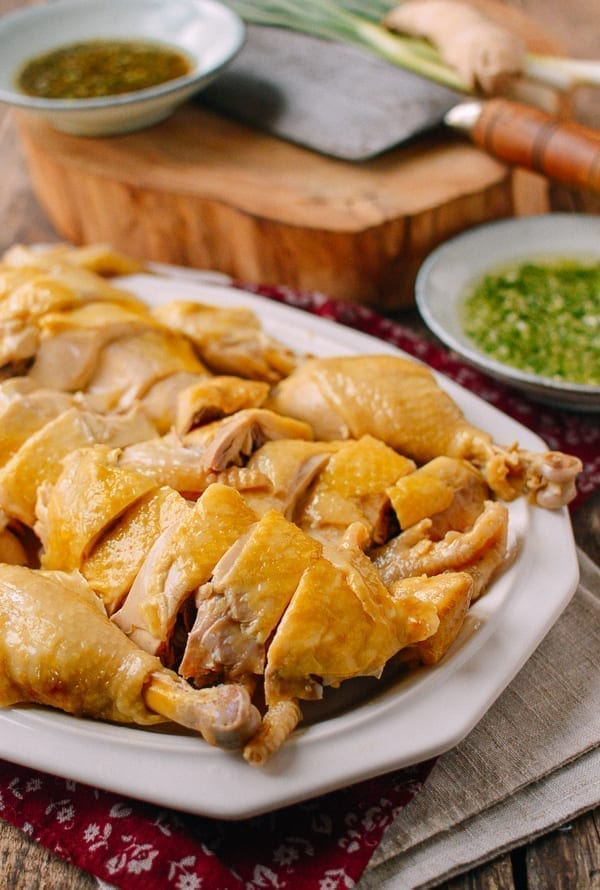 Photo: The Works of Life
Thit ga (boiled or steamed chicken) plays an important role in Tet holiday cuisine because all the tribute meals to the ancestors must contain a boiled chicken, whole or chopped. Chicken meat in Tet meals are various in forms: usually chicken are boiled and sliced, but sometimes people can place the whole chicken in a plate, or nowadays some families use roasted or fired chicken to replace the original boiled ones. Chicken meat is served with Xoi (sticky rice) and Banh Chung, and become one of the most popular main dishes in Tet holidays. Boiled chicken are always go with sliced lemon leaves and salt-and-pepper sauce, as a tradition. Chicken (especially bones, legs and heads) can be used to prepare the broths for other soups.
Mut Tet (Tet jam)
Mut Tet (Tet jam) is not a food to serve in a meal during Tet holiday, but more like a snack to welcome guests in this special period. Mut is always kept in beautiful boxes and placed at the table in the living room, and it is the main food for the owners and guests to taste when they're talking, enjoyed over a cup of tea. Unlike Western jam, which is usually in liquid form and served with bread, "Vietnamese jam" is mainly in dry form, usually dried fruits and some kind of seeds (pumpkin seeds, sunflower seeds, watermelon seeds). This once-in-year mix of snack is very large in variety, with so many tastes: ginger, carrot, coconut, pineapple, pumpkin, lotus seed, star fruit, sweet potato. Nowadays, cake and sweet are slowly replacing jam in Tet period, but many people still love the taste this unique food – an angle of Vietnamese culture.